Meet Enyo and Etienne who tied the knot in the Spring of 2021 at Palm Valley in Goodyear, AZ. These love birds were an absolute joy to work with every step of the way. We love how they intertwined elements of their faith and heritage and wrapped it all together with a stunning color palette of dusty blues, creams, and rose gold accents. Every detail was so thoughtfully chosen and perfectly accented the stunning mountain views that captured the bride and groom's hearts. Join us as we reminisce about this special day . . .
***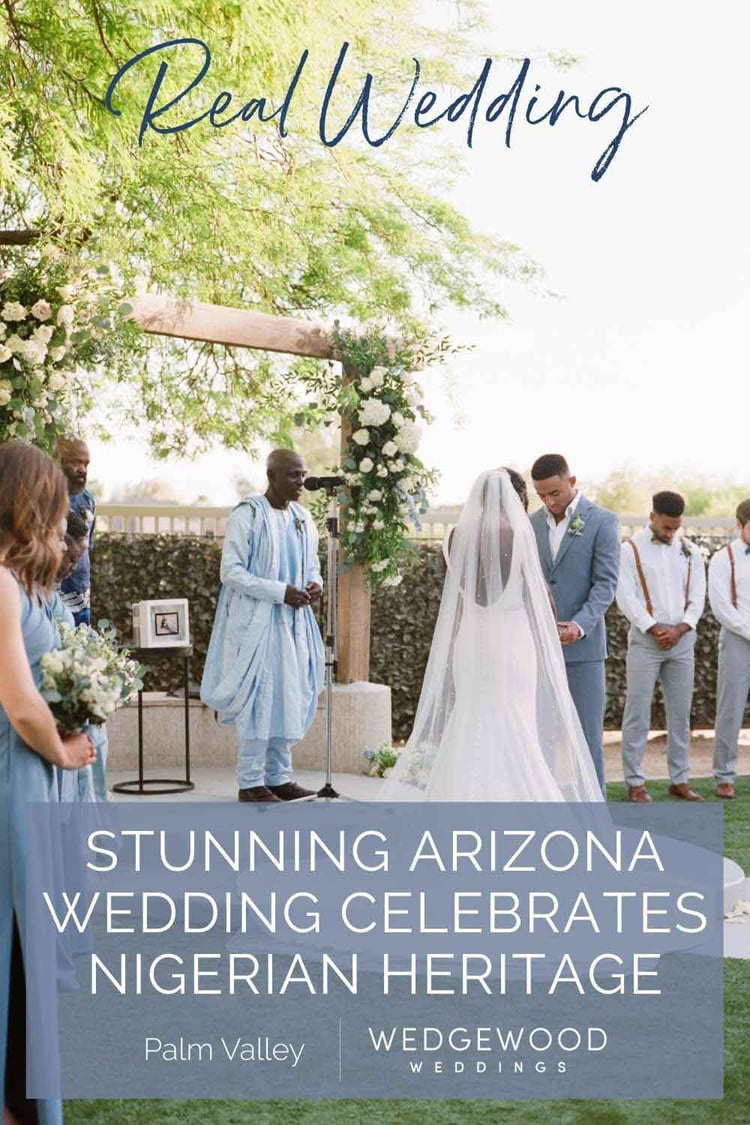 Wedding Planning
We first met the happy couple in November 2020—less than six months before their would-be wedding day! They had recently gotten engaged on top of Alaska's Pioneer Peak after a grueling 12-hour trek up and wanted to incorporate mountain views into their wedding location. While they adored Colorado for all the ways it reminded them of Alaska and their engagement day, they ultimately settled on Arizona as it was close to family and made it a convenient destination for guests traveling from all over.
"I looked at so many venues." said Enyo, but it was the striking mountain views at Palm Valley that really sealed the deal. With Etienne due to deploy in the summer of 2021, it was paramount that they find a wedding planning partner that could plan and host a short-term wedding with ease. That's where we came in . . . Our easy-to-customize all-inclusive packages made planning a breeze within this time frame, and the couple was able to save on budget by choosing a Thursday wedding date that worked perfectly for their timeline.
"The advice that I would give another bride is that everything will work out beautifully, no matter what the planning process is like or how short it seems to be. Etienne and I both knew that in the end, the most important thing was getting married and both of our families coming together."
- Enyo, The Glowing Bride, Martha Stewart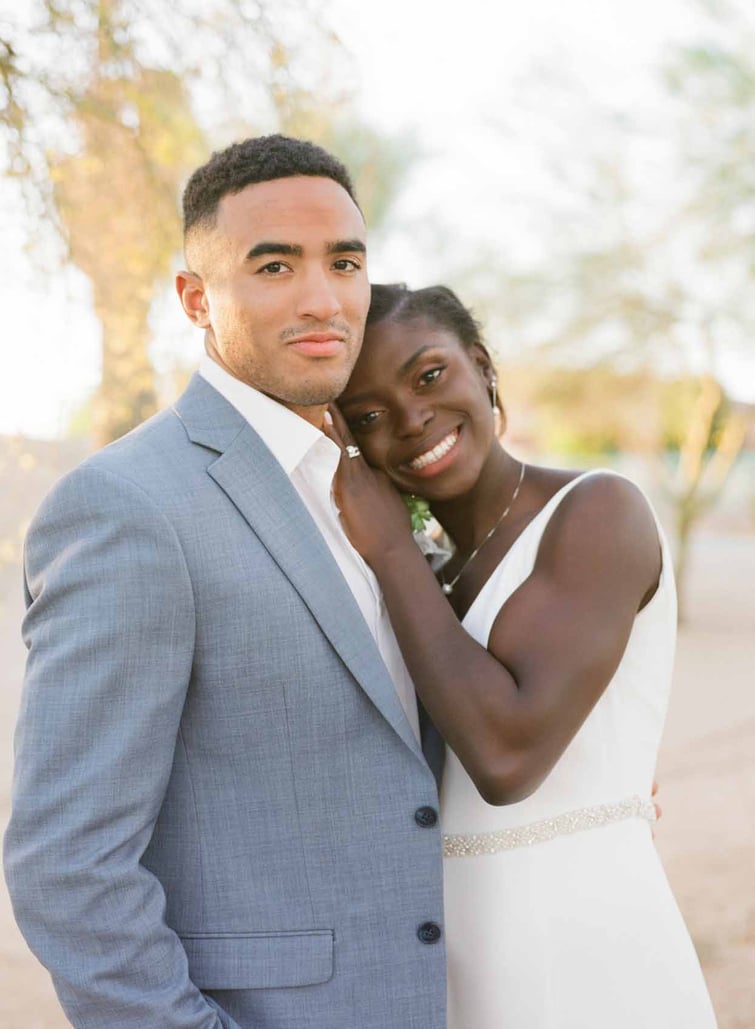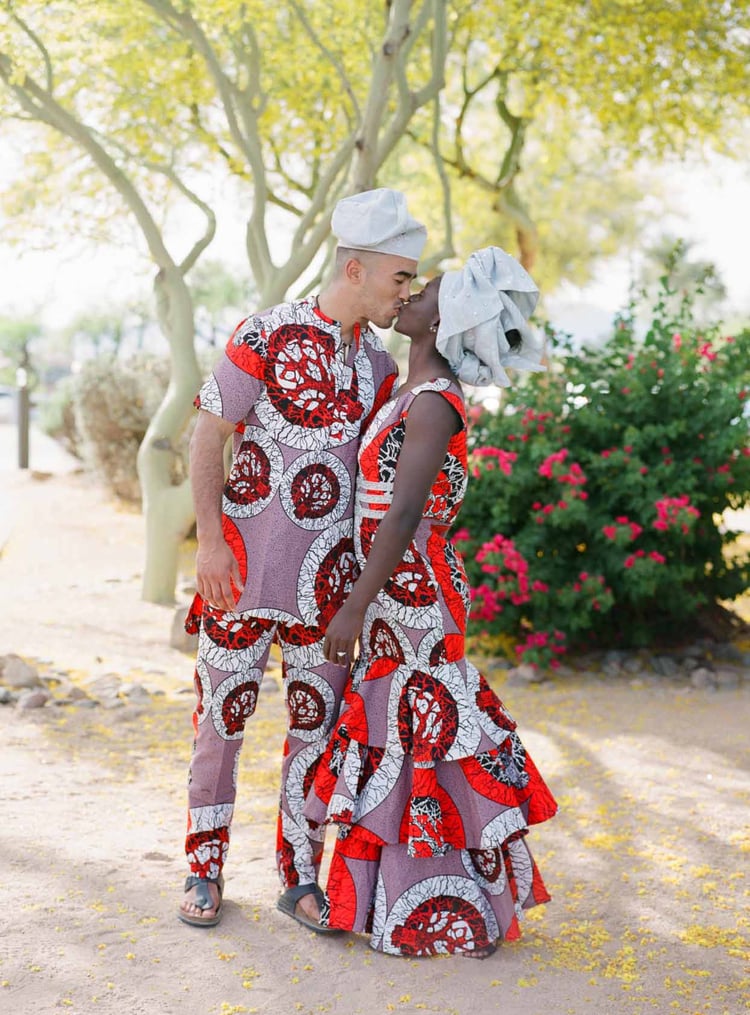 Wedding Fashion
Enyo grew up in Nigeria and always knew that she wanted to incorporate that heritage into her wedding day. To begin this cultural celebration, the couple had celebratory outfits custom-made using bold patterned fabric bought from a market in Nigeria—these would be worn at the rehearsal dinner. The red and white pattern selected was an instant YES! The colors beautifully contrast the cool blue tones of the wedding colors.
For the wedding day, the bride and groom both opted for modern attire with simple lines. Enyo chose a stunning white dress with a pearl belt and veil; Etienne sported a handsome light blue suit with brown leather accents. The parents of the bride and groom had their outfits custom-made out of Nigerian fabrics in a variety of blue-toned patterns to coordinate with the decor. The wedding party wore coordinating blue dresses for the ladies and trendy gray slacks with leather suspenders for the gentlemen.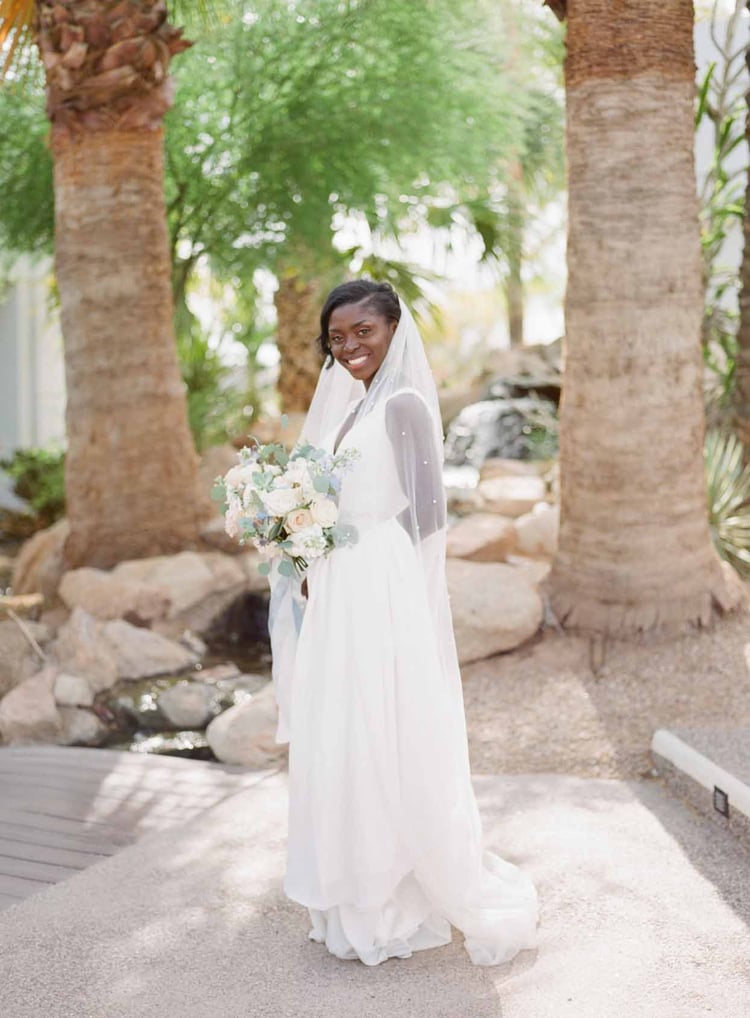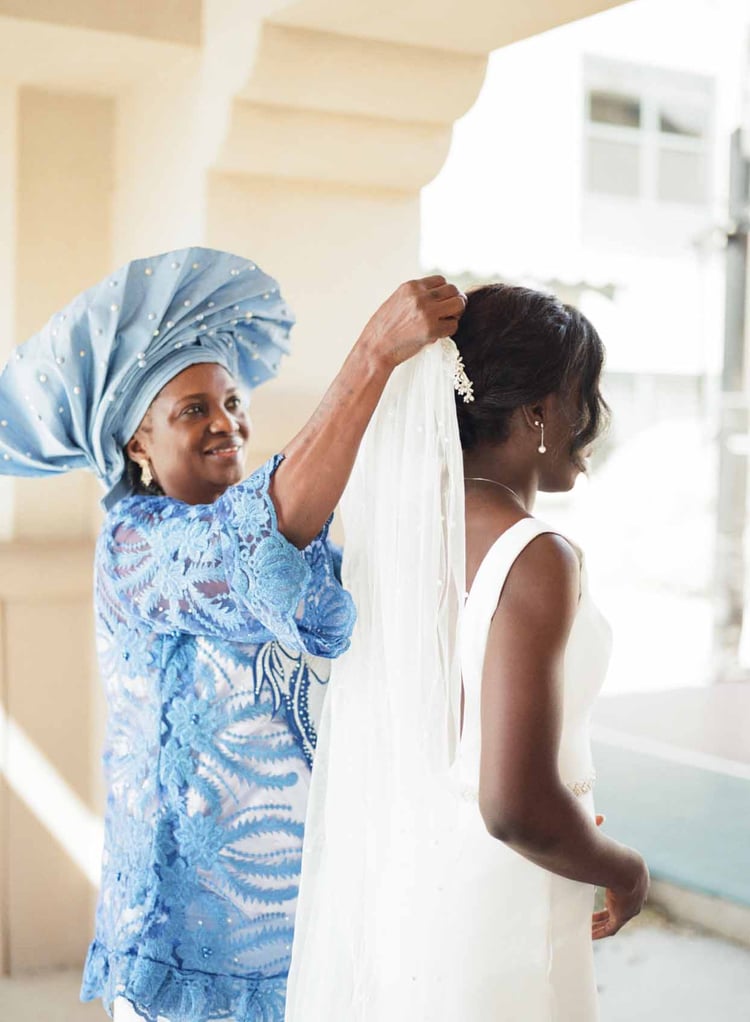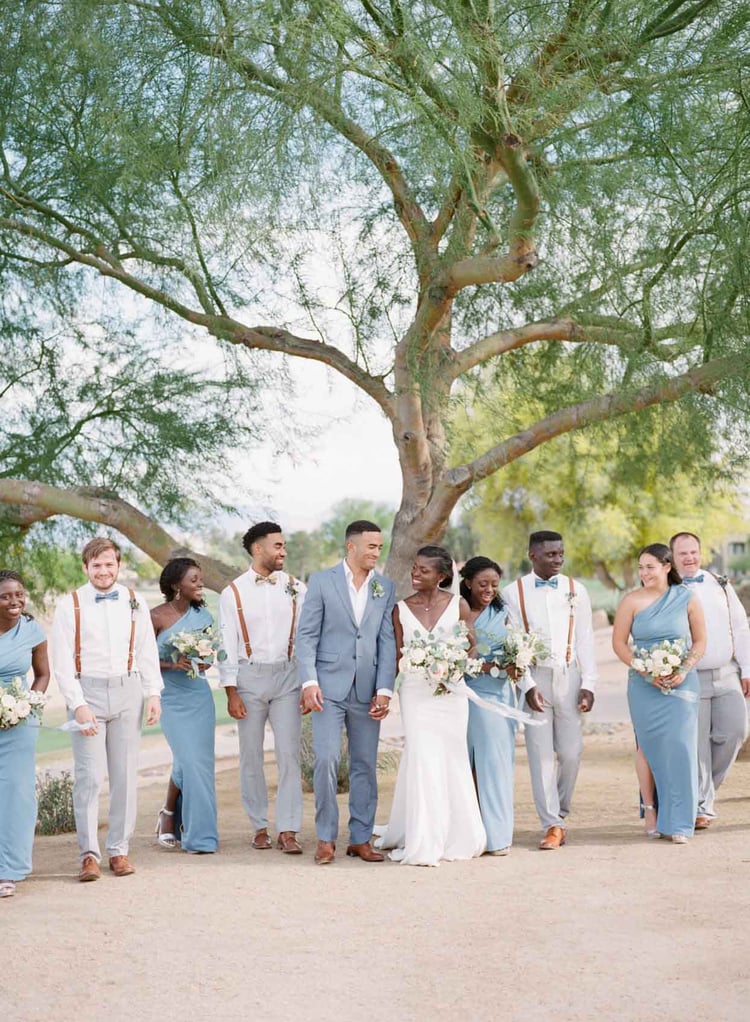 Traditions & Ceremonies
Tradition is at the heart of weddings and this celebration certainly embraced traditions old and new. Enyo and Etienne started off their wedding day with a romantic first look and private vow ceremony.
"Etienne revealed to me that during that time he was trying to hold back his tears. We had an inside joke, though—I had told him that he couldn't cry because then I would cry . . . We said things that we felt were meant to stay between us.It was a very special moment for both of us."
- Enyo, The Glowing Bride, Martha Stewart
An essential piece of the couple's shared love is their faith, so it was only natural to embrace a religious ceremony. Etienne's father officiated the nuptials full of ritual, prayer, and family tradition.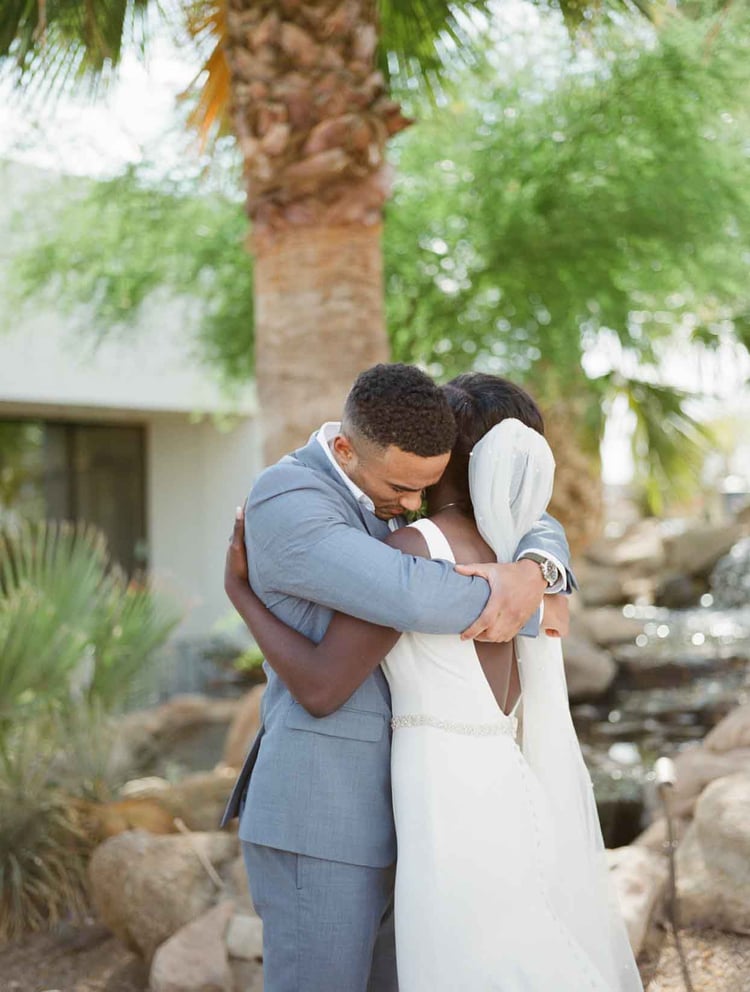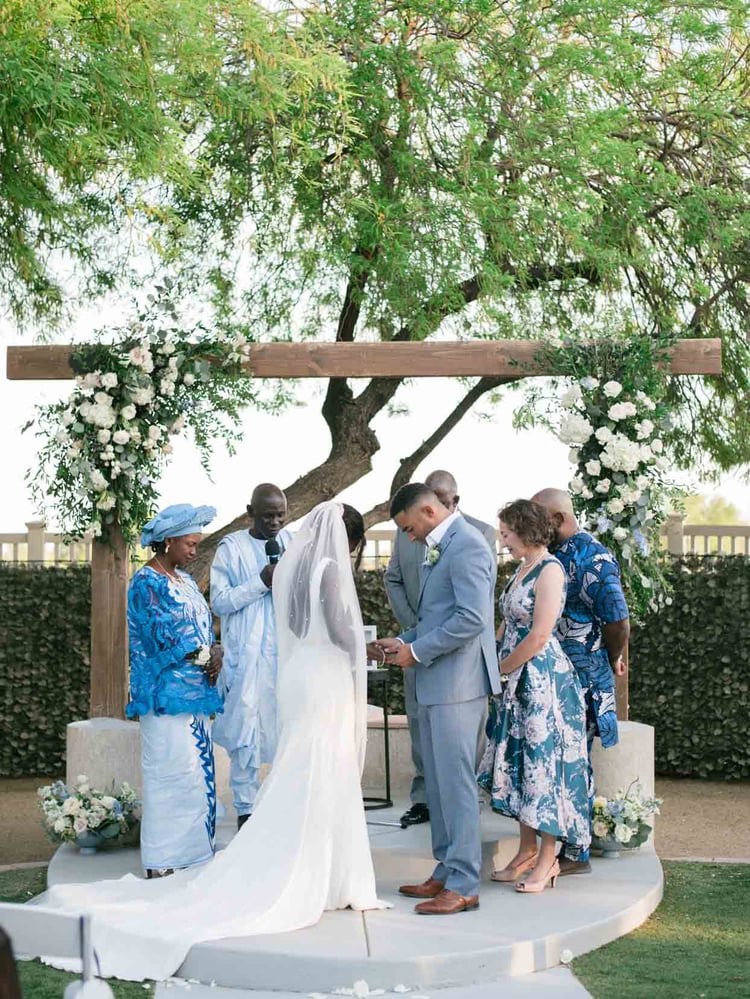 Dinner & Dancing
After cocktail hour, the guests headed inside the bright modern ballroom while the couple snuck away for a sunset portrait session in the cactus garden. The room was adorned with cheerful blue and white floral arrangements of roses, alstroemeria, delphinium, and Queen Anne's lace. The entire evening was truly remarkable from start to finish. It was an absolute joy to help bring this celebration of love to life and we were so enamored with how the entire wedding brought our spectacular venue to life.
"The love between these two was screaming loud and clear for all to see. No matter how many weddings you plan, seeing two people so clearly in love never gets old. We wish the happy couple a lifetme of joy and adventure!"
- Ayme, Wedding Coordinator, Palm Valley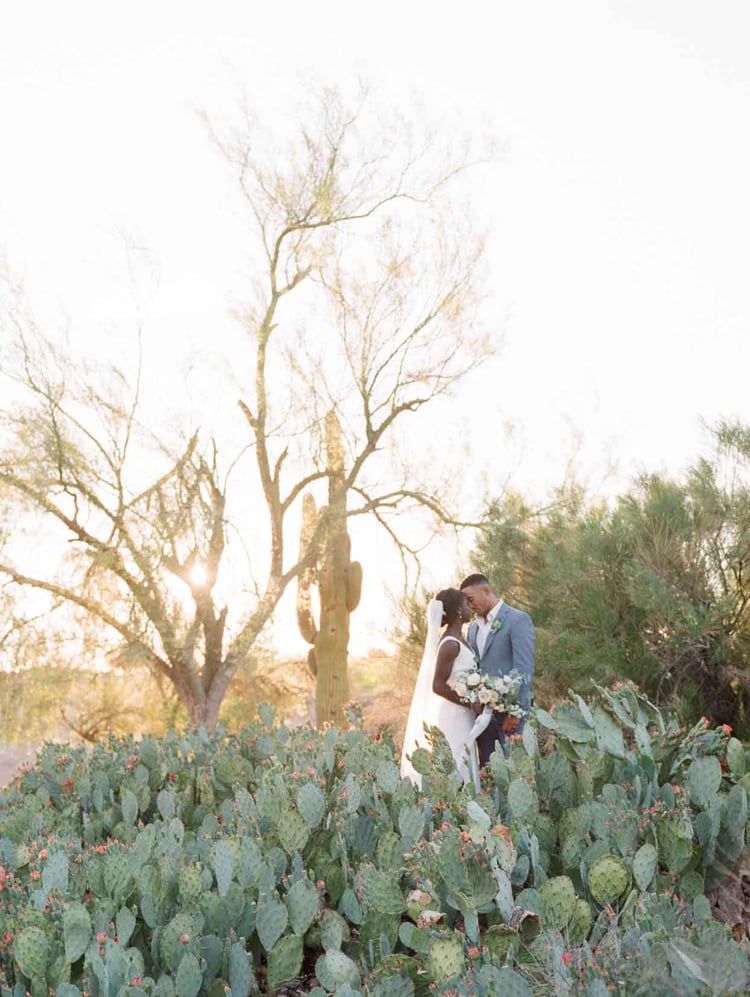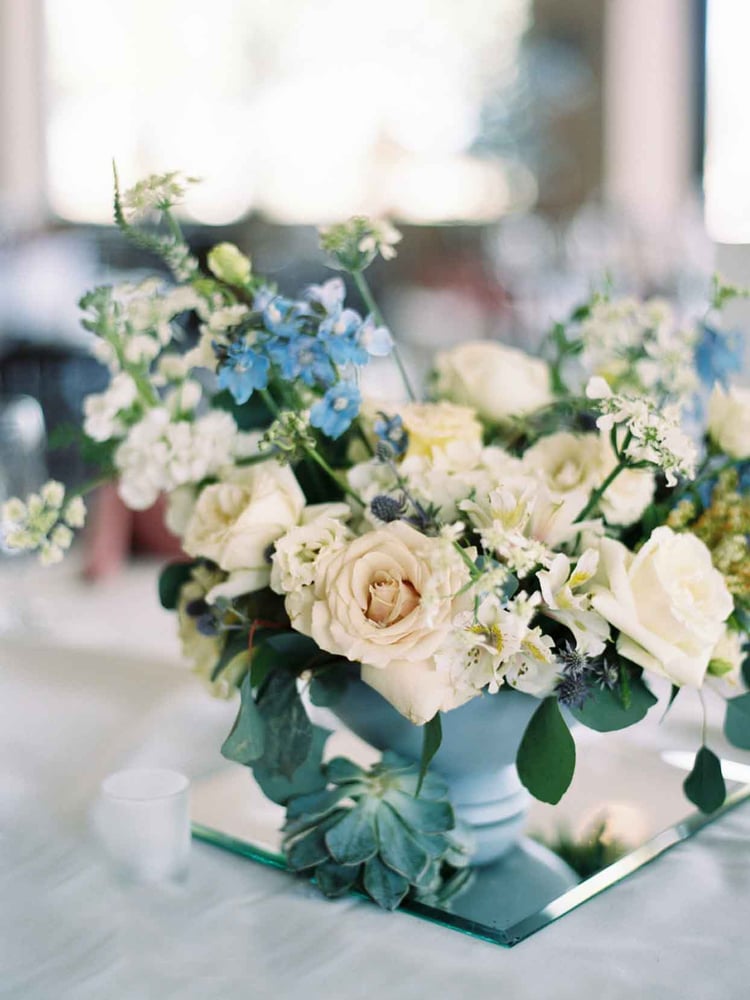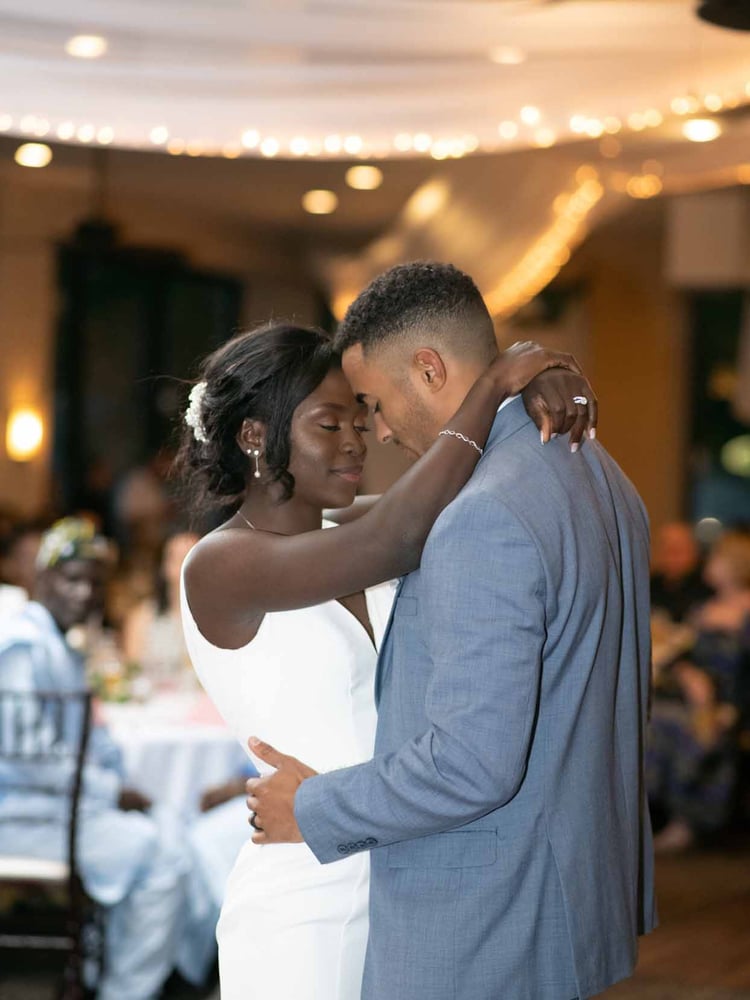 ***
We want to extend a glowing THANK YOU to Enyo, Etienne, and all their vendors for creating this wonderful day.