Jensen and Reid celebrated their California nuptials at the glamorous Galway Downs by Wedgewood Weddings in the renowned Temecula Valley Wine Region. Jensen looked absolutely stunning in a lace wedding gown surrounded by her bridesmaids, who donned blush floor-length gowns. The ceremony and reception were adorned with floral and gold accents, creating a classically romantic wedding aesthetic. The bride and groom were all smiles as they celebrated their special day surrounded by loved ones at Galway Downs in Temecula, CA.
***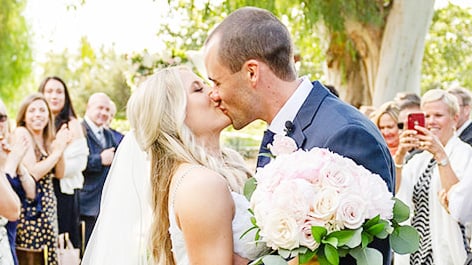 we just can't get enough of these adorable lovebirds
"Our wedding was the BEST experience. Any time I had a question, thought, worry, I would call or email Wedgewood Weddings and they would instantly put my mind at ease. The process almost seemed too simple. I always heard of people being stressed out during wedding planning but I can 100% say I was not stressed at all thanks to the staff at Galway Downs by Wedgewood Weddings. Shout out to Diana who truly kept me sane and was the best coordinator we could ever ask for."
- Jensen & Reid
Bridal Details
Jensen chose stunning, timeless details to accent her special day. Her wedding shoes were a warm nude color with minimalistic style. Her jewelry featured sparkly diamonds and gemstones paired with clean lines for a modern look. She chose a traditional garter with an accent of something blue to top it all off. Everything worked together perfectly for look that says "gorgeous, yet classic with a modern twist.
whimsical gold and floral wedding invites and accessories
jensen's beautiful golden locks in a half updo hairstyle // galway downs bridal suite


jensen glowing before the first look in the beautiful gardens of galway downs
Jensen and her bridesmaids in gorgeous dusty rose bridesmaid dresses
Jensen and Reid chose the amazing and talented, Leah Marie, to photograph their very special wedding day. Leah is a joy to work with, and she did such a beautiful job of capturing the raw emotion and stunning decor of this timeless wedding celebration.
"Such a beautiful day all around! Jensen did a first look with her bridesmaids, which was perfect!! It was so great seeing the girls genuinely excited and happy for their friend! Next we did a first look with her dad, which may have been my favorite part of that day! Her dad's reaction was priceless! He was sincerely blown away, so sweet! Jensen and Reid did not see each other before the ceremony, so it was so fun to capture Reid as he saw his bride for the first time walking down the aisle! These two were a breeze to photograph, as they gushed and stole sweet glances at each other the whole time! Their giant smiles were definitely contagious, and we found ourselves smiling right along with them!"
- Corey, Leah Marie Photography
The groom looked dapper in a velvet navy tie and a crisp white shirt


The groom's party donned navy blue suits paired with handsome brown leather accessories


Reid and his groomsmen looked picture-perfect at Galway Downs
the wedding ceremony
The lovely couple chose one of our favorite wedding ceremony sites at Galway Downs to exchange their heartfelt vows. Classic wood folding chairs were placed on both sides of a rose petal lined wedding aisle, perfectly situated to watch the couple say 'I do'. The rustic wood arbor was adorned with a beautiful flowing silk fabric in cream, and accented with a lavish arrangement of greenery with pink and white roses. The glimmering lake of Galway Downs and the age-old oak tree made for a stunning backdrop for the event. It was truly beautiful!


one of many outdoor ceremony sites at Galway Downs


Reid and Jensen exchanged personalized vows that they hand-wrote for one another


a beautiful ring exchange next to a glimmering lake


You may now kiss the bride: Jensen & Reid are officially married!


Jensen and Reid celebrate their first moments as husband and wife at Galway Downs
"Have fun with it! There is no reason to get stressed out or caught up in the little things. This is such an exciting time in your life. Weddings are not a show you're putting on, they are an event to celebrate the love you and your person have with one another, surrounded by the people you both love. On the day of, you truly do not notice if something small goes wrong, it really is the big picture that matters! You are marrying your person surrounded by your friends and family. What more could you ask for?"
- Jensen & Reid
wedding portraits as newlyweds
After the romantic wedding ceremony, Jensen and Reid stole away for a few moments with their photographer to capture the perfect lighting for some wedding portraits. After posing for a few photos near the ceremony site, they explored the beautiful native gardens, a perfect place to have a few moments of peace and quiet before the festivities began!
Jensen and Reid pose for a bridal portrait at Galway Downs


Jensen and Reid enjoying the manicured gardens at Galway Downs
"Jensen and Reid were so cute and looked in LOVE. They we very open and we got along very well. I loved Jensen's wedding dress - it was totally different than I've seen in a long time. I even Facetimed the bride on the morning of her wedding to make sure she liked everything and to let her know to have a great day. I especially loved that they decorated the wood wall at Galway Downs! I wish more people did this because there are so many ways to use it: either desert wall or photo booth and accent decor for the couch and seating area."
- Robert, Events by Floral Sensations
The rustic and chic table assignment sign at Jensen & Reid's wedding reception


White linens and wooden chairs added a rustic feel to the Galway Downs ballroom


Gold plates paired with delicate floral centerpieces made for a romantic setting


Jensen & Reid created his and hers custom cocktails for their wedding


The team at Bo Cakes created a beautiful naked wedding cake design for Jensen and Reid
"Jensen and Reid were such a fun couple to work with and were very complimentary. Just a couple weeks ago, I received a text form Jensen with nine gorgeous pictures of her cake and dessert bar saying 'we still can't get over how amazing our cake and dessert table was - so incredible!' Not many brides take the time to write me after the wedding. This shows how nice and thoughtful they are."
- Kathy, Bo Cakes
Reid and Jensen are introduced for the first time as husband and wife


Reid and Jensen close out their wedding reception with a grand sparkler moment
Jensen & Reid's romantic wine country wedding would not have been possible without the support of our amazing vendor partners:
***
We wish this joyful couple nothing but love and happiness for the rest of their years! Thank you for choosing our team to help bring your vision to life, it was truly an honor.