What's more delightful than a day to celebrate moms!? Mother's Day is a fun holiday honoring the family matriarch – more informally known as Mom! You're probably familiar with similar holidays honoring family members, such as Father's Day, Siblings Day, and Grandparents Day. Like everything great, the concept was born in the United States, and a wonderful excuse to eat bite-sized foods, drink champagne, and shower all the moms in your life in flowers.
While there are many ways big and small to celebrate Mother's Day, we love the idea of hosting a Mother's Day brunch. Let's dive into some of our favorite brunch ideas.

***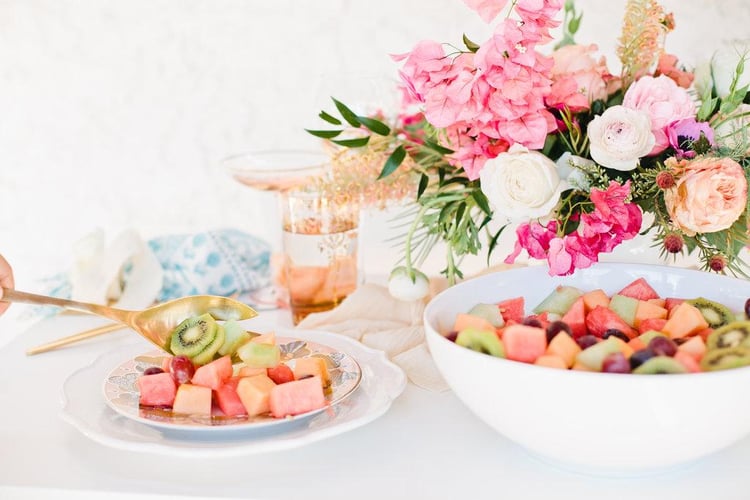 A Mother's Day Brunch Pretty In Pink - style me pretty
Mother's Day Brunch 101
Let's start with the basics! Choosing what type of mother's day celebration you want to plan is the first step. If you haven't already dreamed up what type of gathering you want, consider these three questions to guide your decision-making process:
Shall the brunch be more formal or casual?

What's the personality of the guests (mothers) of honor?

How many guests will you invite?

Brunch Party ideas
Once you answer these questions, you're on the fast track to brunch planning! We love brunch because it's truly such a versatile type of event with so many personalities that you can try on. Here are some of our favorite brunch ideas to get your imagination spinning ...
Mimosa Bar w/ Seated Brunch & Lawn Games

Fairy Tea Party w/ Macaroons & Biscotti

Donut Brunch w/ Champagne Toast

Backyard Picnic w/ Waffle Bar & Coffee



mother's day brunch menu
Always make sure to keep your guests in mind when planning your brunch menu. If your guests of honor prefer savory foods, you'll want to feature ingredients like eggs or potato pancakes. Or if she's all about light and fresh food, a large charcuterie board with fancy cheese, fresh fruit, and nuts may be just the right touch.
Here are some tasty brunch menu ideas for you to consider ...
Use croissant dough to prepare savory breakfast cups filled with ham, gruyere, and eggs, paired with a simple arugula salad with champagne dressing.
Feeling a bit fancy? Try some decadent breakfast eggs incorporating duck egg, baked with soft-smoked haddock and topped with fresh chives.
If your mother(s) of honor happens to be from the New England area, they're almost guaranteed to be thrilled when you serve toasted bagels with cream cheese, capers, and lox.
Consider a triple-berry brioche french toast topped with a sprinkle of powdered sugar and drizzled with maple syrup.
Serve an array of perfectly fluffy mini pancakes filled with fresh blueberries, chocolate chips, or pecans, topped with a lovely raspberry puree or boysenberry syrup.
Goat cheese frittata is perfect for a special breakfast and brunch and gives the whole thing an elevated flair. Serve it with bacon-wrapped figs and melon skewers.
Have a sweet tooth? An oatmeal-baked carrot cake is the perfect Mother's Day recipe, and the flavors are perfect for a bright spring gathering. Pair with a variety of loose leaf tea and freshly brewed coffee.
Savor some fancy scones, crammed with chunks of chocolate and drizzled with a sweet vanilla glaze. Serve with coffee, brie, and fresh strawberries!


decor ideas
Whether you're planning a formal affair or casual garden party, be sure to incorporate small thoughtful touches to create a bespoke and lovely vibe. From bright floral centerpieces to custom champagne glasses, there's so much you can do to really bring the celebration to life. We love to send guests home with party favors no matter what the reason for gathering - consider offering a sweetly packaged packet of seeds, custom photo magnet, or crystal.

choose your location
Mother's Day brunches can truly be hosted anywhere and everywhere! Depending on your party style and guest list, you can host your brunch in a backyard, at a park, at a local cafe, or at a local special events venue. If you're inviting 20 guests or more, brunching at a local events venue that can coordinate setup, catering, and clean-up may be the best bang for your buck!


plan fun activities
We love a good party, and every good party has activities! For Mother's Day brunch, anything light and sweet would be delightful. Here are some of our favorite brunch activity ideas to celebrate the mothers in your life:

Instructed sip & paint class! Nowadays it's easy to hire a local artist to come teach a class at your location. This activity pairs perfectly with brunch and creates instant party favors!

Lawn games like horseshoes, croquet, or corn hole. These activities are fun, lightly competitive, and just right for a backyard BBQ-style brunch.

Trivia! Depending on your audience, you can theme the trivia to be focused on the mother of honor, or a common interest. We love this idea as it can be done right from the comfort of your perfectly decorated table.

Wine or tea tasting. This idea is great, especially if you're planning a late brunch around 1 or 2 pm. Adding a blind taste test to the activity adds an extra layer of fun - just be sure to have a prize for the winner!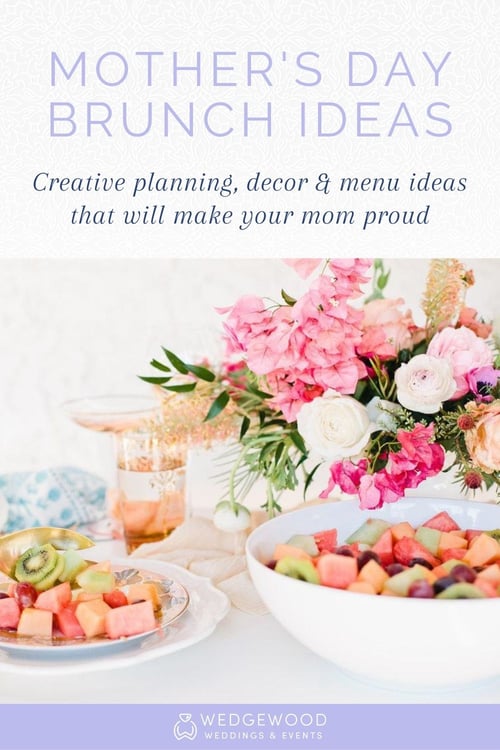 ***
Mother's Day is (always) around the corner, and it's never too late or early to start planning a celebration for the women in your life. When planning your spectacular Mother's Day brunch, remember to include (1) bright and beautiful decor, (2) delicious food, and (3) activities. Do all 3 of those things and you're guaranteed to have a successful shindig! If you need support planning, we're always here to help.