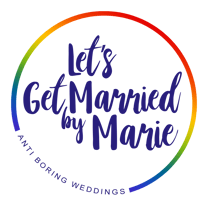 Meet Minister Marie of Let's Get Married! Marie has been a Wedgewood Weddings preferred vendor for several wonderful years now and provides officiant services to our Southern California couples! Her tagline "anti-boring weddings" says it all, and our customers absolutely rave about her. We had the pleasure of catching up with Marie to find out how she creates a ceremonial experience couple will cherish forever!
***
Welcome, Marie! Please introduce yourself to our readers.
I'm Minister Marie Burns Holzer. I'm a nondenominational minister performing weddings and other ceremonies throughout Southern California. When I'm not performing weddings, I'm leading my daughter's Girl Scout troop, training for Spartan races, attending Comic Cons, and talking endlessly with my husband of 12 years about whatever movie, show, or book we're currently obsessed with.
Excellent! You certainly do keep busy. Tell us more about your journey to becoming a wedding officiant.
I went to college for Musical Theater and English what seems like forever ago. In my life before weddings, I was a blogger, freelance writer, and social media marketer. I was ordained back in 2006, performed a few friends' weddings, and went full-time as an officiant in 2011. By the time Let's Get Married SoCal hits our 5th anniversary in Oct 2016, I'll have performed 600 wedding ceremonies. I've been with Wedgewood since late 2014 and am having a blast with the wide variety of awesome couples I've worked with there.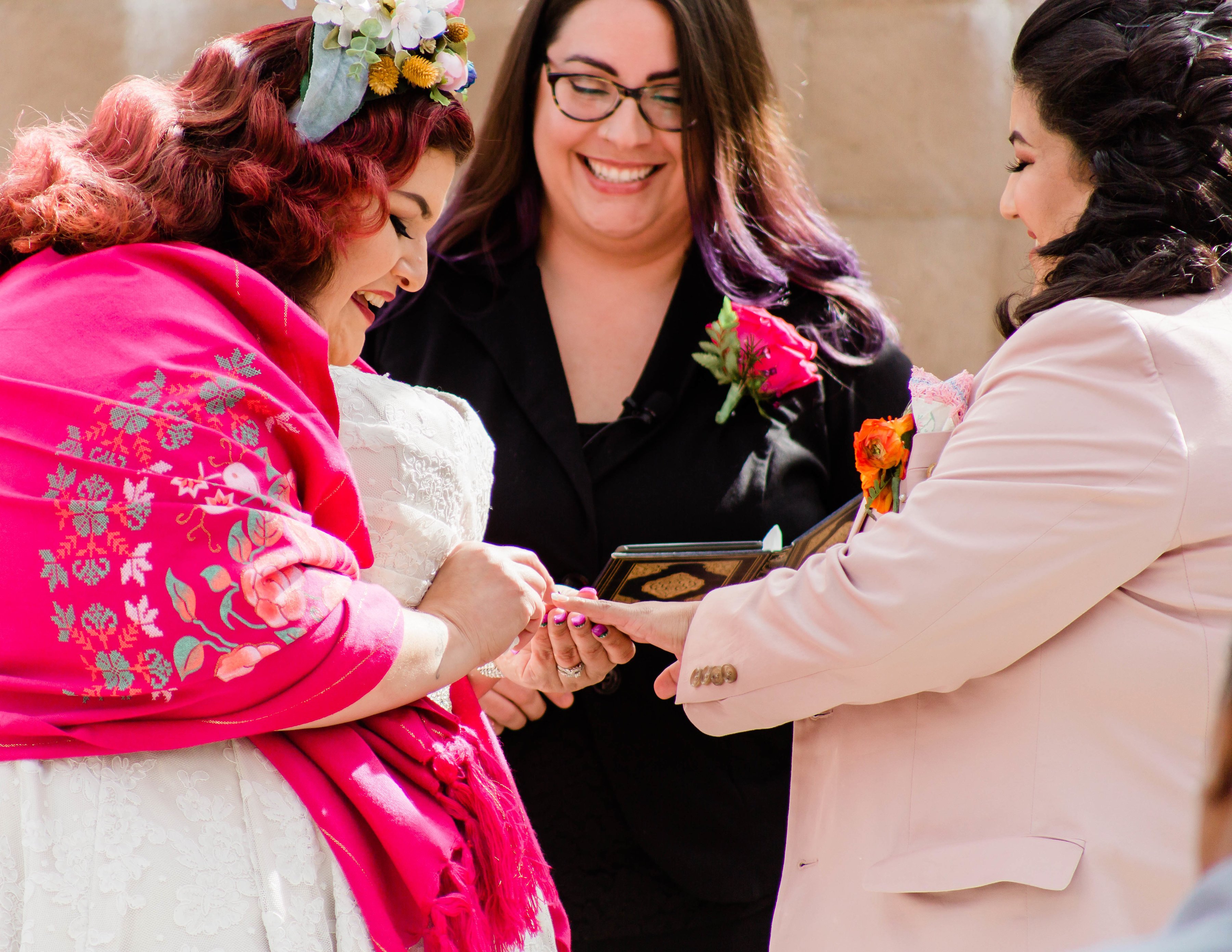 What type of ceremonies do you conduct?
I specialize in custom ceremonies, which means I tailor every ceremony to the couple. I've done the sweeping traditional romantic ceremonies, Star Wars weddings, funny and light-hearted ceremonies, weddings in Spanish and English so the whole family can understand. My favorite weddings are the ones that straddle tradition and modern sensibilities, one that nods to the customs that we all think of when we hear "wedding", but matches the tone and feel of the ceremony to the couple's personalities and love story.
What kind of special requests and customizations do you cater to?
I love what I do so I've done some crazy things for my couples. I've hiked 2 miles up a mountain to the "perfect" peak to perform a sunrise ceremony. I've included multiple kids from previous relationships into wedding vows and unity ceremonies (no easy task when there are six kids to work in). I've given a voice to couples who have suffered great losses before their wedding and wanted to find a place to honor parents who have passed, once only a few weeks before the wedding. I've even started weddings with the "Mawwiage" speech from The Princess Bride!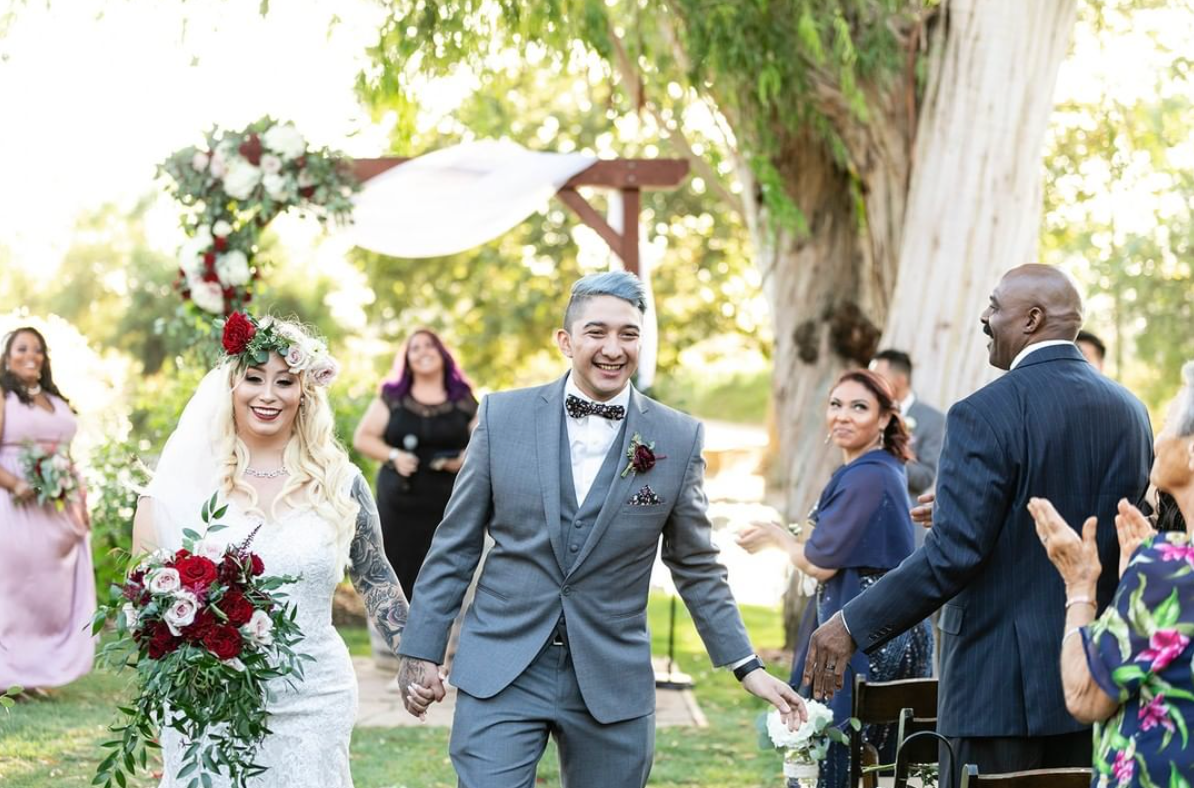 Tell us about your favorite trends for wedding ceremonies . . .
I hear these words over and over again: "You know, we're not really religious. I mean, we believe in God/ a Higher Power/ karma, so I guess we're more spiritual. Most importantly, we want something meaningful but fun, and not stuffy, long, or boring." This all comes down to personalization. When you don't prescribe to a specific religious tradition, nearly everything is fair game for customization. With that said, even my religious couples are asking for a lot more personalization in the set traditions, usually in the form of sharing their love story and finding specific readings or twists on unity ceremonies that make it more "them".
What is your favorite part of a wedding ceremony?
I have two parts that are equally my favorites. In every ceremony I do, I share the couple's love story. Each partner has no idea what the other person put in their love story homework and the wedding is the first time they hear what I've custom-written for them based on that homework.
"It's the best feeling when I can get giggles, gasps of delighted surprise, and tears of love and joy during the love story portion. I'm tearing up just thinking about it."
My other favorite part of the wedding is the vows. So much emotion comes out of couples at that moment in big and small ways. It is so moving to witness. And I have the best seat in the house!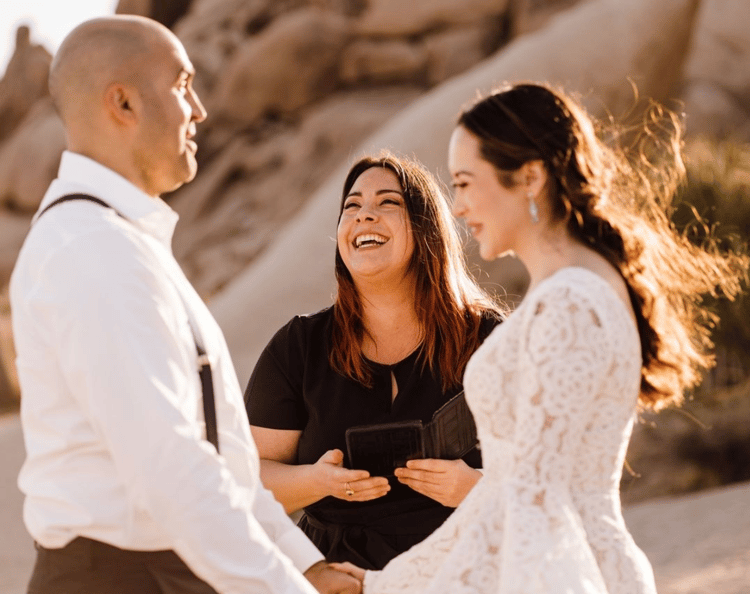 What should couples think about when looking for an officiant?
There are two things I think couples should really look for – experience and the gut check.
Experience is about how well this person knows weddings and all the nuances that make this experience so beautifully meaningful. It can be as simple as knowing to always carry tissues (I always have some in my pocket!) or something as vital as knowing how to fill out the marriage license properly so you are actually legally married. Officiating is so much more than the 15-20 minutes I'm publically speaking on your wedding day. It's the hours of preparation to get to know you two, writing something that sounds and feels like you, performing your ceremony in a manner that makes it all look easy and seamless. It's also the thousands of hours of experience in walking couples through the process of writing personal vows, handling intense parents with grace on the wedding day, helping shyer couples handle all that attention during the ceremony while still being completely present to enjoy this momentous experience.
That's where the gut check comes in. When you meet with an officiant for the first time, check what your gut reaction is to them. Do you feel safe and comfortable in their presence? Do you feel happy? Excited? Calm? Most importantly, do you trust them? The gut check is such a simple test but often neglected. The stark reality is that on your wedding day, I'm the only one up there with you and your beloved as you share those vows. The planner, your mom, your best friend… everyone else are now silent and witnessing what is happening. So in order for your ceremony to go brilliantly, you need to trust I will guide you through this amazing experience. After all, your wedding IS your ceremony. All of this time, money, and preparation is to celebrate what we do in that ceremony—publicly declare your marriage!
***
Wow, what incredible advice! It's no wonder that Marie is such a cherished partner within the Wedgewood Weddings family. If you would like to learn more about Marie, follow along with her wedding adventures on social media and her website.