Meet Karen Hudak, an experienced wedding photographer who's been capturing magical memories in the greater Phoenix area since the late '90s. She's one of our preferred photography partners in Arizona and frequently photographs weddings at our beautiful Palm Valley venue. Couples rave about their experience with Karen—great customer service, affordable photography packages, versatile editing style, and all-around beautiful photos. She also knows all of the best photo opportunities at Palm Valley!
***

BRIDE & GROOM IN THE CACTUS GARDEN AT PALM VALLEY BY WEDGEWOOD WEDDINGS, AZ
What got you into wedding photography, Karen?
I started off shooting film about a million years ago, before digital photography was even a common thing. As the years went on, I stayed committed to developing my craft, shooting photos everywhere I went. I was drawn to weddings because it's truly the happiest day of so many lives, and as a photographer I get to be a part of that happiness! I officially started my business in 1999, and the rest is history! 😄

Is there a wedding photograph that you particularly love?
That's a no-brainer! A few years ago, I was shooting a wedding at a Wedgewood Weddings venue (of course) and the rain just kept coming. While rain is normal in many parts of the country, it is particularly rare here in Phoenix. At the end of the event, I had an idea to try taking some bridal portraits in the rain. My faithful assistant stood in the rain with the lighting equipment—which is basically a lightning rod if you think of it—and we captured one of my absolute favorite photos of all time at that moment.



bride & groom in the rare Arizona rain at Wedgewood weddings

What are the most important things to consider when choosing a photographer?
Oh, this is a great question! I would start with experience. This person is going to photograph one of the most memorable days of your life! I love that the work we do as photographers lives on for decades, maybe more, which is all the more reason to invest in your photographer. Beyond beautiful wedding photos, an experienced photographer will have the right equipment for your style, your venue, your vision. They will always be prepared with backup equipment, backup photo storage, and backup plans for any occasion. It's all about adjusting to the tides and ensuring a smooth experience, and that only comes with time.
Secondly, make sure that the photographer has adequate time to get to know the location, venue, and team they're going to be working with. One of the things I love most about working with Wedgewood Weddings is that I have genuine relationships with the entire team from the wedding planners to the DJ and kitchen staff. Not only do I get to work with my friends, but we're a well-oiled machine and it shows in the final product. If you're going to hire multiple vendors that don't have that pre-existing relationship, make sure to get them all on the same page ahead of time. It'll be worth it!

BEAUTIFUL SUNNY DAY AT PALM VALLEY BY WEDGEWOOD WEDDINGS, AZ

Let's say a couple is disappointed with their wedding photos.
What should they do?
For starters, talk to your photographer. Be honest. They'll probably ask questions and try to understand where the disconnect is. Are they unhappy with the style? With the editing? Those things can usually be changed post-production. Are they unhappy with how they look in the photos? That's more challenging as it's so subjective.
Personally, I always try to set great expectations ahead of time, so that this situation doesn't happen. It also really helps to choose the same photographer for both your engagement photos and your wedding photos, that way you've established a relationship and have confidence that you like their style. Once in a while, I'll arrange a post-wedding shoot and it's such a great way to accommodate a situation where the couple is unhappy with their photographs. Or, perhaps unexpected weather throws you a curveball, we can still capture that sunset shot on a later date so that you'll have it for your memory book.
Thanks Karen! We're so glad to have you as a partner in capturing beautiful Arizona weddings. Let's do this again soon!
***
You can learn more about Karen on her website and Wedding Wire. She's a master at capturing beautiful, genuine smiles and special moments—what more could you want?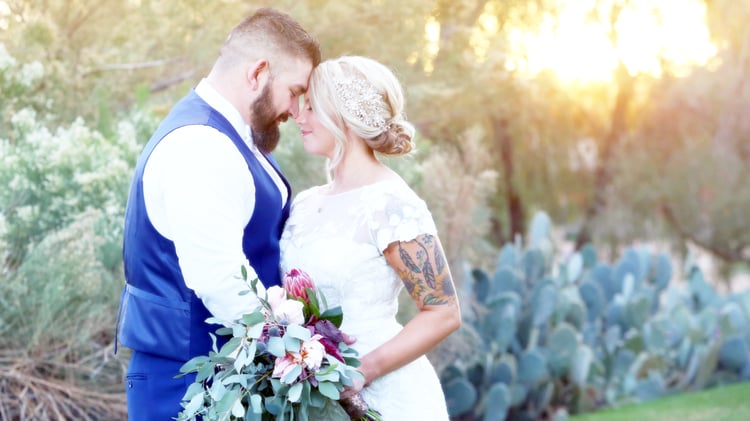 sunset bridal portrait AT PALM VALLEY BY WEDGEWOOD WEDDINGS, AZ