Every couple wants to feel happy and confident on their wedding day. But not everyone knows where to begin. Whatever your fitness goals, a healthy workout routine and a proper diet is essential. If you're looking to incorporate exercise into your wedding planning, consider these 6 helpful tips!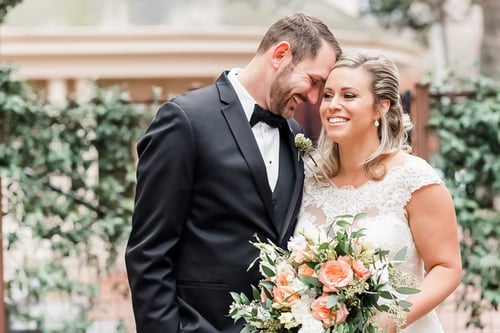 Start Early
The hardest part of starting something new is starting.
By building fitness into your everyday life as as soon as possible, the more likely you are to find a routine that sticks. The sooner you start, the faster you'll begin to see results. For many people, getting small but tangible results is all the motivation they need to keep going.
Before committing to a fitness routine, start thinking about what specific areas you'd like to improve. Maybe you're looking to increase your stamina so you can party all day, improve your dance skills, or tone up a little overall. Either way, you'll want to create a fitness plan that allows you to reach your goals before your wedding date.
Tip: Make time to decide on your goals. Do you want to be able to complete a 5K, master the tango, or complete a 30-minute arm workout? Each one of these can be broken into smaller steps with goals that match.
Set A Consistent Schedule
Making time for health and fitness is critical.
After you've booked your wedding date and created a planning timeline, start to think about how you can incorporate a fitness routine into your daily schedule. Do you prefer working out in the morning or the evening? How many times can you fit in a workout each week? Should you join a gym or try a fitness class? The answers to these questions are entirely up to you and your schedule!
Find a routine that allows you to work out often, but also gives you a day or two to rest. You want to make sure you're consistent without overdoing it and putting too much stress on your body. Exhaustion can lead to muscle soreness, poor performance, and a change in your sleeping pattern.
Tip: Consider changing up your fitness schedule as your wedding date gets closer. You may find that exercise helps you release tension and, as your life starts to feel 100% wedding focused, you might begin to appreciate the distraction of exercise.
Try Something New
Workouts should be fun, so make time to keep them interesting and try working out with friends.
The desire to get in shape for your wedding might be all the motivation you need to try something completely new when it comes to fitness. After you've established your personal goals, do a little research on what workouts or fitness classes are best to achieve those specific goals.
Tip: This is the perfect opportunity to try a different approach to fitness - you could even make it a group activity and book a class with your bridal party or groomsmen! Fight wedding stress with a relaxing yoga session or get your heart rate up in a HIIT (high-intensity interval training) class! Find a workout that'll not only keep you motivated but will continuously challenge you to push yourself to reach your minor and major goals!
Eat Right
We all know this: eating healthier can help us feel happier.
The foods you eat each day play a crucial part in your overall health. Proper nutrition will determine how you feel today, tomorrow, and on your wedding day. Your diet, in addition to physical activity, can help you reach and maintain a healthy weight, reduce your risk of chronic disease, and improve your overall health.
Tip: Finding an individualized diet plan that's specific to your health will help you feel your best during wedding planning and, more importantly, on your special day. Building healthy habits that last benefit you in preparation for your wedding and for your entire life too!
Drink Water
Hydration is paramount.
You've probably heard a million times that you need to drink plenty of water - and that's because there's a good reason for it! Although this might seem like a small habit, drinking the recommended daily amount of water each day can have a significant impact on your body! Drinking water can improve skin health, regulate body temperature, boost performance during exercise, and many other benefits.
Tip: Keep a reusable water bottle with you and download an app to remind you to drink your daily amount of water.
Get A Good Night's Rest
Make sleep a priority.
Sleeping has got to be the most enjoyable way to get healthy! It's more than just getting you energized and ready for the day: consistently getting a good night's sleep can lower your chances of getting sick, allow you to think more clearly, reduce stress, and improve your mood. It's so important to set a nighttime routine that'll regulate your sleep schedule and help your body feel ready for bed.
Tip: An hour before bed, put down your phone, pick up a book, or turn on a movie. Find a way to unwind and clear your thoughts so you can fall asleep quickly. The right amount of sleep can even reduce any stress you might have from planning your wedding.
***
Trying to look your best for your wedding day is a lot of pressure to put on yourself. But, through building healthy habits and incorporating exercise into your daily routine, you can begin to feel more confident - ready for your walk down the aisle! Set fitness goals that will help you feel your best. In the end, your hard work and dedication will all be worth it!