This post is brought to you by our friends over at Wedding Hashers: the largest network of professional wedding hashtag writers. They make it easier than ever to create a fun, memorable & unique wedding hashtag for your big day.

Wedding hashtags are one of the biggest wedding trends to emerge over the past few years. It's such a fun & creative way to involve your wedding guests in celebrating your special day. From cute puns to romantic plays on words, wedding hashtags are a great way to build hype for your wedding!
how to come up with the best wedding hashtag
Coming up with the perfect hashtag is no small feat, especially if you're taking a long last name or one without any obvious rhymes. Some great examples of wedding hashtags are: #AllenPartyof2, #HappierEverAllen, and #AllenSaysIDo. That being said, there are some great options out there for creating a catchy and memorable wedding hashtag.

CREATE YOUR OWN HASHTAG
The key to a great hashtag is making it easy to remember! If you're creating your own
hashtag, start by looking up popular hashtags on google to get the creative juices flowing. Most couples use puns or rhymes for their hashtag, or simply plug their name(s) into a common wedding phrase. Adding a dash of alliteration in your hashtag is bound to make it extra snappy.
If your hashtag ideas aren't clicking, then you can always enlist help. There are tons of online wedding hashtag generators that you can check out. While most of those will give you generic ideas, they can still be a great place to look for inspiration. Friends and family can be a great source of inspiration as well!
HIRE A PROFESSIONAL
If the DIY method isn't your style, you can hire a professional wedding hashtag writer. That's right, there are writers who dedicate their time to coming up with the punniest, cutest, most romantic hashtags. Check out Wedding Hashers, the world's largest team of professional wedding hashtag writers—you won't be disappointed.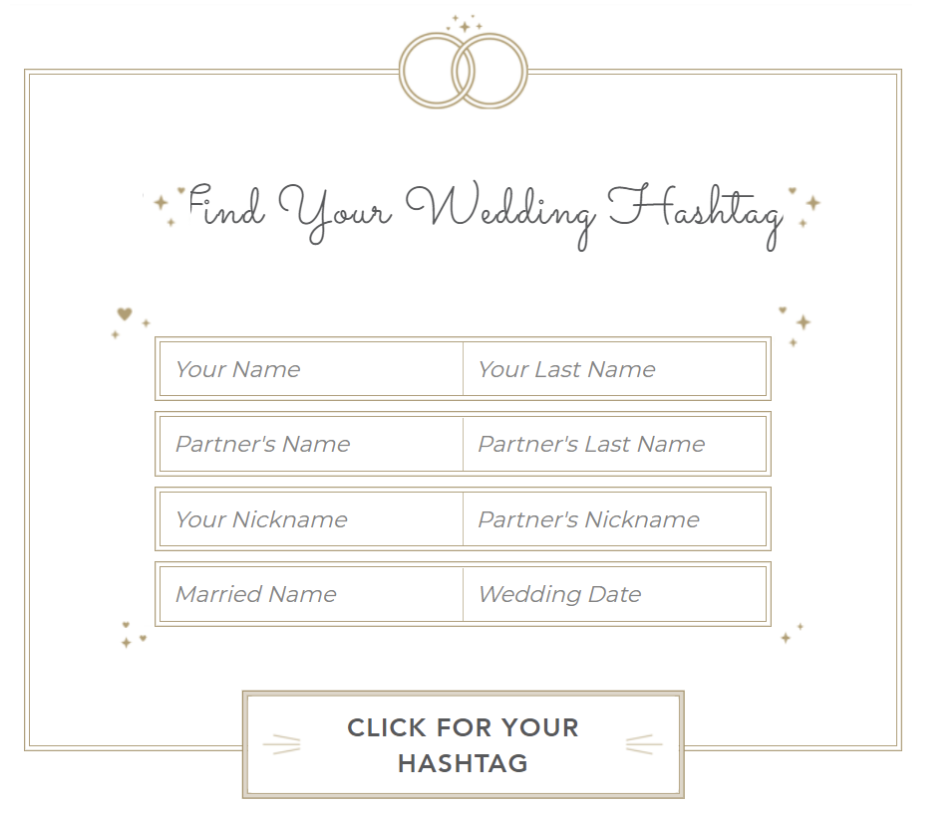 How to display and promote your hashtag
Think of your new wedding hashtag as the catchphrase for your wedding—a slogan to represent your big day. To get the most out of your hashtag, it's important that you display and promote your hashtag throughout your event. Let's walk through all of the best opportunities to showcase your hard work!
photo booth
Photo booths are popular for weddings because they give your guests a fun way to capture memories, interact with other guests and show off their fancy attire. The beauty of a photo booth is that it prints out pictures right then and there, giving your guests a bespoke souvenir to remember the special night.

Additionally, you'll have the option to add some text to the print out photographs which means it's a perfect place to showcase your hashtag. We recommend adding your hashtag on a sign next to your photo booth, encouraging your guests to share their photos to social media—some photo booths even give you the option to post directly from the booth.
props for the photo booth
If you have a photo booth, then you absolutely must have props too! From wigs and masks to cute little signs and frames, props are a great way to add some extra fun and flavor to your photos. Don't forget to throw your hashtag on to some of the props. That way, when people share the pictures they take with their friends, they'll also be sharing your cute couple catchphrase.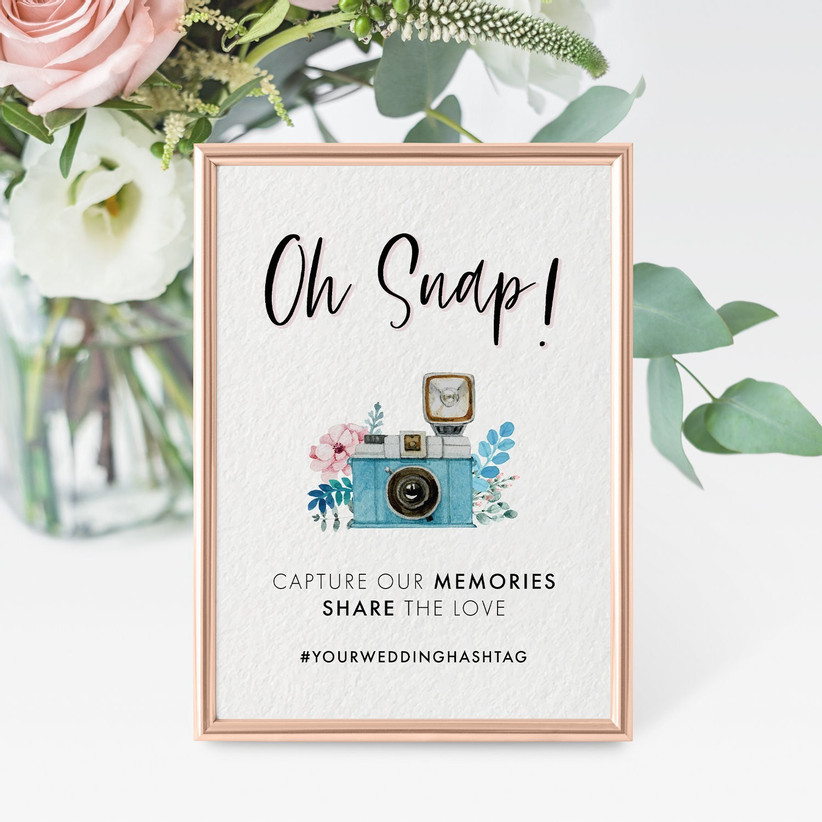 The welcome sign
Welcome signs are a nice touch to add near the entrance of your venue, or wherever guests will first walk in. As one of the first decorations that your guests will see, welcome signs set the tone for your wedding and are a nice way to tie a bow on top of all your other decorations. It's also a great place to showcase that awesome hashtag you came up with.
Whether you put together a chalkboard sign with fancy cursive or paint text on a piece of driftwood, make sure you throw your hashtag on there so your guests know how to tag all the photos they're about to take.
At the bar
A well placed bar sign with with your hashtag on it will get tons of exposure. Throw it up behind the bar, maybe even on the bottom of the drink menu and people will be reading it all night, and tagging your hashtag in every wedding selfie!
Directional Signs
Directional signs are must haves for larger venues where guests may be inclined to wander, and they offer a charming decor opportunity. In addition to using signs to point your guests towards the bar, the bathroom, and the photo booth, you can also throw up a whimsical directional sign with your hashtag on it.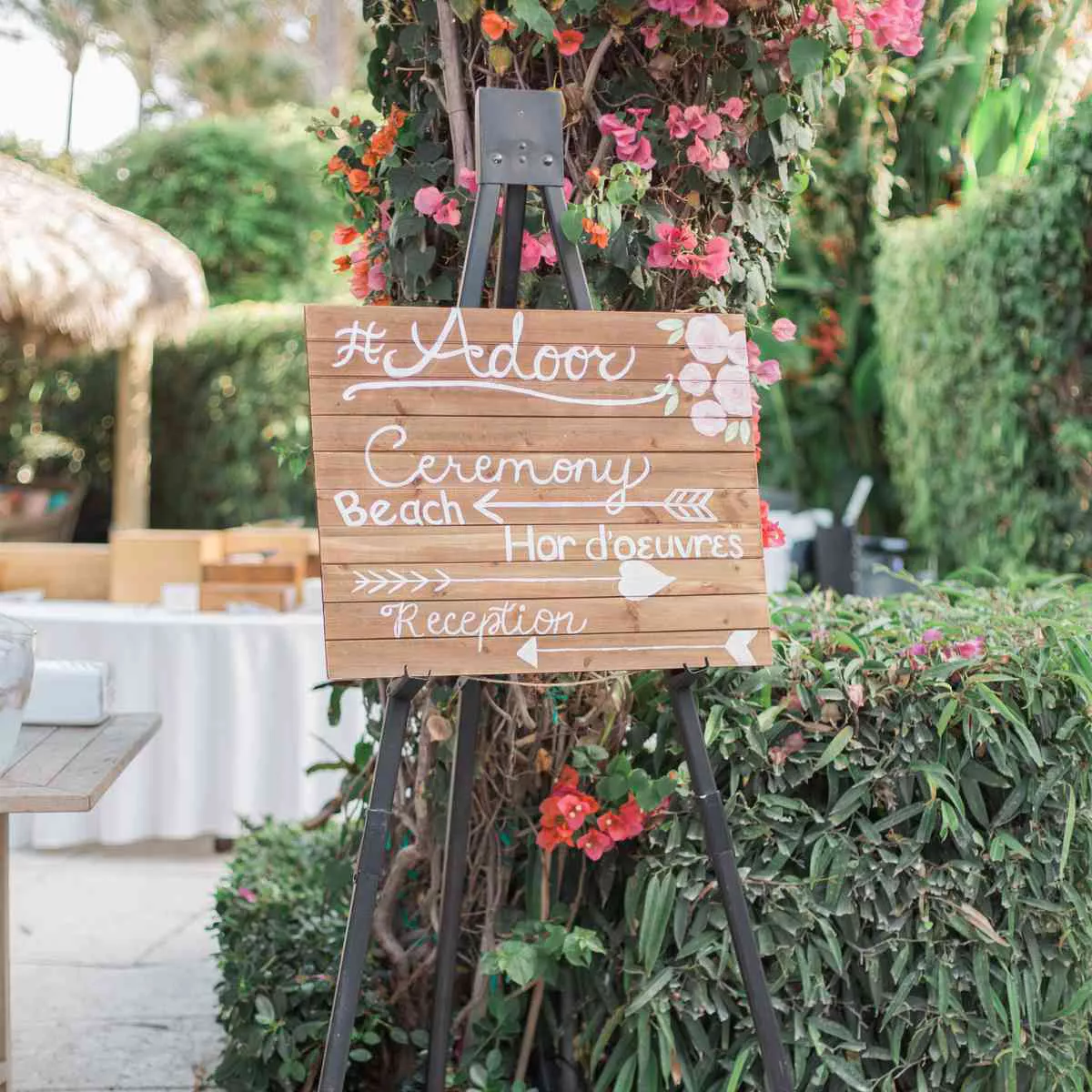 party favors
A great wedding hashtag is more than just a tool for collecting your photos on social media—it's a slogan that signifies your marriage, a catchphrase for your love. That means your wedding hashtag stays relevant even after your wedding day. So, as your guests are going home with their party favors, give them something extra to remember the night by putting your hashtag on one of the party favors. You can inscribe your tag on a box of matches, write it on a mug, or even have it printed on a koozie.

Neon Sign
Who doesn't love a neon sign? As the sun sets and your celebration carries on into the night, a neon sign is the perfect way to catch your guests' attention. A dazzling neon sign makes any venue look that much cooler. We love the idea of having a custom sign made featuring your adorable hashtag.


the ceremony program
Your program is going to be chock full of all the information your guests need for your wedding and every guest will get one of these when they arrive. So, if you're looking to maximize hashtag exposure, make sure to include it on the program. It'll serve as a great reminder on how your guests should tag their photos. To make a custom ceremony program, check out this site.



cake topper
Your cake is the crown jewel of your wedding. Whether homemade or professionally designed, everyone remembers the cake. In addition to candles, sparklers, and sprinkles, think about including a cutout of your hashtag. That way, when everyone takes pictures of your beautiful dessert, they'll also capture your wedding hashtag to showcase it to the world. Not to mention, the topper can be a nice souvenir to keep with you for the years to come.


the wedding menu
Speaking of food, your menu is also another great place you can display your hashtag. Add it to the bottom of the menu for a little touch of cuteness. In addition to reading the sweet cuisine you planned out for your wedding, your guests will be reminded of your custom hashtag.

guest book
Guest books are an amazing way to capture memories from your wedding day. They offer your guests a chance to write words of advice and encouragement that you can read for the years to come. We love that they can be neatly displayed on a shelf in your home to reference whenever you want a reminder of that special day. Add your hashtag to the guestbook
***
At the end of the day, there's no right or wrong way to showcase your hashtag. In any place where you would typically put your names, consider putting your hashtag instead. It's both a functional tool to aggregate your guests' wedding photos, but also a creative part of your wedding decor. You worked hard to come up with the perfect phrase, so now it's time to show it off!