Your wedding is likely a day that you've been dreaming about for years. So, it's only natural to want to start planning it the minute you get engaged. We get it and we're almost as excited as you two! Today we're breaking down how to confidently budget for your wedding, how much wedding venues and vendors cost, and what you need versus optional extras.
***
Here at Wedgewood Weddings, we manage stunning wedding venues with all-inclusive wedding packages from coast to coast. While we love to toot our own horn, we'll be looking at the industry as a whole from one-off venues and artisan vendors to big chain hotels with wedding options - and everything in between so you have the full picture.
***
Before you start seriously considering different venues and vendors, it can feel helpful to work out your budget total. We've all heard stories about sticker shock and Kardashian-level events and we're here to say: you can create a masterful celebration at any budget. Be loud and proud about what you have to spend and it's up to your vendors to make you feel welcome by providing forthright advice that helps you get what you want.
That said, if this is your first time planning a large event, it can be confusing to try to nail down a budget and understand where your dollars will be going. At Wedgewood Weddings, we want your engagement to be a fun, stress-free time, so we've worked hard over the years to simplify the process.
If you're self-financing your wedding, you join 50% of all couples who will be paying for their wedding by themselves. This actually makes it easier as you know off the bat what you can afford.


If you have friends and family you think may want to contribute to your wedding, start by asking them. If they do want to help financially – that's awesome! Find out if they have a number in mind so you can be clear about what's within scope.

The next step can get complicated. We see this advice we see all the time:
"Break down the total budget into categories to figure out what percentage to devote to each. Then, tweak those numbers based on location, time of year, and day of the week."
If that sounds confusing, join the club. Most people don't know how to start with this process. That's why we're here to help. Our team of experts does this all day, every day, and we make it our business to help you plan your wedding with your eyes wide open.
Let's dive in!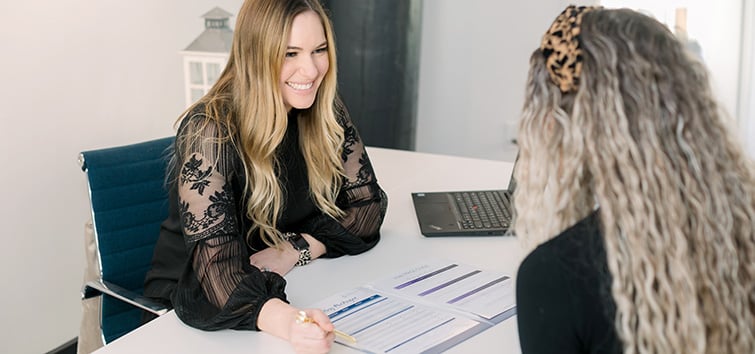 Planning Your Wedding Should feel Fun!
Wedding Price
According to TheKnot.com:

50%+ of your wedding budget will go toward your venue, catering and alcohol, and other rental costs.

12% is allotted for photography and videography

9% for attire, hair, and makeup

8% decor

7% entertainment

3% for the wedding planner

2% for wedding invitations

2% to pay the officiant

2% in wedding day transportation

2% wedding bands

2% for wedding favors
Let's pause there for a moment. You absolutely need to know that if you choose our all-inclusive packages, we can cover your venue, catering and alcohol, décor, wedding planner, officiant, invitations and entertainment in one fell swoop! That's a really good deal. In fact, we keep an eye on our competitors and know that you can get all this from us for about the same price as just the venue in some cases.
If you're following the category and percentage style of wedding budgeting this means, we roll seven of the buckets into one. That makes things a whole lot simpler. And, as we welcome customizing your package you can opt in or out of each category to make your package entirely your own.
TheKnot also reported that the new national average cost of a wedding is $33,900 and that the average is steadily climbing. Now, a backyard wedding with DIY decor and your friend bartending sounds like a heap of fun but will obviously cost far less. Conversely, if you're flying in 1,500 guests by helicopter and including a celebrity chef then you'll be an outlier too. By the way - we would love to be invited to both events!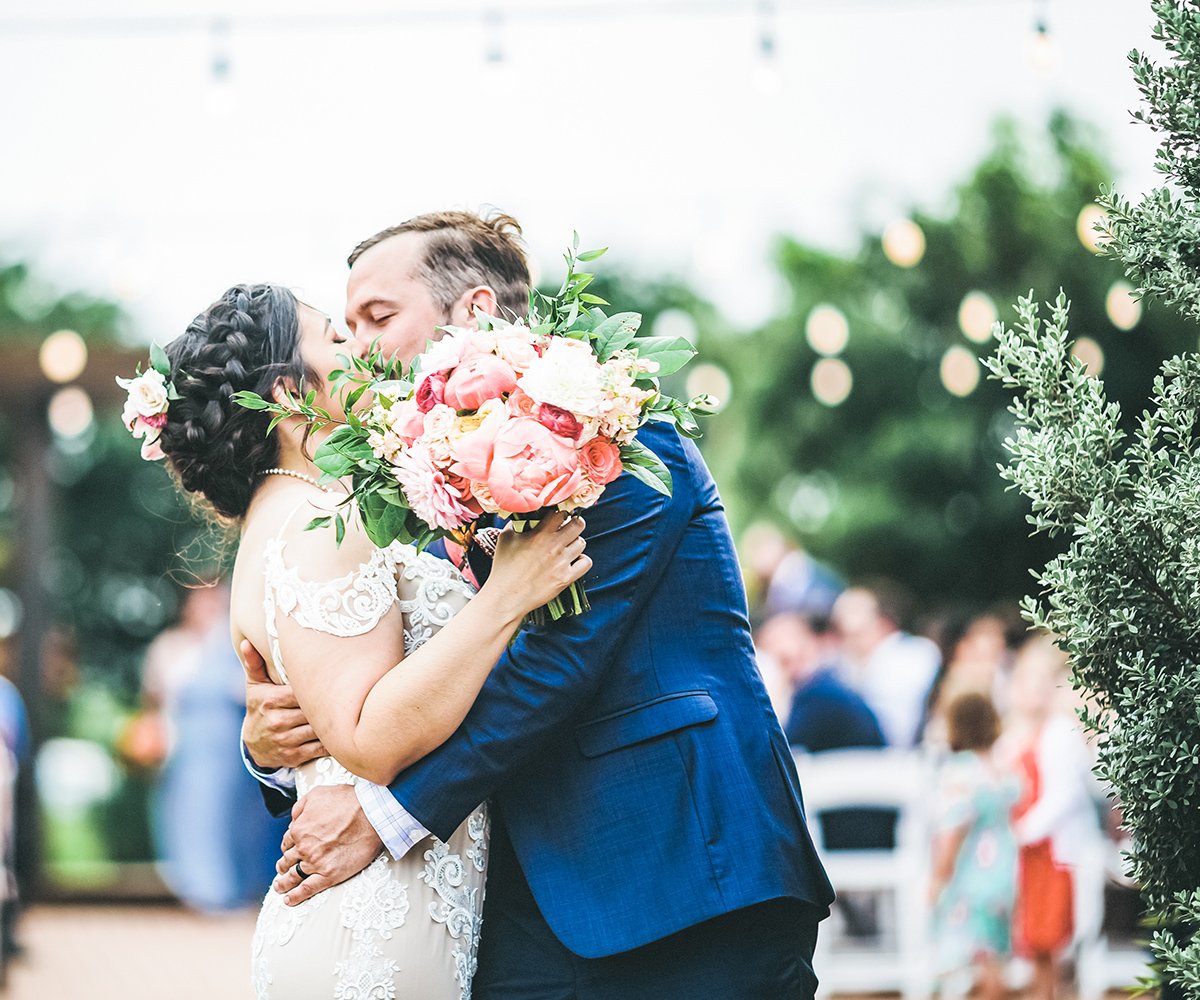 Backyard, private island, or professional event venue - let the love flow!
So where is all that money reported as an average wedding cost going? These days, couples are interested in weddings that are super personal, incorporating meaningful details about their lives. More than ever, couples want their wedding day to stand out, and they're willing to pay more to achieve that. They are also very interested in making sure their guests have a great time with above-and-beyond entertainment such as photo booths, cigar-rolling stations, and craft margarita bars.
DEMAND & VALUE
All products are priced based on demand. That is: how much anyone wants something and how much they'll pay for it. That's why if you were to plan two identical weddings but one took place on a Saturday in June and one on a Monday in January, they would have very different prices. The date affects the demand.
So, how does this work in your favor?

If you have a larger budget, you can secure a more popular date easily.

If you have a smaller budget, you can increase value by choosing a date with lower perceived demand.
When you choose Wedgewood Weddings, by changing the date, the guest list, even the length of your engagement, you can make the most of your budget. It's all about priorities, and we can work with any budget to make sure you get everything you want. For instance:
All out Saturday evening in October – We've got you!

Monday in February with a larger guest count – Let's do it!

Micro brunch wedding any day of the week – Great idea!
Truly – we make any wedding ideas and budgets work in your favor.



How Wedding Venue Pricing Works
At a typical venue, the wedding price is determined mostly by the size of your wedding. The more guests you invite, the more money you will spend. This means that larger venues that can accommodate more people will usually cost more than smaller venues with lower capacities. Usually, you'll pay a site fee, then find your own caterer, rental company (for tables and chairs), as well as all your other vendors like your DJ and decorations. Some venues do have their own caterers and that is usually a separate fee.
In fact, typical venues have a number of additional fees that are included either in the fine print or added on to the final wedding price at the end. For example, there may be a cake cutting fee, corkage costs, staffing charges, and an outside vendor fee. That's why it's important to talk with your venue coordinator and ask a lot of questions to clarify any additional expenses before signing on the dotted line.
As we hope you guessed by now, at our Wedgewood Weddings venues, we do things differently. Because we're an all-inclusive wedding company, our wedding pricing reflects more than just the site and the food. Each of our all-inclusive wedding packages comes with complete planning and coordination, and the use of our certified vendors is included. However, if you do choose to use your own vendors, we do not charge an extra fee. In our minds, that just doesn't feel right.
We have a simple formula for determining your total wedding price. Start by multiplying the per person package price by your anticipated guest count. Then add your ceremony and venue price and finally your tax and service fee. That's it, that's how much a wedding costs. No hidden fees, no surprise cake-cutting charge. Just an amazing wedding, completely customized to fit your needs and budget.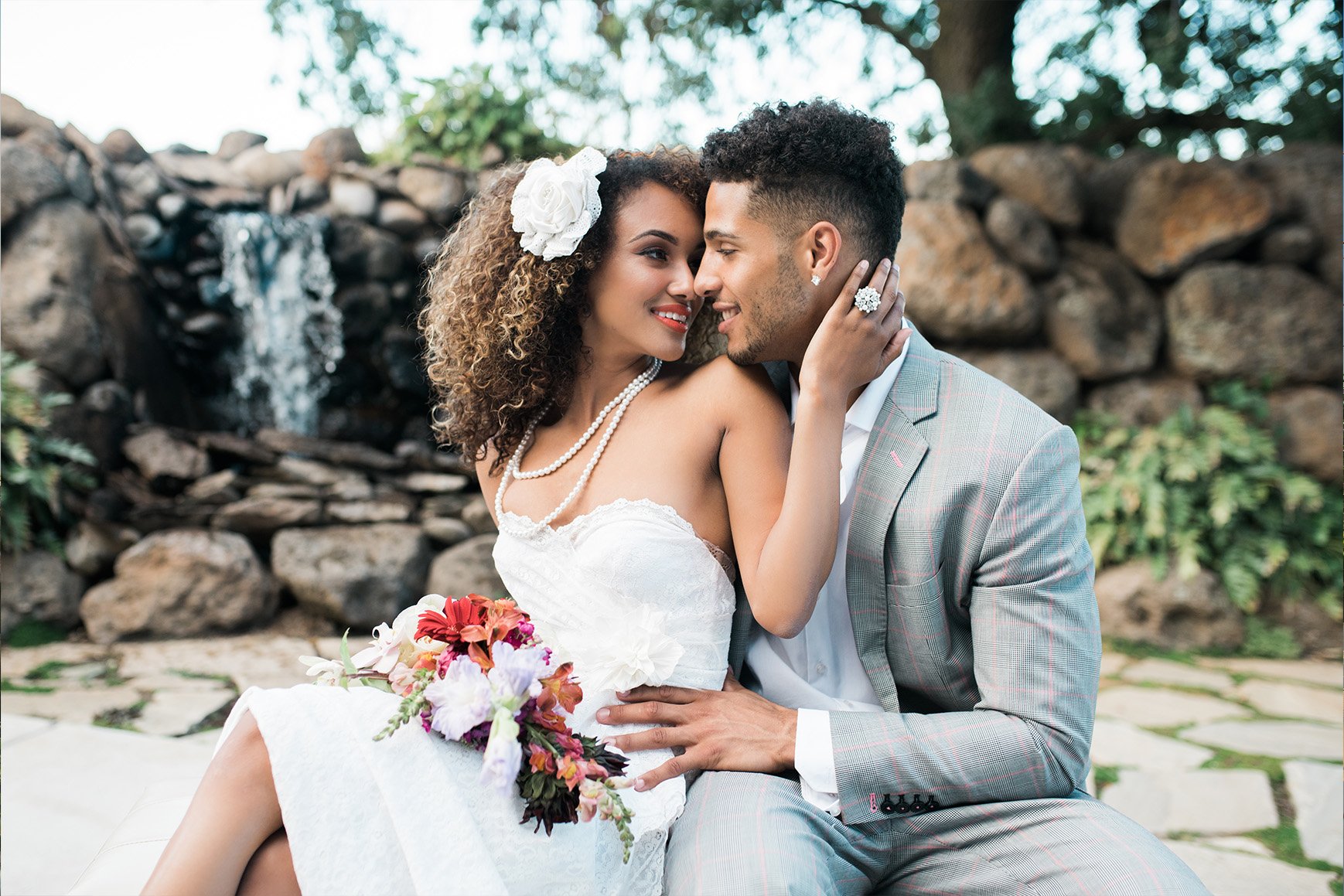 Minimums
Now that you understand our formula to find out how much a wedding costs, there is one more thing to keep in mind that impacts wedding pricing: minimums. A venue minimum is a requirement that must be met for an event to take place on a certain date at a specific time. Typically, they are based on either a guest count or food and beverage amount. Minimums are also subject to the perceived value that we discussed above, so a minimum requirement may be higher on high demand dates and lower on low demand dates.
For example, at a typical venue, they may have a minimum guest requirement of 150 or a food and beverage minimum of $15,000. This means that you are going to pay for 150 guests even if only 130 show up, or $15,000 worth of food whether it all gets consumed or not. This is a common and necessary practice for independent wedding venues because of their fixed overheads.
In the industry, we refer to event dates as "perishable". Food is an obvious example of a perishable commodity, but airline seats and hotel rooms are also considered perishable. Because an airline seat on a flight cannot be stored for another flight, it is perishable. Once the airplane takes off, the revenue for that empty seat is lost forever; the same applies to a hotel room that remains vacant for the evening. In the event and hospitality industry a date with no wedding is considered perished so venues and vendors do all they can to make a date attractive while still making the price competitive based on demand.
At Wedgewood Weddings, our approach to minimums is different. We do not apply a guest minimum because we want you to be able to celebrate with as many or as few people as you wish. And we do not apply a food and beverage minimum because your food and drink level is determined by the package you choose.
We never want you to pay for services you aren't going to use. That's why we use what we call a revenue minimum. This means that everything in your Wedgewood Weddings package goes toward the minimum. We think this way is better, because you can make sure your money is working to create the event you really want, instead of paying for unused chairs and uneaten food.
So, if for any reason, the wedding package you choose falls below our required revenue minimum, you get to add fun upgrades like upgraded appetizers, extra décor, or even a donut wall! Every venue has a list of enhancements – like a fun photobooth or entertainment – that your wedding coordinator can help you add to meet your minimum. It's important for you to know: most couples who choose Wedgewood Weddings meet their minimums easily without needing add-ons. We know you work hard for your money, so we work equally hard to make sure none of it goes to waste.


Focus on your personal wedding priorities
All-Inclusive Wedding Venues
So why are Wedgewood Weddings venues different from typical wedding venues? Because our venues are all-inclusive. A typical wedding venue will generally only include the venue itself and, perhaps, the catering. You usually have to pay extra for things like chairs and cake cutting. And you need to find all other vendors yourself. However, our pricing includes the facility rental, food and beverage, centerpieces, linens, DJs, lighting, specialty cakes and deserts, invitations, photo booths, and more. Basically, every element for your wedding is included, except your photographer and your attire.
Using an all-inclusive wedding venue is usually more cost-effective than going the traditional route. Because we offer all these services in-house or through our trusted vendors, we're able to secure great deals for you, deals that you might otherwise have missed out on. Think of it like bundling your phone, internet, and cable services into one provider. They're able to give you a better deal to offer multiple services than you'd get by paying several different companies.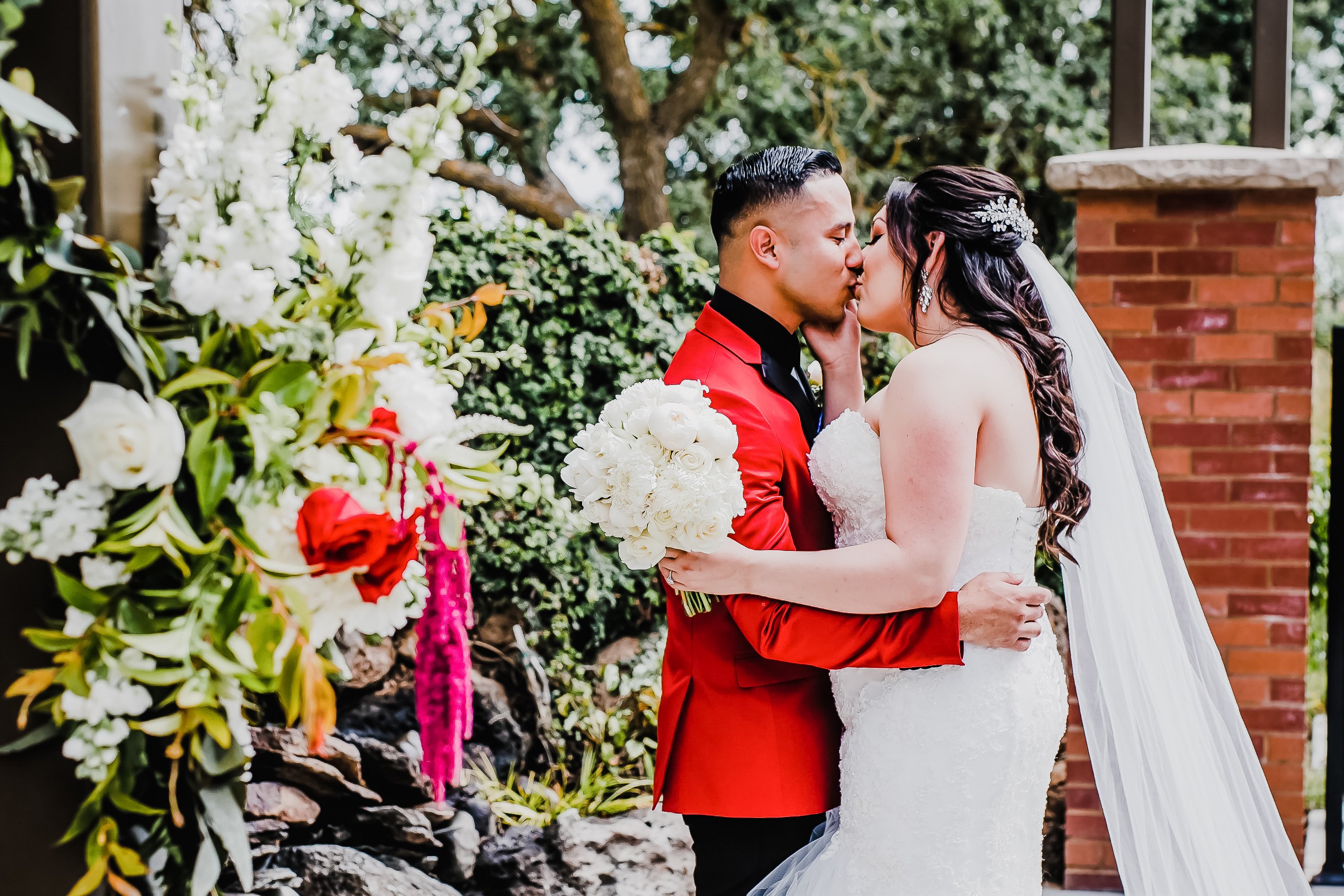 An All-Inclusive Wedding Venue makes the most of your full wedding budget
Examples of How Much a Wedding really Costs
Okay, so let's crunch some numbers. Sometimes, you have to see it to believe it. To help you understand costs, we're using MakeBelieve Manor in Arizona as the venue and we'll show you what it would cost to host a 75-person wedding vs. a 250-person wedding, and what the cost difference would be on a Saturday vs. a Monday. As this venue is in Arizona, the peak season runs through fall, winter and spring. We'll also be listing prices based on which wedding package you choose.
SATURDAY WEDDING WITH 75 GUESTS
Classic Package:
$995 Ceremony + $72 Per Guest (75 x 72 = $5,400) + $5,995 Venue
= $12,390 Subtotal



Elite Package:
$995 Ceremony + $127 Per Guest (75 x 127 = $9,525) + $5,995 Venue
= $16,515 Subtotal

SATURDAY WEDDING WITH 250 GUESTS
Classic Package:
$995 Ceremony + $72 Per Guest (250 x 72 = $18,000) + $5,995 Venue
= $24,990 Subtotal



Elite Package:
$995 Ceremony + $127 Per Guest (250 x 127 = $31,750) + $5,995 Venue
= $38,740 Subtotal

MONDAY WEDDING WITH 75 GUESTS
Classic Package:
$995 Ceremony + $72 Per Guest (75 x 72 = $5,400) + $995 Venue
= $7,390 Subtotal



Elite Package:
$995 Ceremony + $127 Per Guest (75 x 127 = $9,525) + $995 Venue
= $11,515 Subtotal

MONDAY WEDDING WITH 250 GUESTS
Classic Package:
$995 Ceremony + $72 Per Guest (250 x 72 = $18,000) + $995 Venue
= $19,990 Subtotal



Elite Package: $995 Ceremony + $127 Per Guest (250 x 127 = $31,750) + $995 Venue
= $33,740 Subtotal


These examples give you an idea of how much your total cost can change based on your day of the week and number of guests. Alternatively, if the day of the week and guest list are most important to you, we can pare up or down the other elements of your wedding to make that work too. It's all about your priorities.
Keep in mind, a service charge is an standard fee charged on all wedding related services industry-wide. It covers the time to prepare for and provide staff for your event. You'll need to add this fee, and tax, into your total budget. Also, tips are voluntary and not included in the fee structure for most wedding related suppliers.



How to Stay Within Your Wedding Budget
You set your wedding budget for a reason, so you should definitely stick to it! Our expert team of wedding planners are obsessive about details and care about your budget as much as you do, so we'll work with you every step of the way to make sure you stay within your budget.
Decide on what's most important to you. Just as we mentioned before, achieving your dream wedding is all about prioritizing. So, if your budget is smaller you can follow this advice:
Pare down the guest list if possible. If your venue is charging $100 per guest, you can save $1,000 by cutting 10 guests, making this the fastest and most effective way to save.
Skip fresh florals for your centerpieces and choose a gorgeous lantern arrangement or another non-perishable option
Join wedding groups on Facebook and repurpose signage and other décor for your event. Thrifting is the new couture!
Finally, our favorite way to save money is by planning your wedding on an off-season weekday. Most venues (including all of ours) offer a discounted rate on the reception and the ceremony for Monday through Thursday weddings. It's such a simple way to save literally thousands of dollars. And often, other things like flights and hotels are also more affordable and have more availability on the weekdays. We love a

weekday wedding

and we think you will too!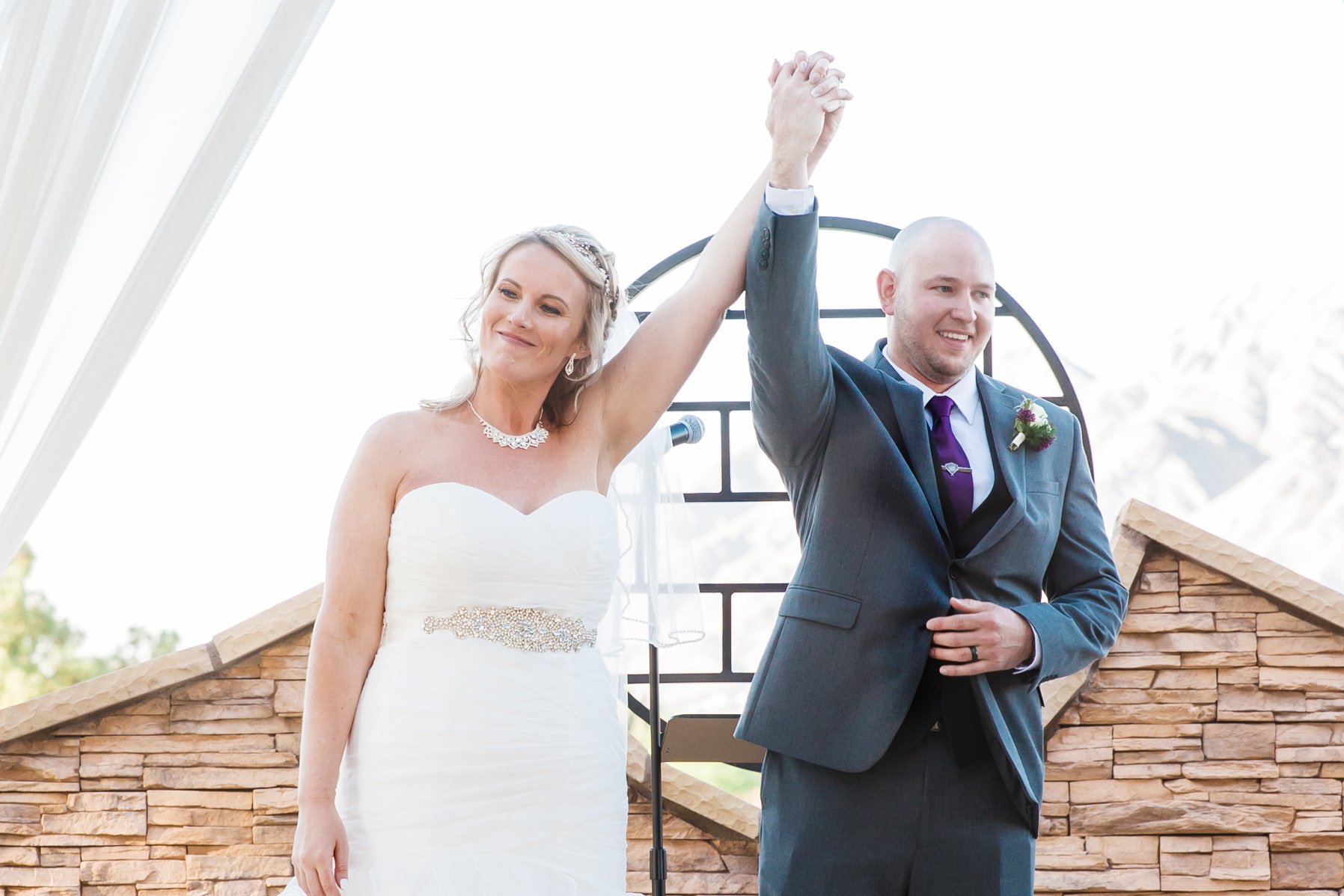 More Ways to Save
Are you looking for even more ways to save money? We've got your back there too! First, by enrolling in our exclusive Bliss Benefits program, couples who choose our venues can get extra discounts on all types of wedding supplies. We work with local and national wedding vendors to provide everything from tuxedos and limos to necessary admin services like name changing help and insurance. Each venue has a list of incorporated suppliers so make sure you ask about it during your free venue walk through.
Next, we give discounts for couples:
Are you ready to get married already?! If you book and celebrate your wedding within four months, you receive a $500 discount on the ceremony fee! We know, many couples take at least a year to plan their weddings; however, with our expert team, we can get it done much faster – so why wait? This is another benefit of choosing an all-inclusive wedding venue, you don't need to spend time searching for vendors because we already have great ones! In fact, our experts can create an awesome celebration in as little as 10 days, so you know we can manage one in four months!

Did you know, we also give a 10% wedding package discount to active-duty couples who choose non-Saturday weddings.

And, if you refer a friend to Wedgewood Weddings, you both receive a $100 wedding discount plus a $50 Amazon gift card when they book.
At Wedgewood Weddings, we do our very best to be transparent about our prices and how your decisions can impact how much a wedding cost. We're wedding planning enthusiasts and we make these calculations all day, every day. That's why we'd be happy to do it for you! When you book your free venue tour, we'll draw up a wedding pricing proposal based on your exact needs. In fact, we'll draw up several wedding pricing proposals so you can see how your choices impact the price! And there is no obligation to book – if you want to use our pricing to negotiate with another vendor – go for it. Our priority is making sure weddings are fun and affordable whatever your budget. Call or text us today at 866-966-3009 to get started!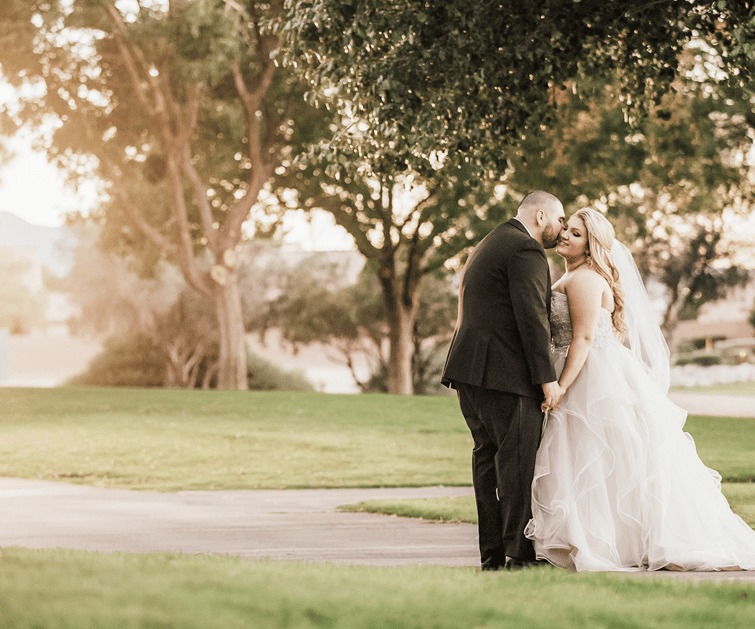 Whatever your wedding budget, you deserve happiness and joy!