You're probably very aware by now that the first thing everyone asks you after you get engaged is "WHEN'S THE BIG DAY?" It can seem a little overwhelming to think about scheduling when you've only just gotten engaged, and for good reason! That's why we usually recommend that you steer clear of committing to your wedding date until you've started to navigate the planning process. We're here to help, so let's dive into everything you actually need to know about wedding dates . . .
***
First things first, make sure to take time to celebrate! You. don't need to begin wedding planning the day after your engagement. Share with friends and family, begin daydreaming about your big day, and spend some quality time together. So many couples skip this essential step but trust us, it's worth it!
Once you've properly celebrated, it's time to begin learning all about the planning process. The most important lesson? Don't choose a date right away. A lot of factors go into determining the best wedding date for you—everything from availability and scheduling to budgeting, style, and more. When you outline what you want for your wedding before choosing a date, you will have so many more options to choose from.
With that in mind, let's dive into the most critical wedding date considerations:
***
1. Season & Weather
Does the idea of snowfall on your wedding day seem magical to you, or would that be a total bummer? Do you think autumn leaves or lush greens are the most beautiful? What is your and your fiancé's favorite time to be outdoors?
It's probably a given that you like the idea of getting married during your favorite season. But sometimes, that might clash with how you picture your wedding... If you love snowfall but have always pictured having an outdoor ceremony, you might need to choose one over the other.
Take into account how you picture your wedding when you're considering the month or season you'll have it in. It's important to consider this because the weather could make or break the experience you or your guests have.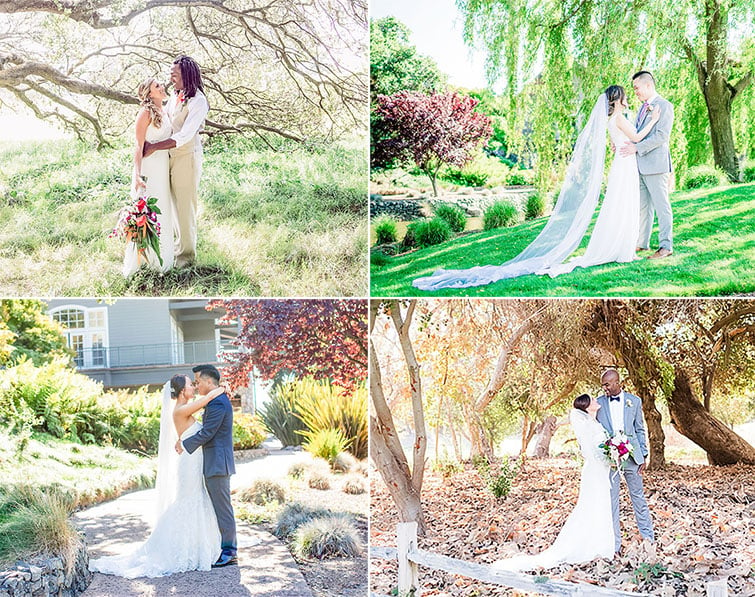 "Consider your wedding personality, then choose your season accordingly. Want free-spirited, fun, tropical-inspired cocktails and sun-dappled settings? Stick with a summer wedding. Dreaming of opulence, snowfall and holiday sparkle? Try a winter wedding. Rich colors, nostalgia and mulled apple cider are perfect for a fall wedding, and a spring wedding is probably your thing if freshness, pastels and a daffodil bouquet sounds like your vibe."
- The Knot


2. Budget
Most wedding venues have higher prices for peak days of the week and peak months of the year when most couples choose to get married. But don't think of peak pricing as a surcharge just for wanting a Saturday wedding in the trendy wedding season. Instead, think of the off-season as discounted pricing. It's like happy hour! Venues want to more easily fill up the non-peak time slots, so they offer an incentive (aka a lower price) to do so. And this is a good thing! This gives you the option to have the exact same wedding at a lower cost…just for having it on a different day of the week and/or a different time of year.
If you're working within a certain budget (and you probably are) the money you save by booking a non-peak time slot could be spent on more abundant décor, upgraded food, a videographer, etc.! Something to ask yourself is, would you rather have an exquisite wedding on a Friday or a slightly less exquisite wedding on a Saturday?
"A weekday wedding is a great way to have a high-end wedding at a more-affordable budget."
– Julia H., Wedgewood Weddings VP of Sales
Amy Schumer got married in Malibu on a Tuesday! And something tells us she could afford a Saturday… 😉 It's something to at least consider.
It's also a good idea to ask yourself and anyone contributing to the cost of the wedding how long it will take to have the money ready. Be realistic about how long it will take you to set aside the money, and be respectful of how long it will take any outside contributors to have their portion ready as well. Can you have thousands of dollars set aside by the time your initial deposits and final payments will be due? Or do you need to push the wedding back a year in order to have more time to save up?


3. Style & Theme
If you're going with a certain theme or style for your wedding, the month or season you get married in (and the weather during that time) can play an important role in setting that atmosphere for you. For example, if you're envisioning a garden theme for your wedding, you probably don't want to book a December date when there won't be any flowers in bloom to help you bring that vision to life. Going for a mountain/forest vibe? Some snow-capped trees in the winter could be a perfect touch!


4. Holidays
You might think planning a wedding over Memorial Day weekend, for example, is a win-win for everyone. Your guests have the extra time off to come and party, right? However, consider that your guests may already have plans or traditions on that holiday that they've been looking forward to or have already paid for . . . Asking your guests to give up their beach getaway or camping trip to go to your wedding instead may not give you the turnout you were hoping for. It's possible that you could end up with a much smaller guest count than you anticipated if you plan your wedding around a holiday.


5. Vendors
Wedding venues aren't the only ones that get busy during peak season – most (if not all) of the other vendors you're considering will have less availability at peak times of the year and on peak days of the week.
If you have your heart set on a particular vendor already, it'd be smart to reach out to them and get an idea of what their availability looks like. You don't want to assume that the vendor you MUST have will just magically be available after you've booked your venue.
At Wedgewood Weddings, we highly suggest starting with a desired month or season when you start shopping for venues. It's WAY more important to find the perfect wedding venue at the right price (and select your date based on their availability) than it is to be set on a certain date and settle for whatever venue just happens to have it open. That could leave you getting married at a venue that's just okay and paying too much for it – all because you weren't flexible on the date.
***
To start searching for your perfect wedding venue, click here!