What do you envision when you imagine a romantic celebration of love in the woods alongside a babbling creek? Chances are it'll look something like this beautiful wedding at Boulder Creek by Wedgewood Weddings. Join us for a virtual tour of Katie and Robert's wedding story . . .
***
the Happy Couple
Katie and Robert have known each other for ages and their love story is one for the books. We love how their energy just bounces off one another and lights up the room!
"I loved seeing these two giggle together; they've known each other for such a long time it was like they knew what the other was thinking. Their humor and general happiness and excitement for life pumped me up for their wedding day and their gorgeous wedding venue in Boulder, Colorado."
- Shelly, Shelly Anderson Photography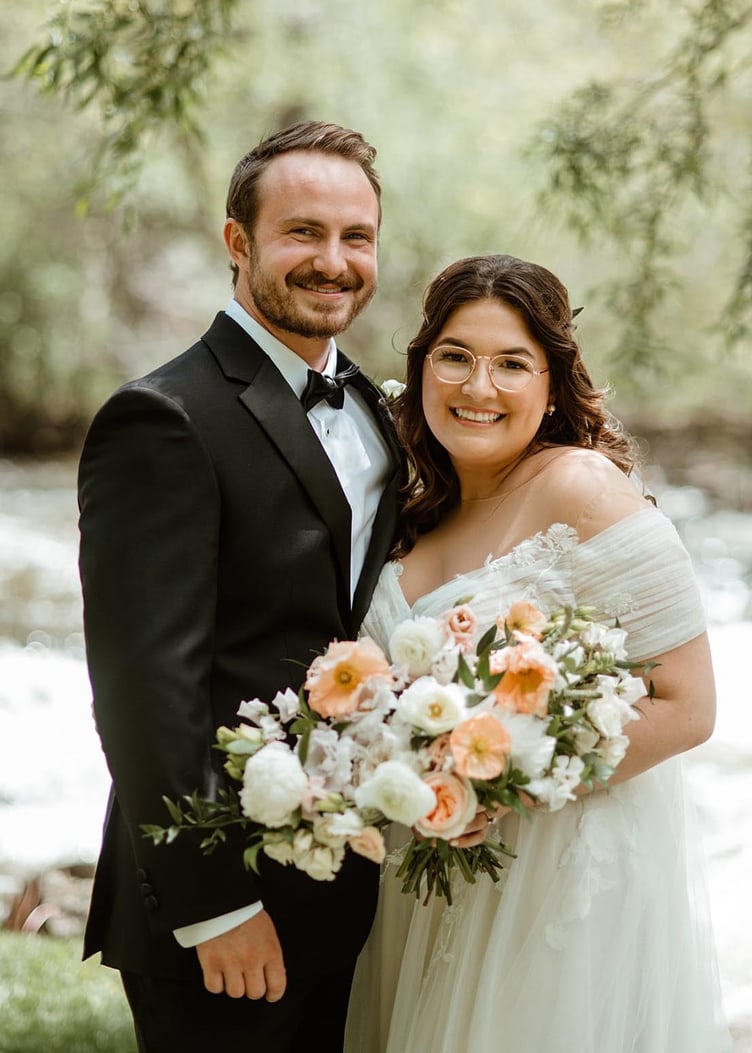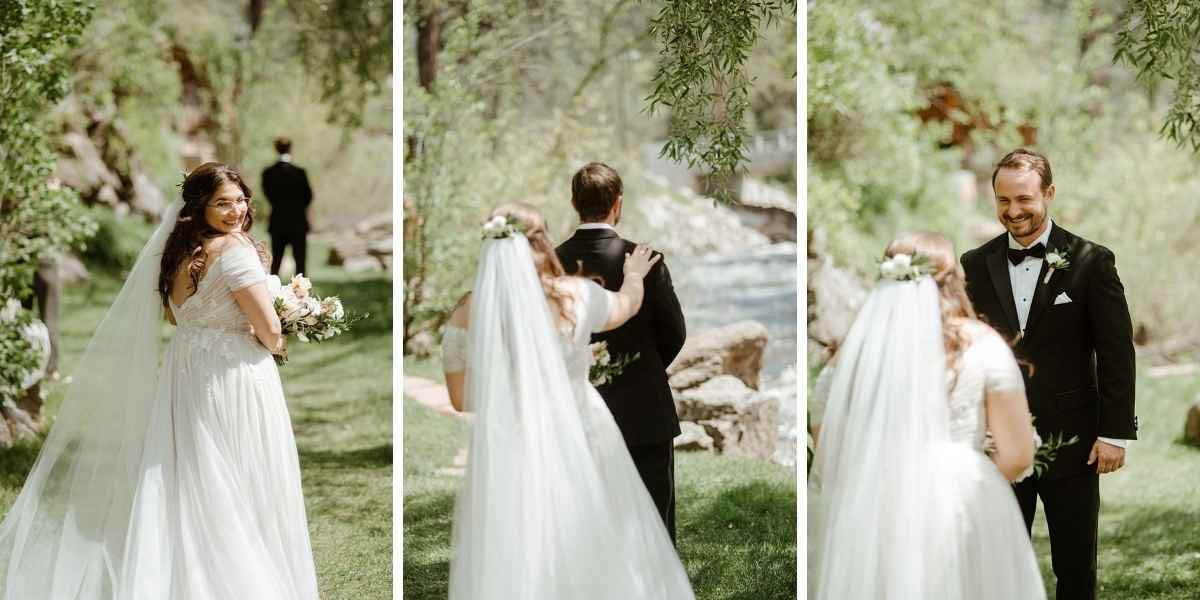 The Design Details
June in Colorado is a bit of Spring and Summer depending on the day, meaning rainy days and vibrant green scenery. It's truly one of our favorite times of the year, especially as the wildflowers start to bloom. Katie and Robert showed up to their venue tour with a vision for their wedding day that we instantly knew were perfect for this venue: secret-garden vibes, romantic nature-inspired color palette, lavish greenery, roses, and baby's breath, and babbling brook. Dare we say it was meant to be?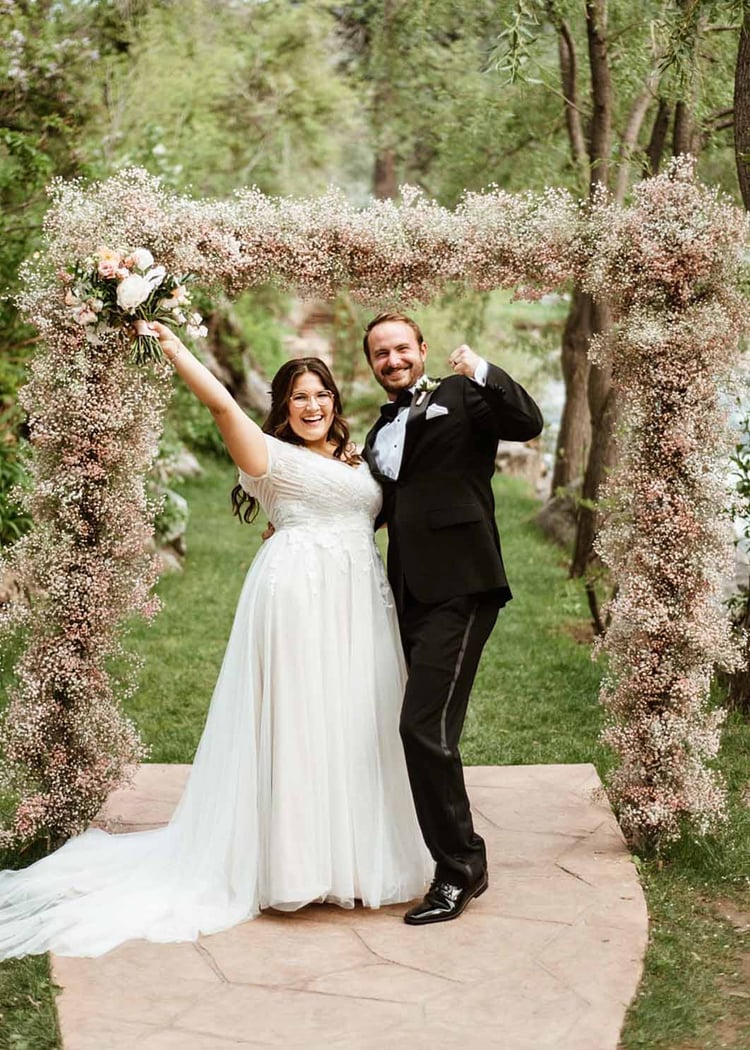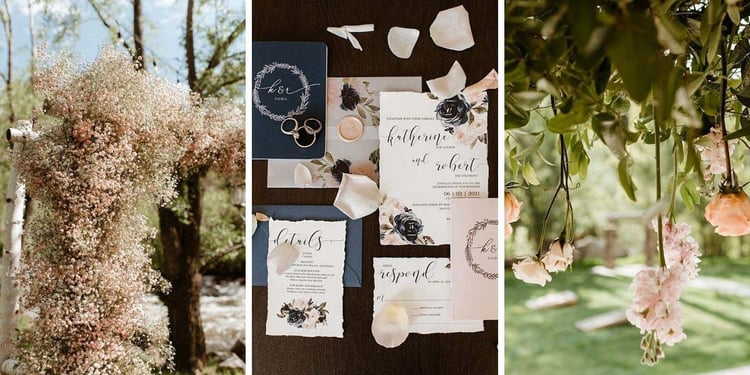 Portrait Session
Before the ceremony, Katie and Robert headed to nearby Betasso Preserve with photographer Shelly Anderson for a private vow ceremony and portrait session. This beautiful spot is close to Boulder Creek and easily accessible for those rocky mountain wedding photos you've been dreaming of.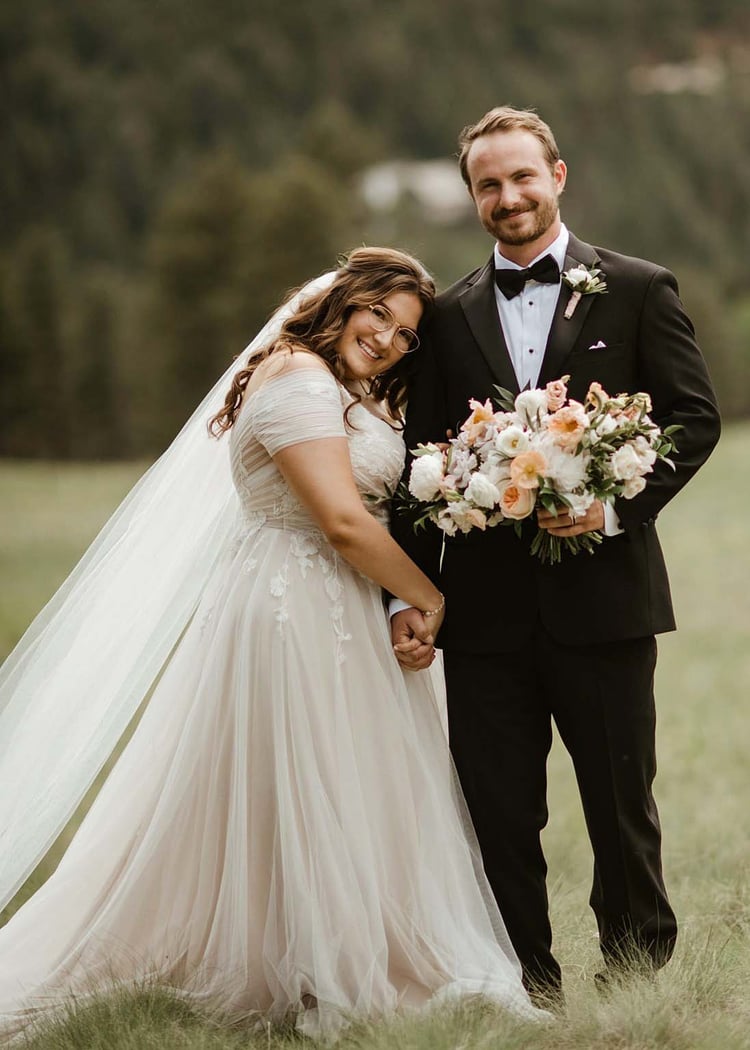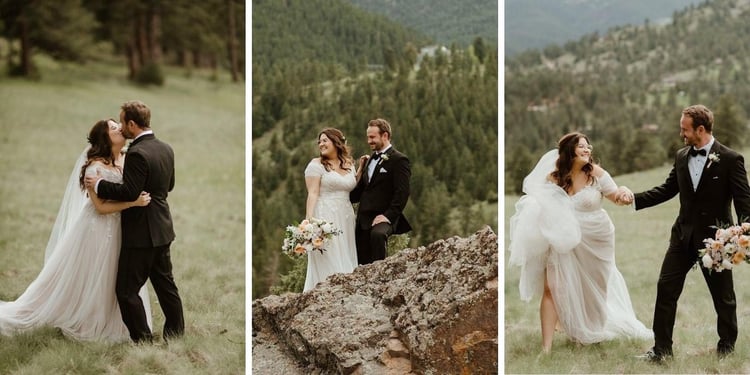 The Wedding Party
This wedding party was a bundle of fun and absolutely photogenic! The bride and groom chose 5 of their best mates to stand beside them on their wedding day. The deep turquoise dresses beautifully complemented the natural forest backdrop and the men were clad head to toe in classic black and white suits with bow ties.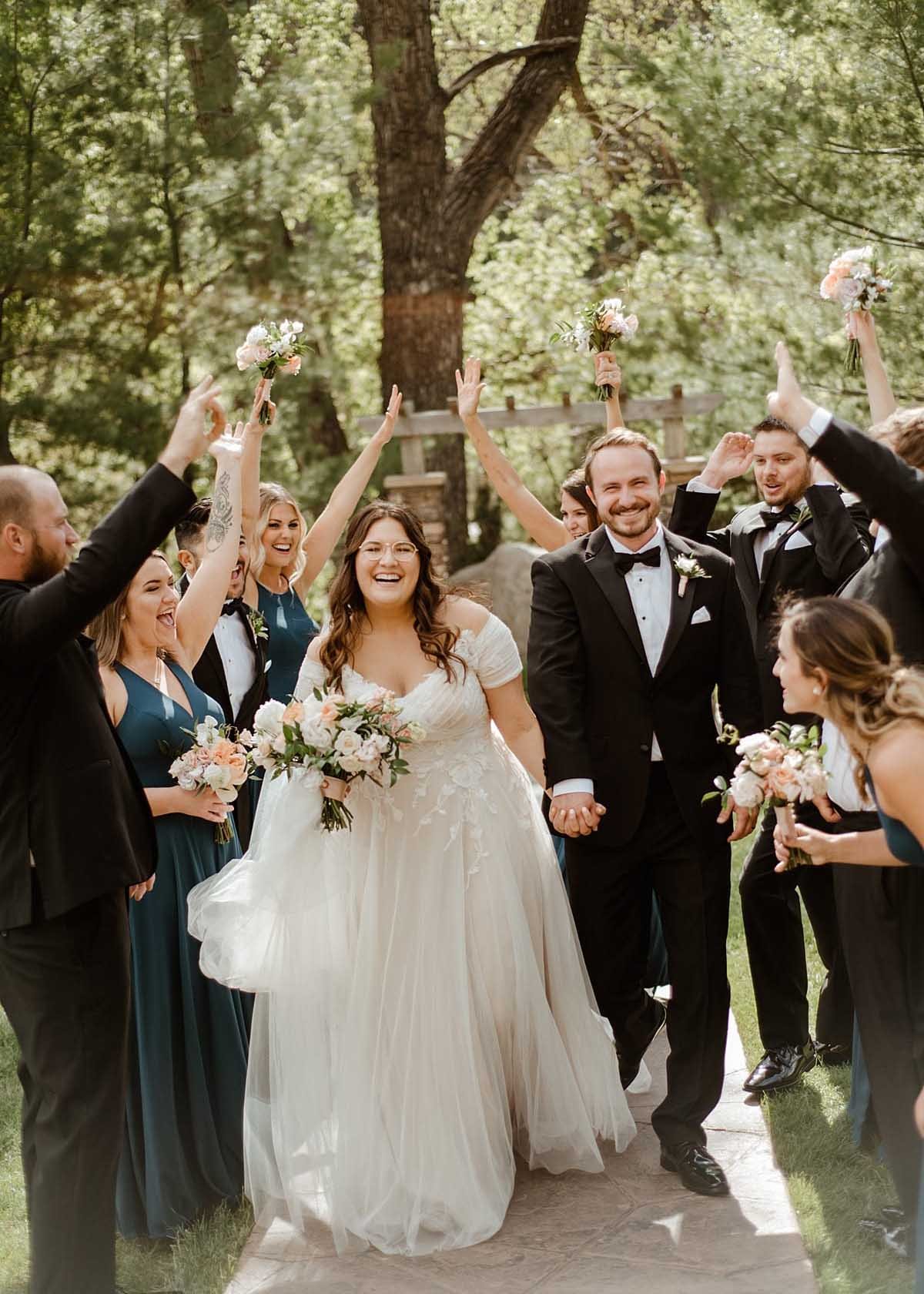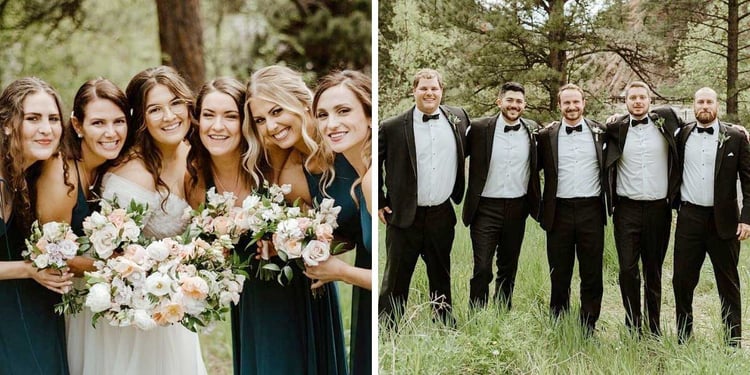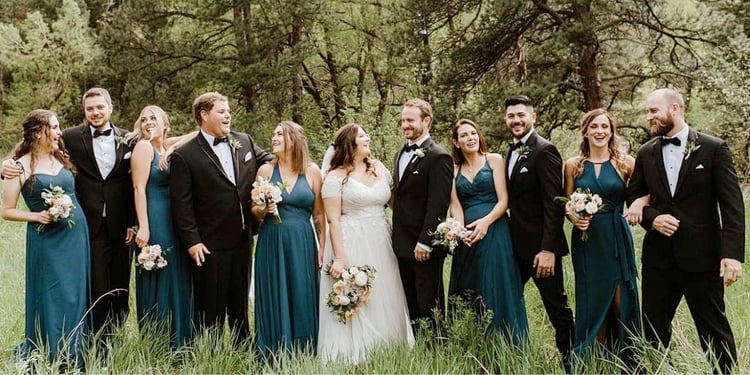 The Wedding Ceremony
Katie and Robert chose the creekside ceremony site for their nuptials. The wood ceremony arbor was adorned with white and pink baby's breath by the talented crew at Bitterroot Studio. With their private vows already shared, they were able to shake the nerves and focus on having fun during the traditional wedding ceremony. It was an absolutely delightful ceremony—and there were even some surprise visitors on kayaks!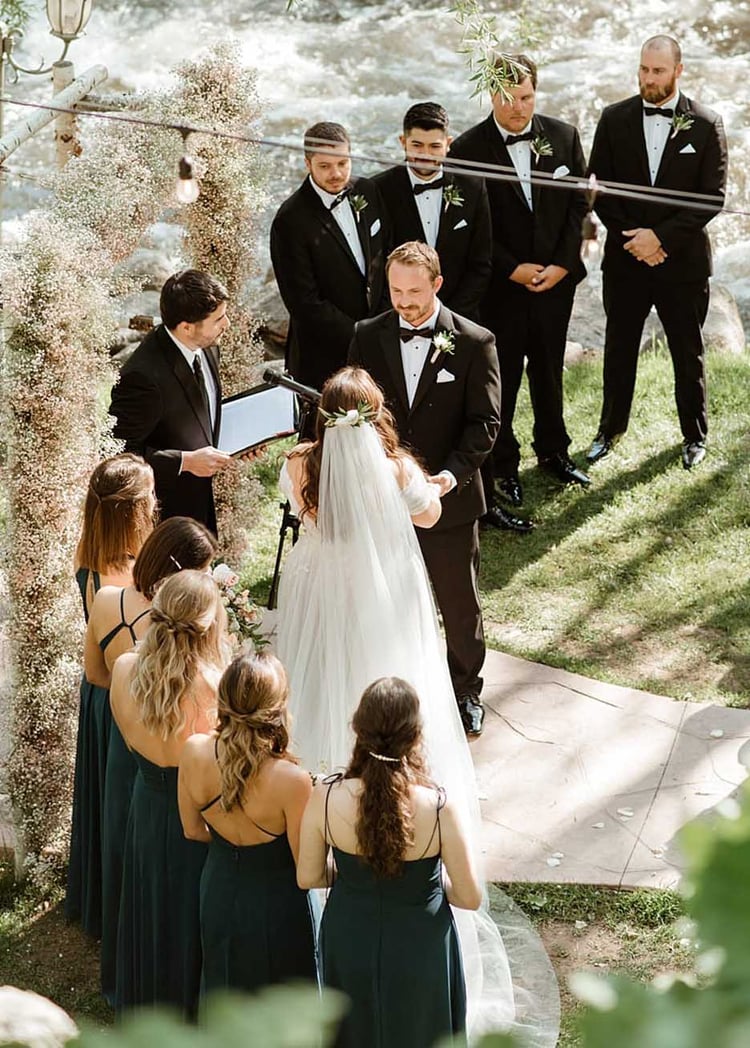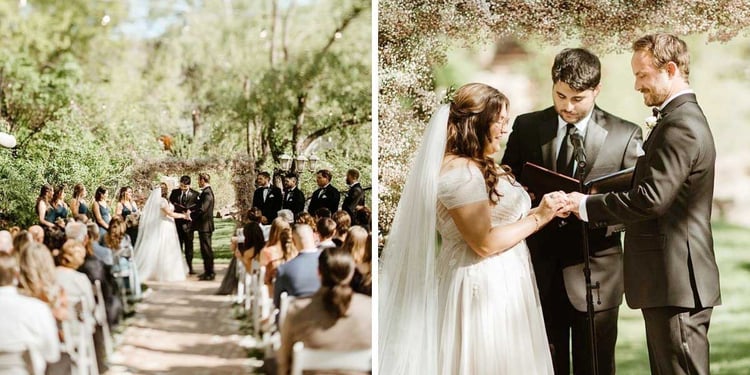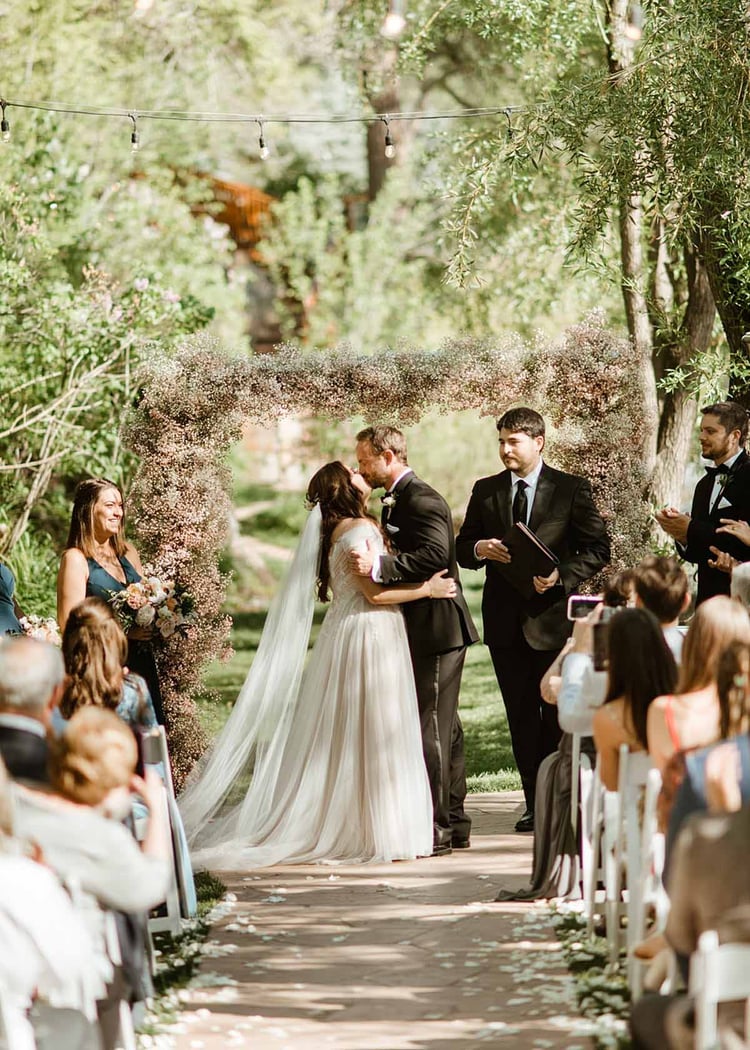 Dinner & Dancing
After the ceremony, guests retreated to the cocktail patio and lawn for some festive games and conversation. The indoor/outdoor covered tented reception space was decked out with coordinating florals, a mixture of round and farmhouse tables, with blue linens and a bit of sparkle.
"Katie and Robert's wedding was overflowing with romance! We love that they escaped to share private vows together, and then came back full of energy and ready to share their love and laughter with friends and family. We are so honored to have been part of their special day!"
- The Wedgewood Weddings Team
For dessert, the newlyweds and their guests enjoyed sweet treats of macarons, fruit tarts, and a shimmery two-tiered cake by Button Rock Bakery featuring the cutest dinosaur cake topper. They danced the night away and finished it off with some late-night pizza. How fun is that!?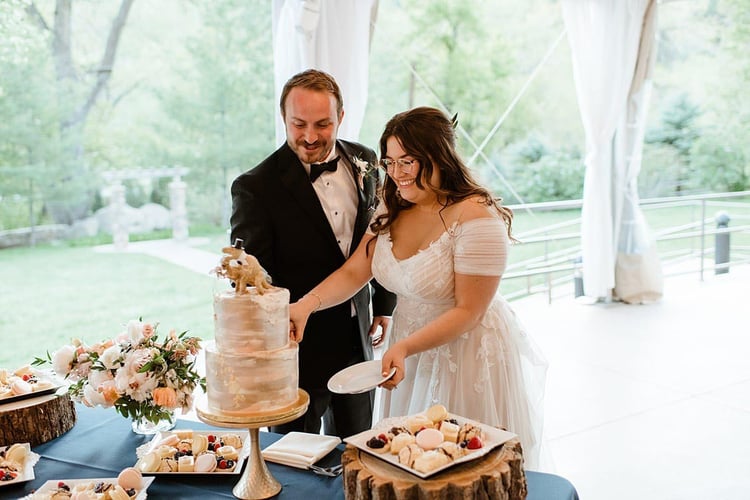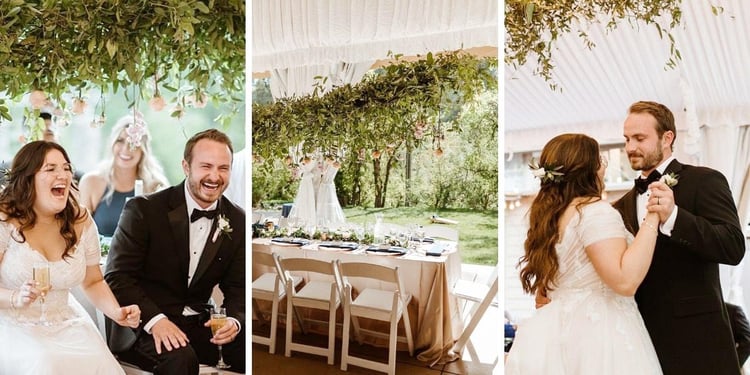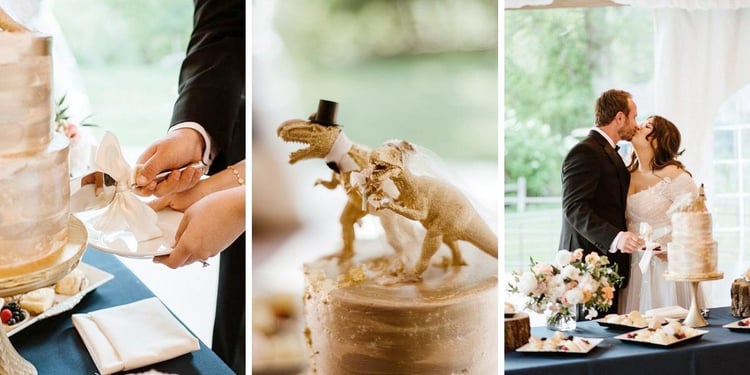 ***
This wedding really showcases how you can combine playful touches with heart-warming romance to create a personalized wedding that you'll look back on and smile for years to come. Thanks to everyone who worked together to make this special day so beautiful.