If you're already one of our awesome couples, then you know we help make your life easier as you plan your wedding. Our all-inclusive packages are crazy convenient, and our Bliss Benefits™ program is an insanely sweet cherry on top.
Visit our Bliss Benefits™ site to set up your account and view the delicious deals in your area. And be sure to check back regularly – our team is always hard at work sourcing the very best wedding vendor deals to help make your life easier (and more glamorous!).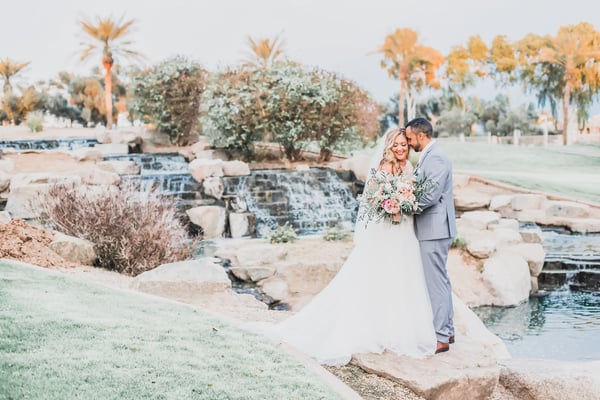 You must be signed in to your account when taking advantage of the offers!
Take a look at our newest partners for more amazing savings:
With four stellar resorts, get pampered on a romantic honeymoon and start off your #JustMarried life right!
This women-led start-up swaps the intimidation and hassle of shopping for lingerie with a delightful experience that comes in a gift box.
Get shuttle services, a party bus, or a limousine through Swoop so the transportation for your wedding runs like clockwork...leaving you free to worry about something else ;) Available in SoCal only - stay tuned for updates.
Nothing will go wrong on your wedding day...but just in case it does, you need the Wedding Protector Plan for private wedding insurance.
Rent a quality tux or suit online, all while saving over $550 off MSRP.
A women's media company that focuses on weddings and relationships with a mission to make the wedding industry a more inclusive place.
Quickly and easily change your name and eliminate all the hassles associated with locating and completing the necessary forms and the piles upon piles of paperwork.
Get the most Insta-worthy trucker hats, perfect for a bride and her "bride tribe."
HelmsBriscoe
The best tool to help you find a local hotel for a block of rooms for your guests. And at no cost to you!
When you've booked a Wedgewood Weddings venue, Bliss Benefits™ lets you save even more! We've negotiated awesome discounts on behalf of our couples with many of the finest vendors in the U.S. Check out Bliss Benefits for chunky discounts on hair & makeup artists, formal wear, honeymoons - the list goes on!