Ballrooms have an elegant charm that can elevate any wedding reception. From celebrating your first dance as newlyweds surrounded by loved ones to the traditional bouquet toss, a ballroom wedding can host some of your favorite memories. When choosing the ballroom for your wedding reception, it is important to remember that the majority of your wedding day—and ultimately candid shots from your wedding—will be spent in this space. Our ultimate guide to ballroom weddings covers everything you need to know when selecting your venue, including considerations for your ballroom and wedding reception traditions.
***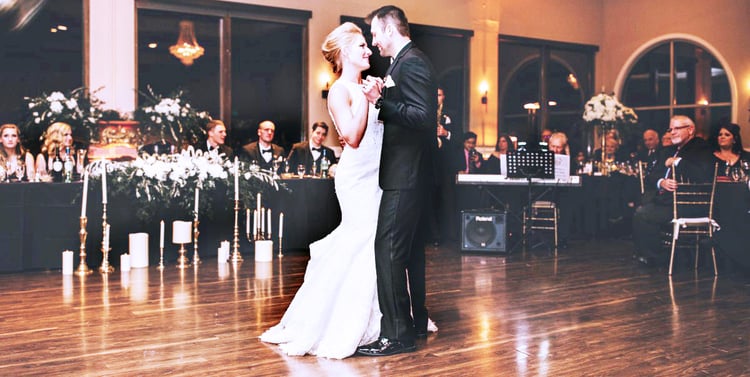 A beautiful first dance at Brittany Hill's stunning ballroom in Denver, Colorado
If you select a ballroom as the backdrop for your wedding, this space traditionally houses both your dinner and dancing. In some cases, based on the couple's preference, the ballroom can also host the wedding ceremony and even cocktail hour. Following cocktail hour, guests will be ushered into the ballroom space to greet the bride and groom as a part of the newlyweds' grand entrance. Couples will often select a unique song to use as walkout music, and your DJ will announce the bridal party first followed by the guests of honor.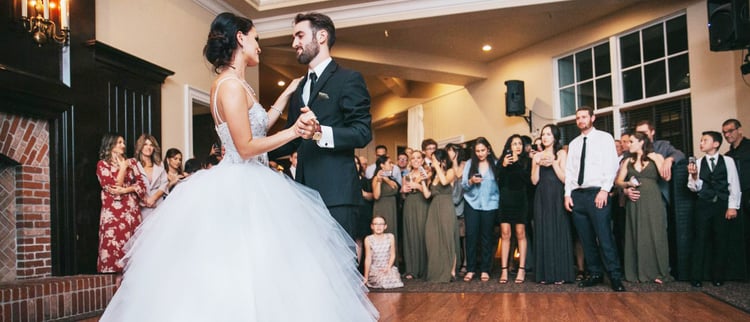 Guests watch on with admiration as the bride and groom enjoy their first dance at Eagle Ridge
A night full of dancing is commonly kicked off by the first dance—a tradition where the happy couple shares their first dance together as newlyweds. Your ballroom wedding is a memorable backdrop of the first dance, and there will likely be countless pictures to commemorate this once-in-a-lifetime moment. As the lights dim and a romantic ballad plays in the background, you will glide across the dance floor in your spouse's arms as friends and family look on lovingly.

this ballroom dance floor is perfect for a fun-filled celebration | Galway Downs
Following dinner and speeches, your DJ or band will open up the ballroom for the best part of the wedding reception: the dancing! The newlyweds will join their guests on the dance floor for hours of entertainment. Many brides and grooms choose to incorporate a number of fun activities into the wedding reception—most of which will take place in the ballroom as well. This might include the bouquet toss and cutting of the cake traditions, or the less common (but equally fun!) shoe game.

A newlywed couple enjoy an intimate moment alone in the ballroom at Evergreen Springs
As your wedding reception winds to a close, you can opt for a final send off complete with glow sticks, or event bubbles. Your guests gather at the ballroom exit to wish you well in your new adventures as a married couple.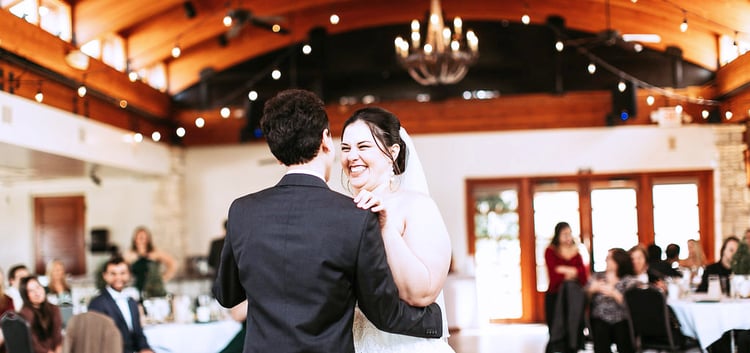 A new bride shares a first dance with her husband in the ballroom at Ocotillo Oasis
Considerations for a Ballroom Wedding:
Before choosing your venue and the site for your ballroom wedding, there are some details worth considering that can elevate your reception experience.
Dance floor space: Some venues offer a separate dance floor space that is often separated from the dining area with a change of flooring. Before selecting your ballroom, consider if you would like to have consistent flooring throughout your reception space or a dance floor that is clearly defined.
Custom lighting: When touring venues, it is important to ask the coordinator if custom lighting is available in the ballroom space. From dimming the lights to set the mood for dancing to utilizing your accent color to elevate the decor throughout your reception, custom lighting can truly make your nuptials stand out.
Table arrangements: For your ballroom wedding, consider whether you would prefer your dance floor to be the center of attraction or if the dining and dancing spaces should be separate. Some couples opt for round tables lining the perimeter of the ballroom in order for all guests to have easy access to the dance floor. Another common table arrangement features tables on one side of the room while the dance floor and DJ occupy the opposite side.
Chandelier: Selecting a venue with a stunning ballroom chandelier will allow for additional breathtaking photo opportunities. If your venue has an over-sized chandelier in the reception space, ask your photographer to snap a few newlywed photos here before the room is filled with guests.
Time of day: If you are planning on a sunset or moonlight wedding, work with your venue or wedding coordinator to schedule your cocktail hour and reception accordingly. Since the time of sunset varies based on the time of the year, be sure to check this ahead of time for your desired wedding date.
The view: The view from your venue ballroom can also make all the difference! Do the windows face westward for sunset? Are there floor-to-ceiling windows overlooking a twinkling cityscape at night? When touring a venue, ask the coordinator what the best views are from the ballroom.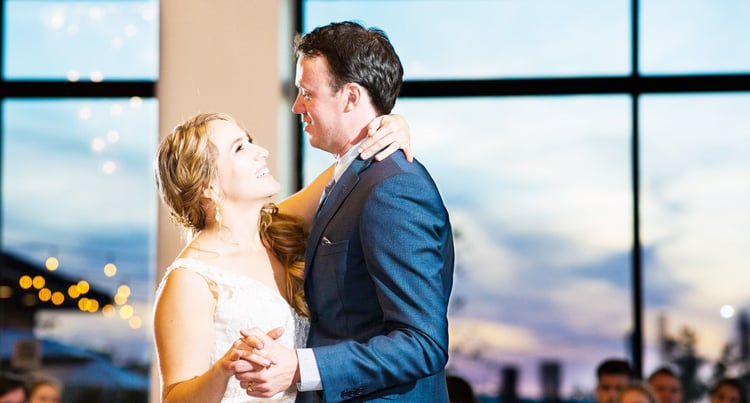 A bride and groom enjoy floor-to-ceiling sunset views from the ballroom at University Club
Traditions for a Ballroom Wedding:
Your ballroom will be the backdrop for breathtaking photos and an evening full of activities for both you and your guests. Take a look at some wedding traditions you can include in your ballroom wedding reception:
First Dance: After the newlyweds' grand entrance, your DJ will usually segue into your first dance song. This is also the first official dance of the wedding reception and will kick off hours of entertainment for you and your guests.
Garter Toss/Bouquet Toss: During the garter and bouquet tosses, eligible bachelors and bachelorettes will fill the ballroom dance floor in hopes of catching the ultimate prize. The belief is that the individuals who catch the bouquet and garter will be the next to wed.
The Shoe Game: During the shoe game, a couple tests their knowledge of each other while answering funny questions about one another. The newlyweds sit back-to-back in the ballroom and each has two shoes - one of their own, and one that is their spouse's. The DJ or a member of the bridal party will ask a relationship question and the couple will respond by holding up their corresponding shoe as their answer (get the full rules at

Bridal Guide

).
Cutting the Cake: The wedding cake usually has its own designated space in the ballroom where guests can look on in wonder as they eagerly await for dessert time. The cutting of the cake and exchange of cake bites by the newlyweds usually occurs later on in the evening after dinner and a bit of dancing.
Father-Daughter/Mother-Son Dance: The father-daughter and mother-son dance are both commonly held in the ballroom following the first dance between the newlyweds.
Money Dance: The money dance is a fun tradition that some cultures celebrate in which guests can pay a dollar for a brief dance with the bride or groom. The best couple gets to keep the cash and add it to their honeymoon fund (or house fund).

Newlyweds play the shoe game during their ballroom wedding reception at Boulder Ridge
Top Picks for Ballroom Wedding Venues
We've selected some of our favorite ballroom wedding venues with unique features and locations that brides and grooms absolutely love:
Best Indoor/Outdoor Ballroom: Galway Downs - Set in California's Temecula Wine Country, Galway Downs has a retractable floor-to-ceiling door that converts this rustic venue from an indoor ballroom to an outdoor space.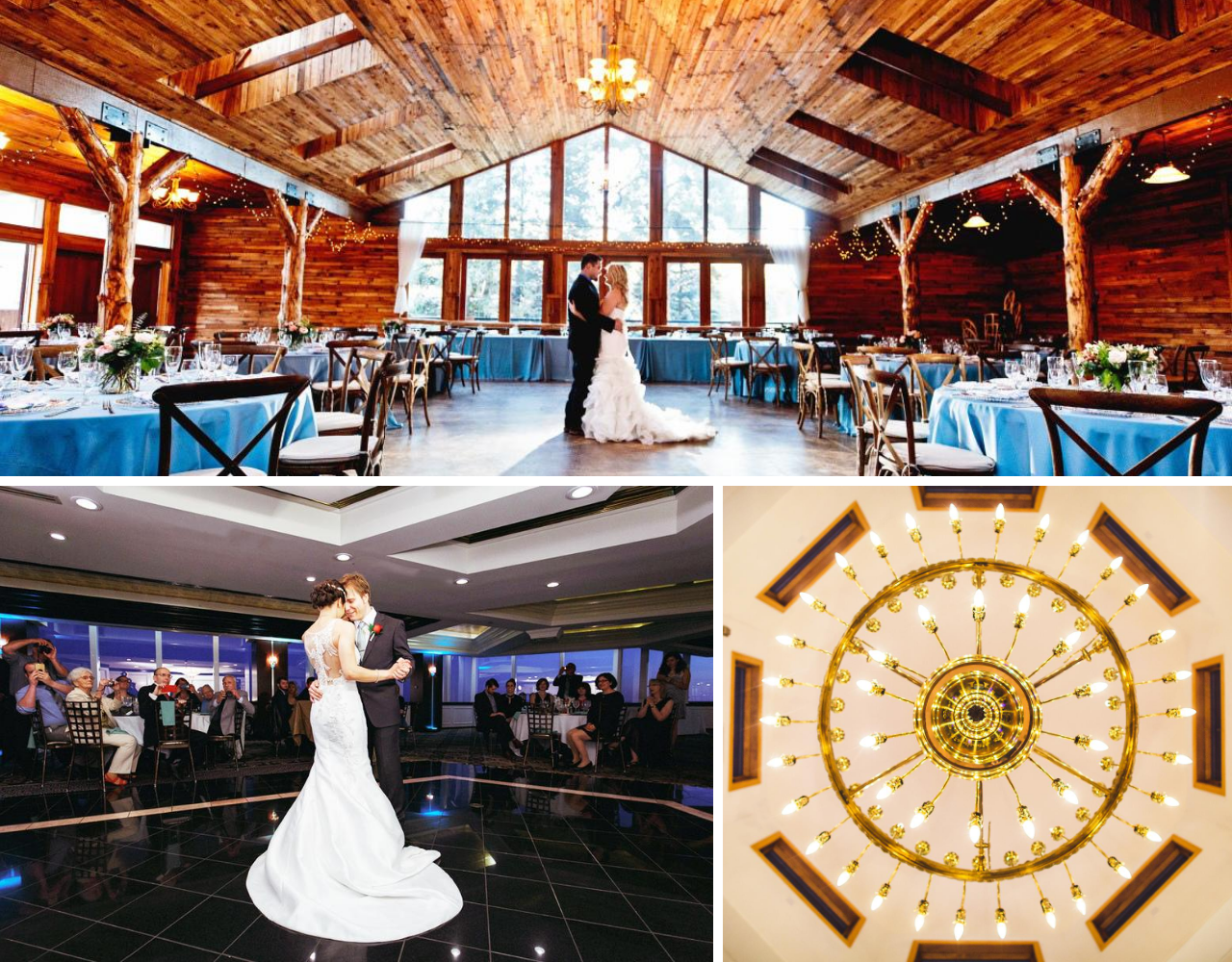 The rustic wooden ballroom at Mountain View Ranch (TOP)
Panoramic views overlooking Ventura County from Pacific View Tower (bottom left)
The stunning grand chandelier at Granite Rose (bottom right)
***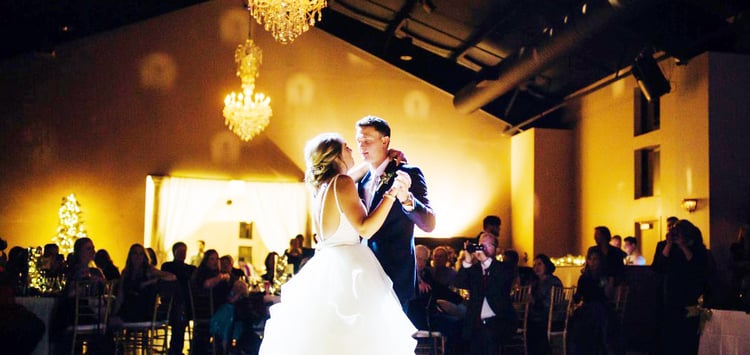 Custom lighting can make for a dramatic first dance wedding photo | Black Forest
***
As you plan your ballroom wedding, let your imagination run wild and enjoy daydreaming about saying 'I do.' From your first dance under a grand chandelier to dancing the night away overlooking twinkling city lights, your wedding will be nothing short of memorable. After your nuptials, you will have stunning photos of your ballroom wedding that you can relish for many years to come. Check out our full list of ballroom wedding venues for the top locations to host your wedding reception.
***