It's happening, you're starting the exciting process of planning your wedding. There is no doubt in your mind that you'll find the perfect place for the celebration. You've attended other weddings before and will never forget the glamorous hotel, the vintage church, or even the scenic garden that served as beautiful settings for friends and family. Those were great, but you deserve something truly unique for your wedding day and the team at Wedgewood Weddings is here to make that happen!
Vintage Victorian
Escape the city for a quieter locale at the Tapestry House just north of Fort Collins, Colorado. This breathtaking Queen Anne-style Victorian Mansion sits on five acres of land in a world all of its own. The grounds are filled with elm and cottonwood trees, lilacs, and honeysuckle bushes in addition to the outdoor gazebo and stone barn from the 1880s.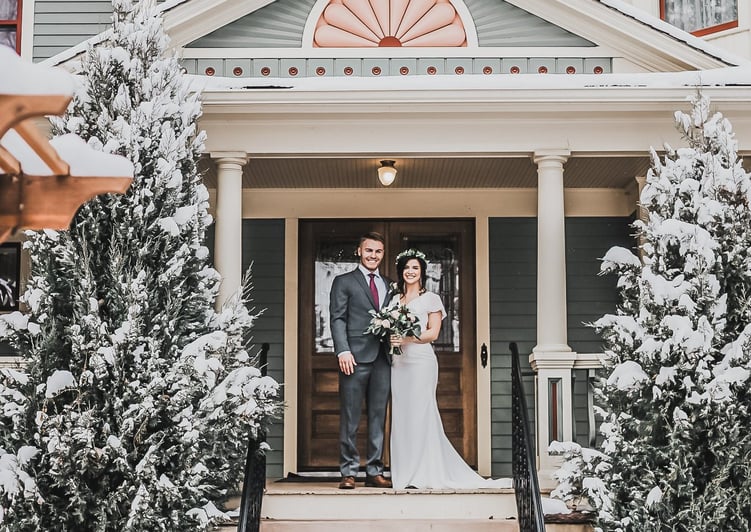 With all of these amazing features put together, we haven't even gotten started on the four seasons aspect of it all! If you're feeling the warm orange and yellow tones of fall, then talk to our team at Wedgewood Weddings about a possible September or October wedding date. If bright green foliage and light-drenched sunny days are more your speed, then go for a late spring wedding instead. Oh also, Winter Wonderland wedding with a horse-drawn carriage? Yes, please!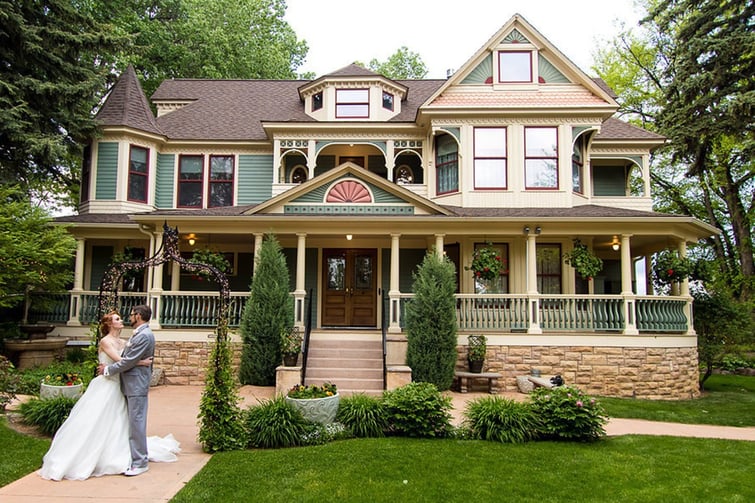 Enough about the outside though, let's talk about the reception areas. Depending on the size of your wedding party, we wanted to ensure that our grounds provided enough space for you, your honey, and your guests. Sneak away with your photographer for some stunning portraits around the property while your guests enjoy cocktail hour on the heated patio before heading inside to the reception pavilion for the party.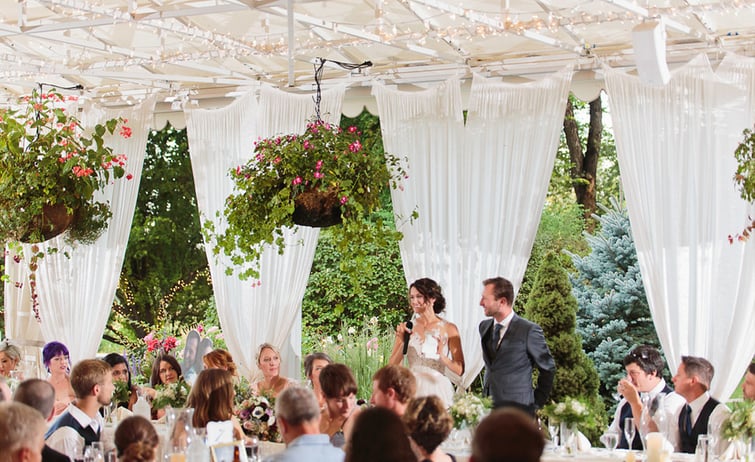 Celebrate the night away in the pavilion with your friends and family before heading off for your honeymoon. Given its proximity to Rocky Mountain National Park, you can start your honeymoon as soon as the next day with a quick drive to Estes Park, Vail, or even Breckenridge.
The Penthouse
You read that right, Penthouse. If you love romantic ocean views and want a glamorous party to follow, then Pacific View Tower by Wedgewood Weddings is where you need to get married. Located in Ventura County, California, Pacific View Tower is a short drive from the beach, giving you the option to say your vows with scenic views of the beach.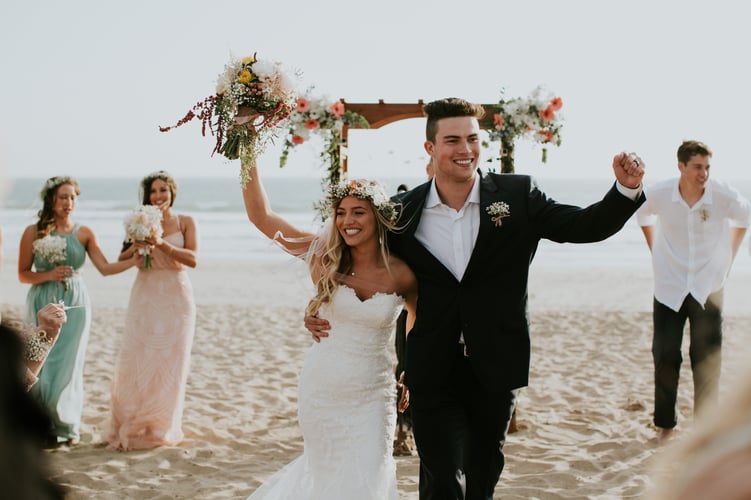 After the ceremony, your guests can head to Pacific View Tower for cocktail hour while you and your honey stay beachside for amazing portraits as sunset approaches. The beach isn't your thing? Stay closer to Pacific View Tower with a gorgeous garden ceremony instead. The garden area is surrounded by an array of greenery to bring the entire look together before heading upstairs for the reception. We'll let the pictures do the talking on this one.
And now, the penthouse! If you're looking to wow your guests this is it. The penthouse ballroom of Pacific View Tower is complete with marble floors, chandeliers, and a 360-degree ocean to mountain view at the 22nd level of the tower, there will be some serious wedding envy and side-eye roaming around that party. Take a deeper dive into all that there is to offer at Pacific View Tower by Wedgewood Weddings.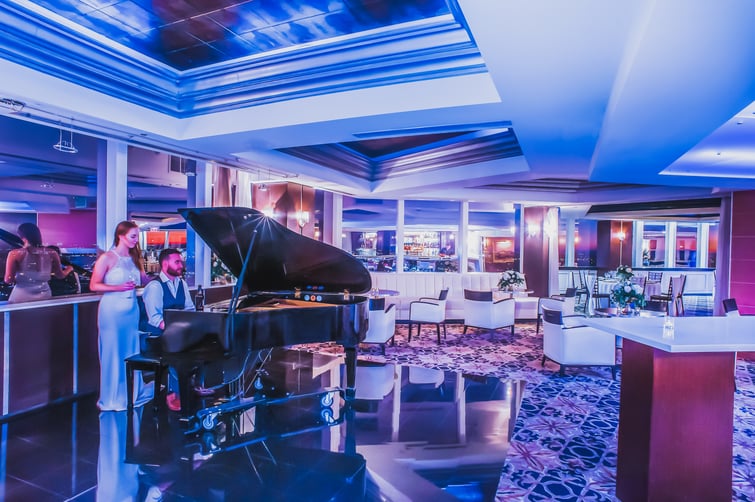 Don't hop on a plane to get a taste of the Tuscan sun, grab a bit of it in your own backyard at Sterling Hills by Wedgewood Weddings. While easily accessible to Los Angeles, Sterling Hills stands secluded in Camarillo, California for a more intimate celebration away from the city.
Now you may have been to a golf-course wedding before but have you been to one with views of the rolling hills and Topatopa Mountains of Ventura County? Not only that, the Tuscan architecture of the clubhouse pulls together the entire event and provides numerous photo backdrop variations for beautiful wedding portraits.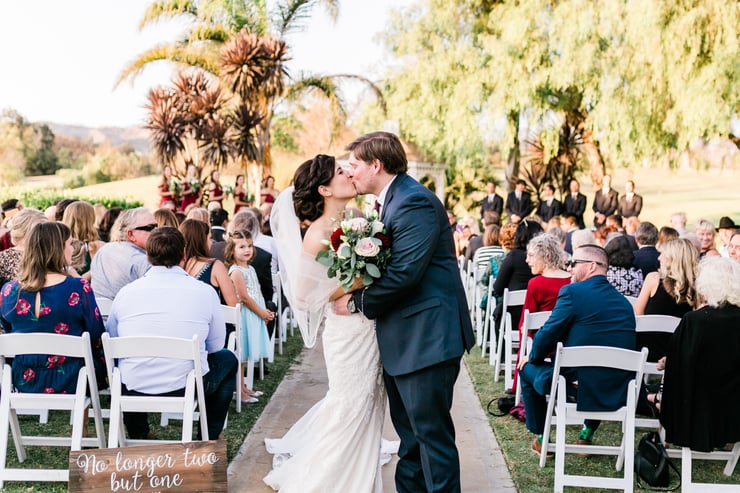 From the ceremony to the reception, Sterling Hills provides a glamorous venue that can be styled however you like. The Grand Ballroom is just steps away from the garden archway, to ensure that your guests will stay happy and entertained the whole time they're celebrating. Spend your night celebrating on the dance floor or cozied up near the fireplace before closing out your wedding with a beautiful sparkler exit on the way to your honeymoon.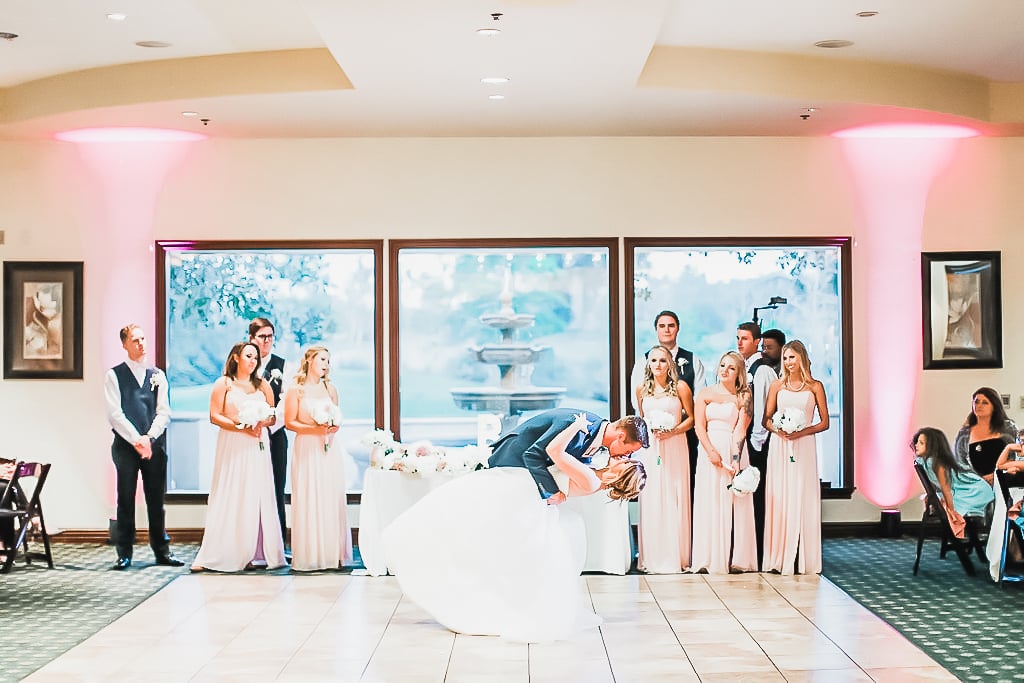 Historic Landmark
When you think of a historical landmark for a wedding, you may think old, rustic, rundown - but that is definitely not the case with our beautiful Officers' Club at the Presidio in San Francisco. From the Spanish Colonial Revival architecture to the warm and inviting lounge, the spaces provided for your wedding can be as magnificent or minimalist as you'd like for your wedding day. Of course, the best part of this entire location is the heart of San Francisco itself - The Golden Gate Bridge. No matter where you are on the property, outdoors you will have magnificent views of the Golden Gate Bridge to take your wedding above and beyond all other venues.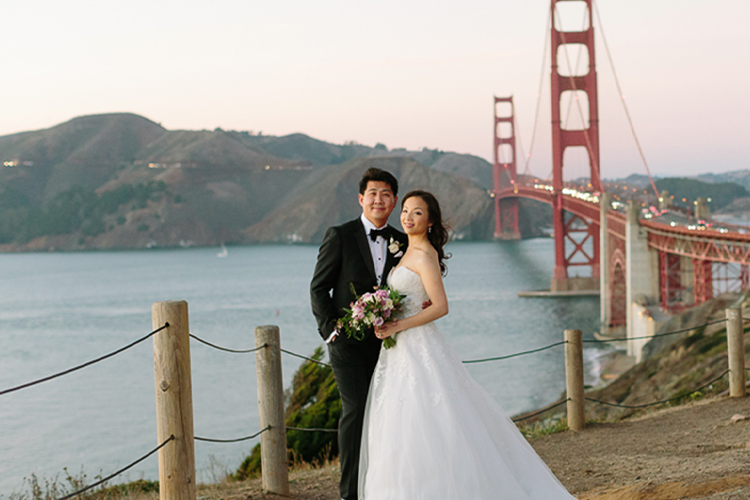 For this location, you have your choice of multiple ceremony and reception spaces. Moraga Hall can host reception and ceremony alike with its stunning exposed dark beams, wrought iron fixtures, chandeliers, and grand fireplace. Moraga Hall sits adjacent to the Hardie Courtyard, a perfect spot for cocktail hour, or small intimate ceremony space. The Courtyard has beautiful forest views coupled with the Spanish colonial architecture and is sure to be a prime spot for your photographer to take you for spectacular portraits.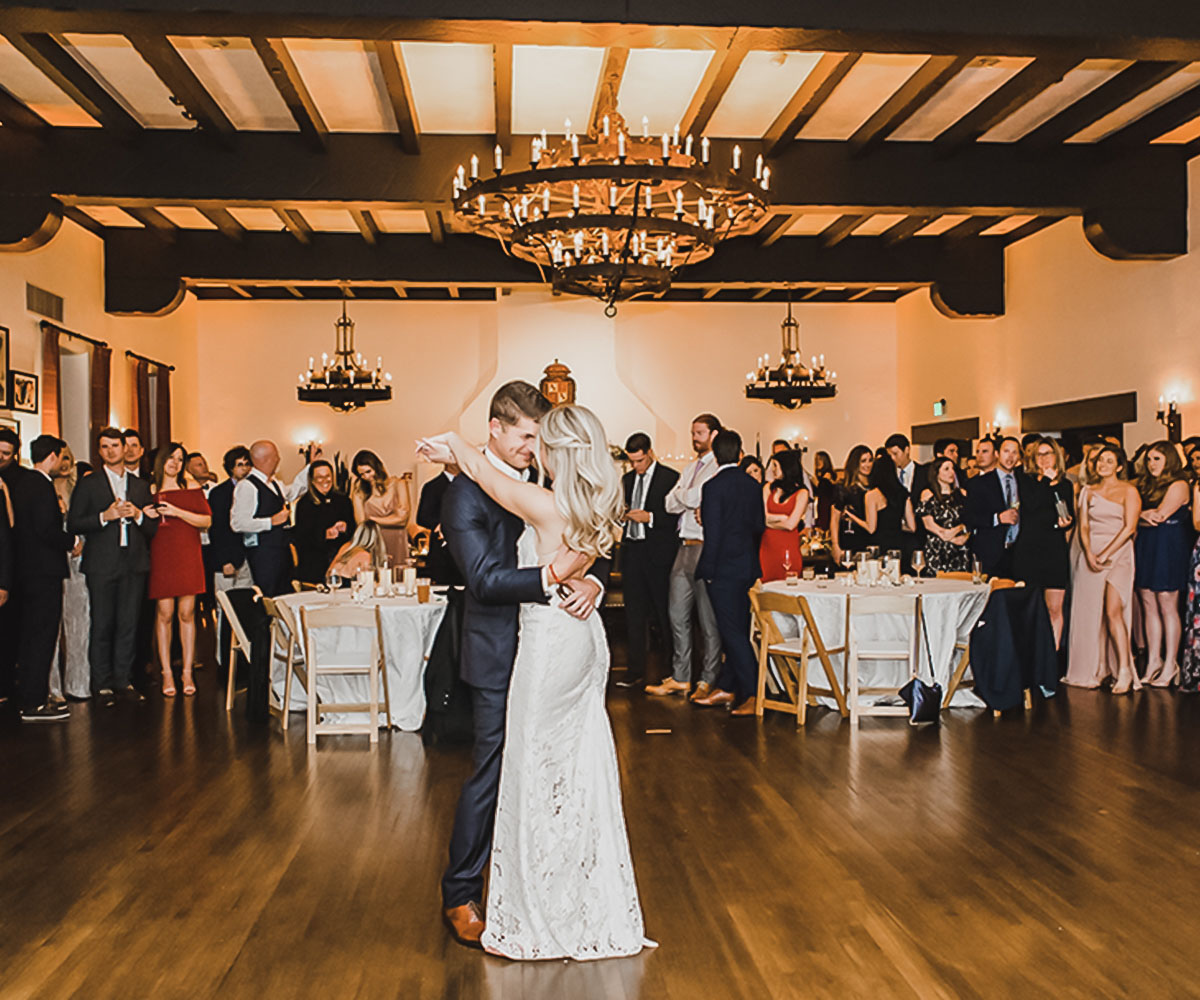 If you'd prefer to have an exclusive space away from it all, you can host your ceremony, reception, or both in the loft-style Ortega Ballroom. The exposed beams of the ceiling are met with a drop-dead gorgeous Spanish-style fireplace and panoramic views of the bay, perfect for a cozy winter or early spring wedding.
Looking for a more traditional ceremony site? The Chapel of Our Lady is just around the corner and is just as stunning as the other Officers' Club locations. With high exposed beams and stained glass windows along with the Spanish Colonial Revival architecture, Chapel of Our Lady is a must-have ceremony spot to complete your San Francisco wedding.
The Mansion
At Wedgewood Weddings we love mansion venues, and our Jefferson Street Mansion, in Historic Benicia, California takes the glamor and glitz of weddings to a whole new level. Jefferson Street is another historic location that we get to include in our collection of venues; we love the Neo-Classical architecture that was preserved from the inside out in a massive effort back in 1998 by J. Reed Robbins.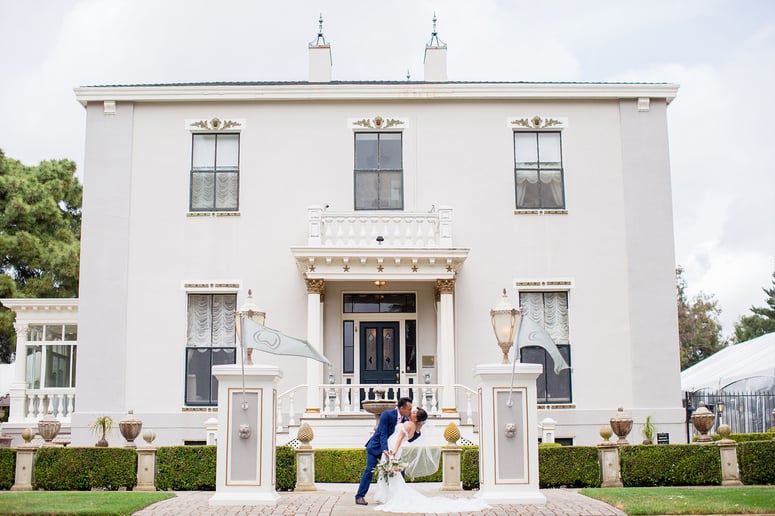 The stunning white exterior leads into a mansion full of beautiful velvet draperies, two ballrooms, fireplaces, crown molding, and 12-foot-high windows in addition to antique gold framed art and chandeliers to tie the whole look together. Eat your heart out, Miss Scarlett.
Now, for the ceremony area - as you make your way down the stone steps from the mansion onto the aisle, a charming veranda strewn with wisteria displays overhead as its own romantic work of art. Views of the bay are your backdrop to the ceremony arbor, completing the entire look for when you say 'I do.' If there aren't at least five people happy crying during the ceremony, then something is terribly, terribly wrong.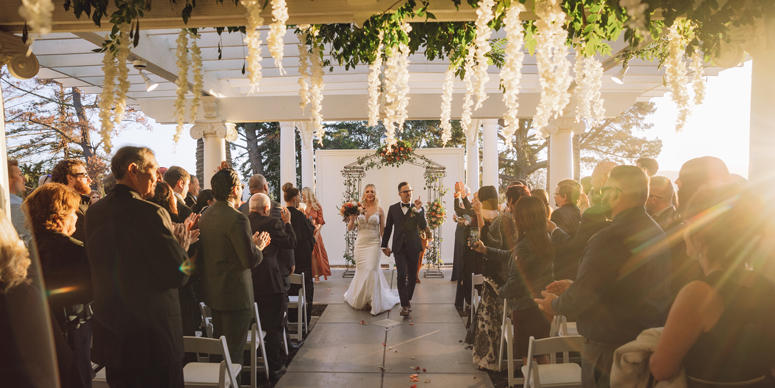 Just steps from the ceremony, your guests can partake in cocktail hour in the adjoining reception pavilion. The pavilion is large enough to host up to 200 friends and family while carrying on the class and elegance of the rest of the wedding site. The market lights inside the tented pavilion can be paired with any flowers or decorations to complete the final look of your wedding. From start to finish Jefferson Street Mansion by Wedgewood Weddings provides a high-end and romantic venue for any couple looking to tie the knot.
Pin it, share it, save this link-finding the perfect venue can be stressful but our team of Wedgewood Weddings experts are here to lessen the burden. Call us at
8
66.966.3099 to learn more specifics about any of these venues or
our other amazing properties.