Essential Wedding Cake Trends
There are so many options when it comes to choosing a wedding cake - this is not your simple "chocolate or vanilla" birthday cake decision! Wedding cakes come in a large variety of flavors, frosting types, colors, shapes, and decor options. The options are endless and all available to you in order to make your cake both delicious, beautiful, and unique. Scroll through our favorite trends for sweet tooth inspiration.
Select Your Cake Style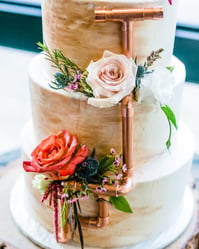 The look of your cake should be cohesive with the rest of your wedding style. So, we recommend planning the look of your cake after you have your wedding theme or vibe locked in. That way, you know your cake will be complementary to the overall style you're trying to stay within - and that'll give you more time to think about flavor!
These elements can serve as a blueprint for the design and structure of your wedding cake. Try to choose a cake that's compatible with the style of your venue, the season, your flower arrangements, or the menu.
Consider including unique decor on your cake in order to match our theme. Having an industrial vibe? Try copper piping like in this featured photo! Tropical theme? Add tropical flowers, banana palms, or pineapple slices. Ask your baker what the most unique or creative thing they've done before is - they'll love a fun twist!
Choose the Right Frosting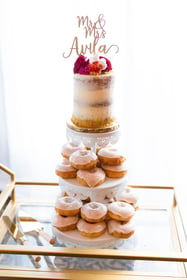 Buttercream or fondant? That's the main question. Buttercream is often more delicious, but if you love the smooth look of fondant, consider frosting the cake in buttercream first and then adding a layer of fondant over top.
You can also go for ganache: a decadently rich frosting with a fudgy texture made from chocolate and cream. Even though it's dark brown in color, you can ask your baker to make it wedding worthy with colorful fruit. Or, ask for a white chocolate version, which can be dyed practically any shade!
A lesser-known option is Swiss meringue: an icing made by whipping egg whites together with sugar. It's less popular for wedding cakes (which you might consider an added perk), and has a light and fuzzy appearance that makes it look whimsical and romantic. Not to mention, your guests will love the airy marshmallow flavor, which pairs perfectly with fruit-based cakes and fillings like lemon, raspberry, or strawberry.
Think About Climate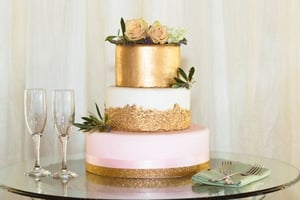 If you're having an outdoor wedding in a hot climate, steer clear of whipped cream, meringue, and buttercream: they melt. For summer options, consider a fondant-covered cake which holds up a lot better against the heat.
This definitely doesn't mean you're expected to be a cake expert and understand which frosting types work best in any given climate! Rely on your baker to know advise you and know which cake types will last in certain wedding conditions.
Do you want a cake topper?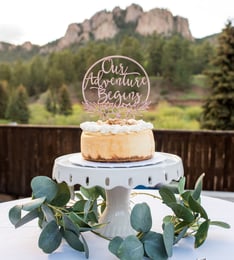 A classic figurine is an ever-popular choice, but more couples are using the cake topper (and even cake stand) as a moment of personalization on their day.
Choose something that represents you as a couple, like a clay model of your pet, figurines of your favorite fictional characters, or a chic monogrammed acrylic pedestal.
If you have an heirloom piece — especially a fine porcelain antique — work with your baker to integrate it into an appropriate design.
Other alternatives: a bouquet of sugar flowers, a cascade of icing ribbons or even a sugar block carved out to reveal your new monogram.
***
There are no wrong answers when it comes to selecting a wedding cake - it's cake! It'll be delicious and a memorable part of your wedding day no matter the flavor or frosting type. Above all, stay true to what you and your fiance want and ask your baker about an anniversary tier!