Tianna and David embodied everything that is love on their wedding day. This kind-hearted couple was all smiles for their nuptials, and it was clear just how much they adore each other. Tianna and David's Bay Area wedding was beautifully decorated with regal purple accent lighting, glamorous sparkles, and romantic shades of pink. Tianna looked absolutely ravishing in her blush lace gown – just like a princess straight out of a fairy tale! The team at San Ramon Waters by Wedgewood Weddings absolutely adored creating a memorable day for Tianna and David that was filled with love and joy.
***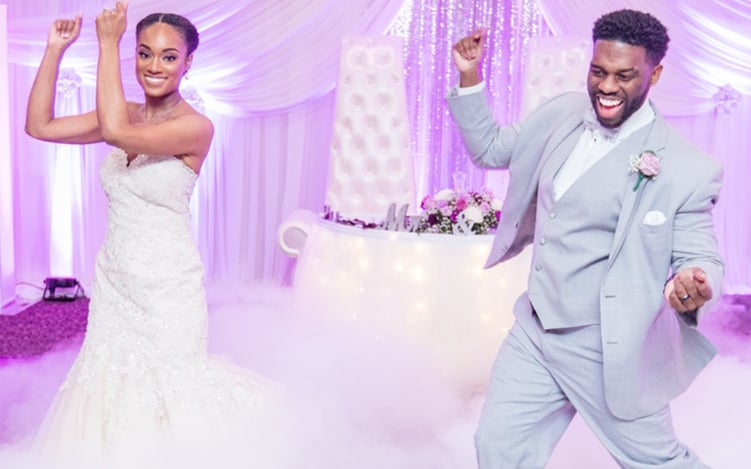 Tianna and David bust a move on the dance floor at san ramon waters
Tianna and David were both a delight to work with as well as a loads of fun to celebrate with. Their personalities shown through every aspect of their wedding and they kept their guests dancing all night long:


"Tianna & David are an amazing couple! They were very friendly and polite to work with from the first time we met to go over their music to the very last dance of the night. Both had incredible vibes and great personalities. When it came down to choosing their music they both knew exactly what they wanted. Their family and friends all danced the night away to the sounds of Soca Music and party favorites. Tianna & David are a great team and you can see how much they love each other. I am very fortunate that I was able to be a part of their wedding day!"
– Chris, DJ Grammer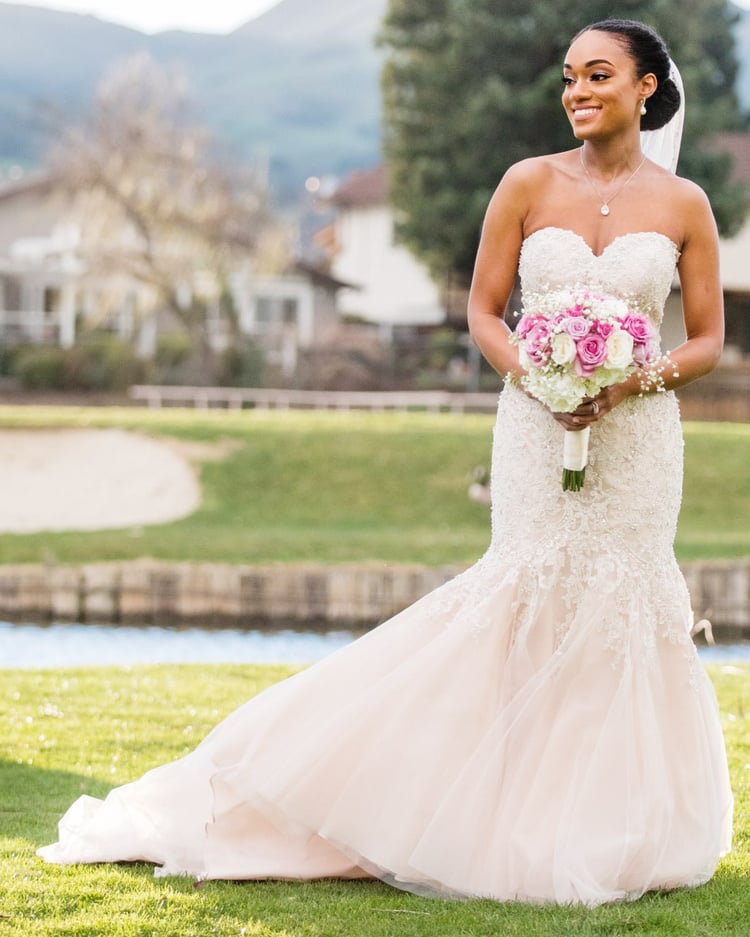 Tianna looked like a fairy tale princess in her blush lace gown
The team at San Ramon Waters went the extra mile to ensure that this beautiful couple enjoyed every detail of their wedding:


"Our same day wedding coordinator and banquet captain, Heather and Imani, were both extremely assertive and detail oriented to ensure our day went perfect. We're so grateful!"
- Tianna & David
The ceremony was absolutely beautiful and emotional . . .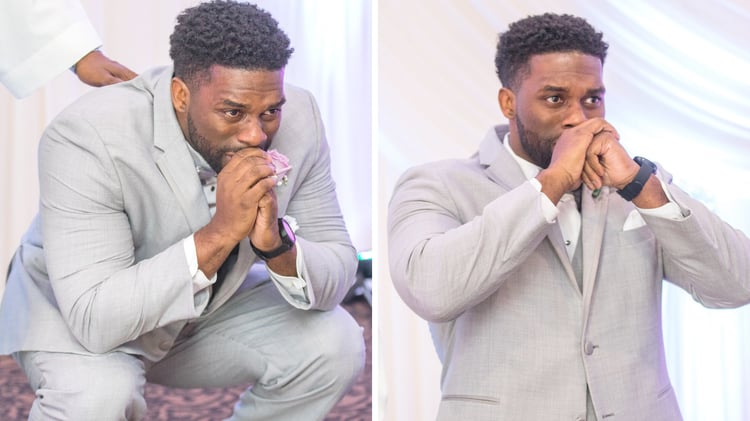 David can hardly contain his joy as he sees his bride for the very first time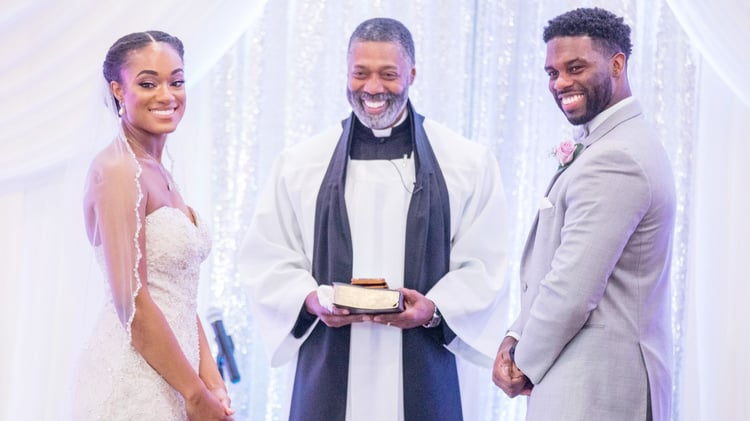 the happy couple are all smiles as they say 'I do!" at San Ramon Waters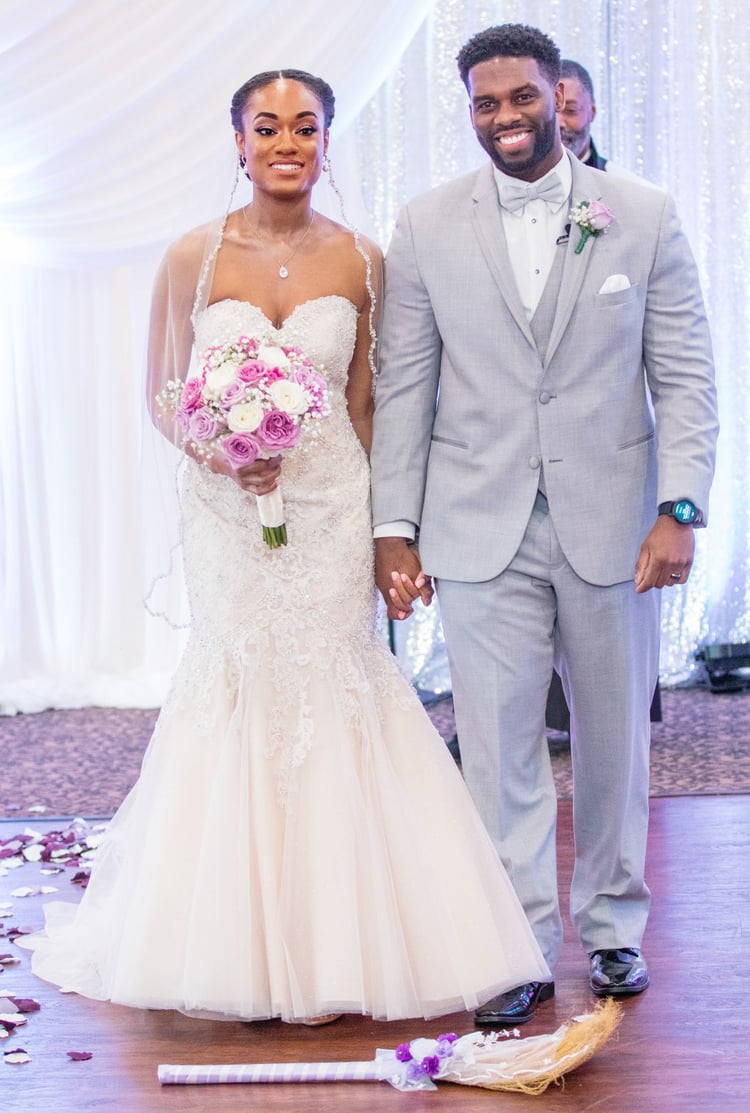 Tianna and David get ready to 'jump the broom' during their wedding ceremony
"All of the ladies at San Ramon by Wedgewood Weddings were extremely friendly and helpful from the very beginning. They helped make our wedding planning process as smooth as possible with great customer service."
- Tianna & David

Tianna and David worked with our vendor team to create an elegant aesthetic for their wedding. From regal plum and lavender floral arrangements to draped tulle and throne chairs – the couple's wedding reception and ceremony were straight out of a fairy tale:


"Tianna and David were an absolute a pleasure to work with! They had a good idea of what they wanted during our meeting, which made planning extra easy. The colors of their wedding were dusty lavender and silver. I used a darker plum as a contrast to the lavender for the flowers. The bride liked mini carnations and baby's breath, in shades of purple and lavender for her centerpieces. Avant-garde roses, baby's breath, misty blue, and white hydrangea wrapped in silver satin for her bridesmaids. Her bouquet was done in tones of lavender and cream, roses, freesia, Baby's Breath and Misty blue, wrapped in ivory satin. They were a beautiful couple and very easy to work with."
- Donna, Dublin Floral Design

A beautiful arrangement of purple and white flowers adorned the sweetheart table
Tianna and David used draping and lighting to elevate the look and feel of their wedding reception. Their wedding cake and cupcake display was a focal point, with a beautiful draped backdrop accented by custom lighting that featured the couple's name.


"We love everything about Tianna and David's wedding. They neutral decor of the venue made the perfect backdrop to create an elegant design complete with fairy tale tulle skirting and throne chairs. The cake backdrop side wall draping added an extra layer of extravagance. It was a pleasure working with the entire Wedgewood Weddings team! We wish Tianna and David many success and happiness together!"
- Stephanie, Pearlsia Decor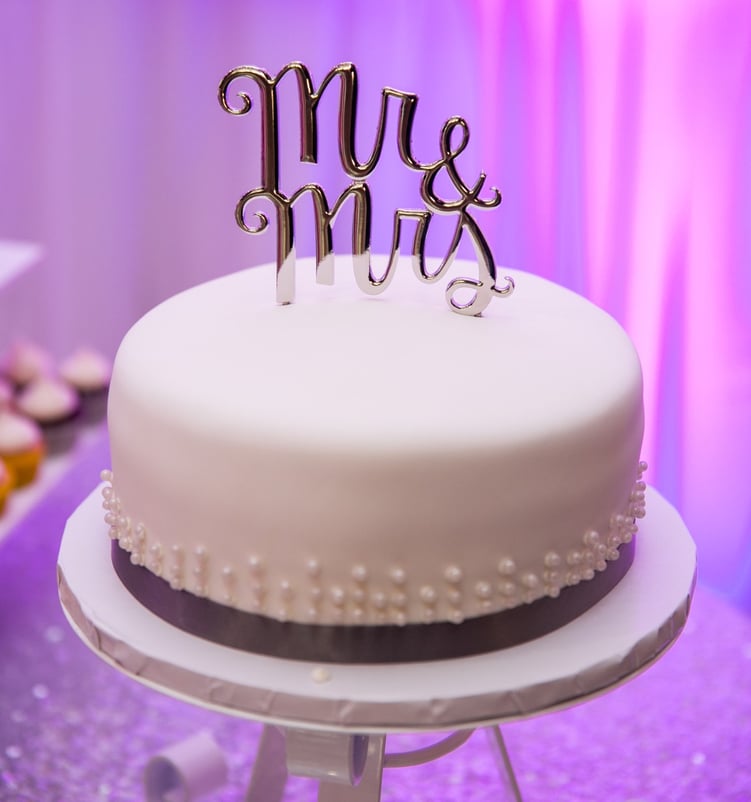 Dessert featured an elegant single-tier wedding cake and a tower of cupcakes
Guests danced the night away at David and Tianna's wedding reception, making the evening a jovial one filled with positive vibes and smiles:


"The wedding's grand entrance was so different. I have never seen anything like that; everyone got up and danced with the bridal party and bride and groom. It was a huddle of singing and dancing! I started dancing too!"
- Imani, San Ramon Waters by Wedgewod Weddings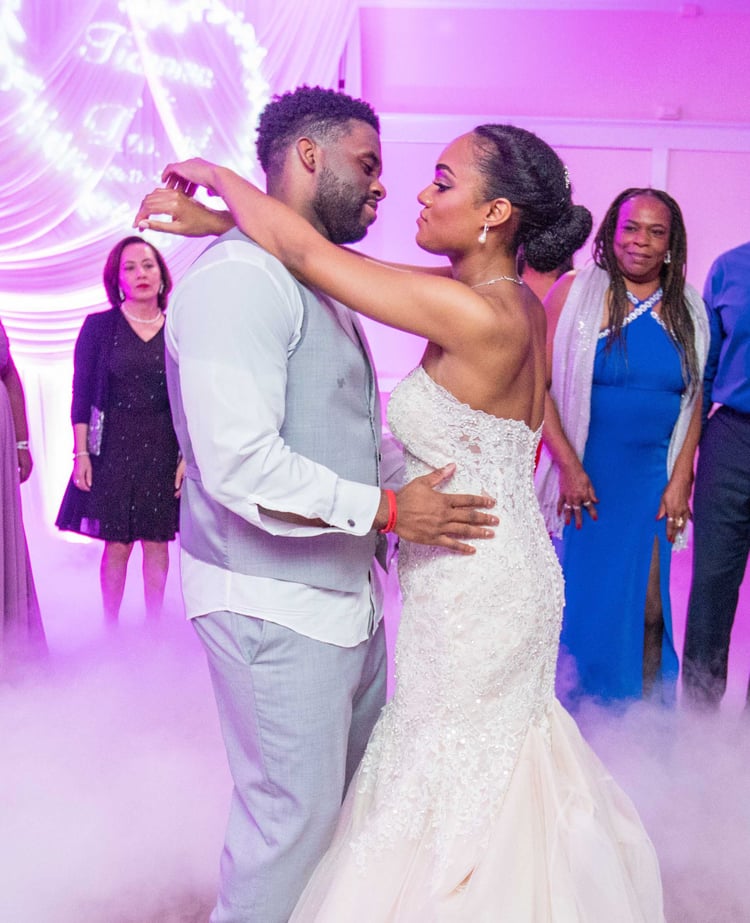 Tianna and David dance the night away surrounded by their fun-loving wedding guests
"DJ Grammer did a great job keeping the party going with his music selections as well as keeping us on schedule with our timeline."
- Tianna & David
***
We loved helping Tianna and David celebrate their nuptials at San Ramon Waters by Wedgewood Weddings. This breathtaking wedding was made possible thanks to our expert team of recommended vendors: