When it comes to wedding planning, there can be a rollercoaster of emotions. Mainly eagerness and joy sprinkled with essential stressors. Joshua and Adora experienced all of these feelings and more while planning their 2020 wedding. They managed to coordinate their destination celebration at Mountain View Ranch by Wedgewood Weddings while across the country during a pandemic.
"Planning our wedding from the other side of the country gave us this feeling that everything would be so stressful and that something would go wrong, but at the time of our wedding, everything fell into place beautifully!"
- Joshua & Adora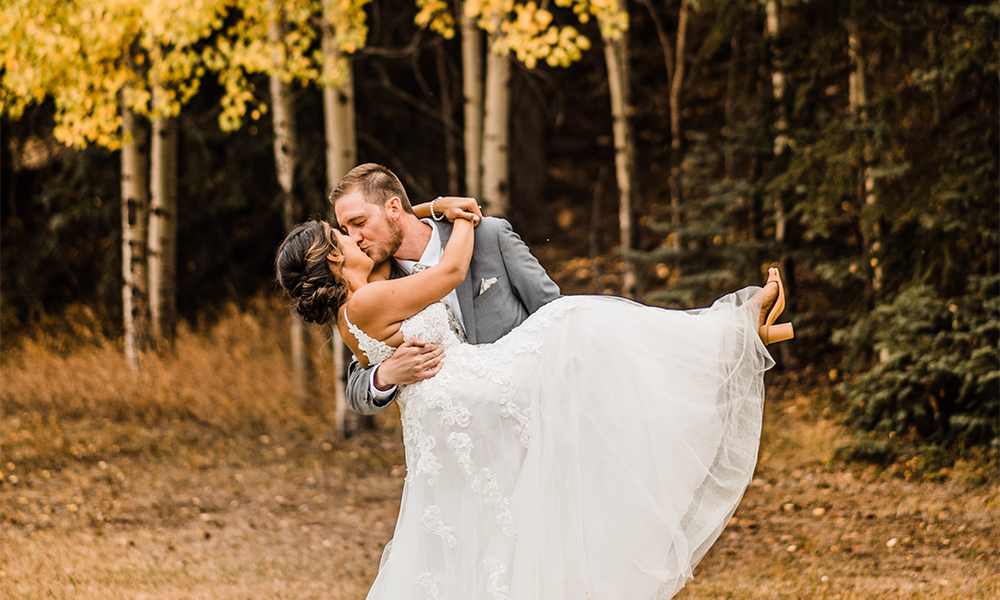 Josh and Adora share a kiss under the lush foliage of the Colorado woods
It's simple to look at Mountain View Ranch and understand why so many couples are drawn toward its beauty. Once intrigued, it's genuinely the efforts and compassion of the team that will seal the deal. The ease of planning and customizing packages allows couples the flexibility to focus on other details - this was the case with Adora and Joshua's destination wedding.
Adora and Joshua tied the knot surrounded by their loved ones, smiles glowing, and jubilant energy throughout the wedding. Although offered with the option to postpone or march on, Adora and Joshua knew their love story must go on. Along with many other couples planning during this time, they had to accept that their guest list would significantly decrease. When they continued to receive an outpouring of love, they knew having their wedding was the right decision.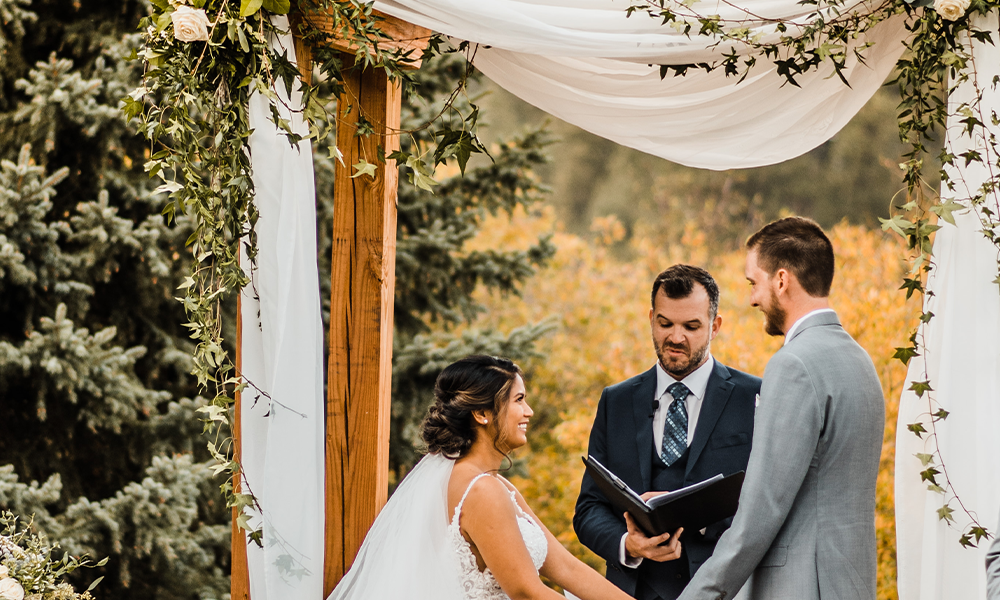 Sharing their vows, Josh and Adora are overcome with joy that their day has finally come
"Besides the beautiful celebration of our love, the best thing about our wedding is just the people who came to support us and those who helped us make this magical day come true. We had so many doubts throughout this pandemic about whether the wedding will happen or whether people will come to celebrate, so we were delighted and appreciative of everyone who came and supported us."
- Adora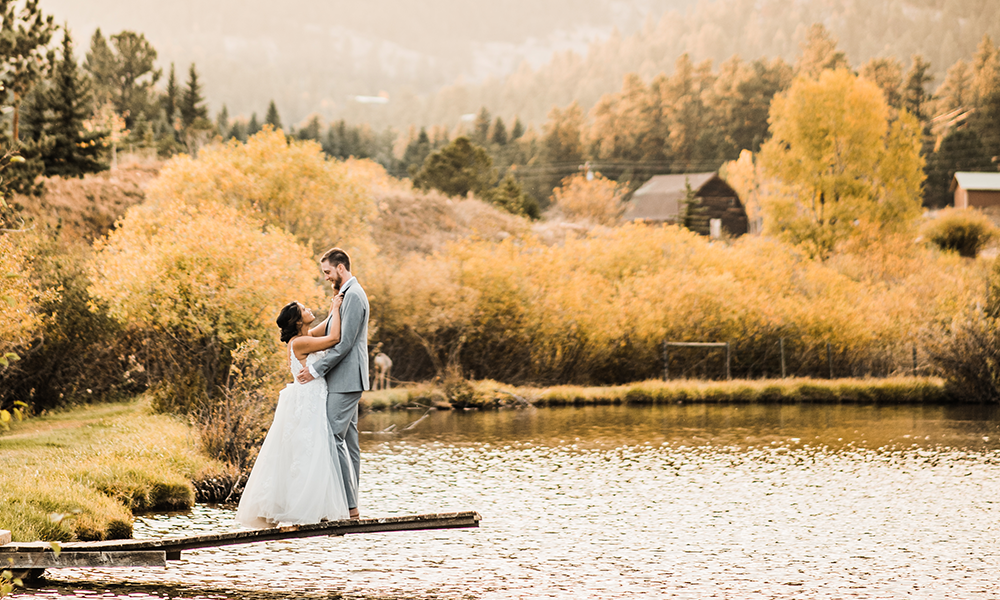 Sneaking off for a moment of private, wedded-bliss, Josh and Adora explore
the property at Mountain View Ranch by Wedgewood Weddings
From the details and vendors to the dedicated team at Mountain View Ranch, Adora and Joshua raved about every aspect of their wedding. Guests enjoyed Chicken Cordon Bleu in a Chardonnay Sauce, Roasted Prime Rib of Beef Au Jus with Creamy Horseradish, scalloped potatoes, and more! Scrumptious desserts by The Dessert Stand complimented everyone's meal, and gorgeous floral arrangements by Amore Fiori popped up throughout the venue.
Guests enjoyed the sounds of DJ Maestro and enjoyed the serene ambiance of the Rocky Mountains. One of Adora and Joshua's favorite additions to their wedding was the photo booth by Untamed Smiles. They received a scrapbook of memories from their wedding that they still reflect on often. The happy couples guests were equally as elated with the event.
"Everyone continuously tells us how the location, weather, food, and Wedgewood Weddings team all flowed seamlessly."
- Adora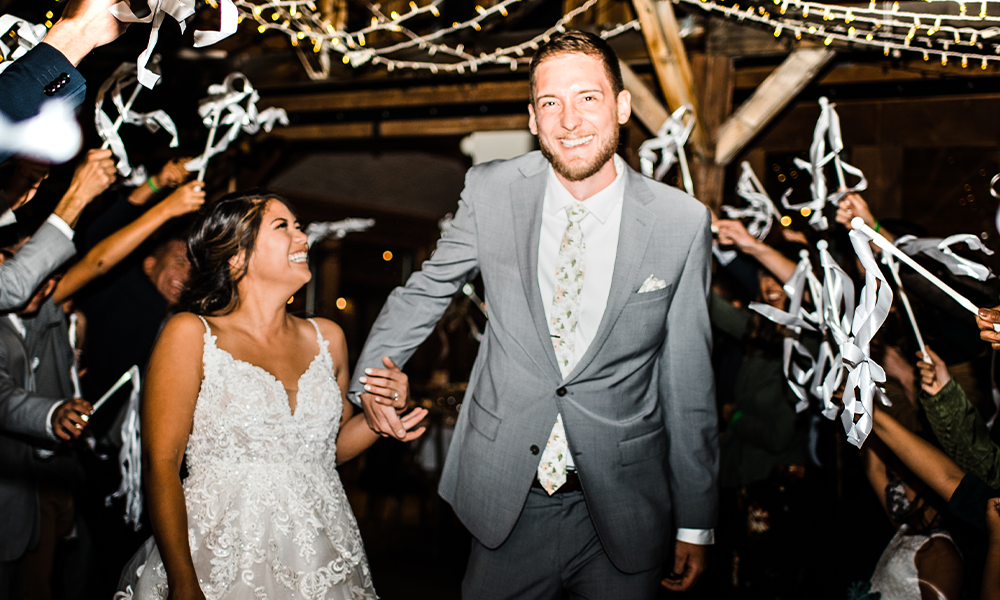 Radiant Smiles at the end of a magical day.
"Adora and Josh were the sweetest couple! It was such a pleasure to work with them & coordinate on their big day! Everything was terrific, from the gorgeous October day to their lovely ceremony - everyone had tears of joy. Such a beautiful couple inside & out!"
***
When they were faced with the decision to postpone their wedding, Adora and Joshua are thankful they let their love conquer. They chose to defy any hindrance to their plans and continued to celebrate their love. With the Wedgewood Weddings team's support, and the pandemic safety measures, the happy couple and their guests felt catered to and safe throughout the wedding. With the year passing by so quickly, the couple was so grateful for their wedding to have a reason to slow down the world around them - and for them, time stood still.