A Summer 2020 fairytale in Chandler, AZ. Meet Sierra and Zeke, a beautiful and gracious couple who tied the knot at our rustic-modern wedding venue, Ocotillo Oasis, on August 7, 2020.
Like many engaged couples with wedding dates in 2020, Sierra and Zeke had to reschedule their original May wedding due to local COVID-19 mandates. By the time July rolled around, their 'I do' was overdue, and it was so much fun to host their wedding adventure. Read on to see that a summer 2020 wedding is just as stunning, just as loving, and just as memorable as you always imagined.
Join us as we celebrate this beautiful story of two Phoenix love birds.
***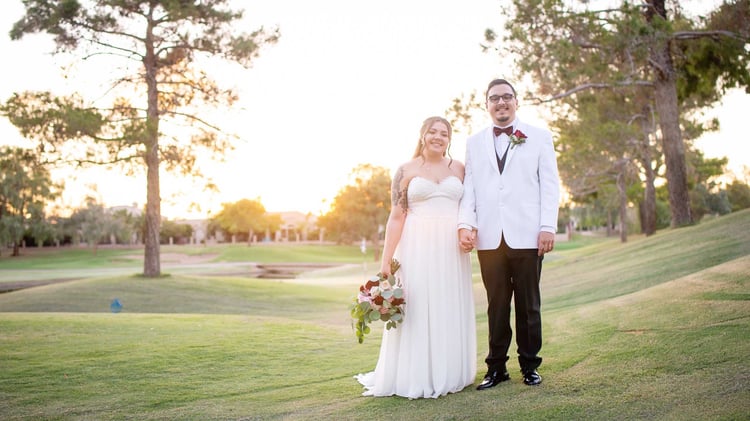 what a stunning couple!
the sunset was perfectly timed for sierra & zeke's wedding photos
Let's go back to the very beginning! When we first met Sierra and Zeke, they were recently engaged college students looking for a beautiful wedding venue that would help minimize the typical stress and strain of wedding planning. That's where we come in:
"The moment we got engaged, I immediately started Googling wedding venues, and the idea of an all inclusive venue really stuck out. We were in college at the time, and wanted something that would help us feel a little less stressed. We saw Wedgewood Weddings online and looked at the venue choices for Arizona. We immediately had a favorite. We toured Ocotillo Oasis and it was perfect! We decided that same day that we would be married there"
As concern about COVID-19 surfaced in early March, it became clear to Sierra and Zeke that their May wedding might not happen on schedule. Here's what Sierra had to say about the experience:
"Of course, I was heartbroken. But the team at Ocotillo Oasis handled it gracefully, like they had been doing stuff like this for years. They comforted me when I cried, and they made sure I didn't have to stress about anything! They seriously did it all and I am incredibly grateful for it. The support that we felt in the months leading up to the wedding, and the day of, was amazing. We felt so well taken care of and it was clear that the staff really care about what they do."
Working with brides like Sierra always makes our smiles feel like they reach our ears! We do everything we can to meet a couple's wishes. When they come to us, most have a vision for their event and it's our job to fulfill their needs. Moving a wedding date is never easy but selecting the end of July and then enjoying a s beautiful day made it all worth it. None of us would have predicted the closures in spring 2020 but working in events pushes us to embrace rolling with the punches and always being ready to find a fix!
Once the new date was set, Sierra and Zeke had to let their guests know. One of the biggest factors to safely hosting a wedding during a pandemic is guest count. While we absolutely love huge celebrations, smaller weddings with fewer guests can make attendees feel more at ease right now. Zeke and Sierra initially planned to host 90 of their friends and family but a few decided not to travel or felt it was better to wish the couple well from a distance.
"We told all our guests that we understand it's a tough decision and we support them no matter what. We socially distanced and guests could wear masks if they wanted. We also placed little hand sanitizers on the tables with our names and the date on them so that everyone could have a funny little keepsake from our day!"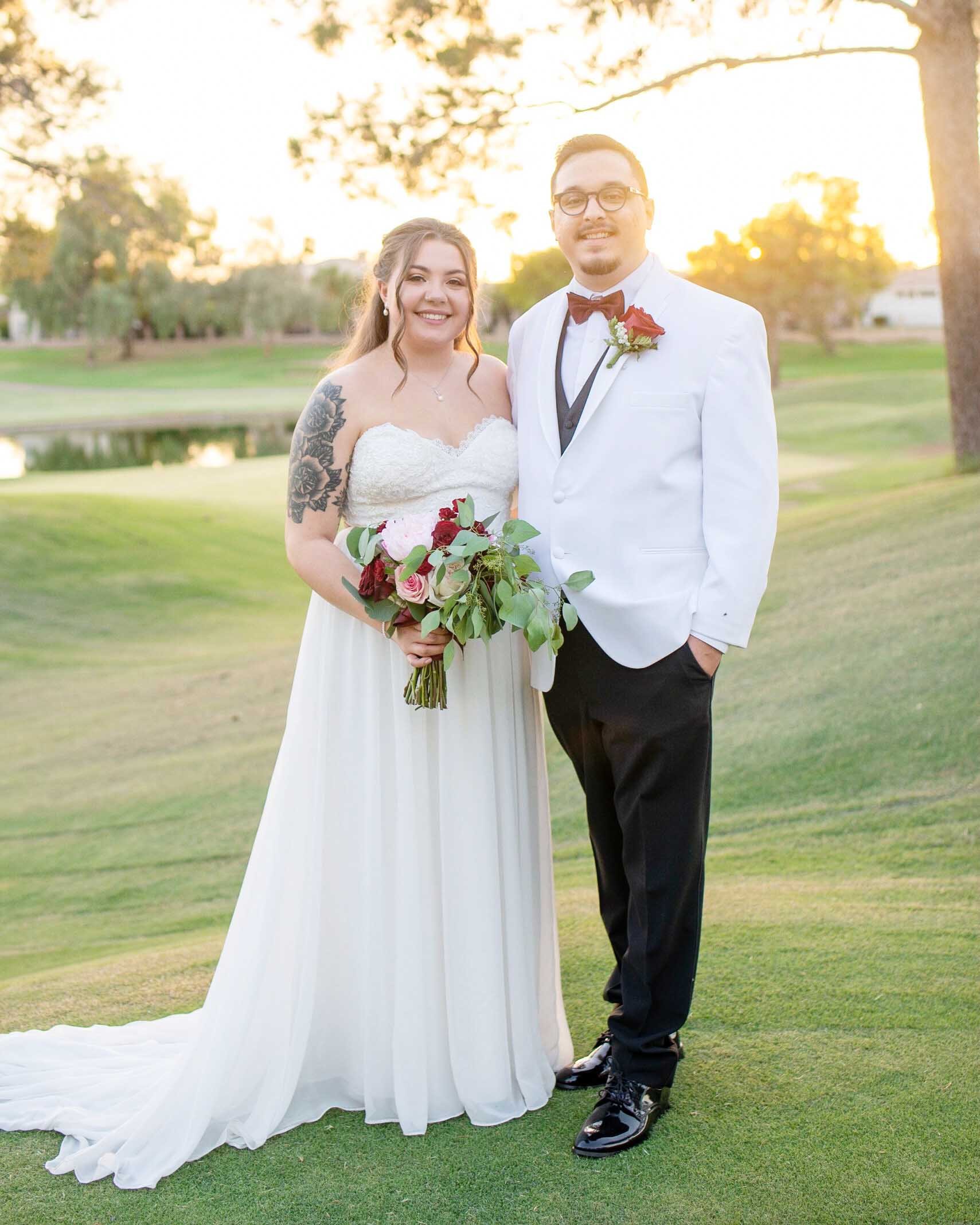 sierra chose vibrant burgundy and rose to accent their fresh white & black color palette
It was huge honor to help this sweet couple on their special day. Sierra and Zeke are clearly in love – you can see it in every glance, every touch. It's really sweet. The ceremony was especially emotional and had our entire team feeling the love. Thankfully we had plenty of tissues at the ready to catch our joyful tears.
"I may be biased, but the best thing about our wedding was marrying my best friend. We have both waited so long for this moment, and I sobbed almost the whole time. Seeing him and our closest friends and family as I walked down the aisle will be a memory I hold in my heart forever. I never want to forget that moment.
That's why every couple should get married! Spending time with your best friend and supporting each other is the pinnacle of true love. And, that level of dedication deserves an event that's as beautiful as the couple's hearts. Our team of event experts put countless hours into developing a flawless plan for Zeke and Sierra, complete with extra sanitation, social distancing measures and other added precautions. While keeping everyone safe was our priority, we also had to place romance and joy at the center of everything. We asked Sierra & Zeke how they and their guests felt about the accommodations:
"The tables were farther apart than usual, and I know that several of our guests really appreciated this. The staff wore masks and I thought it was very appropriate. Our guests were given the choice to wear a mask or not. Honestly, it felt perfectly safe"


standard arrangement at our OCOTILLO oasis event venue.
To satisfy summer 2020 needs, we now space tables 10 FT apart. Happily for Sierra and Zeke, it looked great and went unnoticed by guests.


"Our guests were so sweet and complimented our day, everyone said the venue was gorgeous, the food was incredible, and the atmosphere was like magic. Many of our guests mentioned that, for they few hours they were at our wedding, they were able to forget about the craziness of the world right now, and focus on the good things. This made us both so happy!"

It's true that stepping back into normality feels like a treat nowadays and we think that's one of the reasons why Zeke and Sierra's wedding stands out as being special. It was filled with smiles and laughter! Couples like Sierra and Zeke are the reason why we wake up every day excited to go to work! Their love, passion, and commitment to one another is beyond inspiring.


Being married is seriously the best. Getting to say "my husband" instead of "my fiancé" is honestly so cool. I get to wake up every day next to my best friend, and I don't ever have to say bye anymore, just a simple "see you later".

I have always been a gushy person, I love LOVE! I mean how can you not?? Our love story is my favorite though 😉 Our first dance was also so perfect, just as I imagined it.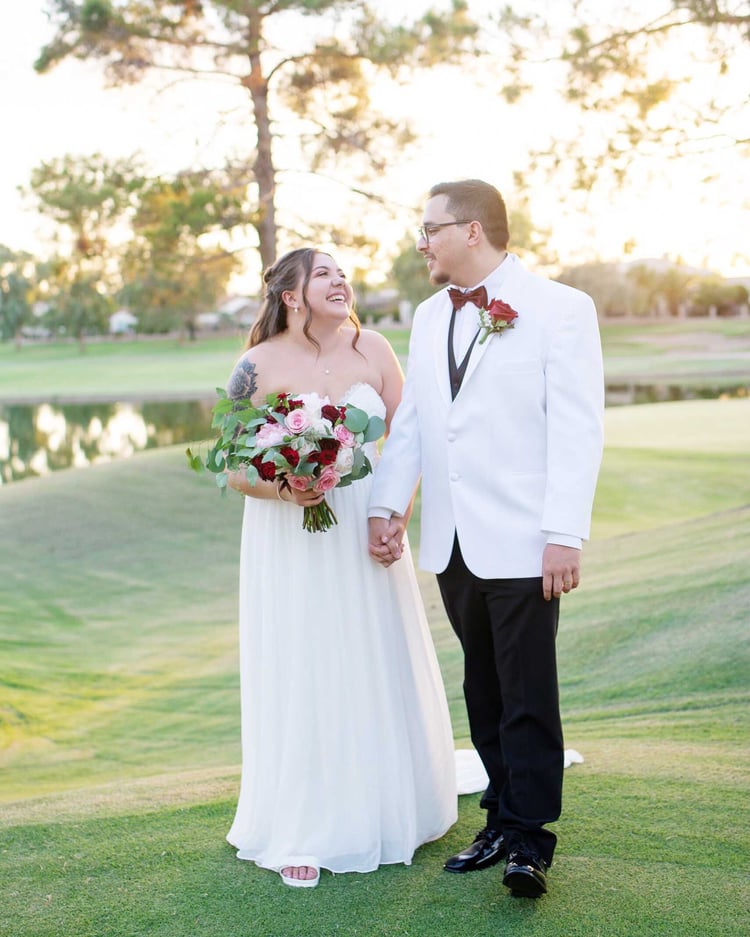 sierra and zeke look joyful in white against the rolling greens
We're so proud of our team in Chandler who hosted this beautiful, beautiful wedding! Our entire team from the chef, banquet captain, day-of coordinator, servers, and organizers went all out to make sure this wedding was a glowing success. In addition to our team, we're incredibly thankful to all of our vendor partners who helped to make this wedding as seamless as it was. Our awesome vendors were instrumental in making this wedding outstanding!
"It feels a little bittersweet that it's over, but we're already onto our next adventure and I can't wait to see where it takes us. I can't thank you all enough for making our day feel so effortless."
This Aug 7, 2020, wedding was supported by:
And their delicious menu selections were:
HORS D'OEUVRES
hummus duo, red pepper & cilantro lime, with pita chips

roma tomato & fresh basil bruschetta

smoked salmon canape

crispy mini vegetable egg rolls with sweet chili dipping sauce

mini crab cakes with spicy remoulade

sweet & tangy bbq meatballs
ENTRÉES
PANKO PARMESAN CRUSTED CHICKEN WITH SHERRY CREAM

carved roast beef au jus with creamed horseradish

WITH ASSORTED SALADS, SEASONAL VEGETABLES AND HERB ROASTED RED POTATOES
"From the moment I met Sierra & Zeke I knew they were going to be such a fun couple to work with. Both so easy going, happy, and very in love! So as you can imagine, having to call Sierra to tell her we couldn't host her wedding was probably one of the more emotional Covid-19 calls I've had to make. It broke my heart hearing her cry on the other end knowing how ready and excited she was to marry her best friend in just a few short weeks. She even had custom color-coordinated M&M's made with their wedding date and faces on them! Despite how sad and upset she was, she couldn't stop thanking me for being so accommodating and caring. They both had full trust in us, and remained positive. Their wedding day turned out perfect, and their sunset was to die for! Working with her and Zeke was a breath of fresh air, and reminded me why I love what I do!"
- Natalia Parys, Day of Coordinator
***
Planning a wedding during a coronavirus can be a challenge for all involved, but with the right team in place, it can be just as enjoyable as ever! There's nothing quite like gathering with friends and family to celebrate your love and your commitment to one another. We're honored every time a couple chooses Wedgewood Weddings to host their wedding, now more than ever. Health and safety remains our top priority, but we're sure thrilled to be focused on celebrating love again.
For Sierra and Zeke, their wedding came off without a hitch! We know from the love in their eyes that they're destined to a life of happiness and wonder. And the wedding was downright beautiful! This was truly a magical wedding day for all to see!
***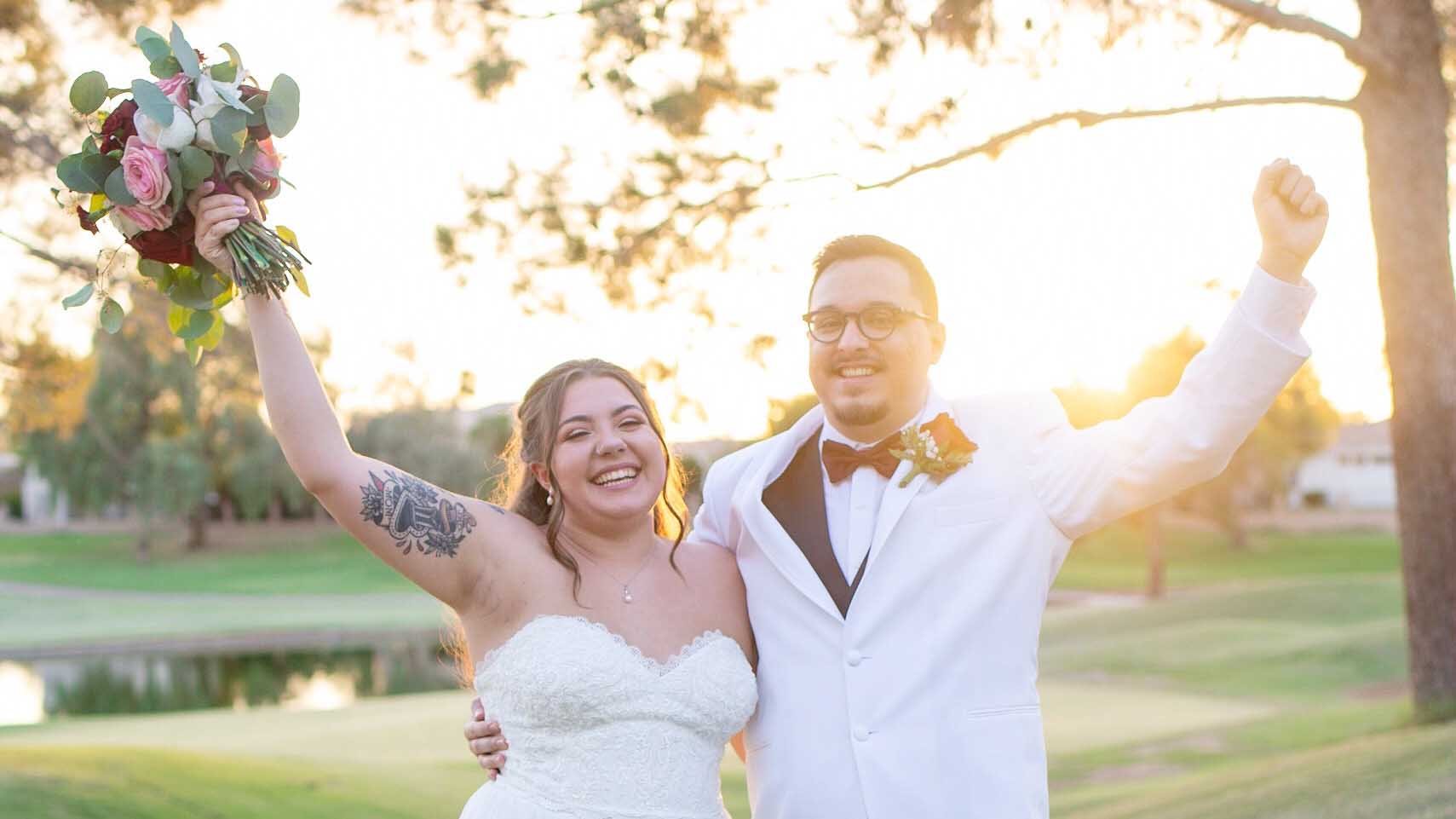 mr. and mrs. zeke hite ready for their next adventure as newlyweds!