Looking for your fall wedding inspiration? Take a look at Nicole and Eric's gorgeous Fall-themed wedding at Fallbrook Estate by Wedgewood Weddings! The entire team at Fallbrook Estate wish you all the best in your journey as husband and wife. Thank you for letting us be part of your special day!
Let Nicole & Eric's seasonal experience guide your own fall wedding style decisions.
Fall Wedding Pros
There are tons of advantages to getting married in the fall:
Gorgeous foliage
Typically temperate weather
Lots of seasonally-inspired décor
Our scenic wedding venue, Fallbrook Estate by Wedgewood Weddings offers mountain views, Spanish-style architecture, and a sparkling stone waterfall perfect for your post ceremony photos!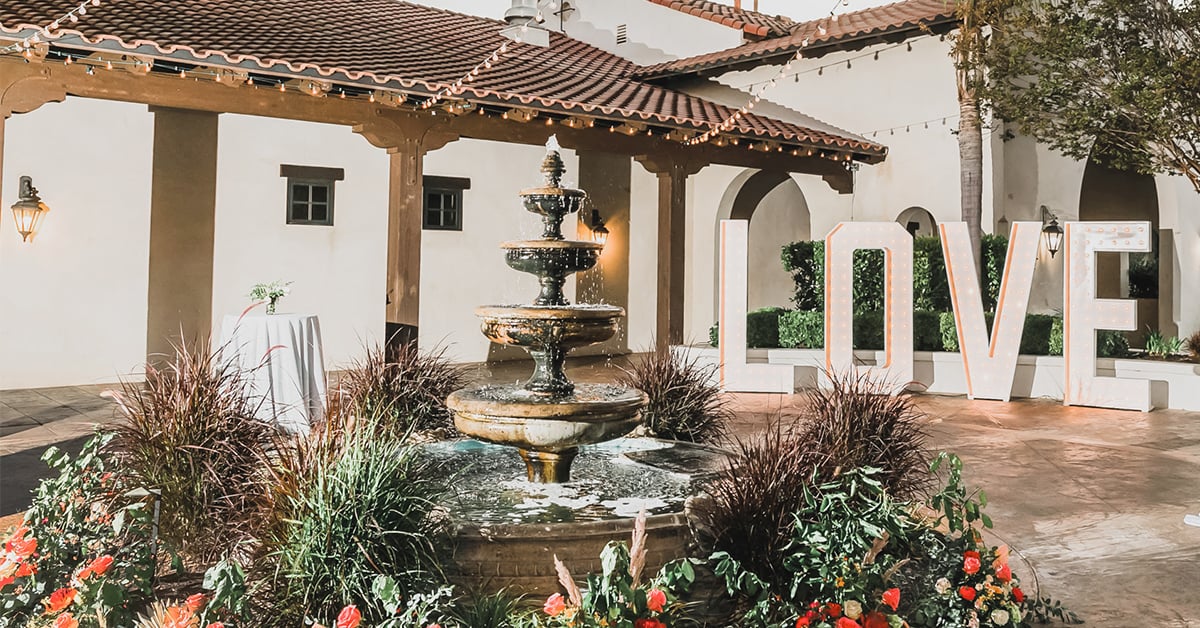 Fallbrook Estate by Wedgewood Weddings offers a beautiful outdoor patio with archway and fireplace. a quiet, serene, romantic location for the perfect fall wedding setting.

Nicole and Eric's aisle decor consisted of autumn colored leaves lining the walkway. They posted their seating arrangements on fall themed cards for their guests. Their three-tiered cake carried out their fall theme with the second tier designed like a tree carved with their initials! How sweet! They opted to dress up their chiavari chairs with golden sashes!
Fall-Inspired Wedding Favors
Add a little DIY to your wedding favors with homemade jams, jellies, or to really personalize your guests' experience! Edible wedding favors are always in good taste, and fall is the best time of year to jump on this trend. In-season fruits like pomegranates lend a pop of color to each place setting, while candied apples would delight any guest. Cute bottles of maple syrup or local honey perfectly fit the season. Mini donuts or pie-on-a-stick are surefire hits, and DIY s'mores packages or mix-your-own hot chocolate cones are a sweet treat for guests to take home.
| | | |
| --- | --- | --- |
| | | |
***
Seasonal Considerations
Fall is considered on-season throughout most of the United States and definitely in Southern California. Two of the most popular months for wedding sare September and October when the heat cools a little and rainfall in minimal. Understandably, fall dates always book quickly. Talk to our wedding experts by calling (855) 877-9726 to arrange a venue tour and select an autumnal date that works for you.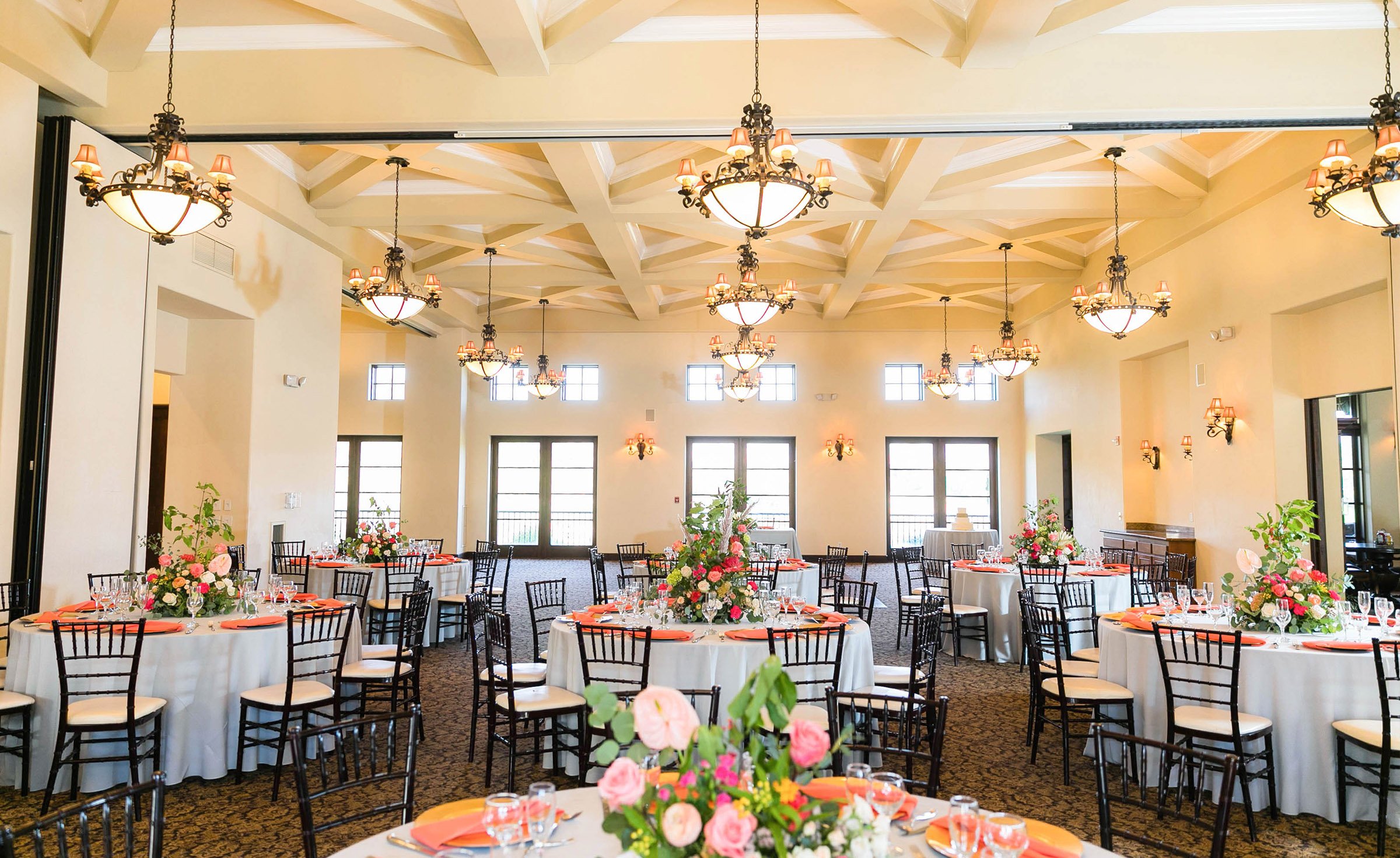 About Fallbrook Estate

Couples considering Fallbrook Estate for their wedding always love the high ceilings and windows in the banquet room. If you really want a rustic look, Fallbrook Estate by Wedgewood Weddings' architecture and details will help execute this gorgeous style. There is an adjoining courtyard and patio for cocktail hour with a variety of amenities including a cozy fireplace in the bar area.
Autumn Color Palette
Do a Google image search for "Fall Weddings" and you'll no doubt see tons of deep reds, oranges, and browns. Although this color palette mimics the changing of the leaves and provides natural warmth to any style of décor, don't be boxed in by the "fall foliage" feel!
Wanna get a bit more modern with your fall color palette? Consider using gold or copper for a bit of glitz and glam, deep plum and emerald green for elegance, or neutral shades like champagne, cream, and slate gray.
The Wedding Party
You may want to pick a slightly heavier fabric for your bridesmaid dresses or have your entourage wear boleros or pashminas to keep the chill at bay. Deep jewel tones, glimmering metallics, and long-sleeved bridesmaid dresses are all lovely options for autumn attire.
The groomsmen can get creative with their fall wardrobe, too! How about argyle socks or plaid ties? Smart navy or gray suits are a sophisticated choice with these bold accessories.
Fall Wedding Cake Trends
Fall wedding cakes are taking on a more rustic style, with drizzles of ganache or caramel, "rough" buttercream icing, or no icing at all! Naked cakes are completely devoid of outside icing, and look stunning decorated with fall fruits, such as figs.
Seasonal flavors include apple spice cake, gingerbread, or, you guessed it, pumpkin spice cake. Red velvet would also be a lovely choice to complement a deep red color palette.
***
Fall comes with cooler, fresh weather —the ideal for a seasonal wedding. We think Autumn does more than set a pretty scene: the season's signature spices lend themselves to delicious cocktails; muted, earthy color schemes make for stunning paper goods and floral arrangements; and the harvest's signature produce (think apples and pumpkins) make for the sweetest décor. There's a reason why fall has become one of the most popular seasons for nuptials. Ultimately, if you're trying to decide on a month for your wedding, you can't go wrong with a September, October, or November date.
***