We're pleased to introduce you to Veronica Slavin, AKA "Ronnie", owner of Veronica Slavin Photography in Ventura, CA. Ronnie offers wedding, corporate, and portrait photography and is a proud partner of Wedgewood Weddings. We love Ronnie's timeless style and ability to find joy in every moment. If you're looking for beautiful, classic photos of your wedding, engagement, or other special moments, Ronnie is an absolute gem to work with! She photographed her first wedding in 1981 and hasn't stopped since! Join us as we chat with Ronnie about her experience creating beautiful memories to last a lifetime.
***

happy newlyweds enjoying the sky lounge at pacific view tower | Ronnie Slavin Photo
Hi Ronnie! We're so glad to chat with you today.
How did you get into photography?
I began exploring photography as a devoted hobby in the late 1970s. I was married to a professional surfer at the time, and we often traveled with an elite group of surfers. I began documenting our trips through photography, and that's when the passion really began to develop. Over the years, we opened a surfboard manufacturing company and a couple of retail surf shops, but photography continued to tug at my heart. My first paid photo was featured in Surfer Magazine in 1981, and later in the year, I photographed my first wedding! I haven't looked back since!
Tell us about your business and how that has evolved over the years?
I love to shoot diverse subjects—I've experimented with a bit of everything! I worked as a contract wedding photographer for a local studio, and then full-time as a portrait photographer for many years. While I loved weddings the most, the experience with in-studio portrait photography was incredibly valuable, allowing me to really sharpen my lighting skills. I went full-time with photography in 2001 and officially opened my own business in 2015. Veronica Slavin Photography specializes in weddings and corporate events.
Becoming a premier partner of Wedgewood Weddings was definitely a major milestone for my career and business! I love that our partnership allows me to focus more on photography, and less on sales and marketing. They consistently bring me wonderful clients that are truly a perfect fit for my style, personality, and offerings. The best part? Many of those clients become friends after the wedding!
Recently, I opened a physical studio in Ventura, CA and it's been a dream come true! The studio has really allowed me to expand my offerings to include weddings, corporate events, engagements, and even family portraits.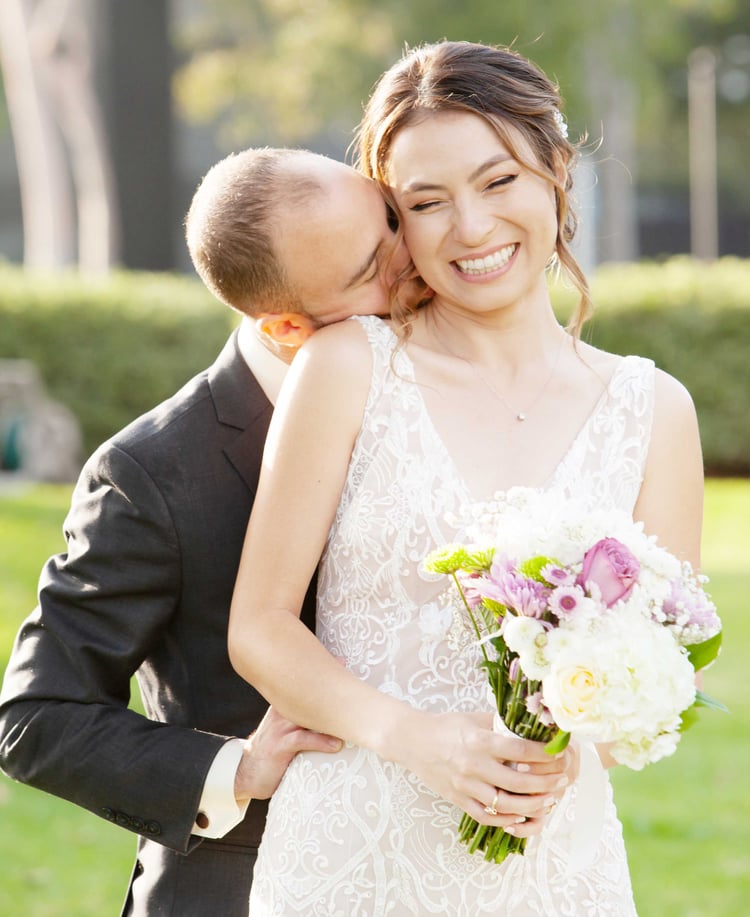 this beautiful bride could not stop smiling! | ronnie slavin photo
What's something that most people don't know about you?
Oooh—fun question! Most people don't know that I was one of the very first female surf photographers, which is something I'm quite proud of. I've also been known to photograph airplanes while hanging out of a helicopter once or twice . . .
How fun!! So, what made you switch to love-filled weddings instead of swimming with sharks and hanging out of helicopters?
Weddings are never the same, no matter how many I have photographed, even at the same location. Beyond that, there's something so unique about the joy that comes from wedding photos. When my clients see their wedding photos, they are so happy, and there's really no feeling like knowing that you were a part of that!
What should couples expect when working with you?
I am not a hip, rock star photographer with a million followers on Instagram, and I don't plan to be! I am however an experienced professional who takes the honor of being your wedding photographer very seriously. It's my job to deliver exceptional, romantic, authentic photos of your special day, and that's what I love to do. You may also catch me with tears in my eyes during your vows – they get me every time!
Couples should expect me to be professional, detail-oriented, humble, and supportive. Communication and transparency is key! My goal is to earn your trust from the first minute we speak so that by the time your special day arrives, you can focus exclusively on your once-in-a-lifetime moment knowing that I've got the photography handled with your needs in mind.

What equipment do you use and why?
Lighting, timing, and emotion! But I think you mean tangible equipment, I use that too! I am a Canon loyalist to this day. For many years Canon allowed me to use my film lenses with digital bodies, and it made the transition to digital much easier. My lenses are all L-series and serve unique purposes. Camera bodies are basically computers, ever-changing, so I primarily invest in lenses that will stick with me over time and have the biggest impact on the final product.
How can couples feel confident they've found the right photographer?
Trust your gut! More specifically, here are four tips for choosing your photographer:
Start by browsing the photographer's website or portfolio; you'll quickly get a sense of their photography and editing style.
Look for experience, not just pretty photos. A great photographer will have years of experience, wedding advice, and the expertise to support you if something goes awry.
During your consultation, be sure to ask to see a portfolio from an entire wedding, rather than just the highlight reel. This will really help get a transparent impression of what to expect from the photographer.
Don't be afraid to ask for references! A great photographer will be thrilled to have you talk with previous clients.
Thank you so much, Ronnie! This has been a lot of fun.
***
Veronica Slavin Photography specializes in timeless, joy-filled wedding and family photography in Ventura County, CA. As a trusted partner of Pacific View Tower by Wedgewood Weddings, we absolutely trust Ronnie to deliver a professional, joyful experience each and every time she photographs a wedding. Our customers love her warm personality and fun surfing stories! Give Ronnie a shout when you're ready to plan your wedding or special event, you won't regret it!
You can learn more about Ronnie on her website. It's full of beautiful photo galleries and contact information.