Stephanie and Ryan joined with 20 of their closest friends and family to celebrate their love on a picture-perfect overcast day in September. They chose The Carlsbad Windmill as the background for their special day, and boy are we swooning over how it turned out! From the stunning glass swan art to the minute basketball details, their wedding day was full with love and personality.
***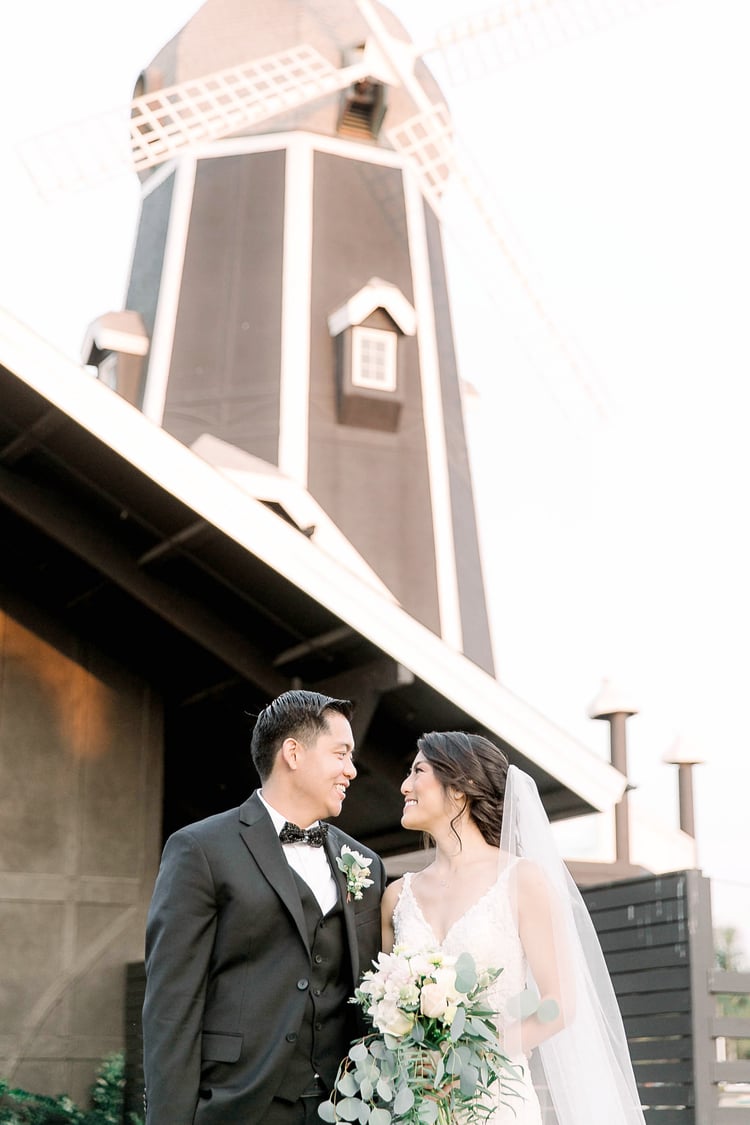 the happy couple in front of the iconic carlsbad windmill
"Stephanie and Ryan were married at the beautiful Carlsbad Windmill September 18th, 2020. I had photographed their engagement session in January and I instantly fell in love with their fun-loving personalities and their infectious laughs. Stephanie has a knack for design and it showed through all the amazing details from her simple but elegant lace dress."
- Leah Marie, Leah Marie Photography
One of our favorite elements of Stephanie and Ryan's wedding day was the stunning wooden hexagonal altar that followed them around throughout the celebration. The craftsmanship was one-of-a-kind and it fit in so perfectly with the decor of The Windmill. We set it up as the backdrop of their wedding ceremony and again behind their sweetheart table.

the happy couple pose in front of their custom made wedding altar



the bride and her bridesmaids share a joyful moment before the ceremony



the handsome wedding party in the ballroom of the carlsbad windmill


"Stephanie has a knack for design and it showed through all the amazing details from her simple but elegant lace dress, Pinterest-worthy bridal party gift baskets, and stunning florals that adorned every part of her wedding."
- Leah Marie, Leah Marie Photography

Ryan and stephanie enjoy the golden sunset light on the windmill balcony



escape to the beach for gorgeous sunset bridal portraits



the san diego cliffs add a dramatic element for your bridal portraits


"Their wedding was intimate and they did a great job incorporating their culture and faith. After the ceremony we were then able to go to the beach for the grand finale of bridal portraits, those are hands down my favorite of the whole day!"
- Leah Marie, Leah Marie Photography

sparkler machines make for an exciting grand entrance



an iconic landmark and san diego's newest 5-star wedding venue


stephanie & ryan enjoy a romantic first dance
"Stephanie and Ryan were so so sweet to work with! They clearly were excited to get married and put a lot of hard work into making their wedding day extra special and personalized to them."
- Sydney Herd, Wedgewood Weddings
Stephanie and Ryan opted for a wide variety of appetizers followed by a buffet dinner service featuring the Panko Crusted Chicken and Carved Roast Beef. The guests raved all night long about how delicious the food was!
HORS D'OEUVRES
chicken & Waffles with bourbon syrup

crispy dumplings with pineapple teriyaki dipping sauce

pork belly blt crostini

roma tomato & fresh basil bruschetta

rainbow vegetable platter with pesto hummus

ahi tuna sashimi wontons with wasabi cream
ENTRÉES
panko parmesan crusted chicken with sherry cream sauce

five cheese tortellini with pesto and parmesan

CARVED ROAST BEEF AU JUS WITH CREAMED HORSERADISH

WITH ASSORTED SALADS, SEASONAL VEGETABLES AND HERB ROASTED RED POTATOES


how sweet is this unique swan wedding topper?
Remember: whether you invite 20 or 200 guests, a wedding where you say 'I do' to your best friend is guaranteed to be an amazing night! It's all about surrounding yourself with love and making memories that commemorate this once-in-a-lifetime moment. We want to extend a million THANK YOUS to all of the people who came together to make this such a wonderful day!