Taylor and Brett's beautiful spring wedding at Aliso Viejo by Wedgewood Weddings has us swooning. They had moody tones of navy and silver that really complimented the cool spring evening, rustic accents in their décor to match the stonework at our fireside ceremony site, and earthy wood details throughout the reception.
They didn't need much to transform the space into something that really fit them. While any wedding at this venue is easy to love (thanks to its natural beauty), Taylor and Brett did an amazing job accenting all the venue's fantastic elements while incorporating their own unique taste! We love everything about their style: from the elegant simplicity of Taylor's dress paired with her awesome tattoos to the cozy farmhouse-style decor laced with boho accents.
Here's what our venue team had to say about their wedding:
"Taylor and Brett were such a pleasure to work with from the start! They were very down to earth and made it easy to plan with them!"

-Lyzmari, Expert Planning Team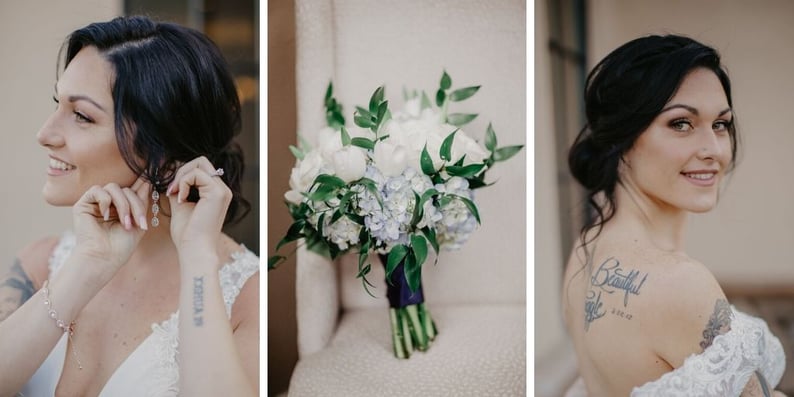 The couple's photographer, Erin with Erin Kaiulani Photo, shared her thoughts on the wedding:
Taylor & Brett's Wedding had several touches that made it super special. From Taylor's gorgeous lace dress to the all-star vendor team that they choose, their wedding was wonderful from start to finish! Taylor & Brett also added their own hand made photo booth frame prop for guests to pose with that added to the fun of the night! It is always great when the couple adds their own personal touches!"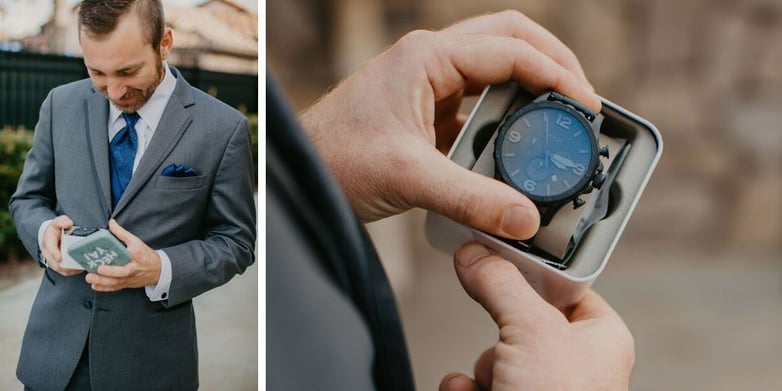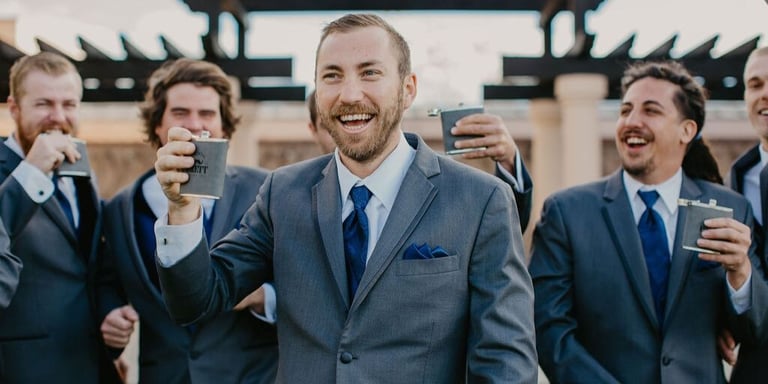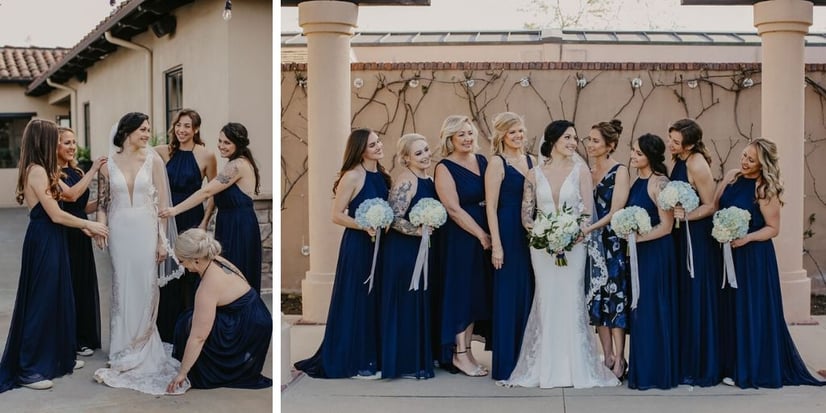 The bride, Taylor, shared this wonderful testimonial with us:
"Our wedding planning experience with Wedgewood Weddings was absolutely amazing. They assisted us in everything every single step of the way. They allowed for timing to process decisions, they gave ample notice of an appropriate timeline for things including things they weren't involved with such as, my dress, bridesmaids dresses, the groom and groomsmen tuxes. etc."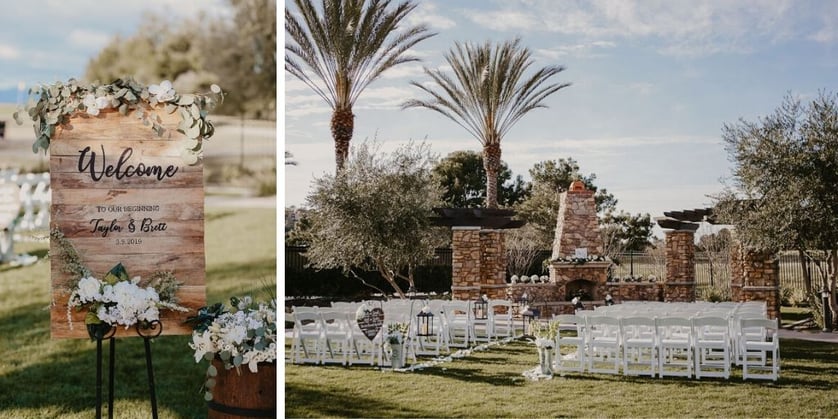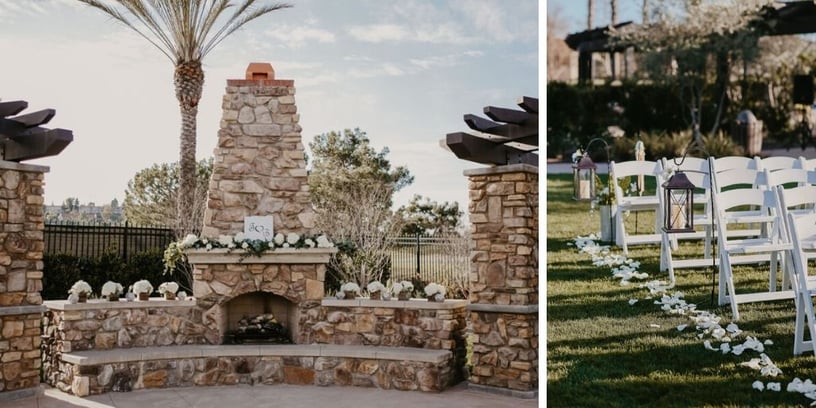 "Although they had an intimate guest count, their friends and family brought a ton of energy that made coordination a breeze! I love when you can tell the entire wedding party is just as enthused about their marriage as the couple is; that's when you know you've got some true friends. It was a party we wish we could have stepped in and enjoyed with them!"

– Kim, Expert Planning Team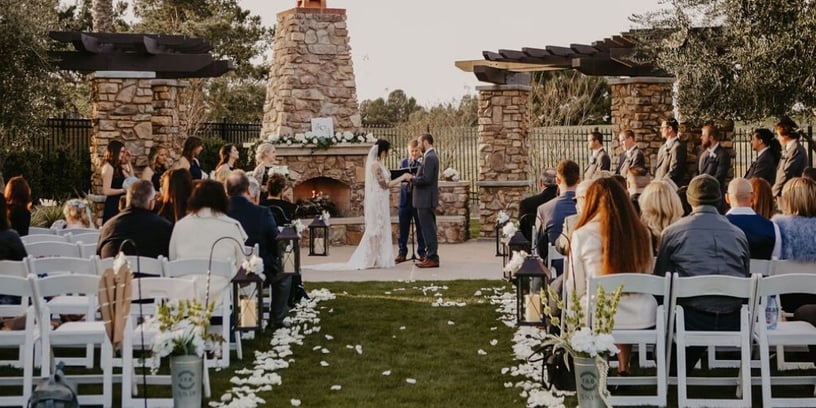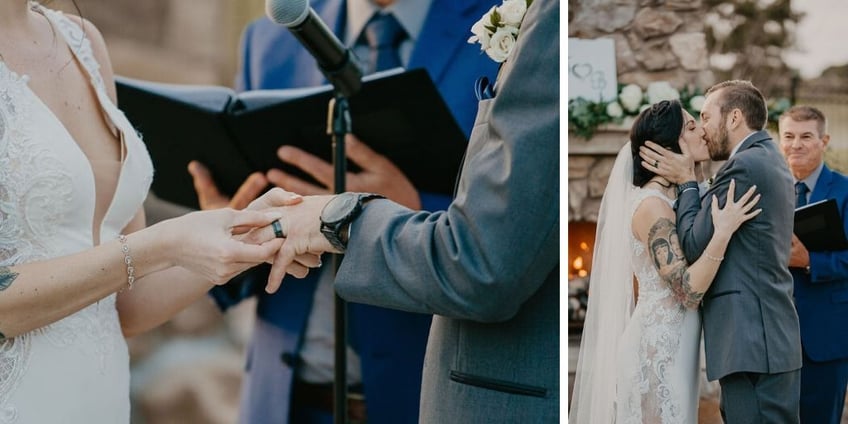 Stephanie with Little Hill Floral Designs shared this lovely note about the couple:
"Taylor was a super easy client, she came in knowing what she wanted. She wanted to make sure that she could incorporate light blue into the florals, which sometimes is not easy since there are not a whole lot of options for blue flowers. We decided that the best option was the blue hydrangea, to give a fluffy texture and romantic vibe! I know that she wanted to use some type of vessel for her centerpieces that was not traditional glass. We decided on the silver compote to compliment the blue tones in the florals!"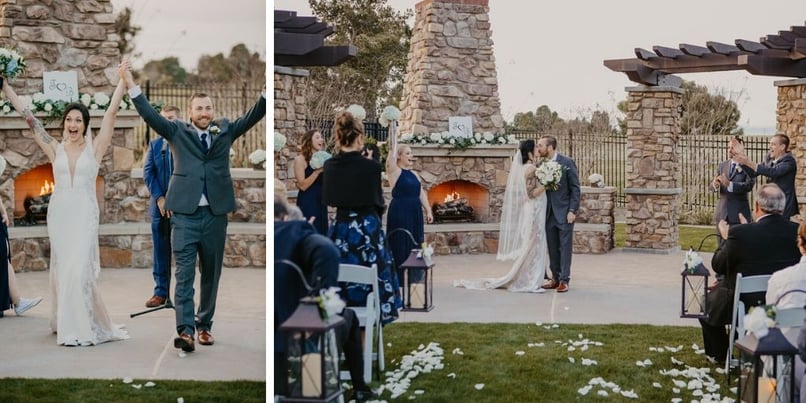 The groom, Brett, had this to say about working with Wedgewood Weddings:
"They checked in frequently to ensure we didn't have any questions or need any help. They ensured we were on track with making appointments to meet with the vendors or to make the necessary calls to arrange things. They also called us to make sure we weren't stressed or, if we were, how they could further assist us to calm our nerves that come with wedding planning."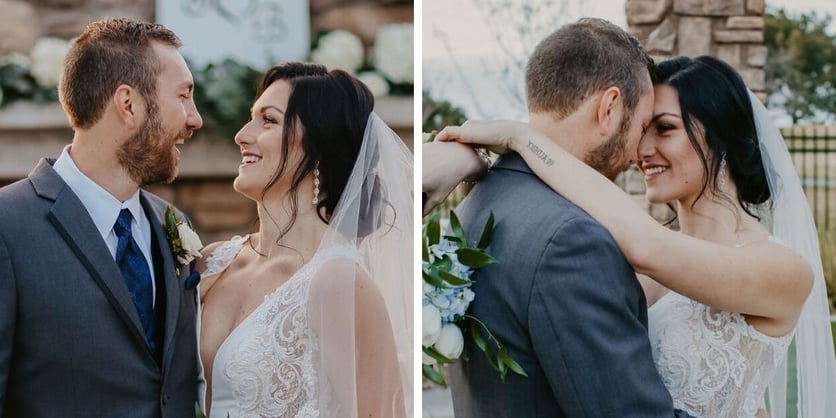 Take a look at Tara's advice for other couples planning their wedding:
"My advice would be to utilize the resources and help that is offered to you. You need it. Try to remain calm and work with your partner as a team. If there is a disagreement over colors, in the end, it really doesn't matter so choose your battles."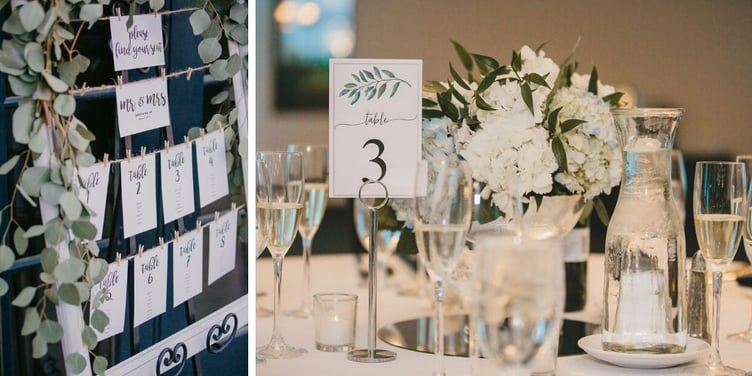 And, Brett also offered advice for other engaged couples:
"This day is about you two and your love story, don't let anything or anyone stand in the way of that. Remember this day won't be perfect, no matter how hard you try. Some things are meant to be the way that they happen and there's nothing you can do about it. Keep your attention on you and your partner. You'll look back and see how perfect it was to you in the end because you married the love of your life and that's truly all that matters."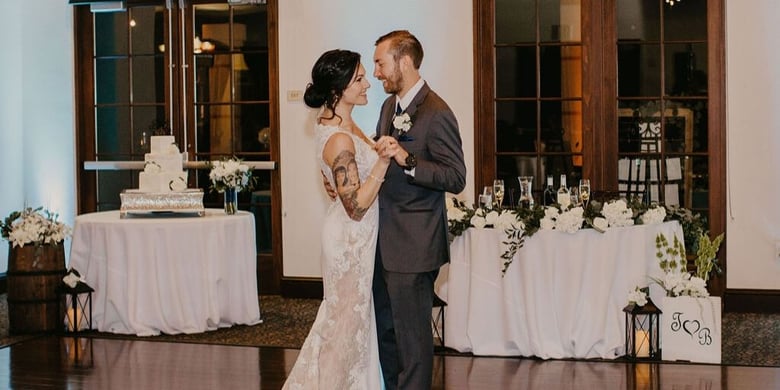 "Taylor & Brett were great to work with before and during their wedding! We corresponded with Taylor via email to make the process as easy as possible, sending sample images of the Photo Booth package and proofs for her prints. During the wedding, the couple had a blast in the photo booth, taking endless pictures with unlimited prints!"

- Shanna, Viral Booth
***
Congratulations Taylor and Brett! We wish you a lifetime of happiness together filled with just as much (if not more) happiness, love, and laughter we experienced with you along your wedding journey. Thanks for letting us showcase your beautiful wedding!