Cindy and Devin were absolutely glowing for their romantic wine-country wedding at Stonetree Estate in beautiful Novato, California. Tucked away at this lakeside retreat, the venue's mature landscaping made the perfect backdrop for the duo's flower-adorned wedding ceremony. Cindy and Devin chose a regal purple as their accent color, which created an upscale fairytale aesthetic at this charming estate. With help from the Wedgewood Weddings team, Cindy and Devin created an enchanting wedding that their guests are sure to remember for years to come!
***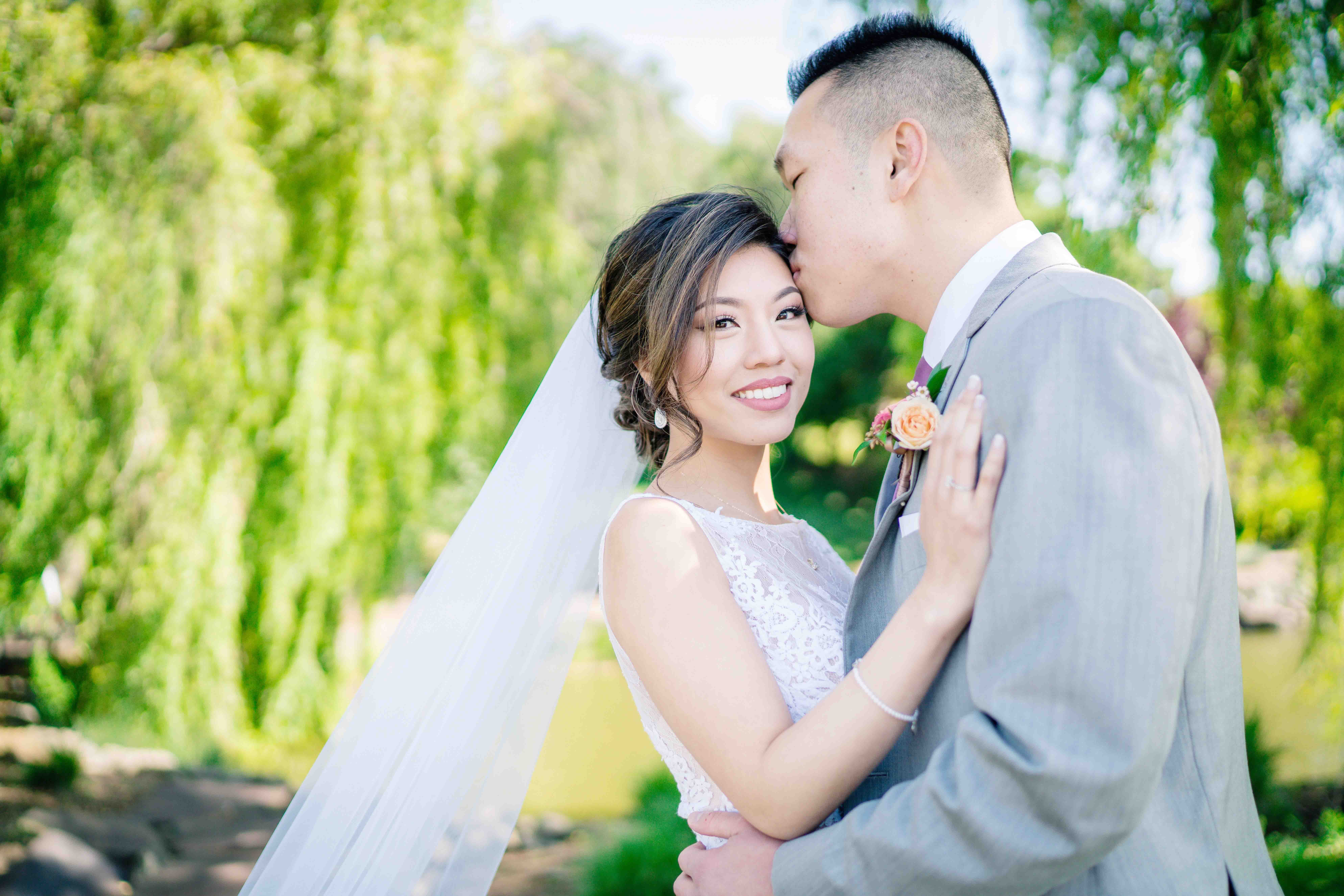 this beautiful bride and groom celebrate such a beautiful love story at stonetree estate
The planning process
For Cindy and Devin, the planning process was nothing short of a delight thanks to the dedicated team at Wedgewood Weddings. We paired the happy couple with the best vendors in Marin County, all of which have been fully vetted to ensure our brides and grooms enjoy a five-star experience every step of the way.
"The Wedgewood Weddings staff was so helpful and always quick to answer any of my questions. The planning binder helped a lot too! Krumb's Cake and Angella were the highest rated in the area for cakes and floral as well, so it was awesome that we were able to just go through Wedgewood Weddings to book them. Also, DJ Steve was amazing! I was initially worried about booking a DJ without first hearing him, but he was so fun and really rocked the house that night!"
- Cindy & Devin
getting ready
Cindy and Devin took advantage of the spacious get-ready suites at Stonetree Estate to freshen up their hair, makeup and accessories before the big reveal. For the men, that meant celebrating with a toast of the groom's favorite whiskey in custom-engraved whiskey glasses. What a sweet personalized gift idea for the groomsmen!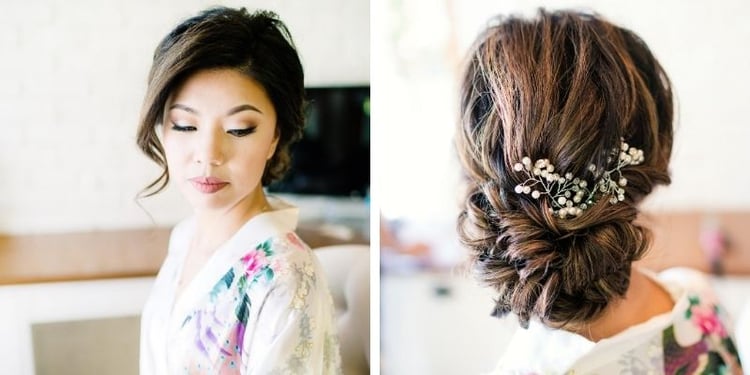 Cindy's bridal look was stunning with dramatic eyes, a plum lip, and romantic updo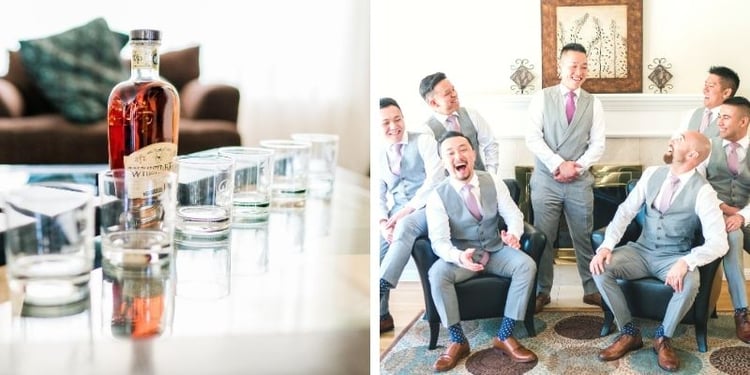 celebratory whiskey served in beautifully-etched rocks glasses
the first look
Cindy and Devin opted for a simple yet modern first look before the ceremony. We love this rising wedding trend, which allows the couple to have a moment of privacy before the ceremony where all eyes will be on them. It's also an excellent opportunity to capture some beautiful, emotion-filled bridal portraits. These two are just stunning!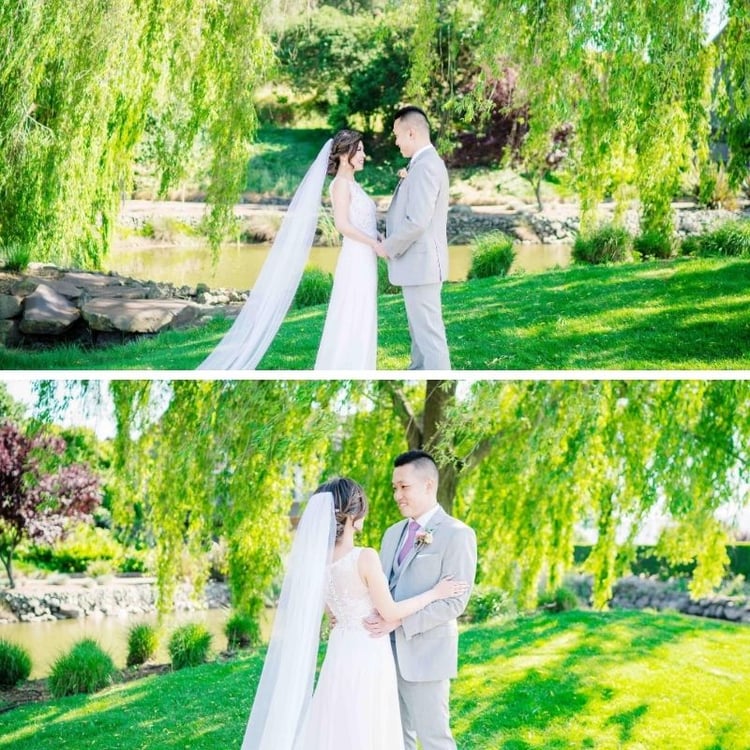 Cindy and Devin exchange loving glances under the beautiful green weeping willows
Vow Exchange
Cindy and Devin absolutely fell in love with the outdoor ceremony space at Stonetree Estate. They adorned a traditional wood arbor with romantic drapery and regal purple and white flowers accented with deep green foliage. See what the couple had to say about the favorite part of their wedding:
"Honestly, the entire day was made so seamless because of Wedgewood Weddings. I had such a blast celebrating with my loved ones, but my favorite part was probably the ceremony. The outdoor ceremony area overlooking rolling hills is my favorite area of the entire venue and exchanging our vows there was just a magnificent experience!"
- Cindy & Devin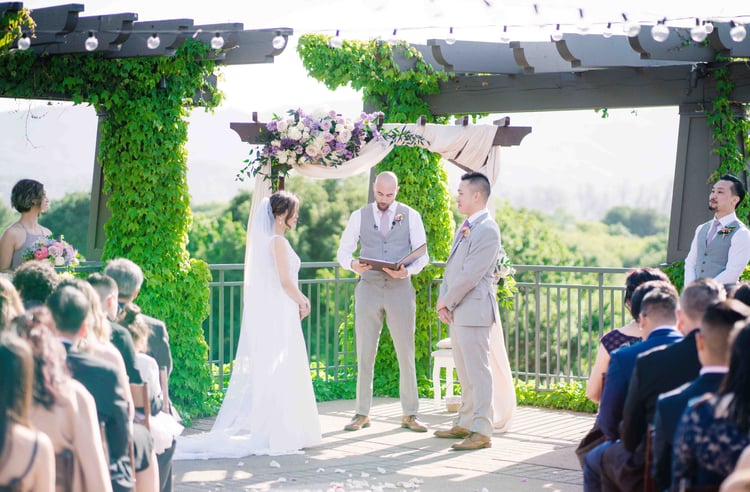 Cindy & Devin said 'i do' beneath the beautifully decorated arbor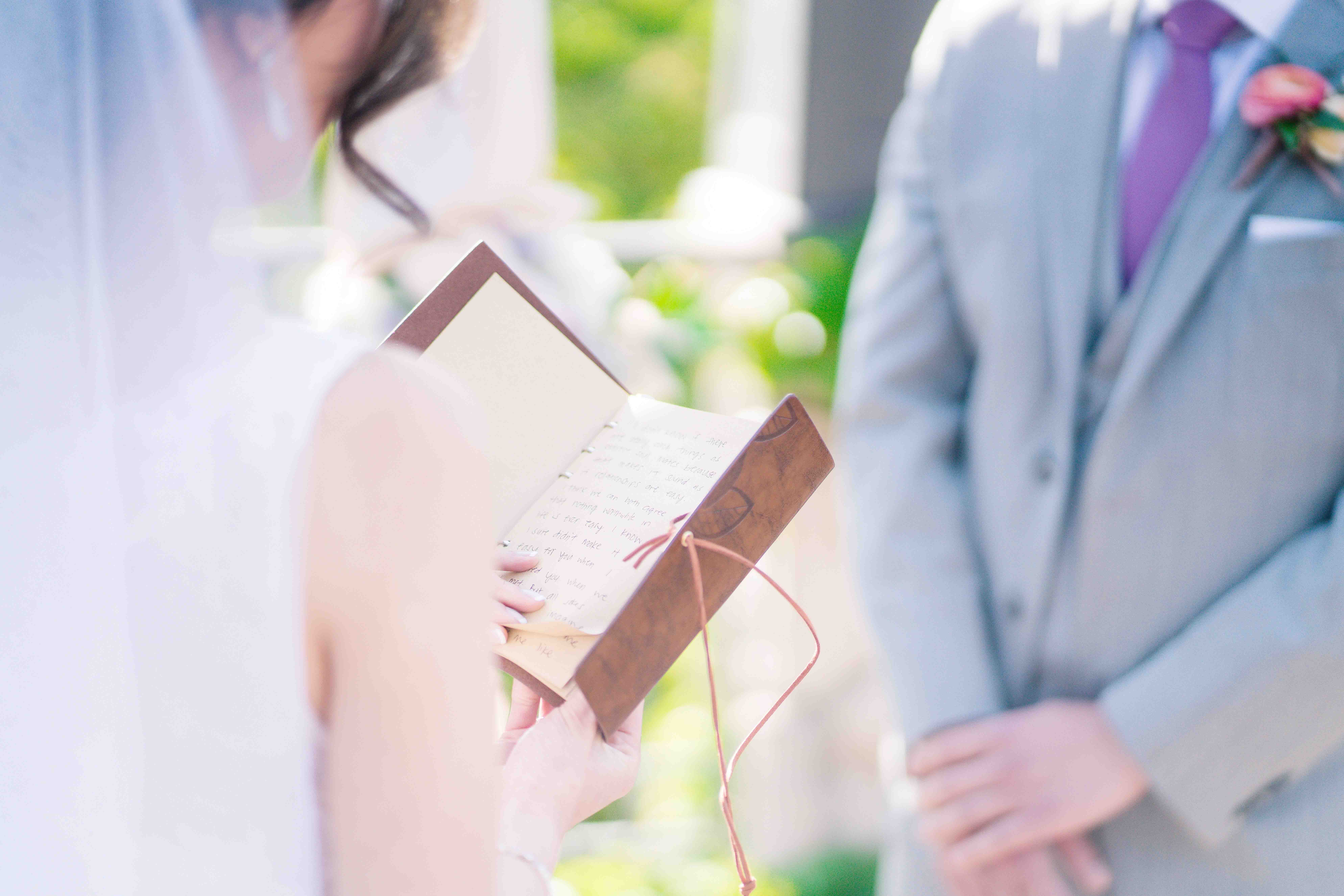 handwritten vows added a heartfelt, personalized feeling to the ceremony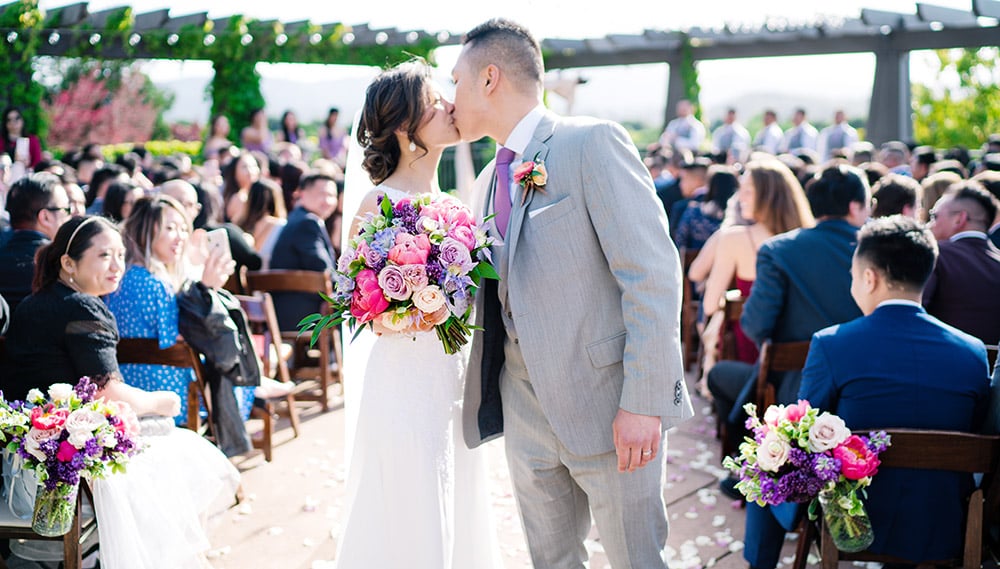 cindy and devin share a celebratory kiss as mr. and mrs.
the Reception
For their beautiful wedding reception, Cindy and Devin continued the elegant fairytale theme, which blended perfectly with the rustic charm of the exposed wooden beams and accent signs. Regal purple flower arrangements could be found throughout, creating a cohesive and romantic vibe for the entire evening. The manicured grounds and modern aesthetic at Stonetree Estate added to the whimsical feel of the wedding, creating a romantic setting for the couple's celebration of love.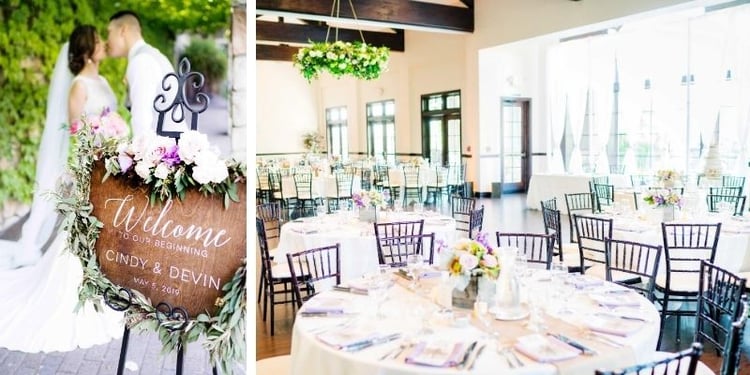 upscale fairytale was the design inspiration behind this beautiful wedding
"Cindy and Devin's wedding was filled with so much love, fun, and beauty! They were so polite during the planning process and an absolute blast on the wedding day. We're honored to have been part of their wedding and we wish them a lifetime of happiness!"
- Rachel, Stonetree Estate by Wedgewood Weddings

bride & groom
The architecture and manicured grounds of Stonetree Estates is breathtaking, complete with beautiful native garden, a sun-kissed lake and sprawling ivy over stacked stone. The ample plant life and foliage perfectly accented the color palette in Cindy's bouquet, making the perfect backdrop for romantic bridal portraits. These are just a few of our favorites: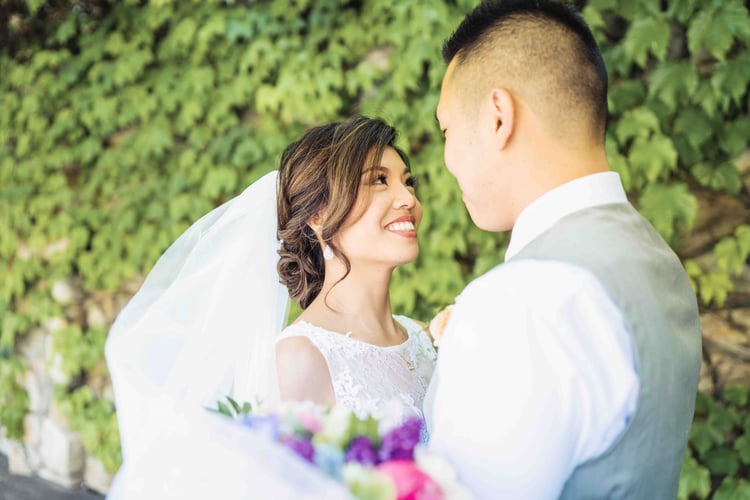 Beautiful sprawling ivy grows in the background makes the perfect portrait background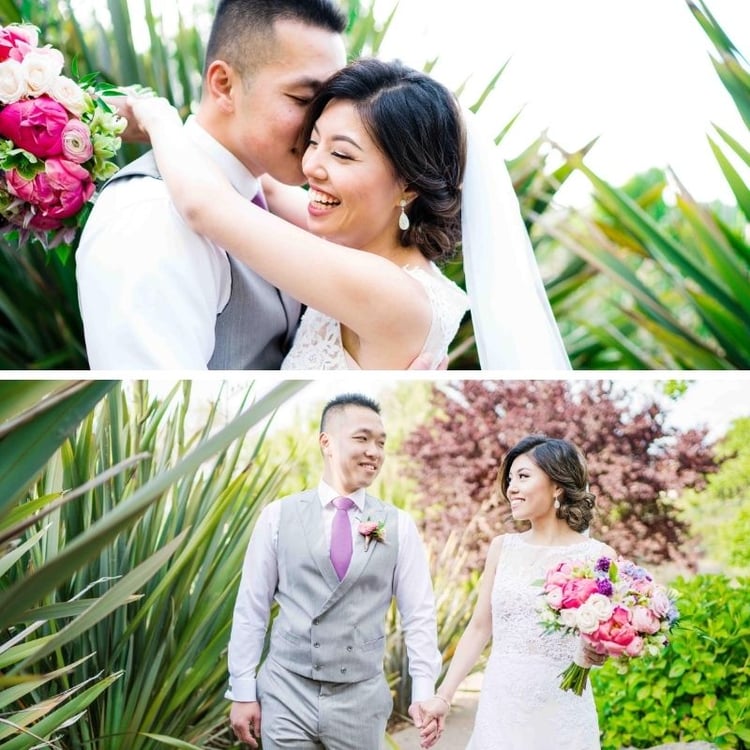 Devin and Cindy are all smiles as they explore the lush gardens at Stonetree Estate
Sweet Treats
Cindy and Devin chose a rustic, yet elegant naked wedding cake design from our friends at Krumbs Cakes in San Rafael, CA. The four-tier wedding cake was adorned with pastel purple and pink roses to match the floral arrangements throughout the ceremony and reception. This lovely wedding cake tasted just as good as it looked!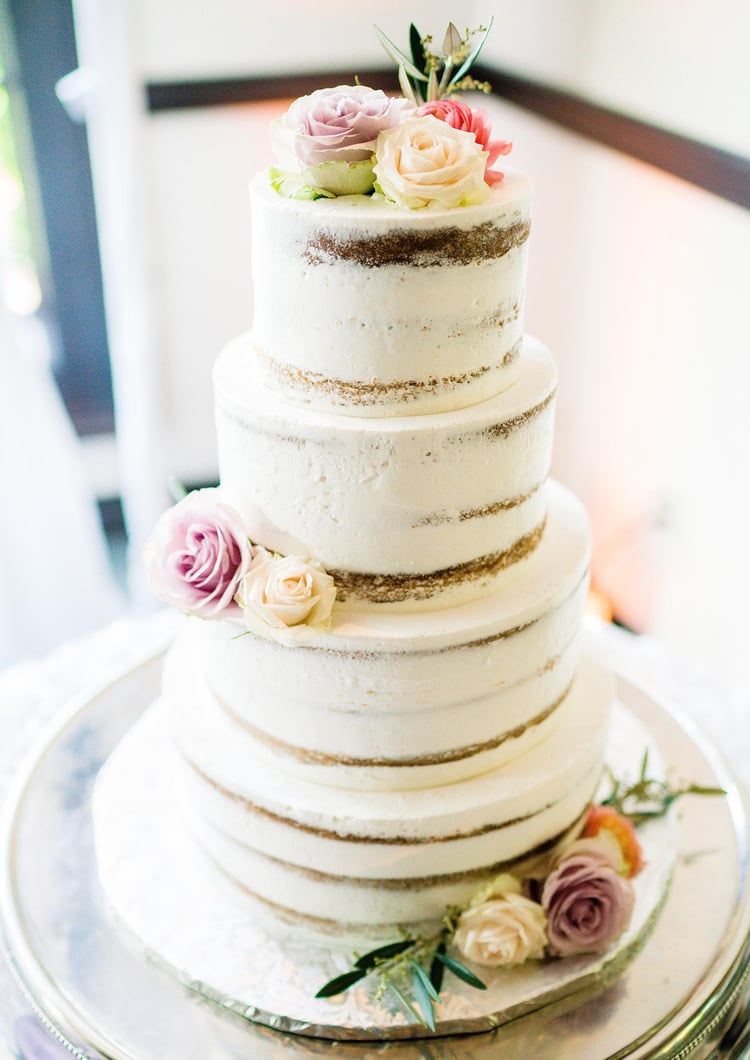 The beautiful 4-tier naked wedding cake designed by Krumbs Cakes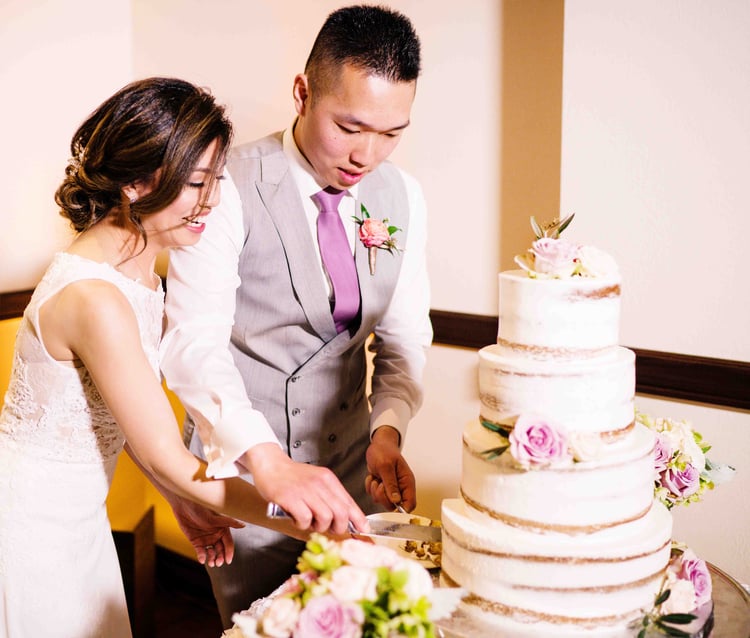 Cindy and Devin are overjoyed during the traditional cutting of the wedding cake
***
We absolutely loved working with Cindy and Devin to make their wine country nupitals nothing short of memorable. With the help of our trusted vendors, this happy couple was all smiles for their wedding day: