When Julie and Vincent celebrated their spring nuptials, everyone at Sequoia Mansion, CA, was over the moon! This delightful couple showcases the essence of heartfelt love, and you could tell destiny had brought them together for a happily ever after. Let's look at the details that made their special day in Placerville stand out! All real wedding photos by Darci Terry Photography.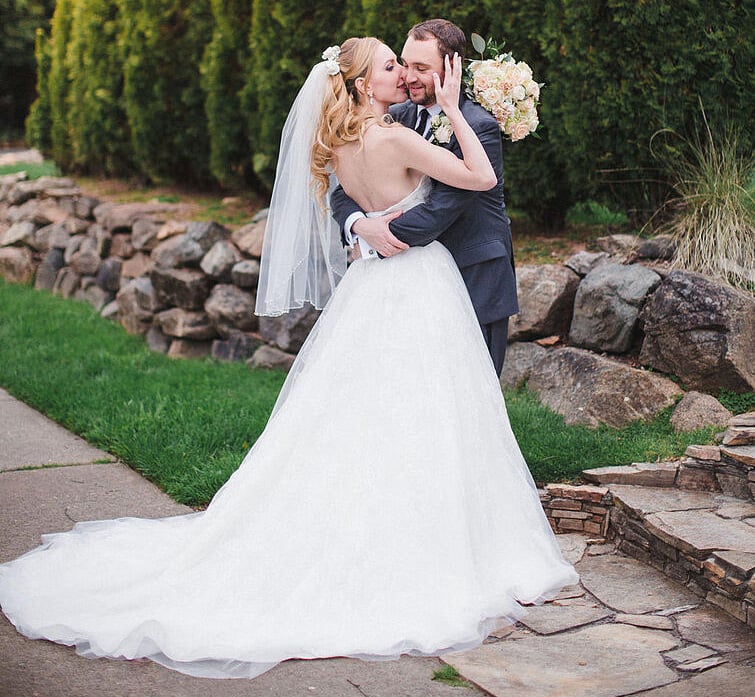 Meet Julie and Vince, Happy NewlyWeds who proudly said I do at Sequoia Mansion, Ca
Julie kicked off her big day by giving herself a luxurious quantity of time to get ready with her BFFs. The diamante detailing on her shoes speaks to her incredible attention to detail and patience to get everything right. It takes dedication to create a strong theme that persists throughout the entire wedding.


Julie's Wedding gown, shoes, JEWELRY and INVITATION ready for her elegant event

Julie made time to relax in our finishing touches suite ahead of her first look moment with her future husband. Once all the preparations are complete, this is a big moment and well-deserving of a deep breath and moment of reflection.


Julie looked exquisite with her beautiful bridal half-updo with loose curls & her favorite four-legged buddy at her side - Sequoia Mansion, CA




The wedding décor was feminine-yet-understated - with soft pink hues, delicate floral arrangements, and whimsical lace accents. Julie's personal style could be seen throughout the ceremony and reception details, right down to bridesmaids dresses in varying shades of pastel pink and the crystal beading in her beautiful fresh bouquet.


The bridal party wore complementary soft shades of pink which enhanced Julie's innate style
Vince chose an accented charcoal suit with on-trend tie and classic white shirt. Pairing deeper colors with Julie's gown creates a traditional fusion of complimentary looks for the Bride and Groom.


Vince ready for the dramatic first-look of his gorgeous bride
Vince's Groomsmen arrived with panache, ready for a momentous day. They wore matching attire in slightly softer hues to offset the Groom's debonaire style.


The groom's party celebrate with a champagne toast
The ceremony site was arranged beautifully by Dottie, founder and matriarch at Camino Flower Shop, and input from Julie herself. We love the bridal arch and chandelier. The smiles were contagious as the wedding party and Bride arrived. This was a classic ceremony blessed with happy tears and celebration.


The happy couple poses for a family portrait with their pup
At Wedgewood Weddings, we love including four-legged friends in outdoor wedding ceremonies! Julie and Vince walked down the aisle with their Golden Retriever as a part of their bridal party. This sweet pup fit right in with a beautiful floral collar to match Julie's bridal bouquet.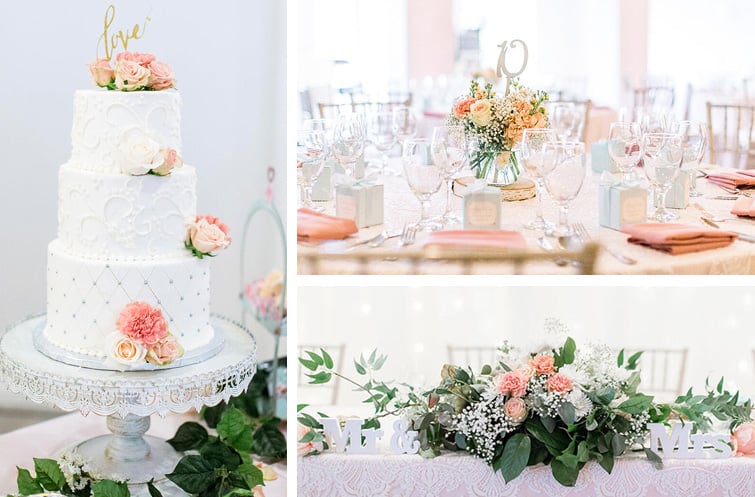 A three-tier wedding cake was subtle white accents | Soft floral arrangements sat atop rustic wood slices for understated centerpieces | The bride and groom's table was blooming with white and pink flowers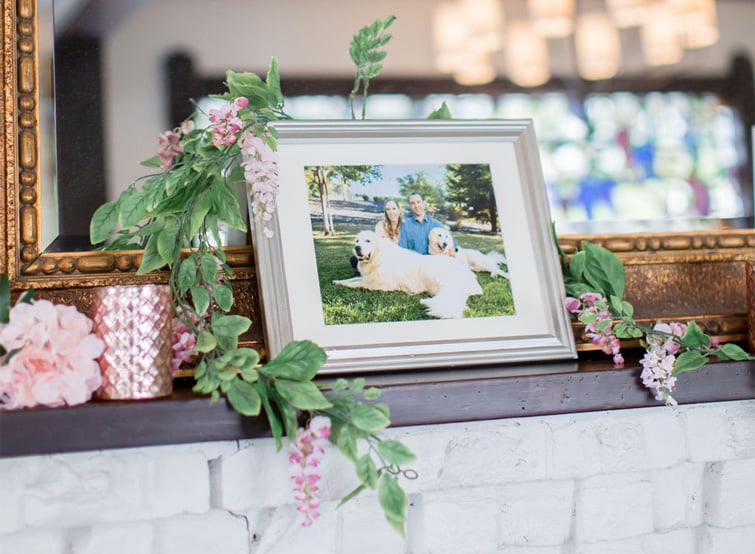 A family portrait on display above the fireplace at

Sequoia Mansio

n
We love when couples and their families add little touches at our wedding venue. It's always fun when you see gests notice them and it make the place feel like home. In reality, this is your place for the day so add fun and meaningful accents that make it feel like yours!
Joden who coordinated the serving and catering teams for Julie and Vince, explains why it was pleasure to work with the couple and what made their wedding stand out:


"Julie was very creative, and she was so nice to our team on her wedding day. She had a smile on her face the whole time. Her giant dessert table was unlike anything we have seen before. It was 16' of extravagance! They had a tasty variety of candies, popcorn, cake, cupcakes, cookies, and so much more. It was beautiful and a massive hit with their guests! You could see Julie put a lot of thought into all of the details."

– Jordan, Banquet Captain at Sequoia Mansion, CA
A delectable dessert presentation that utilized Ferrero Rocher candies as table settings and A delicious dessert table filled with fresh, seasonal fruit tarts
Julie and Vince chose to include a decadent dessert table in addition to their exquisite three-tier wedding cake. The dessert table included fruit tarts with season berries and individual Ferrero Rocher chocolates that served as place cards for guests.
"The décor for Julie's wedding was my favorite part! Her seating chart was a giant display of Ferrero Rocher with escort cards pinned in each chocolate. It was a beautiful display and a fun treat for the guests. The décor in the ballroom was very classy and elegant. She chose two different linens to create her look – a champagne linen with a Savannah lace overlay. The linens choices paired with our Champagne Chiavari chairs was the perfect combination."

– Liz, wedding expert at Sequoia Mansion by Wedgewood Weddings
Julie & Vince share their first dance as bride and groom
"They were both very sweet and easy to work with. They had a wonderful playlist and took direction very well, which made for a seamless event that all of their guests enjoyed."

- Steven, DJ at Steve Boutte Productions
A big 'thank you' to everyone who helped Julie & Vince celebrate their nuptials!
This Placerville, CA, wedding was a pleasure for everyone involved. For more wedding inspiration, check out a few of our favorite local vendors. We recommend them for good reason!

Thank you as always to our exceptional vendors, you make hosting weddings look easy! For more information about our hand-selected team of wedding suppliers check out our Spotlight Series of interviews.




***