*Written by Eliza Medley with Diamond Studs
Choosing your wedding jewelry? Let us help!
Selecting men's attire for a wedding is pretty straightforward, but piecing together a bride's look can be a bit more challenging. It's not as simple as matching the belt with the boots and you're ready to go. Finding the perfect dress takes creativity and hours of fitting.
On top of that, there's jewelry to find that'll match the dress. But, we've got you: with this short style guide, you can do it in no time!
Match the look
When it comes to selecting jewelry, look at the big picture. You've already got the dress - jewelry is a only small touch that accents that. Brush off the pressure that expensive or statement jewelry is what it'll take to complete your look.
If you're going for a lighthearted summertime image, consider wearing little jewelry. A pair of earrings and a gem-embellished hairband can be just enough to accentuate your already-gorgeous features.
Like the minimalist vibe? You can even consider no jewelry at all! Or, keep it simple with a pair of diamond studs. You could also shift the focus to your upper body by wearing a half-crown or flower crown.
Brides, Focus on the Neckline
There are endless options for necklace types. To help you choose, pay attention to the neckline of your wedding dress! Certain types of necklaces pair best with certain types of dress necklines.
The sweetheart neckline on a strapless dress offers the biggest selection of jewelry options. You have a lot of space to work with, so you can go for anything from dainty, minimalist necklaces to a bold statement piece that covers your whole neckline with diamonds.
A V-neck dress calls for a pendant. If your neckline plunges even deeper, going for a nice pendant that hangs low would be a perfect choice. It'll complement the silhouette of your dress!
If you're wearing a dress with a round or U-neck neckline, you can make it look prestigious with a simple pearl necklace. Want to make it look more extravagant? Complement your pearls with gems.
If you've chosen a very modest dress that barely shows your neck, you can rock a choker necklace. Or, simply go without a necklace at all! The high neckline of your dress doesn't leave 'empty space' that needs to be filled with jewelry.
The Color
Once you've accounted for the neckline, you'll want to make sure the color of your dress and the jewelry you wear match each other. We always refer to wedding dresses as 'white', but the truth is, wedding dresses typically come in white, champagne, and ivory (the most popular).
The general rule is that the more yellow tint your wedding dress has, the more yellow tint your jewelry should have along with it. For a bright white dress, diamonds or stark white pearls will look best. If your dress is ivory or ecru, you can choose dimmer pearls or even go for yellow gems like citrine or tourmaline.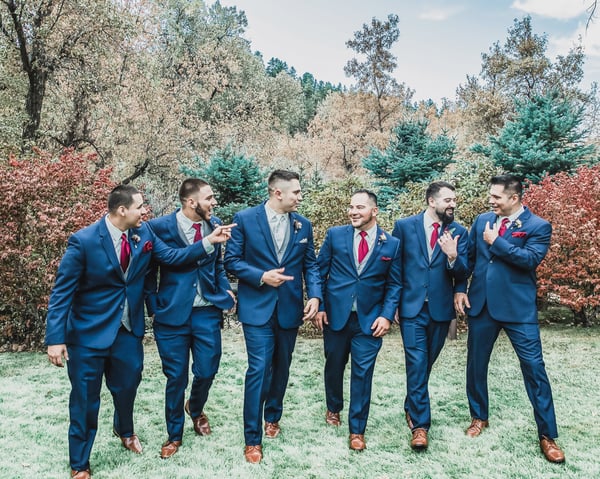 Choosing Your Band
You got the engagement ring - now it's time to get wedding bands. For a bride, the choice is simple. Most engagement rings have a matching band at the store. Or, even if you choose not to get the matching band, sticking to the same metal color (silver, gold, or rose gold) is usually all you need to do to find a perfect match.
For men, there are many options between width, color, metal type, and style. Start by researching what metal will be best for you. From there, it's up to you to decide what you like the look of best!
Jewelry Metal Consistency
One of the oldest 'rules' in the book is not to mix jewelry metals. When you choose a color scheme for the jewelry, stick to it. It might look mismatched if you have a yellow gold ring and pair it with a silver necklace, bracelet, or earrings.
Long-Term Jewelry
Your wedding may be the most important day of your life. Choose a jewelry set that you're likely to wear again. Then, whatever money you spend on wedding day jewelry becomes an investment.
Jewelry Gifts for Your Wedding Party
Jewelry is a common present to gift a bridal party so that they can wear it on the wedding day! If you choose to do this, use these same guidelines to help you make the perfect selections. You know what type of dresses the bridesmaids will be wearing. So, coordinate the jewelry with their dress colors, neckline, and each one's personal style. You know them well (that's why you've chosen them to play a special part in your big day) - personalize your selections to make each one feel extra loved.
***
Accentuated by the jewelry you choose, you're going to look phenomenal on your wedding day! With these tips, you'll be able to create a look that'll charm your fiance and everyone at the wedding. Prepare yourself for lots of compliments and remember to pick up wedding preparation essentials to truly have your best day ever.