Planning your wedding in the beloved Bay Area is a dream! From sun-kissed glimpses of the bay to wild ocean views to splendid old wood forests, the Bay Area offers a glamorous wedding destination for every couple. With venues in Novato, Castro Valley, San Jose, Benicia, San Ramon, and Brentwood, we have a wide variety of wedding venues to choose.
We're proud to share that Eagle Ridge, a distinguished country club in the Santa Clara Valley, has recently been named one of the best affordable wedding venues in San Jose and Silicon Valley by Here Comes The Guide.
***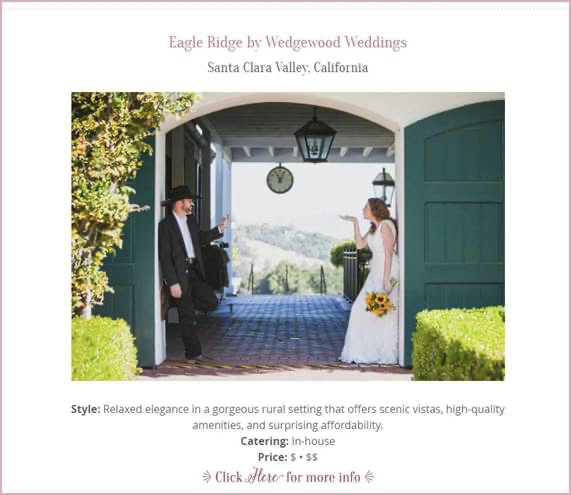 About Eagle Ridge


Eagle Ridge by Wedgewood Weddings offers a charming escape that'll entice you in virtually every direction you look! Just south of San Jose, this location is as ideal for destination weddings as it is for local couples in the Santa Clara Valley. With its historical Colonial charm, the clubhouse is also beaming with spectacular modern features like an expansive built-in bar and 30-foot ceilings. Couples love the romantic wisteria walls, manicured hedges, and rolling hills that add up to a serene feel, guaranteed to make for stunning photos. Guests fall immediately in love with the Monterey Colonial-style clubhouse and the intimacy of the ceremony site!
Our favorite features:
High-End Gated Community
Monterey Style Colonial Architecture With
Double-Sided Fireplace in Bar Area
30-Foot Ceilings with Expansive Windows for Natural Light
Dramatic Built-In Bar

Learn more about this stunning Bay Area wedding venue!
***

Eagle Ridge is truly San Jose's best kept secret! From the crawling ivy, unique architectural features, built-in wood bar and expansive views, it's an absolutely regal estate. If you're planning a Bay Area wedding on a budget, give us a call! Our all-inclusive packages make wedding planning and budgeting a breeze.