If you dream of a wedding venue filled with rustic charm and history, right on the edge of San Francisco's most famous park, look no further. The Log Cabin at the Presidio checks all those boxes and more and we are thrilled to welcome it to our family of stunning Bay Area wedding venues. Let's take a tour of this incredibly unique and beautiful historical venue!
***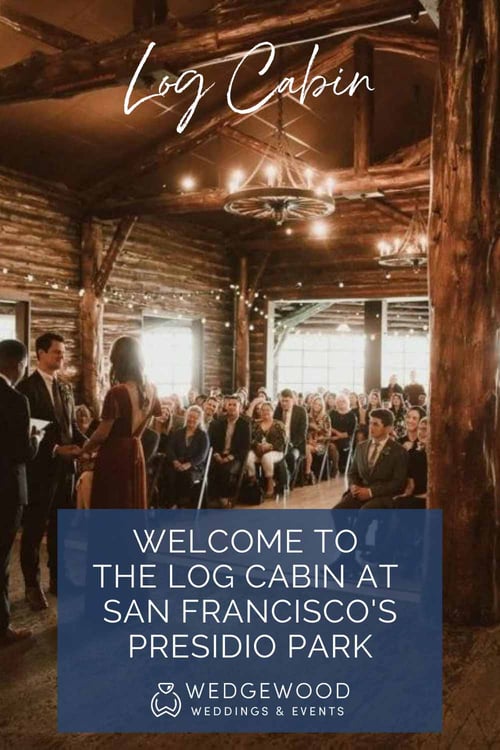 PResidio PARK
Stepping into the stunning Presidio Park in San Francisco, you are instantly transported back to a simpler time when this majestic peninsula was covered in wild grasses, towering trees, and wildflowers. Buildings are sprinkled throughout the park and have been meticulously maintained to preserve their historic charm while serving as a functional museum of sorts for the residents of this great city.
The 1,500-acre Presidio Park contains expansive open space and spectacular views, a 300-acre historic forest, and rare and endangered plants and wildlife. The park comprises a total of 469 historic structures that contribute to its status as a National Historic Landmark District.
Looking out to the bay, you enjoy views of pristine blue waters and the incredible Golden Gate Bridge.





THE VENUE
Dating back to 1937, this incredible historical lodge is impeccably named, Log Cabin, and brings back nostalgic memories of playing with Lincoln Logs as a child. A mixture of natural wood logs and stones was used to build the Log Cabin, creating a charming exterior appeal from all directions. The interior and exterior timbers are local Monterey Cypress first planted centuries ago. This is the only building of its type at the Presidio, and historic log cabins like this are becoming increasingly rare throughout the country. There's truly no other venue like this!
What's to love at the Log Cabin:
Authentic, rustic log cabin
Views of the famous Golden Gate Bridge and the San Francisco skyline
Expansive ceremony and cocktail lawn
Exposed beams, vaulted ceilings, vintage chandeliers
Beautiful *working* stone fireplace, perfect for a romantic celebration
Spacious central dance floor with plenty of room to boogie
Cozy historic building with modern comforts and amenities

Stepping outside, the Log Cabin is surrounded by a generous lush lawn with views of the renowned Golden Gate Bridge and San Francisco Financial District skyline.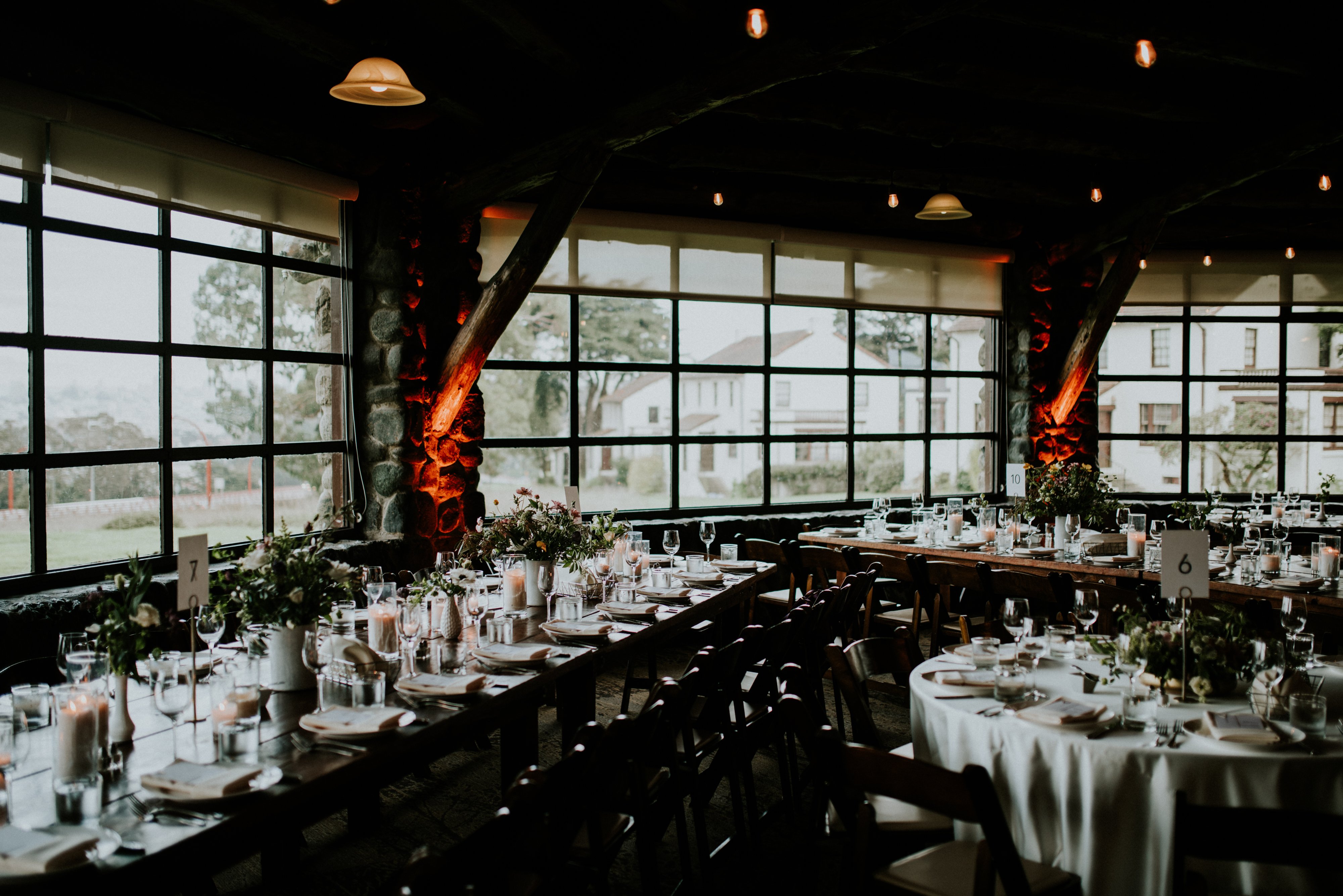 WEDDINGS & EVENTS
This location is ideal for medium-sized weddings and special events with up to 200 guests. The outdoor patio and lawn area is excellent for ceremonies, mingling, and lawn games while the indoor ballroom is perfect for dinner and dancing. Of course, the ballroom can easily serve as an indoor ceremony area if that's your preference! The stone fireplace sure does make a beautiful background for your vows or speeches.
When you choose the Log Cabin for your special event, couples enjoy a stress-free planning experience while hosting a grand event that suitably impresses their guests! As with all Wedgewood Weddings venues, our dedicated event planning team makes everything about the wedding planning experience a breeze.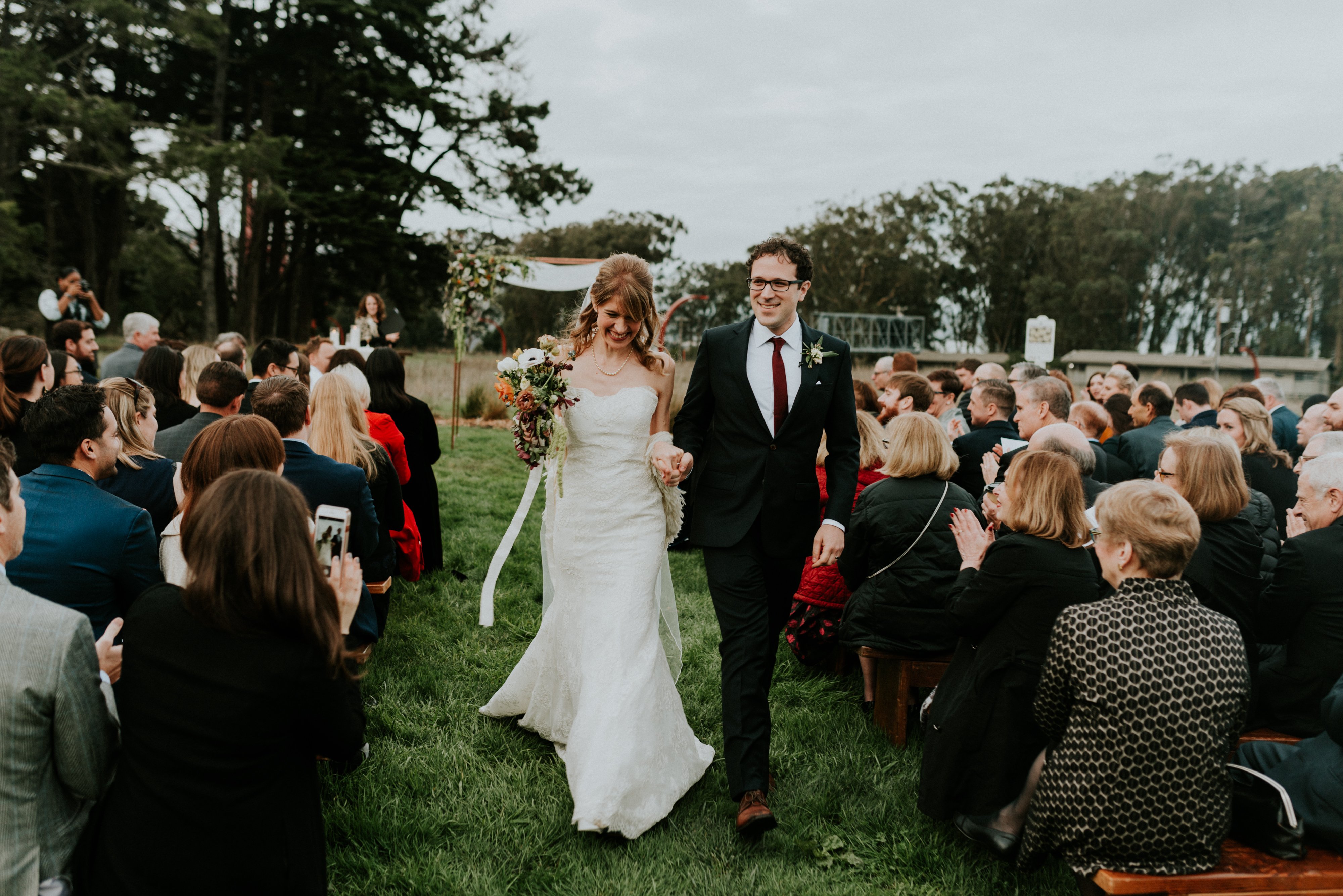 ***
San Francisco's Log Cabin wedding location is truly one-of-a-kind that your guests will be raving about for years to come. Contact us to discover how we can create a spectacular event unique to you!