By Deidre Drewes
While international destination weddings certainly have their appeal, domestic destination weddings are equally spectacular! Plus, you'll save money and gain precious wedding guests with a more accessible wedding destination. The United States is chocked full of beautiful wedding destinations that don't require a passport (or a plane flight). If you're looking to say 'I do' to your significant other and enjoy an exciting getaway, we've got your back. Pack your bags and start scoping out travel plans, because we're going to show you our favorite destination wedding spots around the country. Let's get started!
***
IN THIS ARTICLE WE'LL EXPLORE . . .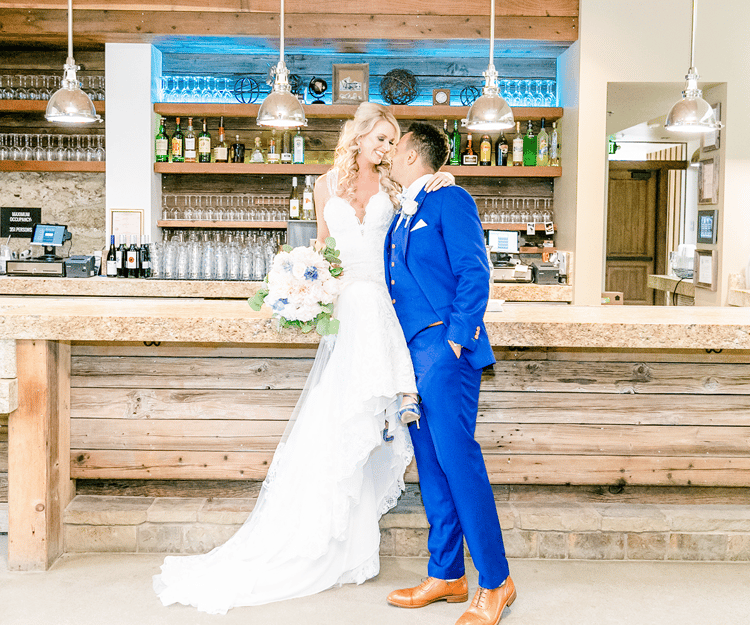 Enjoy the elegant rustic decor at Galway Downs in Temecula Wine Country
Take a Sip in Temecula Wine Country
Did you know that Napa isn't the only famous wine region in the State of California? Just a short drive from both San Diego and Los Angeles is Southern California's Temecula Wine Country. With more than 40 local wineries, the Greater Temecula region is a wine-lover's dream! From its misty mountain mornings to the exquisite local cuisine, your guests will love experiencing Temecula Wine Country for your destination wedding.
Featured Wedding Venue: Galway Downs
This stunning wedding venue will amaze you with its exceptional blend of lush green meadows, modern amenities, and a dressing suite that will make you wish you could move in! Enjoy an elegant reception in the modernized barn we call 'The Carriage House,' featuring a stately built-in bar, an oversized two-way fireplace, and generous room for guests and dancing.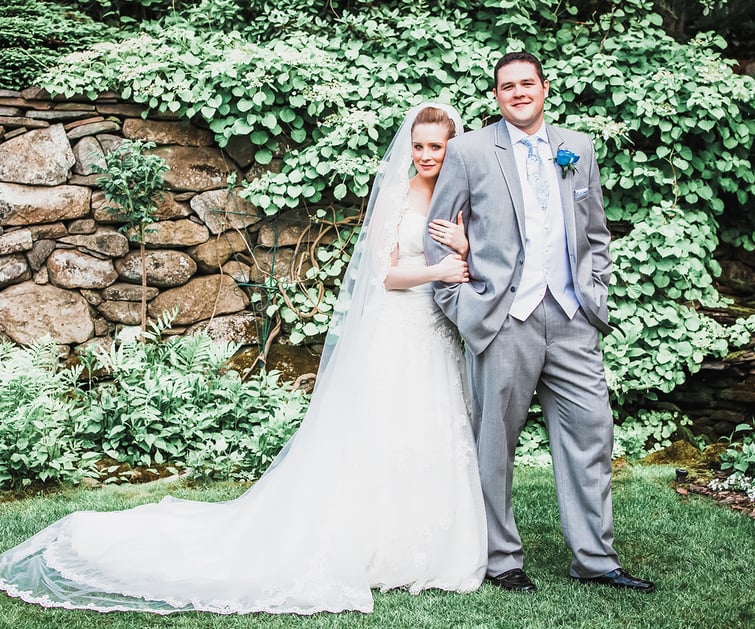 beautiful garden photo opportunity at Granite Rose
If you're a sucker for crackling fireplaces, flannel shirts, and mugs of hot cocoa topped with whipped cream – look no further than New England as your destination wedding location. From its miles of pristine forests to its unadulterated star-speckled skies, New England is the ultimate getaway for a remote destination wedding. With some of the most breathtaking winters (and summers, too!) in the United States, New Hampshire is an ideal wedding destination year-round.
Featured Wedding Venue: Granite Rose
Tucked away in a secluded garden among mature trees and blooming gardens, lies the remarkable Granite Rose. Enjoy a serene ceremony at one of our whimsical garden sites featuring lush greens and a cobblestone walkway. Newly remodeled in 2020, the Embassy Ballroom features a full-length window wall and striking modern, yet classic style.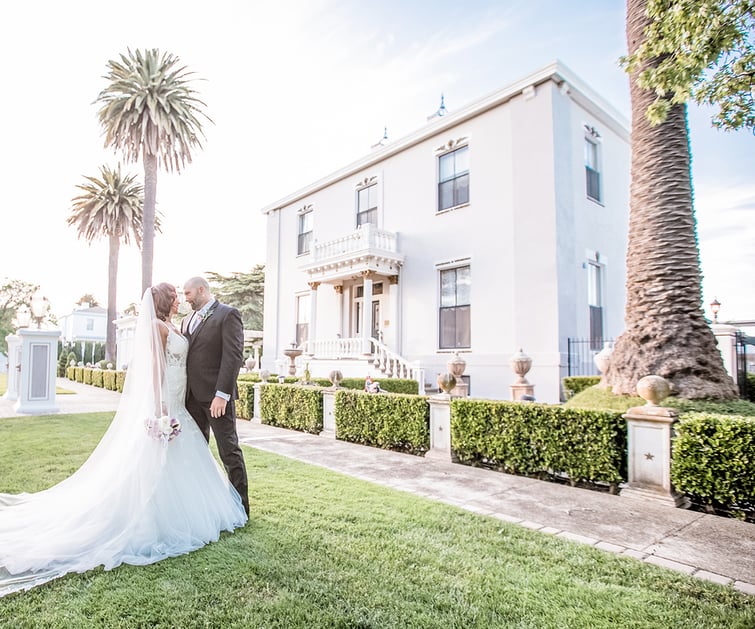 stunning bride & groom post in front of the historic JEFFERSON STREET MANSION
dress up for this regal bay area mansion
San Francisco is America's favorite city for so many reasons – the infamous Bay Bridge, a culture-rich downtown community, temperate weather and a booming economy. As you leave the downtown metro, your entertainment options multiply. From Half Moon Bay to the south, Oakland to the east, Sonoma and Napa wine country to the north and more, there's so much to love about this jam-packed city. Your guests will be almost as thrilled to visit this beautiful locale as much as they will be to witness your wedding day. Talk about the perfect California wedding destination!
Featured Wedding Venue: Jefferson Street Mansion
Through manicured hedges and an Italian-style colonnade, step inside the magnificent grandeur of this historical mansion. Inspired by the elegant and eclectic style of Queen Victoria, this boutique wedding venue offers a vintage haven that's entirely yours for a day. Take advantage of the endless photo opportunities featuring a wisteria-draped veranda, glimmering bay waters, and the meticulously-designed surroundings of the stunning historic mansion – both inside and out! It's obvious why this radiant locale is a 'Best of the Bay' winner!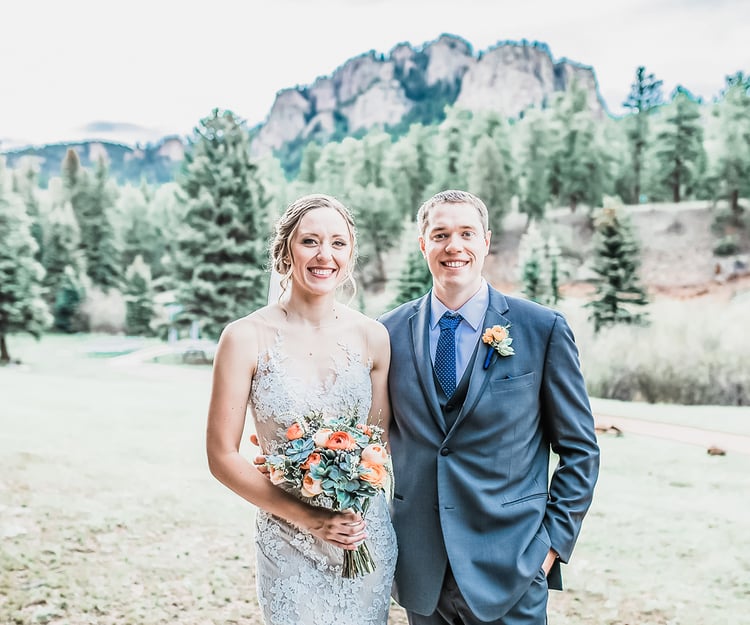 Say 'I Do' to an immersive mountain setting at MOUNTAIN VIEW RANCH
Plan a Rocky Mountain Getaway
For the adventurous, outdoor couple, look no further than the Rocky Mountains of Colorado for your ultimate destination wedding. Colorado's natural beauty is alluring to any nature-lover. With unique wildlife, snow-capped mountains, babbling brooks, and pristine valleys, a Colorado destination wedding is the picture-perfect backdrop for a destination wedding. Both you and your guests will enjoy access to some of the best slopes and hiking trails in the country!
Featured Wedding Venue: Mountain View Ranch
Mountain View Ranch offers 3,500 acres of wonderful intimacy and seclusion. Situated in the foothills of the beautiful Rocky Mountains, this location is serene and close to nature while being under an hour's drive from Downtown Denver! Enjoy dramatic 360-degree mountain views and exceptional features like grand spruce trees, a glimmering pond, rustic wood accents, and on-site lodging.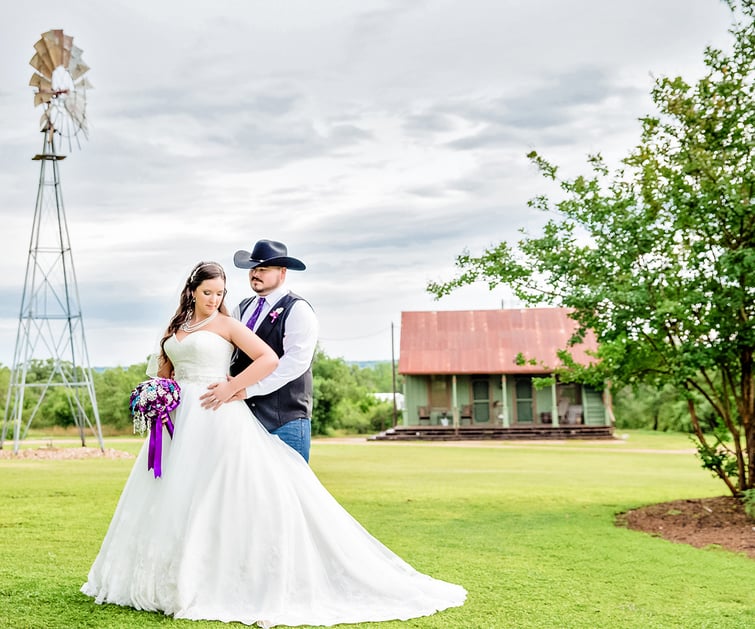 Plan your Texas destination wedding at Hofmann Ranch
Fall in Love with Texas
What's not to love about Texas? From the vast open skies to the miles of luscious farmland, Texas is the perfect destination for couples who love to roam wild and free. Did we mention that the Tex-Mex and barbecue are bar-none? For the ultimate in Southern hospitality, consider the Lone Star State as the backdrop for your destination wedding. While Texas has many notable destinations, we absolutely adore San Antonio for its rich history (remember The Alamo!), walkable community spaces, and authentic Mexican cuisine. Your guests will fall in love with the charm of this darling Southern city.
Featured Wedding Venue: Hofmann Ranch
This gorgeous Texas ranch features 370 acres of scenic landscape and is only 25 minutes from downtown San Antonio. Hofmann Ranch offers a tranquil patio looking out over the Medina River Valley, lavish Meadow Pavilion and our exquisite Grande Hall with double oak staircases & opulent fixtures. This ranch-style wedding venue combines vintage and classic with modern and bohemian to create a choice of event areas for every type of couple.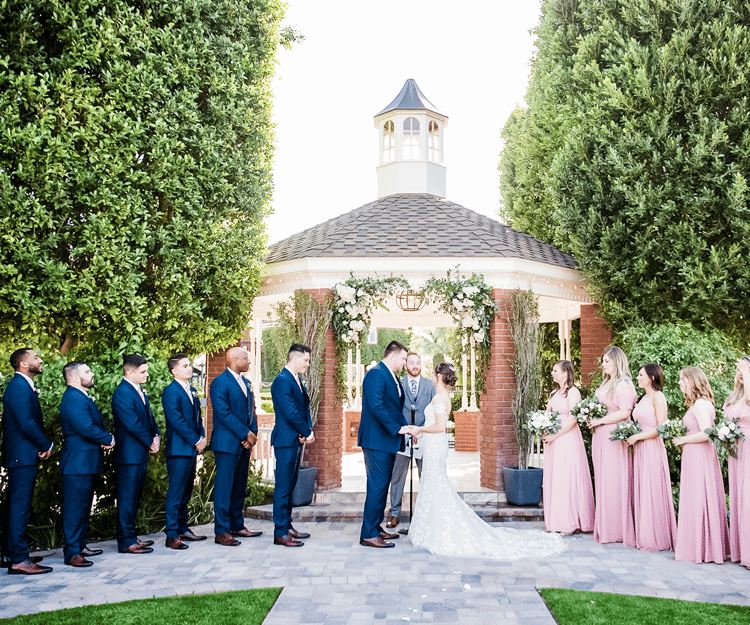 Plan the ultimate arizona destination wedding at STONEBRIDGE MANOR
Say 'I Do' to the Southwest
Great food, year-round sunshine, a welcoming small-town vibe, and a vibrant arts scene – these are just a few reasons to consider Phoenix for your domestic destination wedding. This Arizona oasis has plenty to see and do for both the happy couple and their guests, including leisurely strolls through the Roosevelt Row arts district, grabbing a boozy concoction at the award-winning Bitter and Twisted Cocktail Parlour, or enjoying a pint at one of the city's many craft breweries. Not only that, Phoenix is one of the best cities for golfing with more than 200 golf courses to choose from. And with daily high temperatures rarely dipping below the 60s in the winter, it's always a good time to visit this Southwest city.
Featured Wedding Venue: Stonebridge Manor
Recently renovated and re-imagined as a hideaway for exclusive events, Stonebridge Manor is as charming as it is grand. Mature poplars, shade trees, and manicured hedges hint at the manor's extensive English-style gardens and verdant lawns. This stunning historic mansion a choice of climate-controlled modern reception rooms, grand staircases, and large picture windows that flood the space with natural light.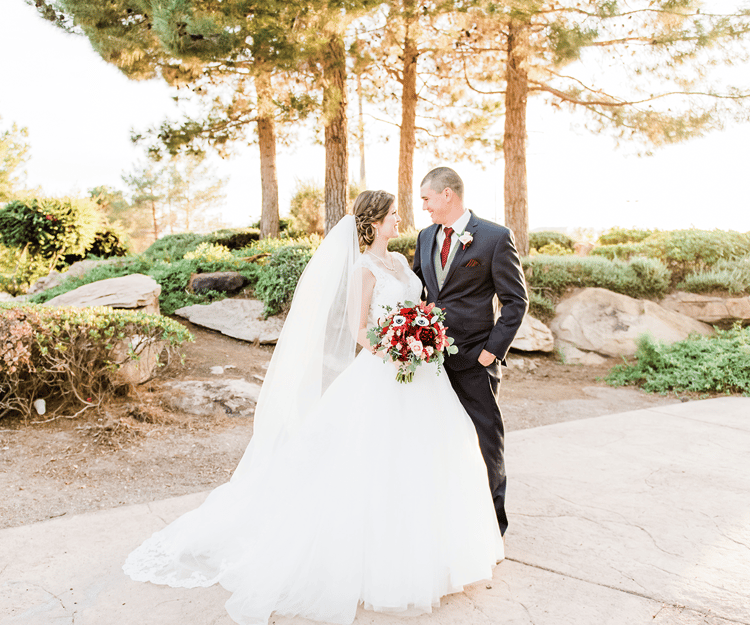 a beautiful Las Vegas wedding at Stallion Mountain
Viva, Las Vegas!
Bright light city's going to set your soul on fire! Las Vegas is often a top choice for destination weddings in the United States for quite a few reasons: the entertainment options are endless, flights and hotel costs are reasonable, and the bachelor/bachelorette parties are guaranteed to be memorable. While late night elopements with Elvis as an officiant often come to mind, Las Vegas is home to a diverse selection of wedding venues for couples to choose from. Not only will your out-of-town guests love experiencing all that Las Vegas has to offer, you can take advantage of the countless photo opportunities along the way, including The Strip, Red Rock Canyon, The Fountains of Bellagio, Old Vegas, and more.
Featured Wedding Venue: Stallion Mountain
Beyond the gates of this prestigious golf club, discover this enchanting retreat where views of the renowned Stallion Mountain are upstaged only by the world-famous Vegas Strip. Enjoy rustic stone features and sophisticated styling that beautifully blend together to create an atmosphere full of laidback-yet-luxurious vibes. Only a short drive from the infamous Las Vegas Strip, you'll love this serene setting. Hit the wedding jackpot at this oasis in the desert!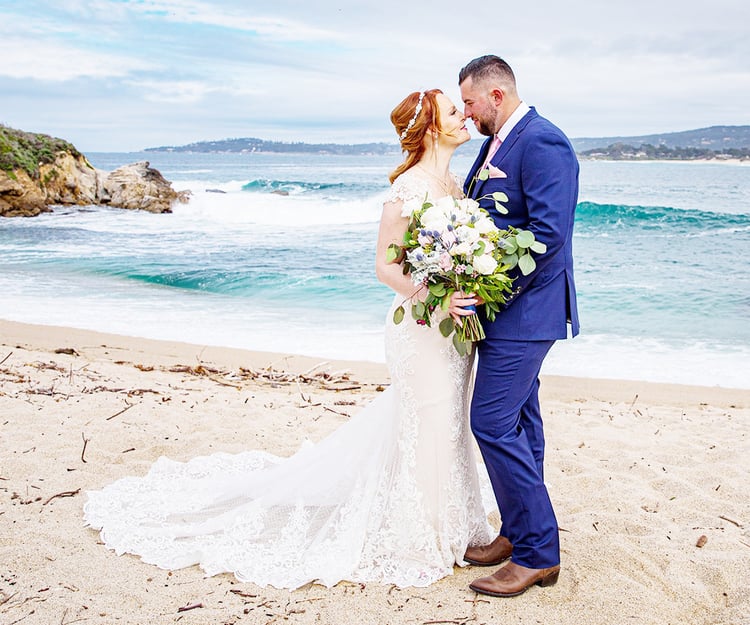 Exchange vows with an oceanfront view at Carmel Fields
Choose an Oceanfront Getaway
For the couple who yearns for a small-town escape, look no further than Carmel-by-the-Sea. This sleepy Central California coastal town consists of a one-square mile beach-front village that oozes with charm. You'll fall in love with the breathtaking view of Monastery Beach, which is a perfect destination for oceanfront nuptials. The town of Carmel-by-the-Sea is also home to six restaurants that have earned The Plate distinction by MICHELIN in addition to countless wineries, making it a popular destination for foodies. Wedding guests can enjoy year-round sea lion watching at the Point Lobos nature preserve or take a scenic walk down historic Ocean Avenue.
Featured Wedding Venue: Carmel Fields
Carmel Fields offers a charming escape that's sure to take your breath away. Just minutes from the beach, this location is as ideal for destination weddings as it is for local Monterey couples. Say your vows in the intimate garden ceremony site with lush trees, or choose the crashing waves at Monastery Beach where your guests will be amazed by the dramatic coastline creating the backdrop to your ceremony!
***


Your domestic destination wedding is waiting for you! Whether you're dreaming of a sandy beaches or snow-covered trees, there's a Wedgewood Wedding venue to match your unique taste. Let our team of wedding experts help you narrow down the best choice for you with a personalized virtual tour, free consultation and comprehensive quote.


our favorite wedgewood weddings' destination venues . . .