Central California is the perfect backdrop of a wedding–from its convenient access to some of the state's most beautiful parkland to the countless miles of rugged coastline. From its breathtaking beaches on the western coast to the towering sequoias in the east, Central California has no shortage of wedding locations to make your big day a memorable one. Whether you're dreaming of exchanging vows overlooking the Pacific Ocean or saying 'I do' against the Sierra Nevada Mountains, our ultimate guide to Central California weddings covers everything you need to know about local venues, entertainment, and more!

***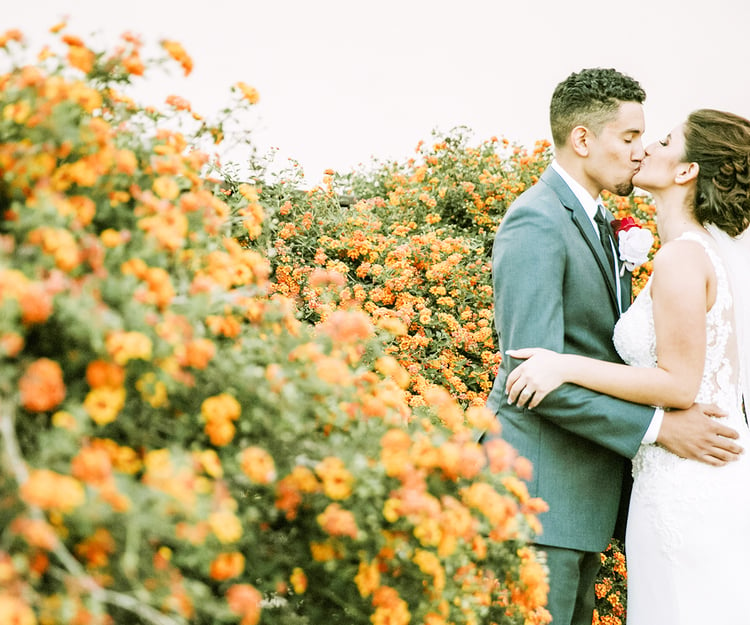 A joyous couple says 'I do' against the gorgeous wildflower fields at Carmel Fields
The Central California region begins near Monterey Bay in the north and spans east towards the Sierra Nevada Mountain range. Monterey Bay's coast is lined with sleepy oceanfront towns, can't-miss culinary destinations, historic hot spots like Cannery Row, and a number of locations to spot the area's adorable sea lion population.
Just south of Monterey Bay is the world-famous Big Sur–a remote stretch of Central California's rugged coastline that offers misty views overlooking the Pacific Ocean from seaside cliffs. Take State Route 1 (otherwise known as the Pacific Coast Highway) south for a scenic road trip full of winding turns and unadulterated views.
As you head inland, you will be greeted by the flourishing farmland of the San Joaquin Valley that borders the Sierra Nevada Mountain Range. Fresno offers all the amenities of a bustling metropolis with convenient access to Yosemite and Sequoia National Parks. From the centuries-old sequoia trees to regal granite cliffs, the Sierra Nevada region is filled with beautiful photo opportunities and countless roadside attractions that make it a worthy destination for a day trip or spending a few days camping and hiking.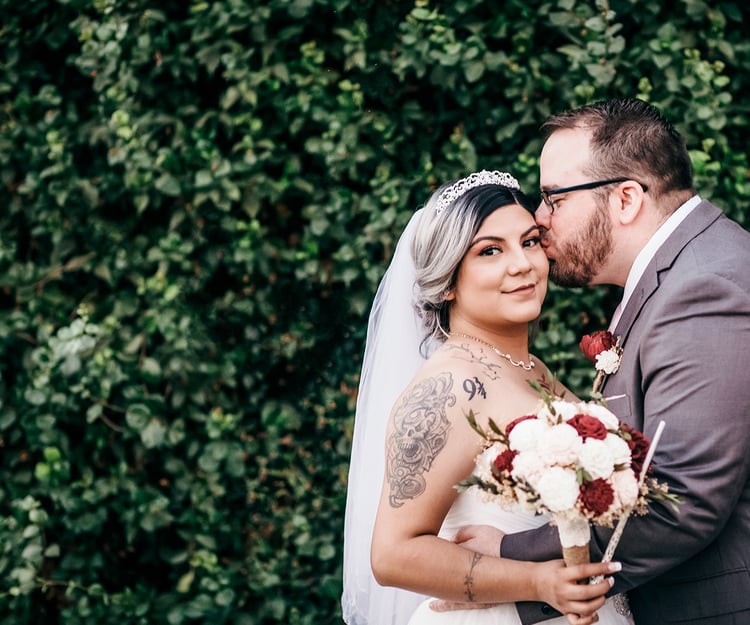 Newlyweds pose for a portrait on the grounds of Fresno Fields, a Central California wedding venue conveniently located near the Sierra Nevada foothills
Head down the PCH to the southeast side of the Central California region, where you will find the calm, glistening beaches or Ventura County that are a welcome respite from the hustle and bustle of neighboring Los Angeles. After you've soaked up some rays at the beach, head to one of Ventura County's luscious parks like Point Mugu or Anacapa Island.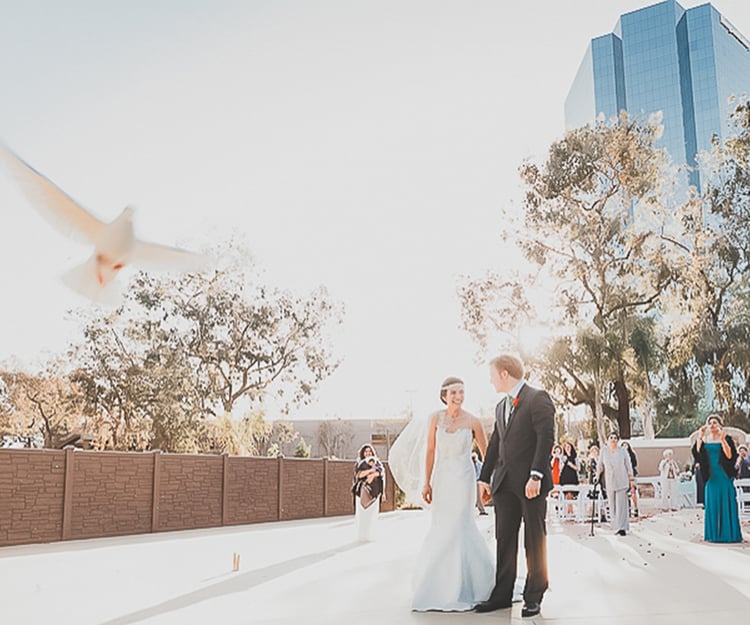 Pacific Tower View in Oxnard, CA, boasts panoramic views of Ventura County from the regal 22nd floor penthouse ballroom
CENTRAL CALIFORNIA WEDDING VENUES WORTH TOURING
GETTING MARRIED IN NORTHERN CALIFORNIA
CONSIDERATIONS FOR A NORTHERN CALIFORNIA WEDDING
Selecting a season: Central California covers a large span of land and the weather can vary depending on where your venue is located. If fall colors and changing leaves are your style, consider selecting a venue further north for a seasonal wedding experience.
Plan your view: whether you're dreaming of a romantic sunset portrait against the Pacific Ocean or sweeping views of the Sierra Nevadas, work with your photographer and wedding venue to coordinate the times and locations for capturing the best shots on your wedding day.
Choosing your attire: consider how the temperatures will impact your wedding day attire. Black tuxedos may be a bit hot and heavy for a beachside ceremony and sunset nuptials in the mountains may be a bit brisk, so brides and bridesmaids may want to plan for dressing in layers.
Indoor or outdoor: since the Central California climate is generally mild and dry, it is the perfect destination for an outdoor wedding. Guests can soak up the natural splendor that Central California has to offer during your wedding ceremony and then head inside for a climate-controlled wedding reception indoors. If you're planning a fully outdoor wedding reception as well, ask your wedding venue if they can provide heated patio lamps for brisk evening temperatures.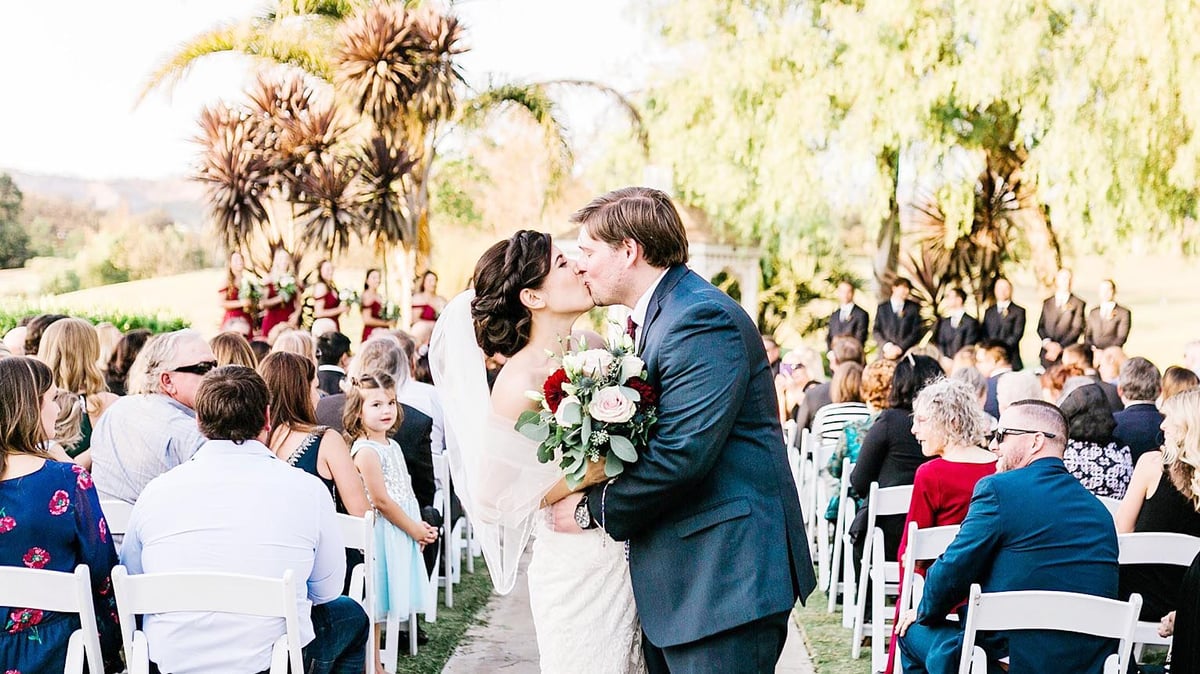 Enjoy a sun-filled wedding ceremony while soaking in views of palm trees and Topatopa Mountains at Sterling Hills in Central California
FUN CENTRAL CALIFORNIA ACTIVITIES:
Whether you are coordinating a destination wedding or hosting out-of-town guests for your Central California nuptials, the region offers countless activities within driving distance for friends and family alike:
Catch some waves: the Pacific Ocean is known for its mighty waves that attract surfers from around the globe. If you are a newbie, consider taking a lesson with a certified professional. If you're an experienced surfer, you've probably already located the best surf spot that the locals hang out at.
***
If you're dreaming of exchanging vows against the rugged cliffs of the Pacific Coast, consider saying 'I do' to a Central California wedding. From the stunning views to endless activities for guests, Central California is a perfect backdrop for your upcoming nuptials. Your guests will enjoy the hours of entertainment and breathtaking views, and your wedding photos will turn out spectacular whether you opt for oceanfront or mountainside nuptials. Check out our list of suggested Central California wedding venues to tour and start planning your special day.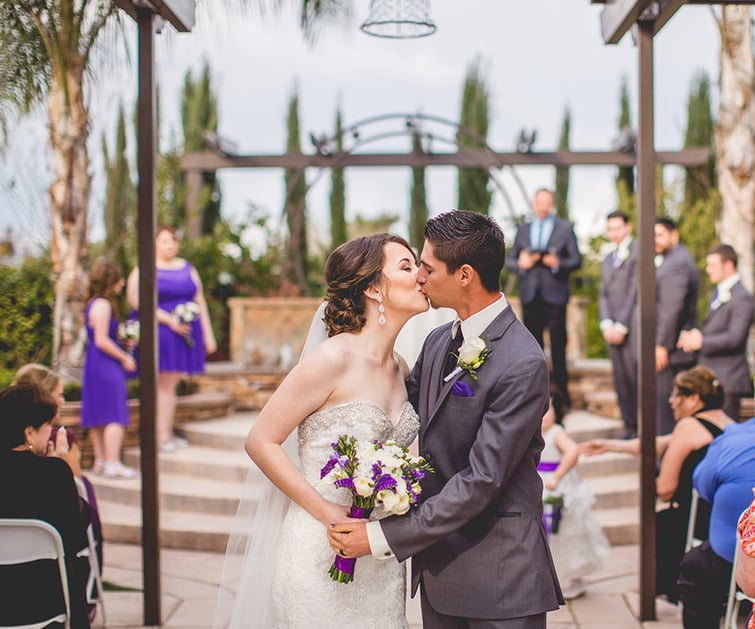 a romantic kiss to celebrate a love-filled wedding ceremony at fresno fields