Let's Talk About Arizona Weddings
I'm an Arizona native and love weddings, so I figured that putting two of my passions together would help other Arizonans better understand their Phoenix-area wedding options and necessities.

Wedding Budgeting
Since we're talking about weddings and wedding venues, then let's start with the big bad topic of money = happily, I have good news!
Last year, TheKnot.com studied the average cost of a wedding in the United States. They found that the average including-absolutely-everything cost was $33,931. When they got more state-specific, the numbers for a Phoenix, Arizona based wedding was on average $21,482, and our neighboring city of Tucson was around $19,453. That shows Arizona weddings are at least $10,000 less than other states in the country.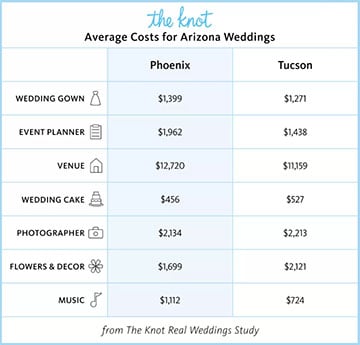 These numbers include the price of the wedding gown, event planner, wedding venue, wedding cake, photographer, flowers, décor, and music. Now, if you head over to Wedding Wire, you can also access a pricing tool that encourages you to enter the major parameters of any special event: ceremony and/or reception, guest count, day, and month to find a ballpark price. Check it out for our Mesa venue; Lindsay Grove. You can play with each option to learn about overall pricing and narrow down what feels right for you. When it comes to successful weddings, the perfect day is all about preparing ahead of time.
Pre-Wedding Musts
Now that we're off to a good start, get ready to do the following:
Decide on a max budget: This should include every cost associated with your event like: outfits, food, drink, accommodation, gifts, venue rental, décor and entertainment
Apply for an

Arizona marriage license:

Current cost is $83, and you can get a license with no waiting period so long as you have government ID and are over 18.
Check if you need an Arizona wedding location permit:

Private venues don't require a permit, but if you're getting married in a state park then you'll need a Private Use permit. Be aware that these are first come, first served
Investigate the seasons and weather expectations: Around half of Arizonans get married in Sept, Oct, or Nov. This means spring (when each month has less than an inch of rainfall) and winter can be easier to book. Also, think about an entirely indoors wedding if you opt for high summer.
Know the dates of significant local events:

Holiday weekends can mean you need to give your guests a Save-the-Date card sooner, and big sporting events

may cause traffic congestion, route diversions, or increased hotel prices
Make a fun must-do list for out of town guests
Exploring Arizona
Arizona is beautiful, and because the city of Phoenix is large, it's also packed with options. For example, it has a remarkable nightlife scene and lots of cultural offerings. Make sure to check the weather, local calendars, and accessibility before taking your wedding party or out-of-town guests to some of my favorite local destinations:
The Grand Canyon South Rim

Havasu Falls

Local and Regional Gem Shows

Folk Festivals

Culinary Festivals

The Fun of Wedding Planning
Let's remember that wedding planning is exciting, and your engagement should feel fun!
You get a chance to do so many things like:
Seeing your city as a tourist again

Trying on beautiful clothing

Exploring event venues

Designing beautiful invitations

Tasting new foods (especially cakes!)

Connecting with old friends

Showing family members how you've grown (sometimes literally!)

Meeting your spouse-to-be's family and friends

And of course you have the bachelor or bachelorette party to look forward to...





Bringing It All Together
Something worth mentioning: Weddings are fun to plan but, if it feels like hard work, you might want to rethink your approach. Remember, it's not uncommon to be a bride or groom that prefers a hands-off approach or only wants to deal with fun creative tasks like choosing wedding colors or designing favors. Trust me; I get it.
Think of this next option the way you would think of the Maid of Honor helping the Bride. Our Wedgewood Weddings team offers different packages through a three-step process. You take the steps, then we do all the heavy lifting for you. With this simplified approach, all you need to do is:
Choose your venue

Customize your package

Choose your season and day of the week
Does that sound too simple? It comes with more:
Peace of mind

Complete planning and coordination

Access to all of our certified partners

Bliss Benefits savings

Complete transparency

Access to a team of friendly experts 7-days a week
Some things in life sound too good to be true, but this isn't one of them. You may think we have fairies and magicians behind the curtains (and maybe we do 😉), but your event has to be full of romance and happiness. If you've never explored a Wedgewood Weddings venue, maybe you should book your free venue tour today.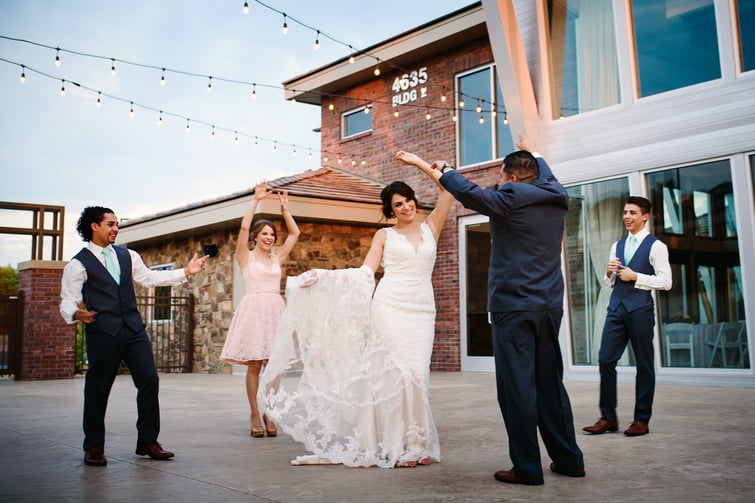 Good luck on your wedding journey. Your engagement is one of the most fun times in any Phoenician's life, so take it from a local - you can make every wedding style and season spectacular in The Grand Canyon state!