If you're dreaming of a Denver wedding, look no further–we've compiled the best trips to making your mile-high nuptials nothing short of memorable. Denver is a popular destination for weddings thanks to its bustling city atmosphere and unparalleled panoramic views of the Rocky Mountains. Whether you live locally and want to take advantage of everything the city has to offer or are planning a destination wedding, take a look at the top venues and activities to help make your Denver wedding extra-special.
***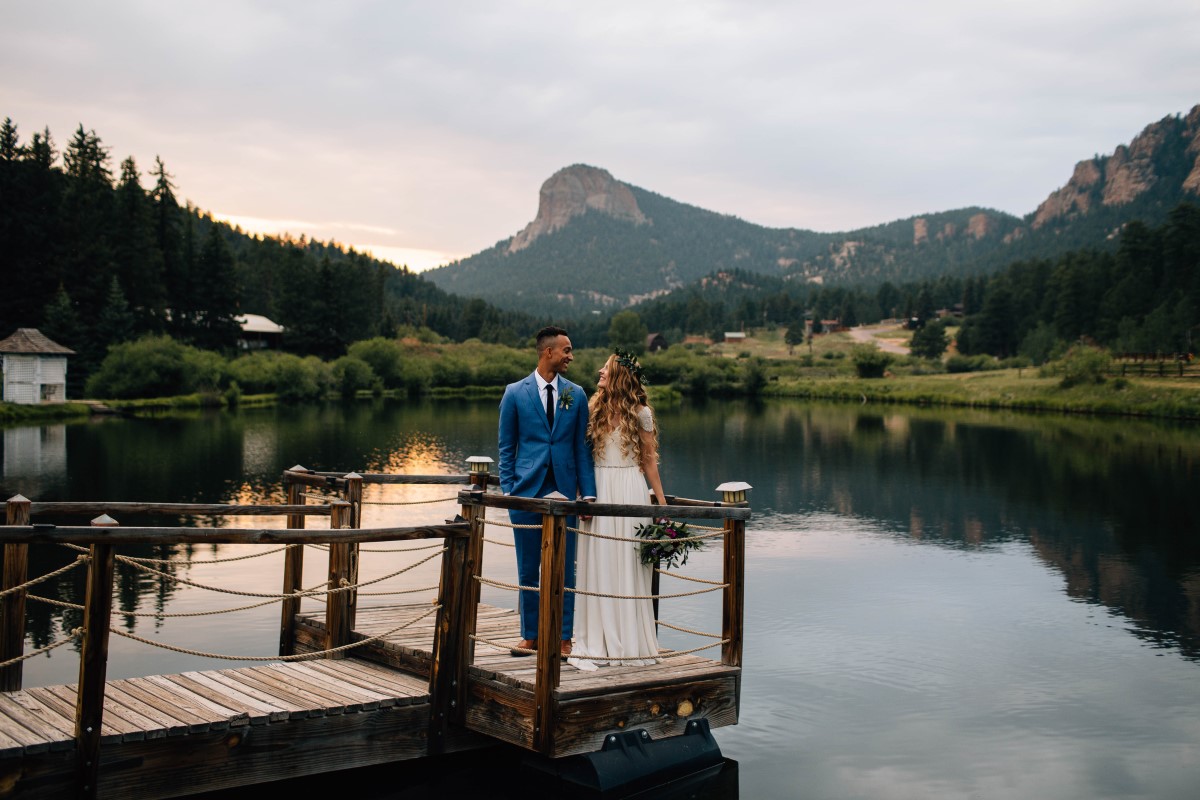 stunning bridal portrait in front a rocky mountain lake at Mountain View Ranch in Pine, CO
***
Denver is one of the most unique cities in the United States, nestled a mile above sea level and surrounded entirely by the soaring peaks of the Rocky Mountains. Denver's initial population growth occurred during the Gold Rush of the mid- to late-1800s, so while it isn't an old city per se it definitely has a rich mining history. Denver's views are hands-down its biggest draw–with the visible mountain panorama spanning 140 miles in length and 200 named peaks that can be seen from the city (Denver.org).


A jovial bride overlooking the Denver skyline at dusk at from the Brittany Hill
Denver is also known for its diverse climate and ever-changing weather. The city welcomes 300 days of sunshine each year with summer temperatures averaging in the upper 80s. Come wintertime, Denver is a snow-covered haven for outdoor adventurers and extreme sports fanatics. With an average of 60 inches of snow per year–more than twice the national average - Denver is a top destination for skiing, snowboarding, and so much more (BestPlaces).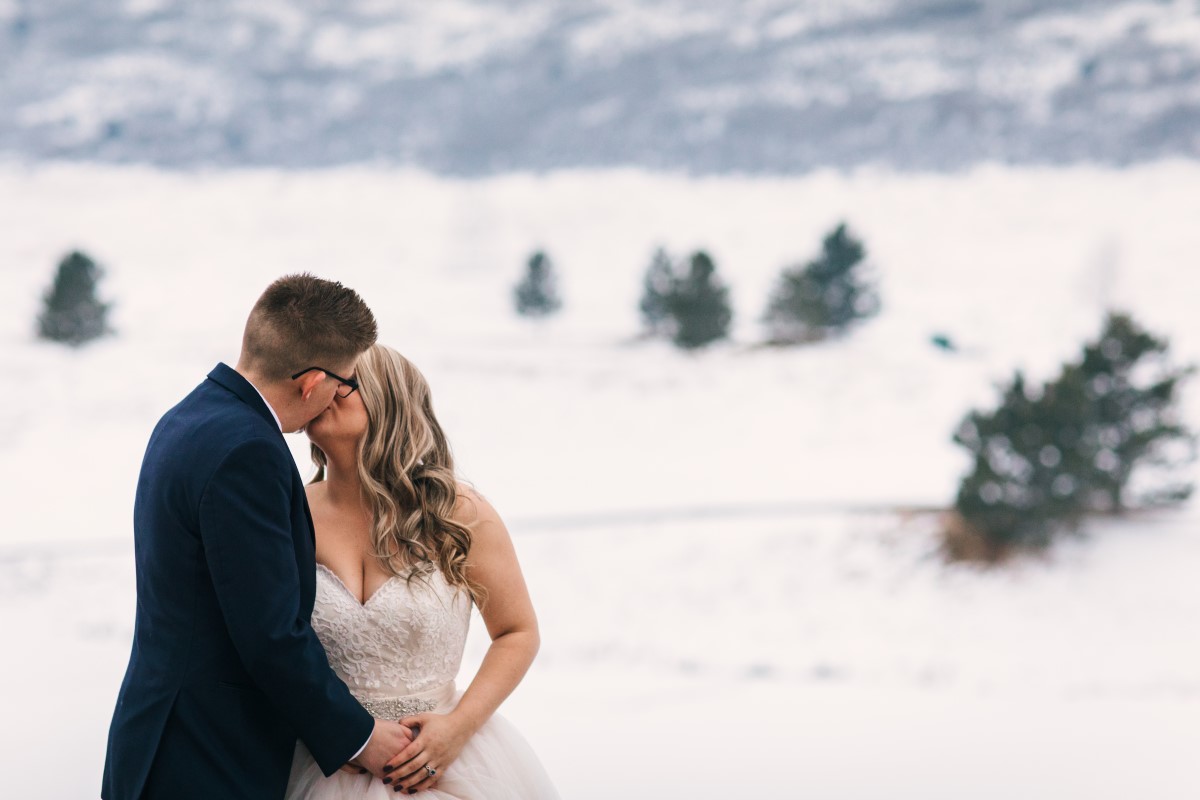 Newlyweds share a kiss against the snow-covered backdrop of Ken Caryl Vista
In addition to the beautiful natural landscape, Denver is also home to a thriving food and beverage scene. With more than 40 breweries and distilleries in the greater metro area, craft beer and cocktail aficionados will be in all their glory (Thrillist). If culinary adventures are more your scene, start your day at Steuben's for a classic diner-style brunch. As the sun sets, head on over to James Beard award-winning Chef Alon Shaya's newest joint Safta for an unforgettable dinner. Denver is full of hotspots inspired by regional cuisine from across the globe, so there's no shortage of 5-star restaurants to enjoy.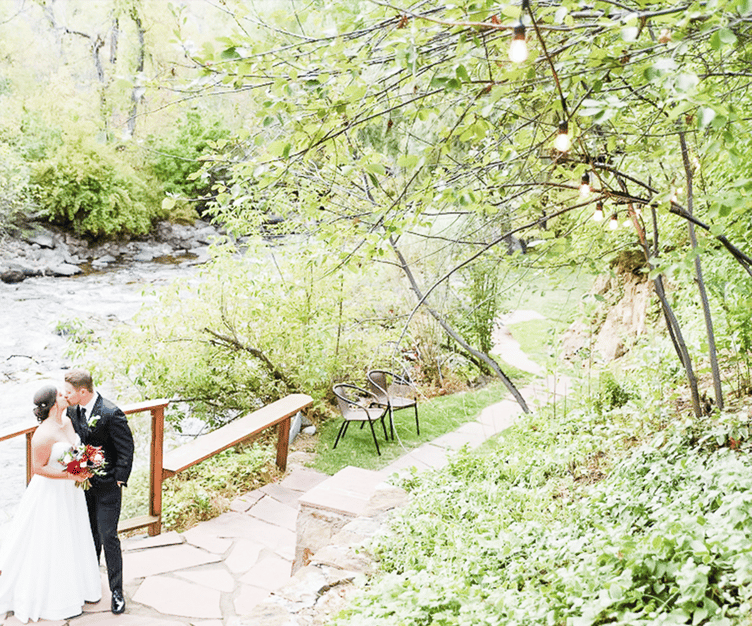 A happy couple says 'I do!" to a creekside wedding ceremony at Boulder Creek in Boulder, CO
DENVER WEDDING VENUES WORTH TOURING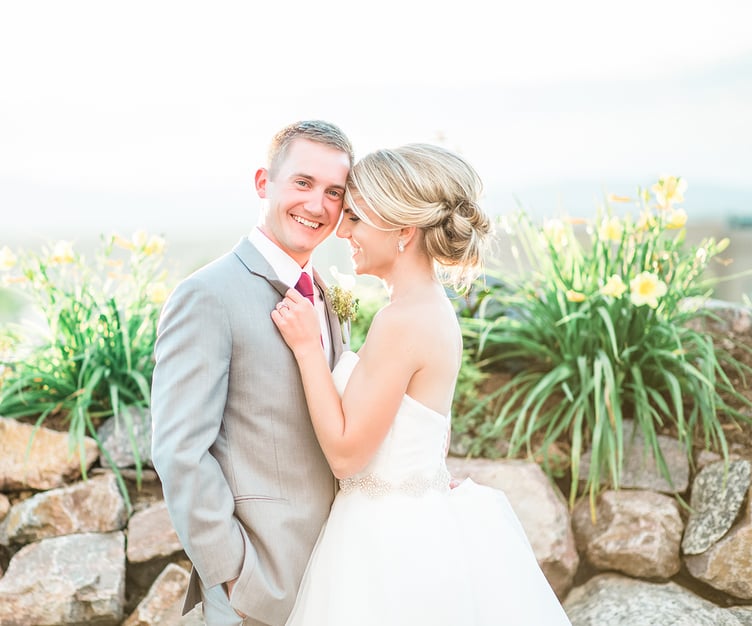 joyful newlyweds during a wedding at Ashley Ridge in Littleton, CO
GETTING MARRIED IN DENVER
CONSIDERATIONS FOR A DENVER WEDDING
Prepare for the weather: as they say in Denver, "If you don't like the weather, wait five minutes." Snow isn't uncommon as early as October or as late as May in Denver, so it's best to err on the side of caution and dress in layers for your wedding day.
Plan your view: if you're dreaming of a romantic sunset portrait against the Rocky Mountains, check on sunset times for your wedding date. You can work with your wedding coordinator or venue to plan your cocktail hour during this time, allow for your photographer to snap some breathtaking photos.
Mind the altitude: if you live locally, you have probably already adjusted to the high altitude of the Mile-High City. However, couples planning destination weddings as well as out-of-town guests should be mindful of how the altitude can affect certain things like alcohol absorption. If you are expecting plenty of out-of-town guests, consider asking your venue about lower-alcohol cocktail options.
Choosing your attire: consider how the temperatures will impact your wedding day attire. While black tuxedos may be a bit heavy for a summer outdoor wedding in Colorado, winter nuptials in the mountains may require a few extra layers for warmth.

Indoor or outdoor: when planning your Denver area wedding, choosing an indoor or outdoor ceremony and reception will rely heavily on the weather. And since the weather is always changing, your wedding venue should be ready to accommodate last-minute site changes as well. We recommend choosing a Denver-area wedding venue that has both indoor and outdoor options and is well-equipped to make site changes on the fly.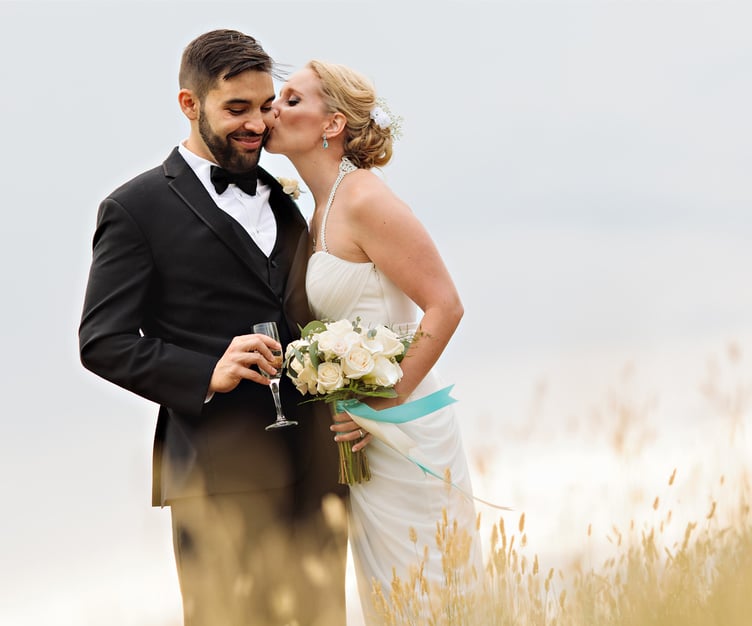 the golden fields around Ken Caryl Vista make for stunning photo opportunities
FUN DENVER ACTIVITIES:
Whether you are planning a Denver destination wedding or hosting out-of-town guests for your mountainside nuptials, the Mile-High City offers countless activities for friends and family alike:
Catch a game: in addition to the Denver Broncos (football), Colorado Rockies (baseball), the Denver Nuggets (basketball), and the Colorado Rapids (soccer), Denver is also home to pro rugby, lacrosse, and hockey teams. Needless to say, it's always a good time to catch a game.
Discover Downtown Denver: Denver has the 10th largest downtown in the United States - making it a popular destination to explore on foot. Complete with sports arenas, shops, restaurants, museums, aquariums, and even whitewater rafting - there's something for everyone in Downtown Denver (Denver.org).
Visit the Downtown Aquarium: Denver's Downtown Aquarium is a fun spot to check out for both families and animal-loving adults. The Downtown Aquarium even features a mermaid show and shark cage experience that allows you to dive with real-life sharks.
Take a hike (literally): the hiking options surrounding Denver are endless, so make a day of it and get lost in nature! Locals love the Royal Arch Trail and Mountain Galbraith Loop.
Soak in the sounds at the Red Rocks Amphitheatre: the Red Rocks Amphitheatre is one of the most infamous music venues in the U.S. Surrounded by breathtaking rock formations that enhance the natural acoustics of the venue, Red Rocks has hosted famous bands like The Beatles and The Beach Boys.
Play a round of golf: Denver is home to 90 golf courses that remain open all year round. Even better yet, golf balls go up to 10% further thanks to the altitude, so you may play your best game yet! (Denver.org)
***
If you're dreaming of exchanging vows against the dramatic Rocky Mountains, consider saying 'I do' to a Denver wedding. From the stunning views to endless activities for guests, Denver is a perfect backdrop your upcoming nuptials. Your guests will enjoy the hours of entertainment and breathtaking views, and your wedding photos will turn out spectacular against the Rocky Mountain backdrop. Check out our list of suggested Denver wedding venues to tour and start planning your mountainside nuptials.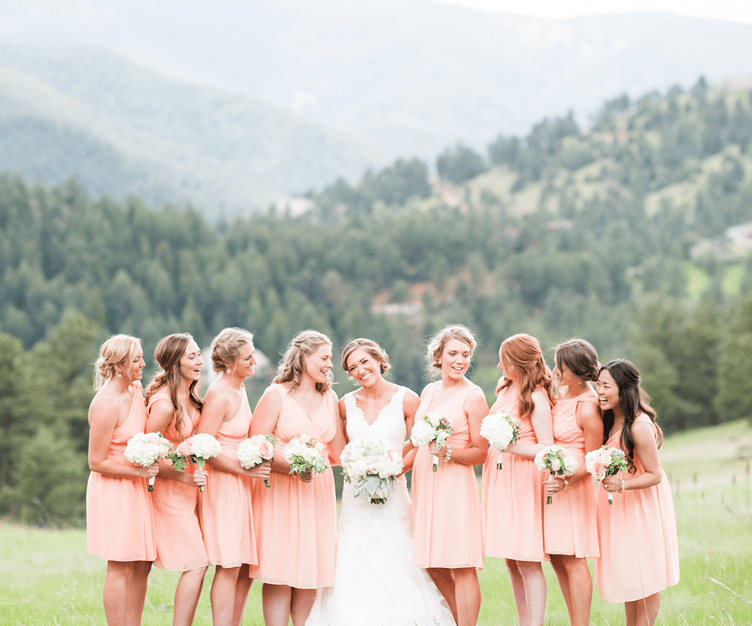 enjoy stunning mountain views at all wedgewood weddings denver venues