Engaged couples often refer to social media for the latest trends and tips on wedding venues and vendors, and it's always an honor when Wedgewood Weddings is mentioned on these platforms. Recently, on Colorado Wedding Venues: A Community for Couples Facebook page, Mountain View Ranch by Wedgewood Weddings was featured by talented Denver photographer, David Gass.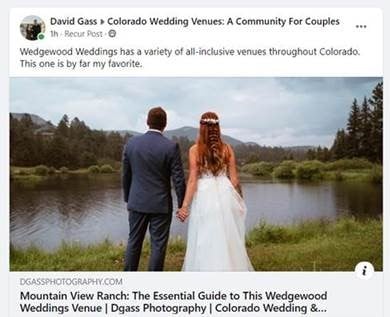 David is a well-known Colorado photographer. In a recent article on his website, he explains why he enjoys photographing at our mountain venue:
"Weddings at Mountain View Ranch, in Pine, CO, are incredibly beautiful. This 3,500 acre ranch sits amongst the foothills of the Rocky Mountains, surrounded by the pine forests that give this city its name.
… Even while inside, you and your guests can still enjoy and appreciate the views. The best part of Mountain View Ranch might be their staff. These are some of the friendliest and most helpful people around. They can help guide you through the multiple wedding packages to choose from, or even help you build your own."
Thank you for the awesome shout out David! If you're interested in David's skills, he shares his thoughts and picture-perfect images of this scenic wedding venue in detail on his website.

***
We have seven venues in Colorado, each remarkable in their own way. Couples countrywide highly desire our award-winning venues for their show-stopping style and our award-winning team.

👋 To book YOUR tour of Mountain View Ranch, call or text 866.966.3009.
***