Today we're super excited to introduce you to one of our most talented team members in Arizona: Blayne Michelle Rylander. Blayne has been with us since 2016 and has experience at each of our five beautiful properties in Arizona. From pub server to regional trainer, Blayne knows every corner of the wedding business like the back of her hand. Her unique blend of tenacity and friendly personality makes her a joy to work with for all! Join us to learn more about Blayne and why she loves helping happy couples say 'I do'!
***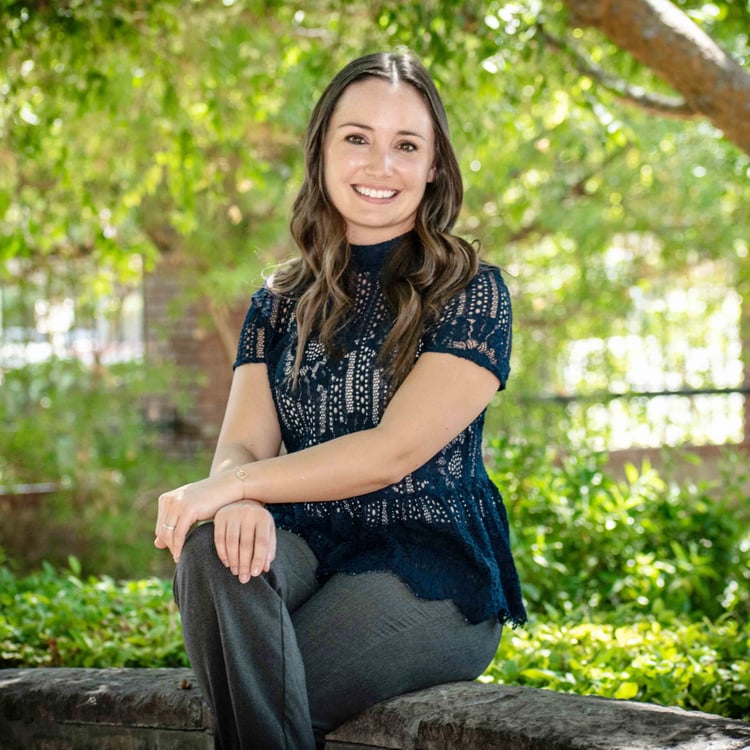 the super talented blayne rylander in the gardens of stonebridge manor
Hi Blayne, How long have you been with Wedgewood Weddings?
I joined the team in February of 2016 as a pub server at Palm Valley, back when we only had one venue in Arizona. At the time, I thought it would be a fun job while I finished up my undergrad–my plan was to work in healthcare. I quickly began cross-training to work events and I guess you could say I fell in love! I really enjoyed working with happy couples and helping to make their special day awesome. I've been Team Wedgie ever since!
What do you like most about weddings and special events?
Events are all about joy and happiness! For weddings, I love seeing the excitement in the couple's faces as they see each other for the first time on their wedding day. For special events, I especially like unique events like fundraisers and tournaments. I love seeing what cool things they bring in.
How did your team stay motivated through the pandemic in 2020?
Since late 2019, I've been working at our newest Arizona wedding venue, Stonebridge Manor. In early 2020, we were deep in the transition process with lots of moving parts such as changes in pricing, menus, and restructuring team members. When Covid-19 hit and we had to press pause on the business, our team was feeling a bit discouraged. As weddings and events began to pick back up, I created a FUN weekly team meeting to keep spirits high. The goal of these meetings was to inspire, motivate and connect the team. We played board games, did team-building exercises, and enjoyed time outdoors. It was really quite special and helped to make sure we were ready to deliver our absolute best service. It really helped and I hope it's something we continue for the long haul!
What has been your happiest moment at Wedgewood Weddings?
One moment that will go down in the history books is the time I got to quickly meet Phil Mickelson! He came to show his support at an ASU tournament at Ocotillo Oasis, and I was working at the event. My husband is a huge fan of Phil and I just knew I couldn't let him leave without getting a picture! He was SO nice and patient, and a moment I'll never forget!
You mentioned that you're married. Tell us about the wedding!
Of course! I always dreamed of an island wedding, and we were determined to make it happen. We had a teeny tiny wedding in southern Florida on Sanibel Island near Fort Myers. We had a small ceremony in the church my mother-in-law belongs to and then a small reception afterward. We enjoyed the weekend at a beachside hotel for a relaxing honeymoon. It was simple and perfect!
What's a surprising fact that most people don't know about you?
When I was young, I spent many years riding horses and loved it. Last year, I quietly decided to get back into it! I've been taking hunter/jumper lessons at a nearby farm for about a year now–I absolutely love it! Here's a picture of my riding buddy! 😀
Thanks, Blayne! It's been awesome getting to know you better!
***
Natalia will make sure your special day is everything you've always dreamed of–and will probably cry during your first look! When you plan a beautiful Arizona wedding, you can feel comfortable knowing that you're hiring an iron-clad team of wedding experts that love what they do and love working with one another. It's a win-win all around! For more details about the stunning Ocotillo Oasis in Chandler, AZ–click here.