May 2020

Does a spring, summer, fall or winter 2021 wedding date call to you?
Planning - or even rescheduling - a wedding date can be heaps of fun. To simplify the scheduling process, we've picked great dates for a 2021 wedding so you can decide what feels good for your needs. From Super Bowl to Mother's Day and 'National Drink Wine Day' - there are tons of great reasons to pick fun dates. We've also looked at when the moon is full, the annual equinox dates and more.
Before you start thinking about dates, definitely take some time to speak with your favorite venue(s). There are lots of romantic and logistical reasons for picking a certain date but, generally, having the right venue for your needs trumps a potential date. Alternatively, be open to booking far in advance or working with your venue's availability if you feel ready to get married right now!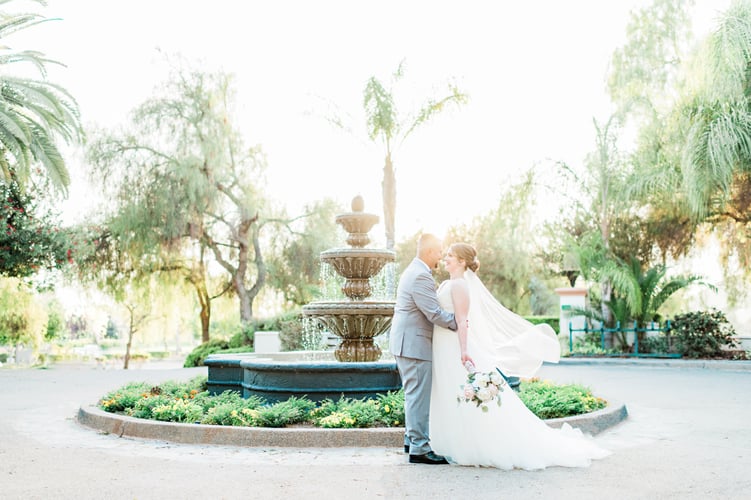 ***
How to Pick A date For your wedding
Let's dig into the reasons why couples pick certain months for their celebrations, so you can find the month which works best for your needs.
January 2021
January represents a new beginning. January 1st, New Years Day, is exceedingly popular as it's a day for feasting in many cultures. In Scotland, it's the luckiest day of the year! And, for Brazilians the color of your underwear on this day can bless the entire year (or marriage). For those not already in the know: Pink brings love, yellow brings prosperity, and white indicates peace and happiness.
For those interested in major holidays, Martin Luther King, Jr. Day falls on January 18 and the new Presidential term begins on January 20.
In January 2021, days are around 9.5 to 10 hours long and sunset is between 4.45pm and 5.20pm. With weather in January is typically crisp and changeable making the likelihood for spectacular sunsets extremely high.
Lucky Dates: Thursday, January 7; Friday, January 8; Monday, January 11
Fun Dates: Saturday, January 2 (1/2/21):

Wednesday, January 20 (

1/20/21) and Thursday, January 21 (

1/21/21)

Full Moon: Thursday, January 28



February 2021
While February is a short month, it's often action-packed. With Super Bowl (Sunday, February 7), President's Day (Monday, February 15), National Drink Wine Day (Thursday, February 18) and National Margarita Day (Monday, February 22) all falling in the month of February, it can be the perfect opportunity to gather with friends and family by adding an extra celebration.
Groundhog Day on Tuesday, February 2 is a delightful day to get married if you want to imagine repeating your perfect day forever! Tuesday, February 16 is Shove Tuesday, also known as Shrovetide. In olden time Irish culture this was the most popular day of the year for a wedding according to lucky folklore.
Did you know that Valentine's Day is the third most popular day to propose (after New Year's Eve and Christmas Day)? That means that many people who like to condense their anniversaries choose this date and combine their engagement and wedding date.
In February 2021, daylight lasts from just over 10 hours to just over 11 hours on average, and sunset happens between 5pm and 6pm. Couples generally choose brunch to early afternoon ceremonies in February or say their vows at sunset.
Lucky Dates: Sunday, February 7; Monday, February 8; Thursday, February 11
Fun Dates: Sunday, February 14 and Tuesday, February 1 (2/1/21)

Full Moon: Saturday, February 27



There are so many ways to add your love of football into your wedding - from subtle touches to turning on the big screen with all your friends and family.
Photo Credit: gino creglia photography
March 2021
Save for St. Patrick's Day, March is relatively free of any major holidays. The Ides of March is on March 15, Psalm Sunday falls on March 28, Passover lands on March 27, and Ramadan starts on March 22. Holi festival is in March 2021 and the festival of color is the perfect reminder that spring is in the air! Did you know that Holi is also known as the Hindu festival of love?
Spring equinox (also known as the vernal equinox) falls on Sunday, March 20, meaning this is an auspicious day as it signals the coming of spring which is packed with ideas around new life and new beginnings. On this date, day and night are equal which has a lot of beautiful symbolism for balance. Expect around 12 hours of daylight in March. As the clocks go forward (for most states) on March 13, you can prepare for sunset just after 6pm or just after 7pm.
National puppy day is on Tuesday, March 23 - ideal if you want to incorporate your favorite four-legged friend into your ceremony. Our final word about a March 2021 wedding - it's the most popular month to get married in Texas!
Lucky Dates: Sunday, March 7; Monday, March 8; Thursday, March 11
Fun Dates: Sunday, March 20

Full Moon: Sunday, March 28



National Puppy Day is Perfect for Weddings and Also giveS you an opportunity to help a local shelter.
April 2021
The beginning of April 2021 is full of holidays this year and also ties in with spring break for many school districts, meaning many people are available on every day of the week. Easter comes early in 2021, landing on Sunday, April 4.
The first weekend of April is also the final four weekend for March Madness - a favorite weekend for basketball fans and a great opportunity to bring your favorite sport into your event.
Thursday April 22, is Earth Day which creates the perfect date for an eco friendly wedding. The month also contains National Beer Day (Wednesday, April 7) if you're a fan of IPAs, National Pet Day (Sunday, April 11) if you want to invite your pet, and Denim Day (Wednesday, April 28) if you would like to incorporate a casual look.
Sunset happens at around 7.30pm in April 2021 and the days start to get longer with around 13 hours of daylight.
Lucky Dates: Wednesday, April 7; Thursday, April 8; Sunday, April 11

Full Moon: Tuesday, April 27


basketball cake topper from couture bridal
May 2021
May is a popular month for weddings worldwide due to the mild spring weather across most of the US and bloom of seasonal flowers. It is also an action-packed month in 2021. Weekends in May are full of popular events and holidays, including the Kentucky Derby (Saturday, May 1), Mother's Day (Sunday, May 9), and Memorial Day (Monday, May 31).
Choosing Kentucky Derby day is the perfect way to encourage big hats at your wedding and bring extra color to your celebrations. If members of your family are in the service, then choosing Armed Forces Day (Saturday, May 15) is the ideal way to recognize their sacrifice.
Sunset occurs at around 8pm in May and the moon rises at about midday. The famous golden hour for photography is later in the day; also at 8pm, ideal if you wish to complete a set of daytime, golden hour, and evening portraits. Expect around 14 and 15 hours of daylight in May 2021.
Lucky Dates: Friday, May 7; Saturday, May 8; Tuesday, May 11

Full Moon: Wednesday, May 26
More Kentucky Derby Day / Wedding inspo from Heart of NC Weddings



June 2021
June is always a wonderful month for weddings. Father's Day falls on June 20, 2021 - perfect if you want to honor the couple's fathers or if the groom is a dad! The beginning of the month kicks off with the tail end of 3-day weekend which means many guests will already be pumped to party with loved ones.
The summer solstice is on June 20 - the longest day of the year is an incredibly popular time to get married and obviously evening ceremonies are exceptionally beautiful as they're flooded with warm evening light.
Sunset in June occurs at around 8.30pm which means adults and children can play outside for hours. Summer evenings are also a gorgeous time for outdoor ceremonies and, every now and then, you'll be able to capture the sun and moon in photos during blue-sky afternoons. 14.5 to 15 hours of sunlight is typical in June.
School districts often close for summer vacations in June and July - making it a great time for any teachers or couples who intend to have lots of children participating in their celebrations.
Lucky Dates for June 2021 Weddings: Monday, June 7; Tuesday, June 8; Friday, June 11

Full Moon: Thursday, June 24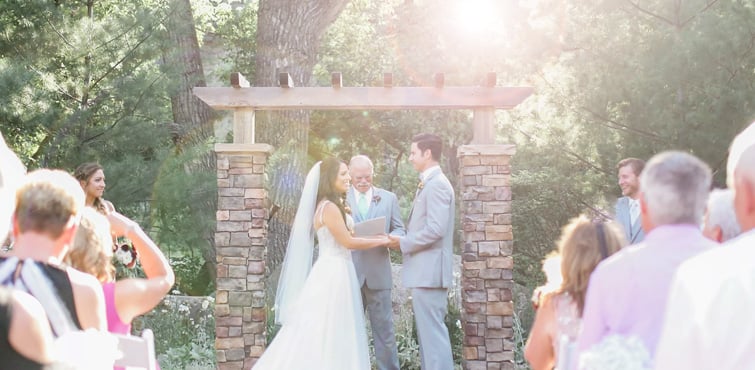 The Perfect Summer Evening Wedding at one of our stunning colorado venues: Boulder Creek
July 2021
Independence Day falls on a Sunday this year, so many guests will be celebrating during the first weekend of the month. Due to the day of the week, many employers will also close offices the following Monday, July 5. This is perfect if you want to incorporate USA-Day celebrations into your wedding. We love the idea of a BBQ for your late night feast as your party winds down.
With picture-perfect weather in most of the country each July, your wedding portraits are bound to be bright and beautiful. Making your wedding indoor/outdoor is also a great option. Taking the dance floor outside or bringing in yard games - maybe a classic croquet match? - is a great way to take advantage of long summer days. Expect 14.5 hours of daylight on an average July day and sunset is just after 8pm.
National Kissing Day is Tuesday, July 6 - we just want to put that on your radar! And, in case you're interested, National Ice Cream day is on Sunday, July 18.
Lucky Dates: Sunday, July 11

Fun Date: Sunday, July 4
Full Moon: Saturday, July 24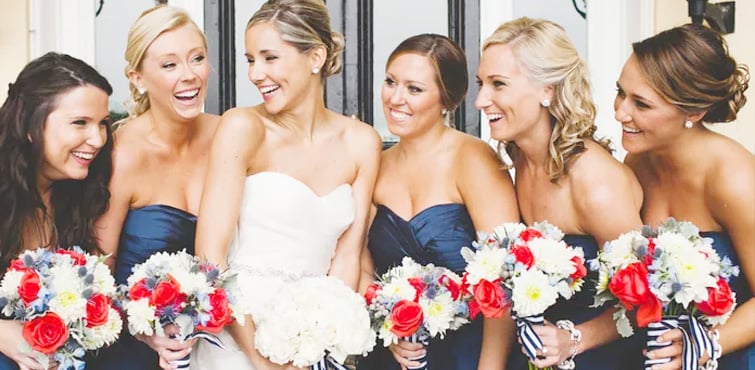 Red, White and 'I DO' with a 4th of July Wedding!
Photo credit:
217 PHOTOGRAPHY
August 2021
Ten percent of all weddings happen in August - it's a popular time of year for those who love a sunny summer day. Friday the 13th falls in August 2021, so avoid this weekend if you are superstitious. Conversely, according to Jewish traditions, the number 13 symbolizes the bonding of many into one, making it the perfect day for a bride and groom to celebrate their love.
The luckiest day of the year for Chinese culture is Sunday, August 8. A double eight in your wedding date doubles the joy. The number is is reflective of power, abundance, and success.
Many also say the shape is reminiscent of an infinity symbol making it the perfect symbol for a long-lasting marriage. An eight is a perfectly symmetrical shape—you could cut it in half in any direction and the halves will always mirror one another. 8/8/21 is one of the prettiest wedding dates as you have double the luck (8 and 8) while two become one (21).
Expect 13 to 14 hours of daylight on a typical day in August 2021. Sunset is usually between 7.45pm and 8.15pm. In you plan to sit outside around a firepit with your wedding guests then you should know that Thursday, August 10 2021 is National S'mores Day. Official Bow Tie day is on Saturday, August 28 making it perfect if your groom and his friends are dressing up with a traditional dinner jacket and accessories.
Sunday, August 1 is Friendship Day which bodes well for starting your new life with your best friend! Established back in 1835 by US Congress this is the original Hallmark Holiday as it was founded by Joyce Hall of Hallmark fame. Extremely popular across much South Asia, now is a wonderful time to add International Friendship Day to your lexicon and celebrate with all your friends.
Lucky Dates: Saturday, August 7; Sunday, August 8 (double lucky = 8/8/21); Wednesday, August 11

Full Moon: Sunday, August 22

September 2021
A lot of couples like to get married on a relevant birthday. An ideal choice if you want to keep your anniversary date front of mind. You may not know, but September consistently contains the most birthdays of any month of the year.
The beginning of September brings a new school semester as well as Labor Day on Monday, September 6. You'll have noticed that the weather in September is typically balmy regardless of your location which makes it a strong choice for indoor or outdoor celebrations.
The autumn equinox on Wednesday, September 22 means that evenings will begin to draw in. This makes for excellent atmospheric evening photos throughout September and October. Expect sunset between 6.30pm and 7.30pm and enjoy 12.5 hours of daylight.
Sapphire is the birthstone for September making it the ideal color for weddings 'born' during this month. While jewel colors have been on trend recently, sapphire is especially beautiful as deep blue works for everything from bridesmaids and groomsmen accents to table linens. Bouquets combining deep blue hyacinths or hydrangeas with forget-me-knots look fresh and eye catching. Since forget-me-knots are the official flower of the month, these tiny light-blue blossoms are an ideal way of showing your true love that they're always on your mind.
Lucky Dates: Tuesday, September 7; Wednesday, September 8

Full Moon: Tuesday, September 21

October 2021
October is an ideal month for autumn weddings - the leaves are starting to change, houses are donned in seasonal décor, and everyone's favorite spooky holiday falls at the end of the month. Columbus Day falls on October 11, 2021, and Halloween lands on the 31st. The sun dips at around 6pm and disappears by 6.45pm. Daylight lasts for 10.5 to 11.5 hours.
The Sweetest Day – yes it's real - is on Saturday, October 12, 2021. If 'sweet' makes you think of candy then you're in luck as the bulk of all candy sales are in October each year, so you can pick up a bargain for a self-serve candy station at your wedding. Sweetest Day (founded in 1921) actually recognizes making a sweet gesture and is the perfect day for huge romantic declarations!
Still on the sweet-tooth theme, Pumpkin Spice is released earlier and earlier each year (can you believe it was August this year?!) but it really comes into its own in October as the days get noticeably shorter. Consider cinnamon as your wedding flavor with Pumpkin Spice sachets as guest favors, and latte-color linens which look fantastic next to claret. To take it to the next level introduce a Pumpkin Spice White Russian as your signature wedding cocktail: Rim a glass with graham crackers, them mix 1oz vodka, 1oz pumpkin spice coffee creamer, .5oz coffee liqueur and serve on the rocks.
Lucky Dates: Thursday, October 7; Friday, October 8
Fun Dates: S

aturday, October 12 (10/12/21) and Wednesday, October 20 (10/20/21)



Full Moon: Wednesday, October 20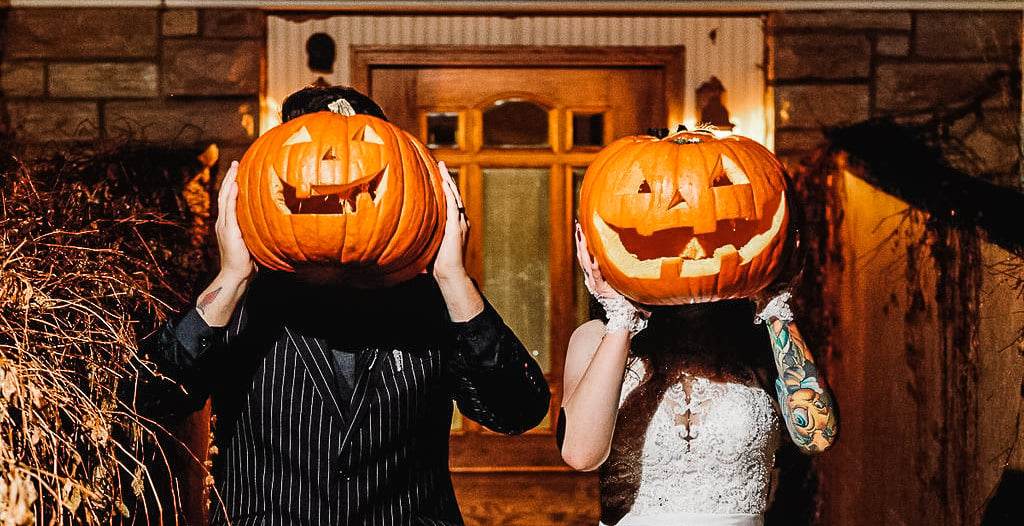 A spooktacular Halloween-Themed wedding at Tapestry House, CO
November 2021
The end of November is prime time for the holiday season, kicking off with Thanksgiving on November 25. Veteran's Day also falls on November 11 in 2021, so plan on guests extending this federal holiday into a 4-day weekend. If you can, aim for scheduling your wedding towards the beginning of the month to avoid any conflicts with Thanksgiving-related travel plans. Of course, you can maximize time with family if you decide to tie your wedding together with Thanksgiving.

Couples who get married in November are happiest according to a study by the University of Melbourne. To make sure your relationship is happy, implement these four tried and tested activities to keep your love strong forever: Do small things, often, to make each other smile, talk deeply for at least 10 minutes per day by asking questions and listening, stay active by making your routine never become humdrum, and be open about your expectations.

Here's another twist on why November weddings are best:
...if you get married in November, nobody expects a good weather. If it's raining or snowing, no one gets disappointed, because no one expects a beautiful weather. If there are any surprises in a November wedding, the only surprises are positive ones, like "Wow, it didn't rain after all!"

-- Anna Worthington,
Wedding Expert & Regional Manager at Wedgewood Weddings
Most major American cities have daytime highs of 50 to 65 degrees Fahrenheit in November. But days with temperatures in at least the mid 70s°F are common in some southern cities such as Phoenix, San Antonio and San Diego. At night, Denver gets particularly chilly in November, where the monthly low temperature averages 25°F. The number of rainy days fluctuates but expect two in Nevada and eleven in New Hampshire - that's good odds..
The sun sets between 4.30pm and 6pm - remembering that clocks fall back on Sunday, November 7. Expect 9.5 to 10.5 hours of daylight with sunrise at around 7am.
Lucky Dates: Sunday, November 7; Monday, November 8; Thursday, November 11
Fun Dates: Friday, November 12 (11/12/21)

Full Moon: Friday, November 19
November - The Best Month for 2021 Weddings?
Rain at our Black Forest, CO is a refreshing reAson to smile.


December 2021
December is a beautiful month for winter weddings, but it is also a busy month for most. Christmas and New Year's Eve both fall on a Friday. Hanukkah also runs through December 6, 2021. The winter solstice (shortest day of the year) is a great option for a cozy wedding as guests relax fireside. In 2021, December has two beautiful palindrome dates that might catch your eye: December 11, 2021 (12-11-21) and December 22, 2021 (12-22-21).
Wrapping up in blankets in front of an early sunset (at around 4.30pm) is the ultimate route to cozy comfort. Choose a weekday when most of your guests would normally be working and it feels like the ultimate extravagance. National Cocoa Day is on Monday, December 13 and definitely calls for a (spiked?) hot cocoa bar.
A little-known fact: horseradish is a symbol of December, the Yule month. As a testament to marriage, horseradish is hot, long-lasting, resilient and needs minimal maintenance. At Wedgewood Weddings, we have two extremely popular menu items accentuated with horseradish which is perfect for an end-of-year wedding when a little fire enhances rich flavors. Look out for: Carved Roast Beef Au Jus with Creamed Horseradish which is ideal for your December 2021 wedding.
Lucky Dates: Tuesday, December 7; Wednesday, December 8; Saturday, December 11
Fun Dates: Thursday, December 2 (12/2/21); Saturday, December 11, 2021 (12/11/21) and Wednesday, December 22, 2021 (12/22/21).

Full Moon: Sunday, December 19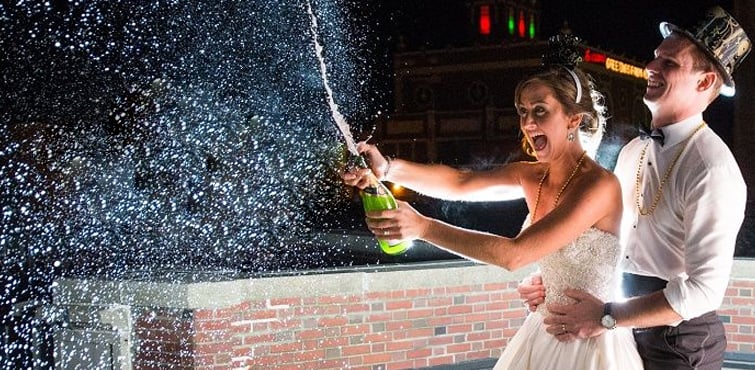 The luckiest day of the year according to the irish - a New Year's Eve wedding
***
While choosing your wedding date might feel like a complicated affair, it doesn't have to be. We've selected the best wedding dates for 2021 to help simplify your planning process. If you're ready to lock in your 2021 wedding date and venue, contact our team at Wedgewood Weddings today to get started!
***