Our Team Open Up About Including Pets in your Wedding Party
Do you have a special furry someone in your life that you'd like to include in your special day? Having a beloved pet participate in your wedding can be fun and memorable for both you and your guests. If it's done right, at least.
There are many important things to consider before deciding if Fido should be included in your wedding ceremony. For instance, does your pooch do well around strangers or crowds? Is he or she generally well behaved? Are you willing to hire a pet-sitter (or ask a trusted guests) to care for your pets before and after they make their grand appearance?
If you answered "yes" to those questions and want your doggo in attendance, read on for inspiration from some of our expert team. We asked them to share their favorite anecdotes about weddings and pets - and we think this advice is perfect for everyone!


"Recently we had the couples' two dogs as the ring bearers, fully dressed for the occasion. We put the kennels in the groom's suite and our staff was so tickled by duo that they happily let the dogs out for potty and water breaks."

Stacey Quirarte, Lindsay Grove, AZ

***

"The dog was pulling a wagon with the flower girl in tow. What a crowd pleaser and a brilliant twist for a memorable wedding!

Lindsey Paisano, Stallion Mountain, NV

***

"The couple's dog stepped up as flower girl! They put her in a little dress and attached a small basket with rose petals on either side of the dress so when she ran, the petals would dance onto the aisle. Well, the pup got scared and rather than run down the aisle to her dad, she ran around the ceremony chairs to get to him and avoid the people. The baskets worked perfectly, and the petals created the most perfect path ... just not down the aisle as planned. It was actually super adorbs."

Roxanne Menzies, San Ramon, CA

***

"Two dogs in full suits! Coat, tie, shirt, belt, pants. It was completely ridiculous and totally amazing. They looked like little people and it was so funny to scan the group and have to take a really good second look to make sure it was a golden retriever face looking at you, not a little kid."

Angela Owens, Boulder Ridge, CA

***

"This couple had a Pomeranian that they dressed in a mini tuxedo for the ceremony, and then changed his outfit for the reception to a shirt /suspender outfit. I love the little details!"

Nicole Sullivan, Jefferson Street Mansion, CA

***

"My puppy was the 'dog of honor' at my wedding. The groomsman who walked him down was supposed to drop his leash so he could come sit where he wanted (next to me) but he held on to him! Halfway through the vows he was whining to be near us and my husband literally stopped his vows, said 'give me a second,' went and got the pup and he spend the rest of the ceremony by my side."

Katie Margolis, Mountain View Ranch, CO

***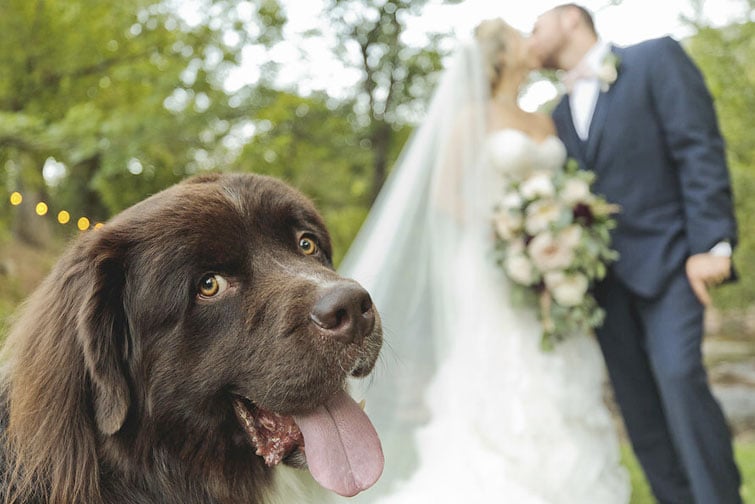 The most important thing to remember when planning to have your pet in your wedding ceremony is to roll with it. Pets don't always do exactly what they're supposed to — like running around the guests instead of straight down the aisle, for example. But if that adds to the charm for you, then we're here to make adding your family pets to the celebration happen with no fuss, no muss! 😍