the spooky truth behind your favorite traditions
Why does a bride have to hold flowers?
Why does she wear a veil?
Who was the first couple to tie cans to the back of their getaway car?
We've become so accustomed to these classic wedding traditions that we don't question the story behind them. If you rather stay blissfully ignorant, that's okay, but for those of you who love a good ghost story, we think you're really going to love the stories behind these common wedding activities. Today we're going to explore how many wedding traditions originated from fear of evil spirits . . . the answer may spook you!
***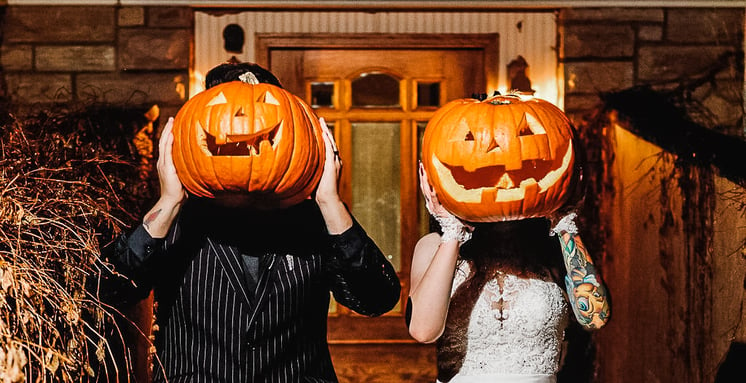 1. Beautiful Bridesmaids
You can always spot the bride at a wedding, right? She stands out from the crowd, glowing from head to toe. Her bridesmaids were an entirely different dress style and color, designed to complement the bride, but not divert attention.
Did you know . . . Centuries ago, the origin of bridesmaids is that they dressed as decoys of the bride, with matching dress and hair, in order to protect the bride from evil spirits! The fear is that the evil spirits would kidnap the bride on her wedding day.
Now bridesmaids serve many purposes, including protecting the bride! However, the primary purpose of bridesmaids today is to have fun and support the bride on her wedding day. Lovely!
2. Hiding Happiness
A traditional wedding veil is incredibly symbolic depending on the culture of the person getting married. In modern traditions, the veil symbolizes the transfer of a woman from her paternal family to her new wedded family. It's also sometimes purely a beautiful accent.
Did you know . . . Ancient Romans were the first to use a veil during the wedding ceremony. They believed that blissful brides attracted evil spirits, so the veil was used to cover the bride's face during her wedding ceremony. As time evolved, so has the purpose of the veil. In other historic times when arranged marriages were common, the veil also served to keep the groom from seeing the bride's face until the final moments of the ceremony.
Whatever your preference for veils is, they certainly do have a rich history of symbolism and meaning! We believe it's perfectly safe to show your joy on your wedding day, but you may still wan to wear a veil just in case!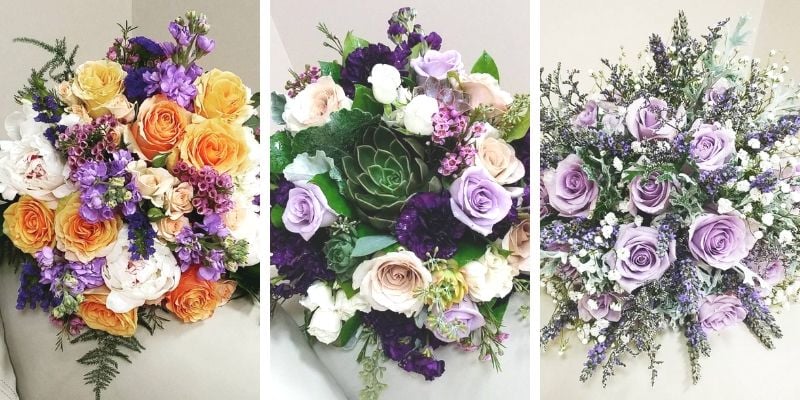 3. A Smelly Bouquet
The wedding bridal bouquet is perhaps one of the most commonly followed traditions of modern weddings. They look a little different nowadays, sometimes featuring dried flowers, succulents, and even swords – but they still show up in the wedding plan!
Did you know . . . Ancient Greeks believed that certain types of garlic, herbs and spices could ward off evil spirits, so brides would carry them as a layer of protection on their wedding day. Rumor has it that as time went on, brides began to use flowers to cover up the smell of their herbal protections, creating the tradition of carrying a bouquet of flowers. Others believe that the flowers were added to cover up the smell of the bride, considering that showers were less frequent in ancient times.
Whatever you choose to believe about this story, we're certain that bridal bouquets aren't going anywhere anytime soon! It's a beautiful tradition and accessory that you can have as a keepsake for the rest of your years.
4. Throwing a Good Luck Charm
Why do brides throw a garter or bouquet to their guests? It's believed that the person who catches the bouquet or garter will be next to get married.
Did you know . . . In medieval times, people commonly believed that wedding dresses of married brides were good luck. So, after the ceremony, unmarried guests would try to take a piece of the bride's grown, leaving it in tatters. Sometimes it went too far, and the tradition began to evolve into something much more pleasant. Brides and grooms alike began carrying a traditional element of their wedding outfit that would be deemed good luck, and throwing it into the crowd ceremonially for someone to catch.
5. Noisy Spirit Busters
Another one of our favorite traditions, is the tying of cans to the back of your wedding getaway vehicle! These cans are charming and kind of humorous, making for a lighthearted part of the wedding day. They haven't always been, however!
Did you know . . . Once upon a time, newlyweds tied cans to their getaway car, thinking that the clanking sound would help ward away evil spirits.
***
With as much pressure you face on your wedding day, be thankful you don't also have to worry about evil spirits trying to get to you! And, if anything does go wrong, at least you don't have to face unexpected floor demons on your wedding day. So, while you're planning your wedding, think about the traditions that you're choosing to incorporate. Do you know the full story behind it? Do some research for a fun date night with your spouse-to-be!