Fun Low Key Bachelorette Party Ideas
Your bachelorette party serves as the last big GNO you get to have with your girls before officially settling down with your new hubby. Therefore, a lot of brides like to take advantage of their last taste of "freedom" and go all out for their bachelorette experience... But what if the Vegas scene, strippers, getting drunk, or hitting the club isn't really your thing? That's okay. There are dozens of ways to have group fun for the girl who doesn't like to "party hardy."
***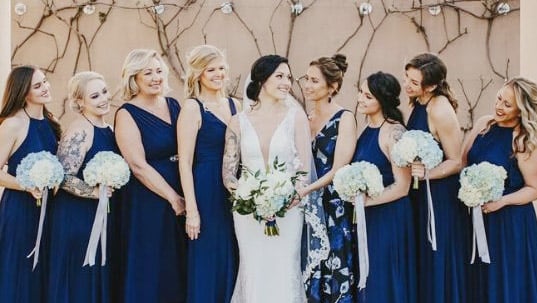 Stunning Bridal Party in Blue at Aliso Viejo by Wedgewood Weddings
Adult Camp
Getting married is the ultimate form of adulting. Why not kick it off by feeling like a kid again? Camp No Counselors offers adults-only camps nationwide, complete with food, lodging, an open bar and fun activities like theme parties, the blob, water skiing, sports, and all the wifi you'll need to post about it on Instagram.
Spa Day
This is sure to be a winner with your squad. Grab your girls and go to an all-inclusive spa where you can spend the day lounging at the pool, sitting in the sauna, getting a massage or facial, and laying back with some cucumber eyes!
Old School Sleepover
For an alternative and affordable bachelorette party, throw it back to your younger years and have a good old fashioned slumber party. You and your crew can lounge in your pajamas and slippers, open a bottle of wine, order pizza, set up an ice cream sundae bar, and watch some classic chick movies (like Bridesmaids) for a simple girls night in!
Set Sail Before the Veil
This bachelorette activity is definitely becoming the latest trend…and very Insta-worthy! Rent a sailboat, throw on some coordinating swimsuits, and set sail! Ahoy matey!
Yoga Retreat
Take off on a yoga retreat with your ladies for some ultimate zen. Get all the downward dog time you'll need to combat wedding stress and find your inner peace…all beside your besties.
Disneyland
Disneyland is a perfect way to have some group fun, for the low-key bride. Get yourself some bridal Minnie ears with coordinating Minnie ears for the crew and enjoy some fun rides, good food, and fireworks to cap it all off!
Comedy Club
Who doesn't love a girls' night full of hysterical laughter? This is sure to be a unique experience, as you can definitely count on getting some special attention by the comedian!
Glamping
If you haven't heard of glamping, it's exactly how it sounds – glamorous camping - and it'll be perfect for you and your crew if you're an outdoorsy bunch! Check out Glamping Hub to explore tons of destinations and styles (cabin, teepee, treehouse, etc.) for a unique getaway trip. It's all the fun of camping while still being able to use electricity, a shower, and an actual toilet…thank goodness!
wine or beer tasting
Take a ride-share with your girls to a winery or brewery to spend an afternoon sipping and sampling some fine wines or tasty beers! Do something cute for your future self by purchasing a bottle of wine or growler of beer, then have your girls write loving notes on it in permanent marker, and save it to open and enjoy with your hubby on your first anniversary together! Cheers!
cruise on a Hornblower Ship
If you're having your bachelorette festivities by a coast or harbor, board a Hornblower boat to cruise around the waters with a dance floor and open bar. Cool off from dancing and head up top on the deck for some sweet city views and the evening breeze in your hair!
Beach Airbnb
Get a true vacation out of your bachelorette party by renting out a coastal Airbnb and spending your days soaking up the sun at the beach! You can catch some rays by day then get dolled up and go out by night, giving you the best of both worlds. Consider it the honeymoon before the honeymoon!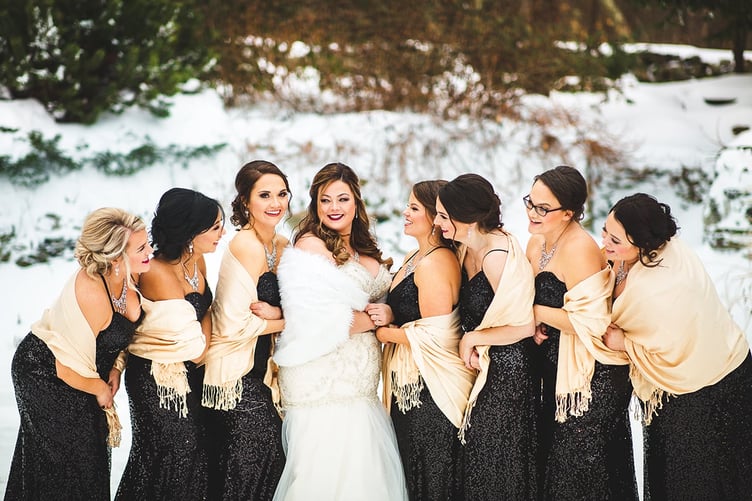 BEAUTIFUL BRIDAL PARTY IN THE SNOW at GRANITE ROSE BY WEDGEWOOD WEDDINGS
get crafty
Attending a local craft workshop is a fun and unique way to spend time with your gals. Adult shop-classes like The Artistry Room (Southern California) or Upstairs Circus (Colorado) offer multiple workshops where they play music and show you how to make various crafts such as macramé, home décor, jewelry, calligraphy work, and more!
Paint & Sip
Similar to a craft room, you can attend a painting workshop with your girls to channel your inner Bob Ross and create your own gorgeous painting! These workshops have been insanely popular over the last several years, so you're sure to have a local paint-and-sip attraction wherever you are. The class will walk you through the step-by-step process to a stunning painting - all while bumping some music and allowing you to hold a paintbrush in one hand and a drink in the other! You'll be sure to get some "happy clouds" and "happy trees" action!
Rent a House Boat
If you live near a lake or reservoir, you and your squad can rent a houseboat for a fun weekend getaway on the water! Spend your days swimming, lounging, and enjoying a good cook-out!
Joint Bachelor(ette) Party
Another rising trend is to have a joint party for you and your fiancé with your ladies and your fiancé's crew! This method makes for one, big celebration and will allow all of your friends on both sides to get to know each other better, making that arm-in-arm walk down the aisle a little less awkward for everyone on the wedding day.
***
Although we just loaded you up with ideas, take note that you should definitely NOT have to plan your own bachelorette party! You have enought things on your plate with all of your wedding planning (on top of everything else you do in your day-to-day life). If someone isn't already on top of this, assign your maid of honor or one of your bridesmaids to plan the bachelorette festivities for the group. That way, you get to enjoy all the fun and soak in the memories…and your girls too, of course!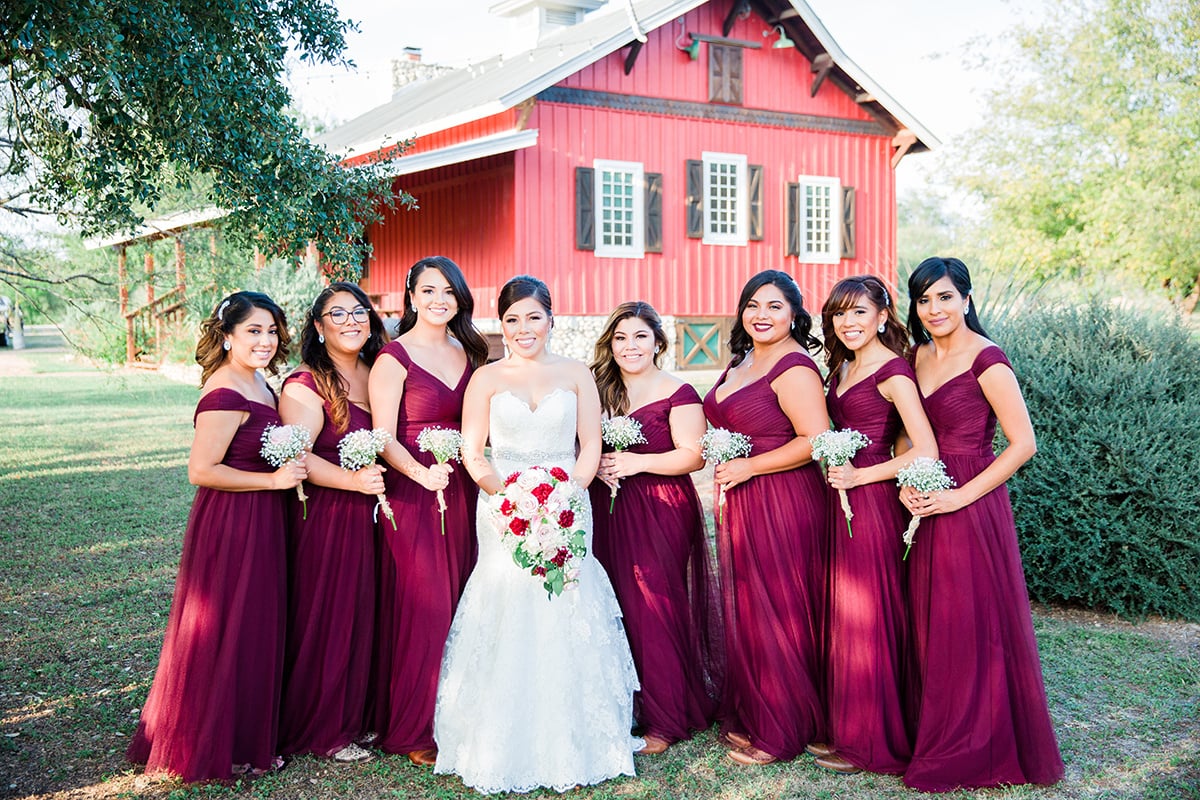 a bride and her best friends at Hofmann Ranch in san antonio, tx