When you hear the phrase "Vegas Wedding", you may picture an Elvis impersonator performing a ceremony for a couple that met that very day. Parents/relatives are not invited, the bride and groom may or may not be sober, and the whole thing is finished in ten minutes or less. However, the beauty of Las Vegas is that there is literally something for everyone. So, if you're looking for something a little more sophisticated, consider Las Vegas as you search for potential venue options. With locations like Stallion Mountain, Vegas weddings can be some of the most beautiful in the world.
***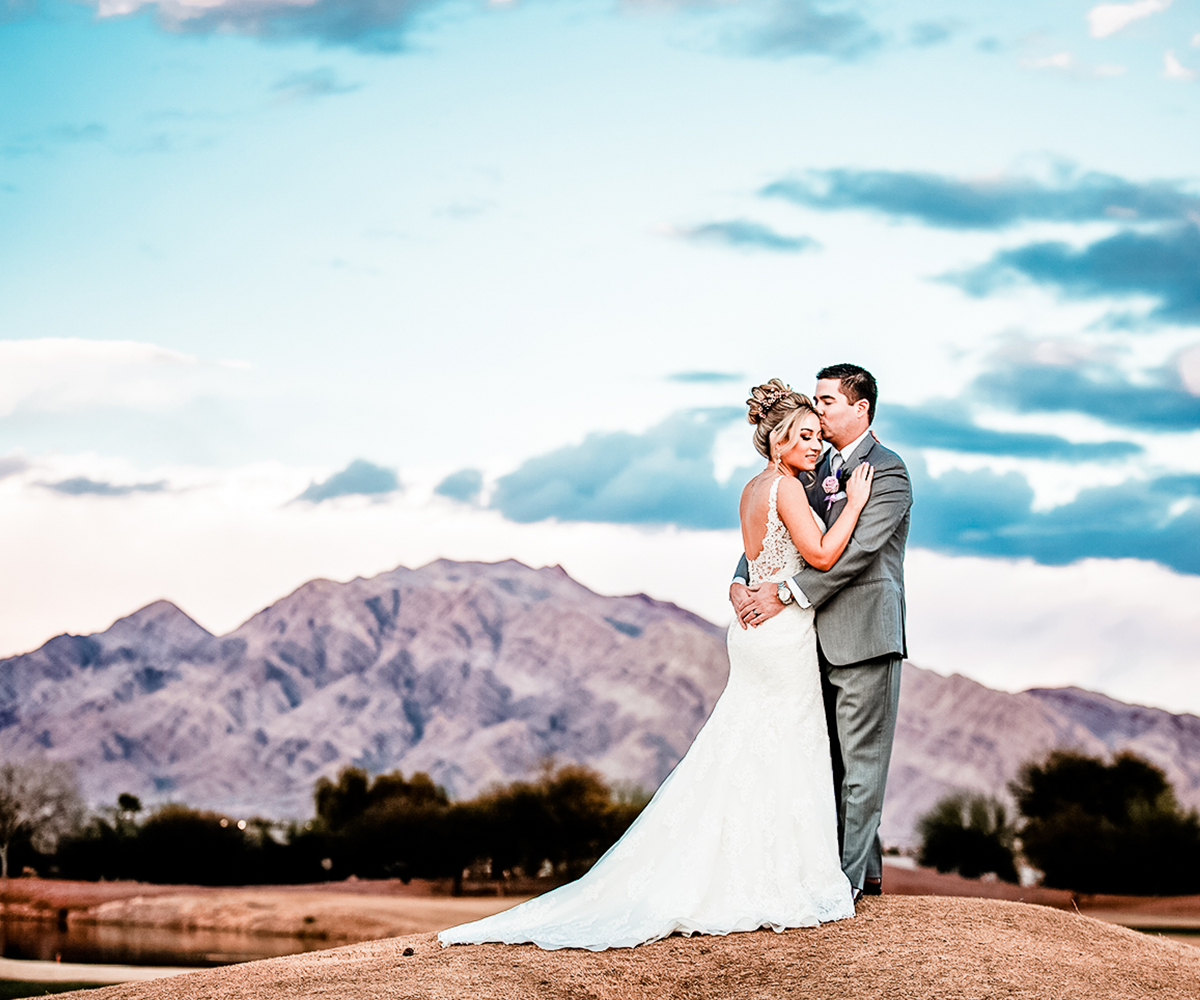 Plan a Classy Vegas Wedding with Wedgewood Weddings
There are several benefits to choosing Las Vegas as your wedding destination, but one that stands out is the immediate statement you make to your guests. They see "Las Vegas" on their save-the-date card, and they know that you think outside the box, dream big, and intend to create something truly unforgettable. After all, no other city on earth has managed to capture the majesty of the Statue of Liberty as well as the Great Pyramids of Egypt with such detail and accuracy. Your guests will know instantly that your wedding will truly be something special.
Is a Las Vegas wedding at Stallion Mountain starting to sound good to you? Wait until you find out more about the venue and about Wedgewood Weddings. We provide amazing wedding venues, while also including a whole wedding planning team in every package. That's how we know that it's more than possible to pull off an elegant and refined Vegas wedding that you will be proud to invite your grandparents to. We handle everything from the planning, to the DJ services, the centerpieces, food and beverages, and even the invitations and accessories. Here is everything you need to know about planning a classy Las Vegas wedding.
The Las Vegas Wedding Basics
According to ShouseLaw.com, getting married in Las Vegas is quick and easy. And while we do not specialize in "quickie weddings", when you're getting married out of state, you should be prepared with the basics to make sure your marriage is legal. In Nevada, you must be at least 18 years old, you cannot be nearer in kinship than second cousins, and you cannot have a living husband or wife. You can apply online for a marriage license in Clark County up to 60 days before the wedding, then pick up your Marriage License at the Las Vegas Marriage License Bureau. Once you complete these steps, head on over to your venue for the ceremony!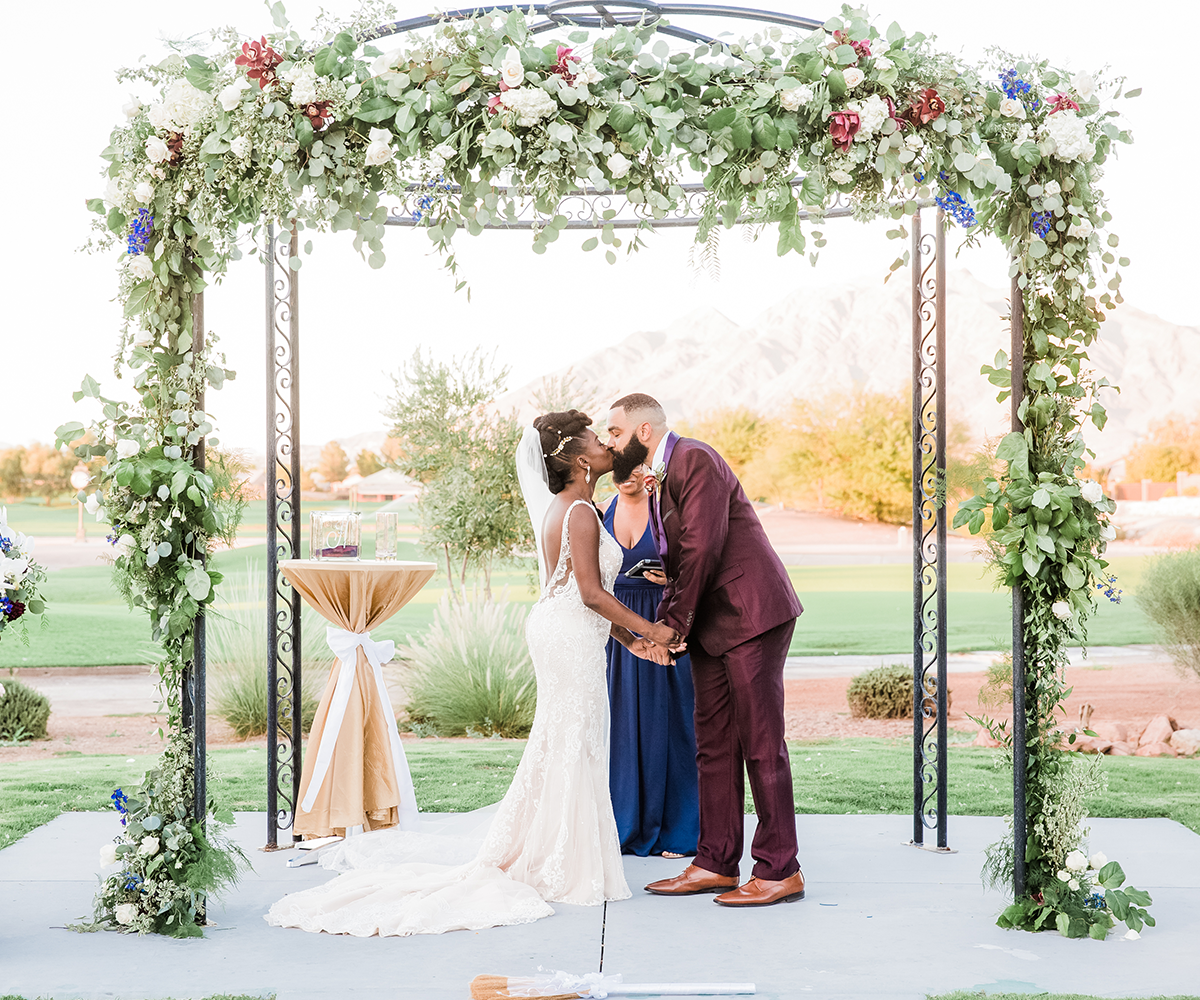 Enjoy BOUNTEOUS Sunshine
The Weather is on your side
Depending on the location, planning an outdoor wedding can be a huge risk. There almost always should be a "Plan B" in place in case of rain, wind, or even snow. However, Las Vegas is warm and sunny year-round, and the risk of rain is minimal. This means you can plan your wedding in the garden at Stallion Mountain and feel confident your guests will not get soaked or blown away. However, do keep in mind that desert temperatures can reach 100 degrees or more in the summer. Either way - with rain or heat - our team will make your wedding spectacular and comfortable.
Ideal weather conditions also give you more freedom when choosing your wedding attire. Brides and bridesmaids can go strapless without needing to steal a groomsman's tuxedo jacket to keep from shivering. Men can wear more breathable fabrics, like linen, and be totally comfortable in the Las Vegas dry climate. For added fun and spontaneity, you could even shop for your wedding attire here in Vegas! Las Vegas has some of the best shopping in the world with almost every brand, designer, and style represented. You're sure to find a dress or tux to fit any taste or budget.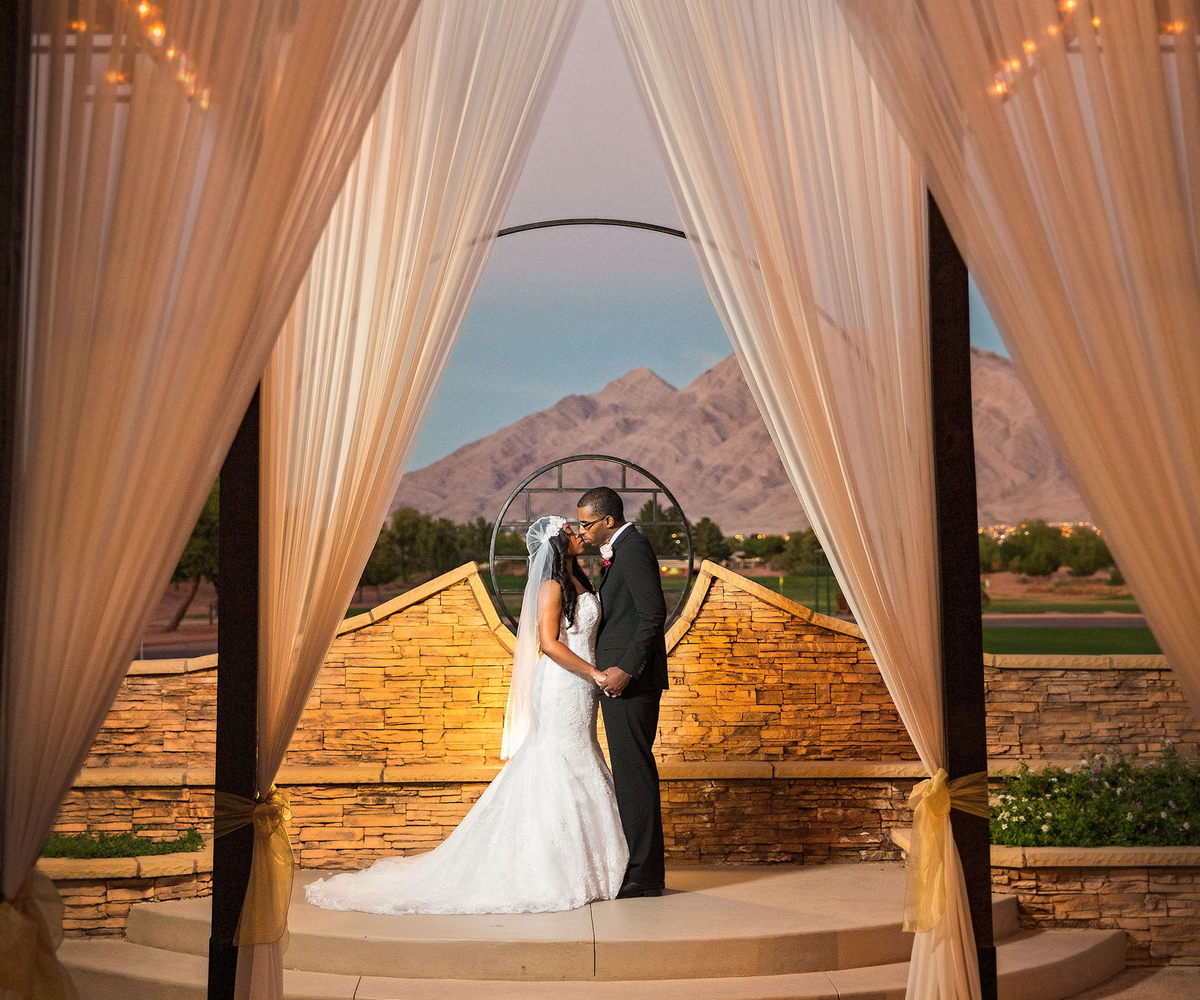 Stallion Mountain by Wedgewood Weddings
Select a Venue
If your goal is to stay away from tacky Vegas stereotypes and plan a classy wedding, selecting your venue is the most important decision you will make. Venue choice is incredibly important. Keep in mind, you need to choose your venue before selecting a date. And, while Vegas is famous for same-day weddings, at Wedgewood Weddings, we do not offer walk-in weddings because our venues are usually booked far in advance. So, if you want a classy Las Vegas wedding, plan ahead. However, if you get lucky and find a date that is available, we can plan a wedding in as little as 10 days!
While Las Vegas has hundreds of gorgeous venues, Stallion Mountain is, of course, the one we always recommend. With its rustic stone features and sophisticated styling, your guests will enjoy an atmosphere full of laid-back yet luxurious vibes. It is truly an oasis in the desert, and just a short drive from the strip! Stallion Mountain has the capacity to seat up to 250 guests for your ceremony on the gorgeous terrace, in the lush garden, or in our indoor chapel. Then, for the reception, you have your choice of stunning ballrooms.
Take Advantage of Our Expertise
Chances are, you aren't from Las Vegas. Even if you've visited the area many times before, Vegas is a place like none other and having a Vegas expert on your team is key. Because our wedding planners live and work here, we understand the logistical needs of the city, and boast reliable connections and relationships with vendors, so you're sure to get the best Las Vegas has to offer. Plus, vendors are often more willing to cut a wedding planner a deal because we are repeat customers, whereas couples usually are not (we hope!).
So, what does it mean to have a "Vegas expert" on your team? It means that your wedding planning team will know the best way to get grandma from the airport to the hotel. They'll know which casinos to send your rowdy uncles to in the days leading up to the wedding, where they can have just enough fun without losing their shirts. And they'll know which spa to recommend for you and your wedding party before your big day. That's right, you won't just be getting our extensive wedding expertise, you'll also get our Vegas expertise.
Finally, arguably the best way to remember your wedding is with your photos, but do you know the best places in Las Vegas to take them? No? We do! Stallion Mountain offers stunning backdrops for your ceremony pictures, but there are also hundreds of options for your pre- or post-wedding shots. Las Vegas offers everything from deserts, to urban murals, to the traditional glitz and glamour of the strip!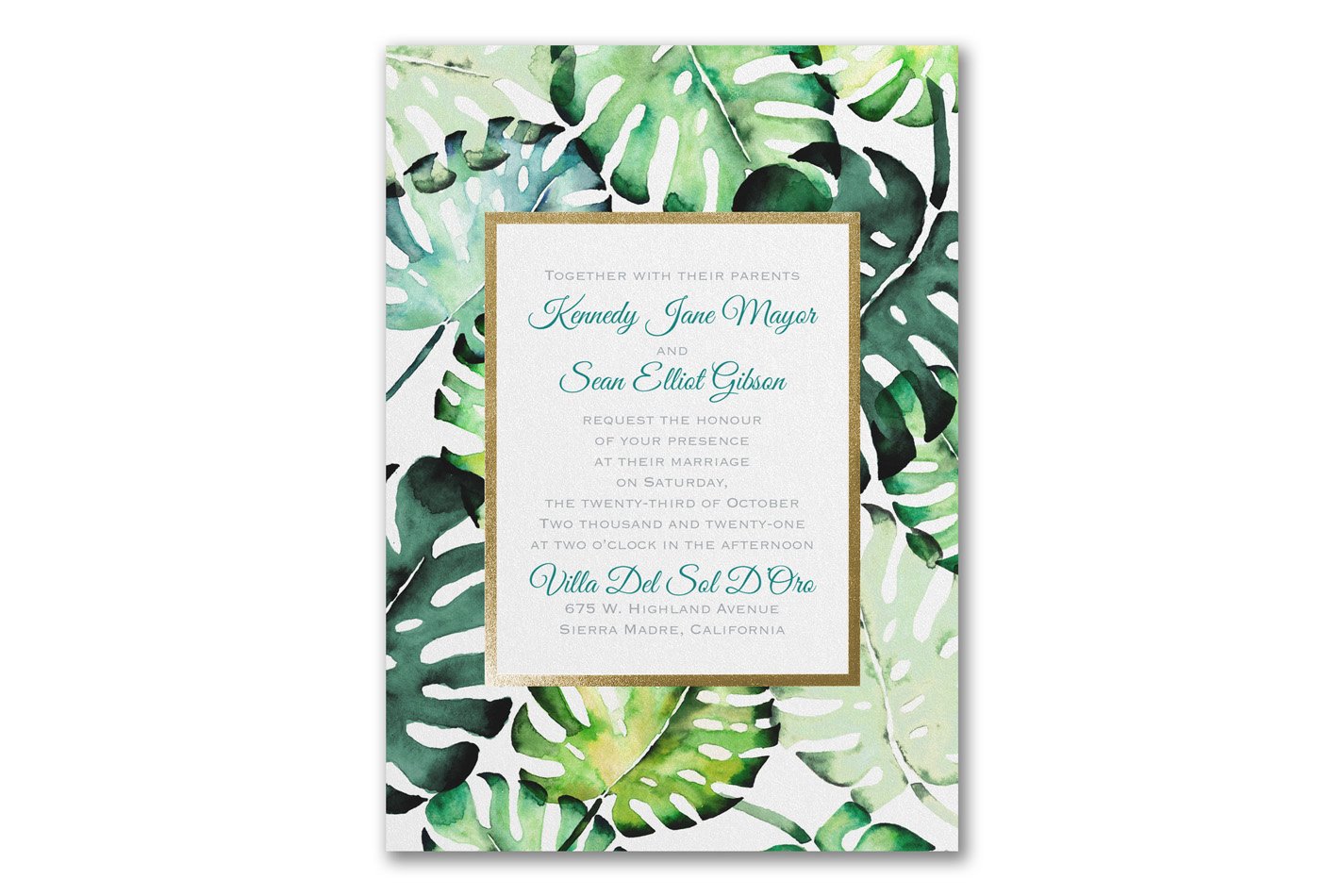 Use Invitations to Make A Classy Statement
Make A Classy Statement
Are a few of your family and friends likely to raise a judgmental eyebrow when they hear you're hosting your wedding in Las Vegas? Take this opportunity to show them just how elegant your wedding will be by starting with the details, like a beautifully designed invitation. Look for thicker papers with texture and unexpected elements that will immediately convey that your celebration is an upscale event. There is a lot you can do with invitations, so don't hold back. Consider design elements like letterpress, foil, painted edges, or custom art to show your guests the level of formality they can expect. And to really take it to the next level, add inner envelopes, calligraphy and embossing - your guests will be impressed!
A Vegas wedding is also a great opportunity to make a statement during the ceremony. It's almost as if choosing Vegas for the location of your wedding means you've thrown out the rule book, so take advantage! You and your spouse-to-be are free to design your wedding with an element of drama that may not have been appropriate in another location. We aren't saying you can't have a traditional wedding ceremony in Las Vegas, but be open to adding your own personal touch. We found a great list of unique wedding ceremony ideas at Brides.com and our personal favorites include: a pre-wedding cocktail hour, planning exciting pre-wedding activities (there are always events to enjoy in Vegas!) or adorning your guests with boutonnieres or fresh-flower hair clips.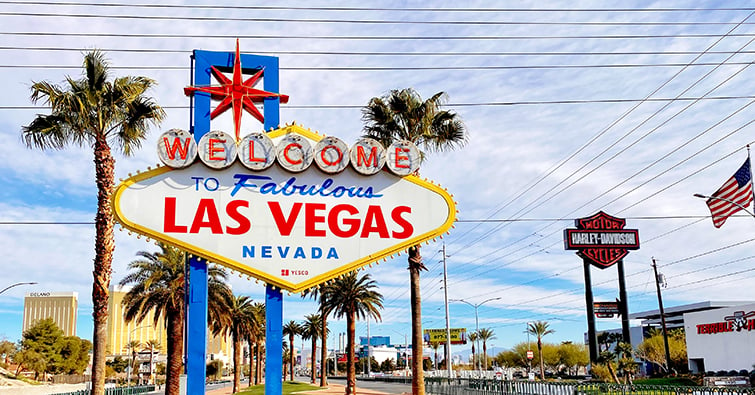 Las Vegas offers every type of entertainment
One-Stop Wedding Shop
Another wonderful thing about Las Vegas is it is the perfect spot for literally all your wedding festivities. Instead of hosting a wedding day, why not turn it into a wedding week? You can host your bachelor/bachelorette party, wedding, reception, and even honeymoon all in one exciting city.
But wait, you might be thinking, isn't a Vegas bachelor or bachelorette party the opposite of elegant? Not necessarily. Instead of going the bars and strip clubs route, consider all that Vegas has to offer and plan parties that match your personalities. Pamper yourself at one of the many luxurious day spas, like the Roman-style baths at Caesars Palace or the Sahara Suite at the Cosmopolitan. For the adrenaline seeker, plan a day of roller coasters, thrill rides, and other heart-pumping activities throughout the city. Bachelors could even zip line above Fremont street while bachelorettes skydive over the Las Vegas strip!
For your honeymoon, experience endless entertainment with iconic shows like the Blue Man Group or laugh yourselves silly while watching the line-up of world-renowned comedians and talk show hosts at the Mirage Hotel. Take a ride on the High Roller, the world's largest observation Ferris wheel, or a gondola ride at the Venetian Hotel. Looking for even more excitement? Go all out and take a short helicopter ride to the Grand Canyon. You aren't likely to forget this honeymoon anytime soon!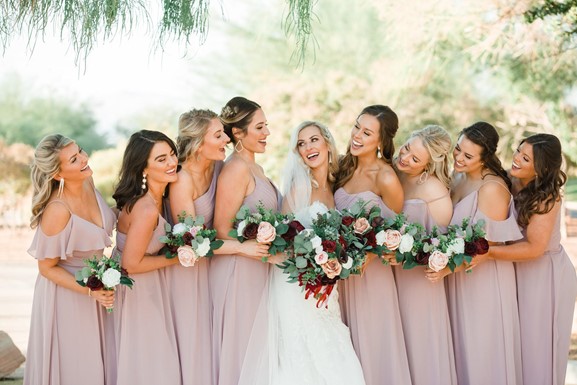 Family and Friends Will Love to Vacation in Las Vegas for Your Wedding
Bring the Family Together
Las Vegas offers something for everyone, making it a great place to bring the whole family together. If your family is spread out across the states, they will love the opportunity to vacation in Las Vegas while celebrating you and your big day. Because that's what a Las Vegas wedding is - a vacation! You won't be asking your relatives to fly across the country for just a few hours, they can enjoy a full Las Vegas vacation experience!
Stallion Mountain is located just a short drive away from the world-famous Vegas strip, so you and your guests can experience all that Las Vegas has to offer. Choose from hundreds of award-winning restaurants, world-renowned shows like Cirque du Soleil, and iconic entertainers. What could be a better way to make your wedding unforgettable than by seeing Britney Spears or Cher after the ceremony?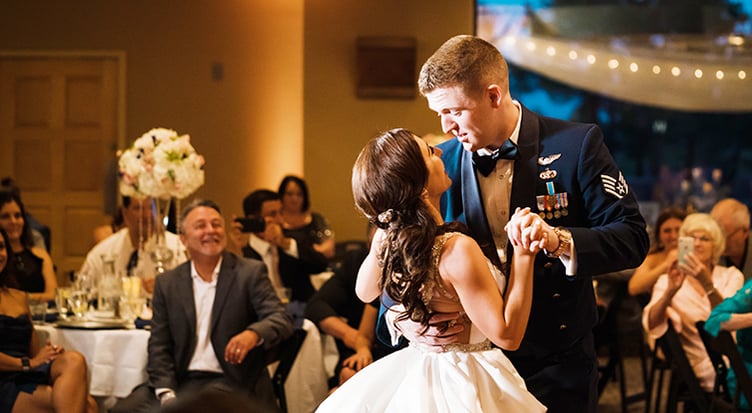 In Vegas, the Party Doesn't Have to End with the Reception
Splash Out With an After-Party
The beauty of a Las Vegas wedding is that the fun doesn't have to stop when the wedding is over. Your guests traveled all the way to Nevada to be with you on your big day so the classy thing to do is to show them the best time you can. The perfect way to do this is with an after-party. Treat your guests to a night out on the Vegas strip at one of the city's upscale nightclubs or lounges. Most couples agree that receptions fly by too quickly, so hosting an after-party is a great way to keep the night going, while giving you additional time to spend with your guests in a fun, festive environment.
The best part about planning the after-party is that traditional wedding etiquette isn't necessary. This means you can take a casual approach. The party doesn't really need to be included on your formal invitations unless you want it to be. Instead, you could include the details on your wedding website, or word-of-mouth is sometimes acceptable. However, because your Vegas wedding is likely a destination wedding, it would be polite to include the after-party details on the schedule of events you've provided for your guests.
Finally, when choosing a location for your after-party, keep your guests in mind. You'll hear lots of compliments and praise from your friends and family throughout your reception, so use the after-party to show your guests how much you appreciate them and the effort they made to celebrate you. Choose a nightclub or lounge where your guests can feel comfortable enough to keep the party going into the wee hours. Pro tip: if you're also hosting a brunch or leaving for your honeymoon the next morning, make sure you've got someone to give you a wakeup call, so you don't oversleep!



Create an after party to suit your guests
Our Wedgewood Weddings Difference
Stallion Mountain is a gorgeous wedding venue your guests will love, but that's not the only reason to choose it for your wedding. When you pick a Wedgewood Weddings venue, you're getting so much more than the perfect setting to say, "I do", you're also getting an entire team of people who will care about your wedding as much as you do. Because to us, you're not just another couple funneling through our venue, you're special and unique and deserve all the time and attention you need.
Are you now thinking, "Sounds great, but I can't afford it?" We understand that this luxurious wedding experience may seem out of reach, but choosing a Wedgewood Weddings venue will probably save you money. It's a common misconception that wedding planners won't stick to your budget, but really, your money is just as important to us as it is to you. Also, if we may be so bold, we might even be better at managing it than you are. We likely have more experience arranging a large event, and we know how to allocate your budget to get the most for bang for your buck.
In addition to caring about your budget, we are also up front about costs. This may surprise you, but it's actually rare in the wedding industry for wedding venues to offer transparent pricing. There are almost always added costs snuck into your bill at the end. However, at Wedgewood Weddings, the price we agree on is the price you'll pay. Every time.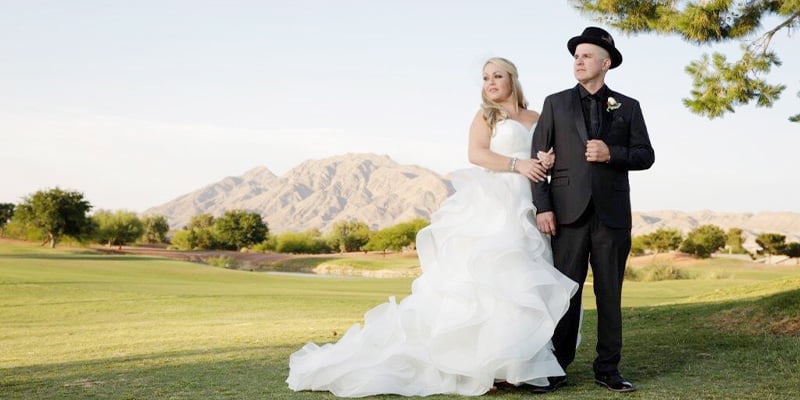 Meet Lindsey Paisano, ManAger of Our NEvadA Wedding Venue and Las Vegas Bride!
***
Now that you know a Vegas wedding doesn't have to include Elvis (unless you want it to), book a free venue tour and start planning your special day. Our team of wedding planners will be as hands-on or -off as you choose because, after all, it's your day and you do truly know what is best. Take advantage of having a team of experts who have hosted thousands of spectacular weddings. Call or text 866.966.3009 to book a venue tour at Stallion Mountain, or keep reading our blog for countless other resources to help you get planning!

***

Tour Stallion Mountain
Our free and fun venue tours give you everything you need.
An opportunity to explore (and see behind the scenes)
Answers to all your wedding-related questions
A detailed pricing proposal, based on your exact needs
No fluff honesty so you can shortcut wedding planning and get back to enjoying your engagement!