Jody DeSimone


Before every wedding, there's a love story. Here at Wedgewood Weddings, we spend so much time planning and executing spectacular, life-changing events that it's easy to get caught up in the commotion. At the end of the day, love is at the heart of why we do we we do, and reading love stories is one of our favorite past times. We hope this real love story from one of our own inspires you.
Young Love
At 29 years old, I had been in and out of many relationships. Sure, I had fallen in love, but every time made the time before seem like I had never loved before. You know the feeling.
I had been having a bit of a hard time, so a friend of mine invited me for a much needed night out. We went to an event hosted by some friends of ours at a local hot spot. There were dancers, music, local performers, and a wide array of different people. The night was loud, fun, and exotic to say the least. And end up changing my life forever more.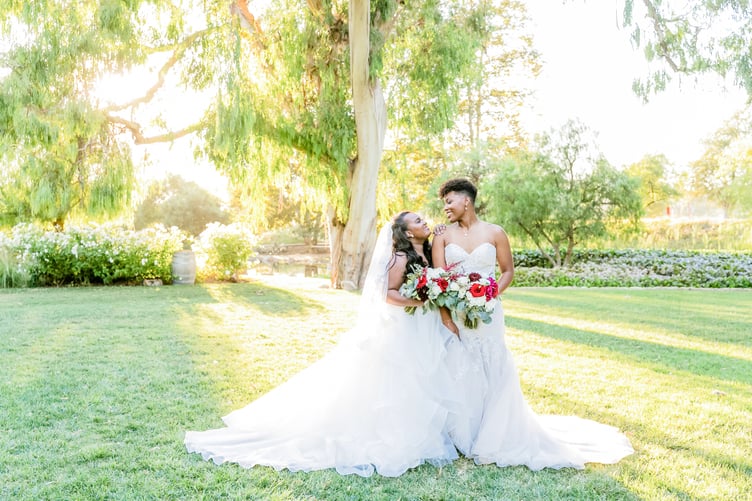 Galway Downs by Wedgewood Weddings
The Night We first met
When we arrived at the venue, there was a sea of people. The music was so loud it felt like my heart couldn't even beat to its own rhythm. Almost immediately, I told my friend I was going to step outside. She replied, "we just got here," with a smile on her face that sad I'm not letting you off the hook, and you're having fun tonight. But I was already overwhelmed. I'm not one to drink often, and a busy nightlife wasn't my norm. She walked up to the bar, ordered two drinks and ushered me toward the patio. It was at that moment that a woman walked by, ran her hand through her hair, and slowly looked up only to make direct eye contact with me for a brief moment.
Suddenly, the loud music was gone, the discomfort of a crowded room vanished. I was lost in someone else's gaze. I turned to my friend and said, "did you see her," and she replied, "Who? What? Show me, I'll go get her." I laughed and pushed my friend toward the patio. We sat outside long enough to enjoy a drink and catch up on life. My mind was racing about the woman I just saw. I had never been instantly taken by someone in this way. By the end of the drink, we made our way back into the venue. I didn't even look around for the woman because the place was so packed. It seemed like a fruitless effort, but my mind kept returning to sort out the rush of connection I had experienced!
The Love Story
A few hours later, my friend approached me and said "there's someone I want you to meet." I turned around to be introduced to one of her many acquaintances, only to be face-to-face with the woman that had stirred my soul. We shook hands and didn't let go, and we just looked at each other for what felt like a lifetime. Finally, I went to speak—and so did she—only to say the same exact thing to one another, "You're sooooo cute." Enter odd laughter, and a bit of giddy nervousness, and this love story was in full effect.
As fate would have it, she was from out of town and was supposed to be heading home in two days. We spent the rest of the evening getting to know one another, talking into the wee hours of early morning. We spent the next two days inseparable, trying to learn everything we could about one another. The farewell moment arrived sooner than either of us wanted it to, and I wasn't sure what would come next.
Just as she was finalizing plans for her trip home, I got a call from my family, letting me know my father was not doing well. I'll never regret what happened next. I looked up and asked, "would you like to extend your trip and come meet my family" to which she said "yes," and off we went on a road trip. The trip was surreal, but inevitably we both had to return to our lives in separate states. She went home, and we stayed in touch. It wasn't very easy to be apart. Less than one month later, she moved from California to Portland and our love continued to slowly grow.
the proposal
Less then a month later, she proposed to me and asked me to marry her. I was hesitant, not about the love I had for her or if it was marriage quality, but the time frame and society's take on our marriage. I said yes, but I also said, not now, not yet.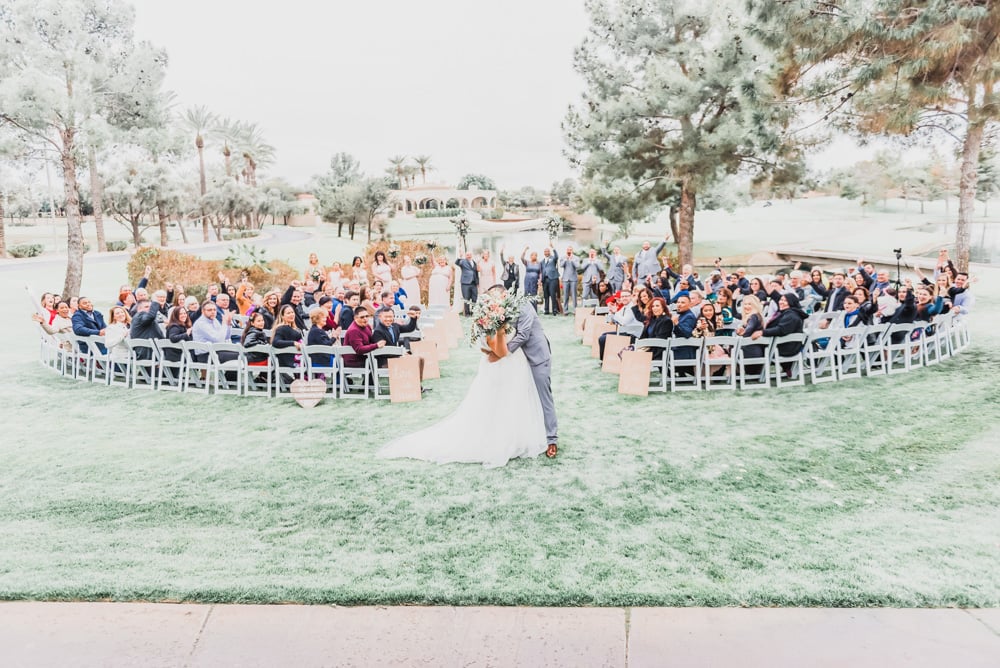 Ocotillo Oasis by Wedgewood Weddings
I could go into the details of the next eight-plus years, but I'll summarize most of it. We had all the amazing love experiences, excellent communication, tons of things in common, fun trips, lots of spontaneity, and a love that was very strong and undeniable.
Five years into the relationship, I finally proposed back to her, and we started the wedding planning process immediately. We made the guest list, the food selections, scheduled the wedding venue tours, all while getting pregnant. Our first child was on his way, and we were knee-deep in details and decisions.
Our love was this beautiful experience stronger than any relationship I had ever had. It rivaled that of my family bonds, best friend connections, and it was incomparable to anything I had ever known. She was my match, my secret keeper, my safe place, and most importantly . . . my home. We got married, had a beautiful wedding ceremony and planned our honeymoon. We planned a cruise to Mexico when our son would be at least two years old.
Our Life
Our life has been a storybook tale, the type that makes people daydream about the potential of love. Marriage solidified that, the child bonded us eternally, and our commitment as a couple solidified our longevity. For some people when it comes to love and marriage: when you know you know. We're blissfully happy and parent beautifully together. We share a love that was blessed through marriage and ceremony sprinkled with a dash of truth, communication, and patience.
***