Deidre Drewes



While the concept of exchanging wedding vows can be traced back as far as Ancient Rome, the actual traditions surrounding the exchange of vows have adapted over the years. If you're searching for an extra-special way to express your love on your wedding day, your vows are a great place to start! Create a unique and cherished wedding ceremony experience by saying 'I do' to some of our favorite new wedding vow trends.
Writing Your Own Vows
The practice of writing your own bespoke wedding vows is a trend that is here to stay. One of the advantages of writing your own vows is that there aren't many rules. You can write anything you want about why you fell in love with your significant other followed by a promise to love them. Some couples choose to include their favorite movie quotes, book references, or anecdotes about how they met. In the end, what's most important is that the wedding vows are heartfelt.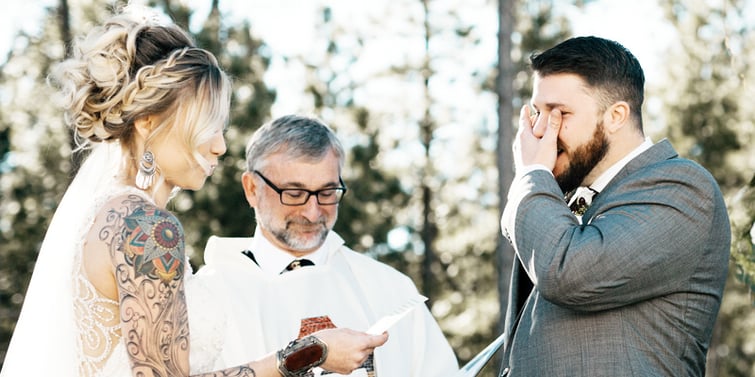 A couple exchanges bespoke wedding vows at Black Forest, CO
Framing Your Vows
If you've opted to write your own vows, a beautiful way to commemorate your special day is by framing and displaying your vows. Bonus points if your vows are handwritten! If you have a digital version of your vows available, there are a variety of services online (Minted do a great job) that will print the text as beautiful artwork. For years to come, your framed rows will stand as a reminder of the earnest promise you and your spouse made on your wedding day.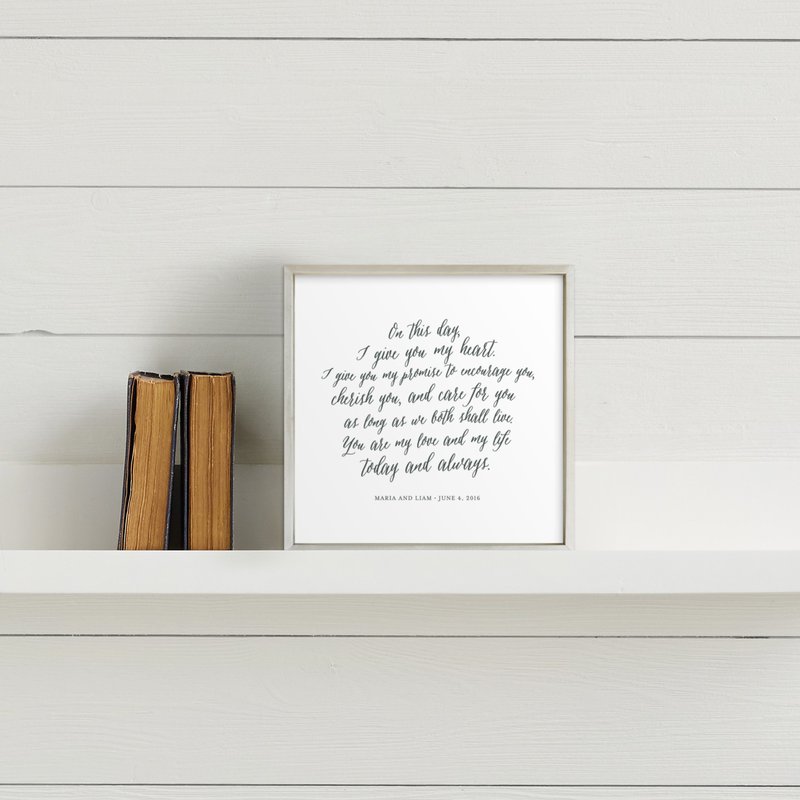 Using a Wedding Vow Book or Journal
A keepsake wedding vow book or journal is another timeless way to preserve your vows for years to come. Whether you opt for leather-bound his and hers vow books or store your vows together in a singular wedding journal, you will have easy access to this cherished document at any point in time.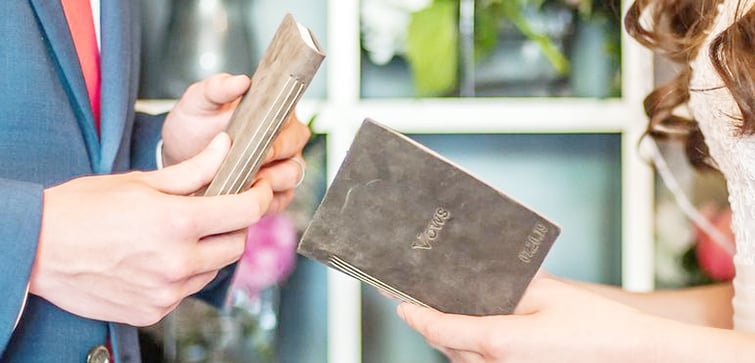 Having a Friend Officiate
Many couples are opting to forego a traditional faith-based officiant (pastor, rabbi, etc.) and instead invite friends to officiate their weddings. One of the advantages of this wedding trend is that the officiant will have background on the couple - making the ceremony and vow exchange even more personal.
In many states, only a notary public or an ordained minister can officiate a wedding. Online ordination services are generally quick and affordable, so your officiant can become ordained prior to your ceremony. Your Wedgewood Weddings team can provide you with guidance on who can legally officiate a wedding in your state.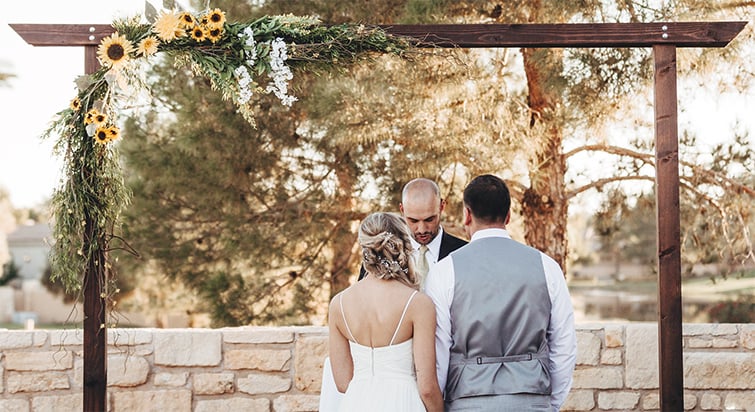 A bride & Groom exchange vows in front of their officiant at Ocotillo Oasis, AZ
Private Vow Exchange
The latest wedding vow trend we love is the concept of a private vow exchange. Couples are increasingly choosing to exchange vows in front of only close friends and family in lieu of a traditional ceremony in front of wedding guests. The result is a more intimate affair with vows exchanged in front of your closest family and friends - think: parents, siblings, and your bridal party. A private vow exchange, just like a traditional ceremony, can be immediately followed by a larger wedding reception. Similarly, guests can enjoy a cocktail hour and hors d'oeuvres while your photography captures portraits of the wedding party.
This private vow exchange is often referred to as a minimony (mini-ceremony) and is ideal for couples who feel extra-nervous about standing up in front of a crowd. To make reception guests feel included, you can work with a friendly videographer who can show highlights during your grand reception!
***
Interested in adding a unique touch to your wedding vows? Ask your Wedgewood Weddings team for fun and heartfelt ideas to customize your vows and ceremony.