We have superb cocktail spaces at all our venues! And, we're here to help you make the most of them whether you choose an indoor or outdoor experience. Arrange the space for a formal summer party, shabby chic gab-session, or a highclass gala! Cocktail hour is traditionally the time between your ceremony and reception when your guests have a chance to catch up - as many likely haven't seen each other for a good while. These are generally informal to allow for plenty of mingling but the style and format is up to you.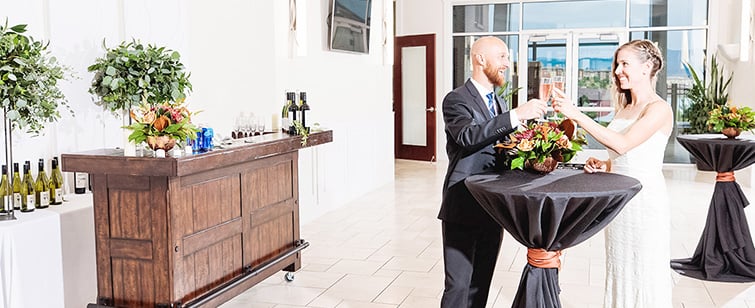 raise a glass after your big I DO Moment!
Whether your wedding is scheduled for winter, spring, summer, or fall, you want your guests refreshed and having fun. A signature cocktail is a great way to add extra joy! People say that your signature cocktails can your wedding's tone alongside the décor, music, and food. Your guests will be mingling in their best attire, beneath twinkling lights and floral arrangements, sipping on a cocktail inspired by you and your wedding theme.
You have thousands of choices. If you like dark liquor consider an Old Fashioned, Dark and Stormy, or a Zombie. For fruity tastes, a Mai Tai, Cosmopolitan, or Hurricane will keep your tastebuds happy. Keeping it classic with a Martini or Manhattan is always a good option too.
Our team can create the perfect pair of cocktails for your event. If you love tequila but your spouse is more into rum, combine your tastes with a cocktail made for each of you, then give your signature drinks a fun name.
Alternatively, we love it when couples go for a full cocktail-inspired moment like adding a Mimosa station or build your own Bloody Mary experience. Go wild with a bourbon or Añejo tasting…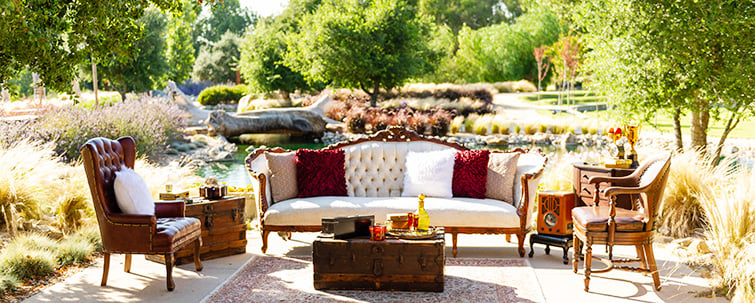 Retro cocktail lounge in the sunshine at Galway Downs, CA
cocktail hour advice
Thinking about ways to fancify your wedding day cocktails for you and your guests? Here's how you can toast to a long, happy marriage with delicious cocktails and mocktails guaranteed to be a hit on your big day.
Harmonize your signature drinks with your wedding colors!

Personalize your favorite cocktail like a vodka cranberry, whisky sour, or other popular drinks to go with your theme!
Our favorite cocktail nicknames are love potion, I do brew, blushing bride, grinning groom... or go fun by introducing your pet's names (or even your pet names - is this the way your guests find out you call each other Peanut and Snoopy?)

Check with our team to ensure all ingredients are included in your bar package and let us know in advance if you would like extra special garnishes. Keep it simple. You want your guests having fun and enjoying your special day! If you want our bartenders to show off their Tom Cruise juggling skills behind the bar then pair your signature cocktail with a prepared drink we can pour on demand.

A cocktail party needs ice! So much ice. Did you know that we stock at least 1lb of ice per guest? We make sure every drink is served at the perfect temperature.

You signature cocktails can (and probably should) be served in different shaped glasses. We have a wide variety available so that your martini is served in a martini glass, you can go rustic with a mason jar for your mule, or serve your margarita on the rocks if a distinctive wide and tall margarita glass doesn't suit your theme.

Providing soft drinks and nibbles alongside alcohol is always a good idea.



| | |
| --- | --- |
| | |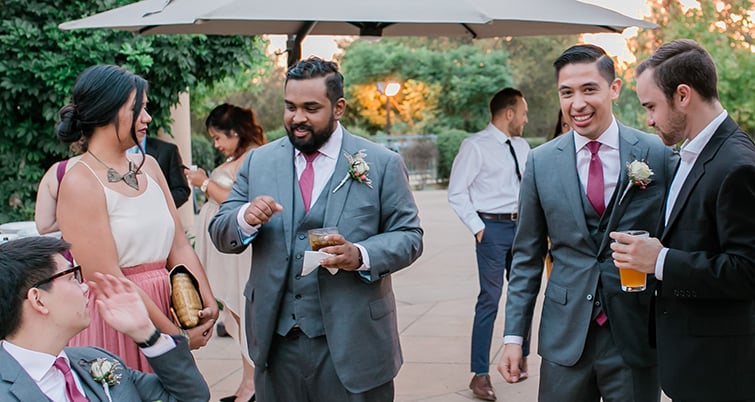 Provide cocktails, mocktails and standards like wine and beer to put your guests at ease
five Cocktail Recipes WE KNOW you'll Love
Spring is in the air
Bombay Sapphire Gin

St. Germain French Elderflower Liqueur

Amber Martini

Orange blossom bitters

Basil or basil flower for garnish
Directions: Combine all ingredients in a rocks glass with a single jumbo ice cube.
***
Summer Bellini
2 oz Seagram's Peach Vodka

1 oz pineapple juice

1 oz lime juice

Sparkling wine, to top
Directions: Add all ingredients except sparkling wine into a cocktail shaker with ice. Shake hard to chill and combine ingredients. Strain into your glass. Top with sparkling wine. Garnish and enjoy.
***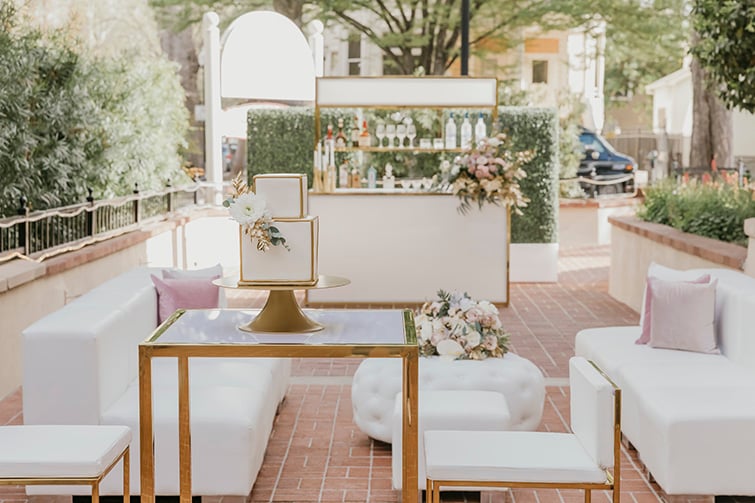 Blackberry Whiskey Lemonade
Blackberry simple syrup
Lemon juice
Your favorite whiskey (we love a rich, spicy bourbon here!)
Fresh rosemary
Tonic water
Directions: Combine ingredients, shake with ice, and serve over crushed ice
***
Bourbon Sweet Tea
bourbon
peach preserves
fresh lemon juice
Dash of Aperol
Sweet tea, to top
Sprig of thyme and lemon round to garnish
Directions: Mix the bourbon, peach preserves, Aperol, and lemon juice over ice and shake. Top with a generous amount of sweet tea and garnish with fresh thyme and a lemon round.
***
Strawberry Mule
Strawberries
Fresh lime
Basil
Vodka
Ginger Beer
Directions: Muddle fresh strawberries, lime wedges, and basil in a copper mule mug. Top with ice, vodka, and ginger beer. Garnish with strawberries, lime wedge, and basil leaves.
***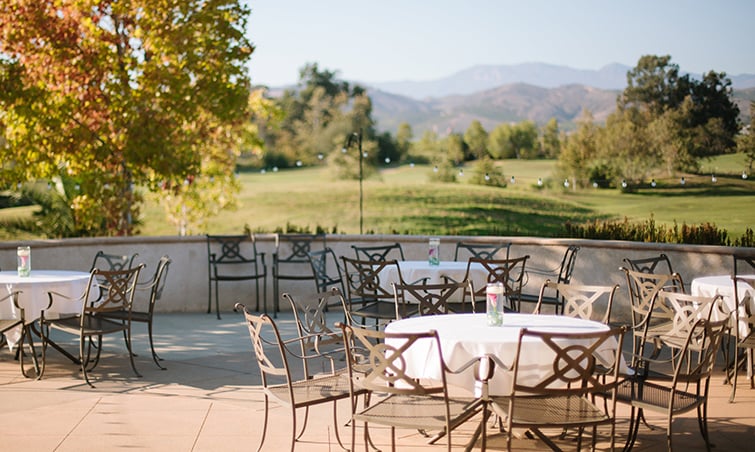 Understated calm at sterling hills in Camarillo where the exquisite view draws the eye
Cocktail Hour Appetizers
Augment your signature cocktail selection with finger food served at hors d'oeuvres stations or pass by a server. Chips and dips are a great option for a relaxed party or step it up with our chilled or hot appetizer options. Here are a few of our favorites:
Mac & Cheese Panko Croquettes

Spicy Jamaican Jerk Chicken Skewers

Bacon Wrapped Wild Scallops

Brie & Apple Phyllo Kisses

Array of Fresh Sliced Fruit with Honey Yogurt Dip

Ahi Tuna Sashimi Wontons with Wasabi Cream

Fresh Mozzarella & Grape Tomato Caprese Skewer

Mini Shrimp Tostada
Your cocktail hour is a chance for guests to mix and mingle while sipping cocktails and sampling light bites. The cocktail hour also sets the tone for the reception while feeling relaxed and laid-back. Add in some cool tunes, a string quartet, or some golden oldies and the cocktail hour will be fun for all ages. This is also the perfect opportunity for your photographer to grab candid shots of your friends or formal portraits of you two with your family.