While we don't expect traditional wedding rings to fade away anytime soon, there are several fun alternative ring options beyond diamond and gold bands. One such option is a wedding ring tattoo, which is a great way to showcase your love forever. Ring finger tattoos come with quite a few benefits, too. They are generally lower cost than traditional wedding rings, you can never lose them, and you can fully customize them to fit your unique personality.
Whether you opt for a classic ring tattoo design or micro tattoo that symbolizes your love, there are endless ways to commemorate your love in ink. If you are considering wedding finger tattoos, we are here to help. Below, we will break down the pros and cons of wedding ring tattoos and show you some tattoo designs to inspire your creative side.
Pros and Cons of Getting Ring Tattoos
Before you commit to a wedding ring tattoo, there are some important considerations. After all, a tattoo is [almost] permanent.
Pros of Wedding Ring Tattoos
There are many benefits to having a wedding ring tattoo, like:
You can't lose a tattoo. This is an important factor for those who are consistently losing their car keys, toothbrush, or jewelry.

You'll be able to wear it all the time, no matter what you're doing. Many professions — such as construction, healthcare, and manufacturing — make it dangerous or impossible to wear your wedding ring while you work. The beauty of a tattoo is that you can always wear it.

It's more affordable. According to the Brides' American Wedding Study, couples spent an average of $3,756 on engagement rings in 2020. Depending on the tattoo design and artist, you could spend about $50-$300.

It's a truly unique expression of your love. No two tattoos are alike, and while this idea is trendy, it's still a stylish way to show off your love

You can still wear a ring whenever you'd like. You can wear your engagement ring over your tattoo on special occasions or whenever you like. A tattoo ring offers you the flexibility that you don't get with a traditional ring.
Cons of Wedding Ring Tattoos
There are some cons of ring tattoos to consider, like:
The ink could blur or blow out. Ring finger tattoos are an art, not a science — and it's always a risk that the tattoo might not turn out the way you imagine. How your skin reacts to tattoo ink is highly individual, so we recommend getting a tattoo elsewhere before committing to a wedding ring tattoo. We also recommend going with an artist who has experience with wedding ring tattoos and a portfolio to prove it. Be sure to check out a prospective artist's work beforehand to see if their style is something you like. An inexperienced artist may create blowouts and blurs, so it is better to find someone experienced.
It will fade, as will any tattoo. Tattoos on hands and other exposed body parts fade faster due to sun exposure and other elements. The good news is you can always get it touched up.
Tattoos can hurt. Hand and finger tattoos can be more painful for some. This is because fingers have less fat, making the process more painful.
Tattoos are difficult to fix if you do not like the design. The best thing to do is explore wedding ring tattoo ideas early on. When you've found an idea you like, wait a while. Schedule your appointment a few months away. If you still love the idea as your appointment approaches, you will likely love the tattoo for years to come.
Tattoos take time to heal. Schedule your appointment about a month before the big day if you want to show it off then.

How to Prep for Wedding Ring Tattoos
As mentioned above, getting a ring finger tattoo can hurt more than other tattoos. But you can make the tattoo appointment less painful. Here is how you can prep for your appointment.
Get inspired. Check out our list below to find a ring tattoo that fits your style and vibe. When you find one you like, talk about it with your future spouse to see what they think. Then think about it for a few weeks or a month. If you still want it, then you have found your tattoo design. If you're going to be extra sure, schedule your consultation appointment a few months away so you have time to mull it over. When the appointment date approaches, you'll know if you still want the design.

Look at tattoo portfolios. All tattoo artists have a portfolio either online or in their shop. Browse through them and take note of artists you like. Be sure to check out artists who have done finger tattoos and know how to do them well.

Schedule a consultation. Bring your tattoo design and any questions you may have. While talking with your prospective artist, note how you are feeling. Do they make you calm? Or more nervous? Ask about the aftercare process and what products they recommend.

Ask about numbing cream. Your artist should give you all the information, including their recommended brands.

Schedule your appointment a month before the wedding. This will give the tattoo plenty of time to heal, so it will look its best. This also helps the tattoo look best in your wedding photos.

Avoid alcohol. Don't drink too much the night before or right before your appointment. If you and your future spouse arrive tipsy, your artist may cancel the appointment on the spot. It's never a good idea to get tattooed while tipsy since it could affect several different elements of the tattoo process.

Get a good night's sleep. Poor sleep can lead to more nervousness and anxiety during the appointment. The more anxiety you have could lead to feeling more pain during tattooing.

Eat a protein-rich meal beforehand. Getting tattooed while hungry or thirsty could make the experience more painful. That is why many artists recommend having a protein-rich meal and drinking plenty of water beforehand. Bring snacks, and a sports drink if you think the appointment will run a little long. Also, try to eat a well-balanced diet. Being low on vitamins could make you feel ill, which is not something you want during a tattoo appointment.
Get Inspired by These 30 Wedding Ring Tattoo Ideas
Now that we've gone over the important information about wedding ring tattoos, it's time to get inspired. These ideas are just one of many of the new wedding trends we're seeing in the industry. Below are 30 ring tattoos to consider. See which ring could be your tattooed bling.
Wedding Date Ring Tattoos
Tattooing an important date on your ring finger is a sentimental way to show your commitment to your significant other. The date can be that of your wedding, your first date, the day you met, or any other special moment in your relationship.
Mr. and Mrs. Ring Tattoos
The playful Mr. and Mrs. tattoos are a sweet way to celebrate your significant other. Consider choosing a beautiful script font for your new ink. We love seeing this tattoo ring on the inside of the ring finger.
Symbolic Ring Tattoo
Choosing a symbol for your wedding ring tattoo is fun to celebrate a shared interest between yourself and your partner. For example, if you are a self-professed foodie, fork and knife tattoos are a unique option. You could even choose a drink you had on your first date.
Tree Ring Tattoos
If you love nature and find it special between you and your future spouse, a simple line of trees could be the perfect tattoo. Add a line under the trees for definition, and you have some indelible ink.
Understated Line Ring Tattoos
Simple and sweet, an understated line tattoo ring is the perfect option for the minimalist couple. This modest tattoo ring is an elegant way to honor your new bride or groom.
Initials Ring Tattoos
Another way to have some fun with fonts is with an initial tattoo ring. Select a typeface (or typefaces) you adore and tattoo your significant other's initials on your ring finger. You can opt for both the first and last initial or just the first initial.
Infinity Ring Tattoos
What better way to express your undying love than with an infinity tattoo ring. Add a personal touch to your infinity ring tattoo by including your loved one's initials or your wedding date in the design.
Meaningful Words Ring Tattoos
Is there a word or little phrase that means a lot to you? It could be any word or phrase you like. For instance, if you are a Star Wars fan, you could have the words "I love you" on your finger, and your partner could have "I know" tattooed on their ring finger. It was a great moment between Princess Leia and Han Solo that could embody your most significant moment: your marriage.
Full Name Ring Tattoos
Initials are great, but if you want to go big, you could choose to put each other's names on your ring fingers. You can opt for just the name or add a simple line connecting the last and first letters for the wedding band. With all the font choices your tattoo could have, there are endless options.
Floral Ring Tattoos
This one is for flower lovers. You could opt to put each other's favorite flower on your ring finger or a flower that means a lot to you. Fans of the movie Beauty and the Beast will love to look down at their finger and see a rose.
Sun and Moon Ring Tattoos
If you both love looking at the sky, you'll love the sun and moon on your finger. You could have both on your finger. Or, you could have the moon and your partner the sun, and vice versa. It's a sweet way to say they are the moon to your sun.
Astrological Sign Ring Tattoos
Some say their path to love is written in the stars. An astrological sign wedding ring tattoo could be for you if this sounds like you. You could swap signs or have both yours and your partners on your finger to show you were meant to be.
Roman Numerals Ring Tattoos
Consider roman numerals if you're interested in getting a date tattooed on your ring finger but want to get creative.
Freehand Ring Tattoos
Tattoo artists love doing freehand work. They get to be creative, show off what they can do, and often give you their best work. So why not consider freehand tattoos? You'll get a tattoo that shows off your love and show off some of the best work your artist can do.
Matching Anchor Ring Tattoos
Is your future spouse your anchor to the world? An anchor tattoo will be a fun way to show you and your partner are anchored together for life.
Soundwave Ring Tattoos
Have you ever recorded your voice with a computer or phone app? It's always neat to see the visual representation of your recorded sounds. So why not record you and your spouse saying, "I love you," or, "I do." Then you screenshot the soundwave and have that tattooed on your ring finger. It's a unique way to show off your love. Because everyone says those beautiful words differently, your soundwave can't be duplicated.
Celtic Knot Ring Tattoos
Celebrate your marriage and love of all things Celtic with a Celtic knot ring. A Celtic knot has no beginning or end since it symbolizes undying loyalty. This could be a great way to show off your Celtic roots and the never-ending love of your partner.
Claddagh Ring Tattoos
If you love the classic Claddagh ring, why not tattoo it on your ring finger? Like the Celtic knot ring, this ring shows that you're forever loyal and will do anything for your partner. Also, like the Celtic ring, it's a neat way to show off your love.
Shaded Hearts Ring Tattoos
Anyone who's a fan of classic video games will recognize a shaded heart. In most games, it means that your character needed some health points. But in a wedding ring tattoo, you and your partner are coming together to create a pure and whole love. Together you can face anything because you have each other.
Simple Dots Ring Tattoos
If you enjoy minimalistic art, a simple dot tattoo could be for you. It can be red, black, or any color you'd like. You can pair it with a line for the band or just have the dot. The beauty of tattoos like this is that they take less time to complete and heal fast, too.
Never Ending Ring Tattoos
Do you feel like your love is never-ending? Then why not get a never-ending tattoo on your ring finger. These tattoos are like the infinity symbol in that they are single lines without breaks but can have many loops. It's a creative tattoo that gives you the freedom to add little touches like dates or letters. Or they can be more minimal if that's your vibe.
Yin and Yang Ring Tattoos
Are you the yin to your partner's yang? Then a yin and yang tattoo might be exactly what you are looking for. It's a classic image that shows you are great together, complement each other well, and always work with each other.
Beach and Ocean Inspired Ring Tattoos
Did you and your partner enjoy romantic dates by the ocean? What about a moonlit walk? Or maybe you had a relaxing beach day with drinks. Why not commemorate that with a beach or ocean tattoo? You can choose a ring of waves going around your finger. Or maybe a tiny shell or some beach glass where the diamond might be.
Ancient Ankh Ring Tattoos
People who enjoy ancient history know that this symbol means life. A great way to symbolize a joining of lives than an ankh ring tattoo. It's a beautiful way to show that your life is about to change for the better.
Movie Inspired Ring Tattoos
Is there a movie that means a lot to you and your future spouse? Maybe it's one you saw on a date or a relaxing night in. Why not get a symbol from that movie as your wedding ring tattoo? It's a great way to honor the times you've had together and will continue to have for life.
Oval Ring Tattoos
You will love an oval wedding ring tattoo if you love oval-shaped rings. You could get it plain with just the oval or shade it to give the tattoo depth.
Planet Inspired Ring Tattoos
Nothing says you mean the world to me more than a planet-inspired wedding ring tattoo. You can choose the classic Earth or Saturn for a tattoo that's truly out of this world.
Diamond Inspired Ring Tattoos
One way to ensure you'll never lose your diamond ring is to tattoo it on your ring finger. You can opt to have just the diamond itself or have a simple band to go with it. It's a new twist on a classic ring.
Chess Inspired Ring Tattoos
Chess fans will love getting a king or queen piece tattooed on their ring finger. It's an elegant symbol of love that will last forever.
Heartbeat Ring Tattoos
One way to show that you have each other's hearts is to have each other's heartbeats tattooed on your ring finger. It is a minimal way to show maximum love.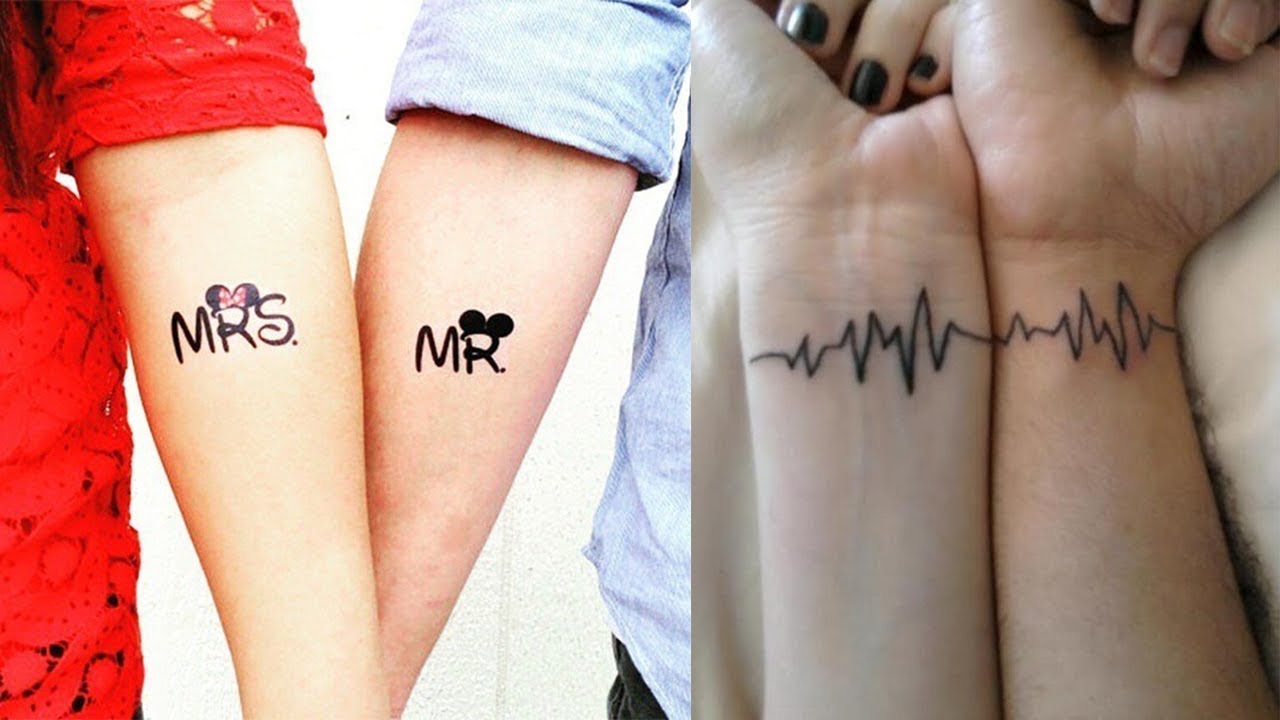 Plan the Wedding You've Always Wanted
Wedding ring tattoos aren't the only thing that can last forever. The memory of your perfect wedding will last forever too. Contact Wedgewood Weddings today to get started on your most special wedding journey.
***
Frequently Asked Questions About Ring Tattoos
Choosing a wedding ring is a fun process. If you're considering a wedding tattoo or an initial ring tattoo, you might have some questions. Here are some frequently asked questions and answers.
How Much are Wedding Ring Tattoos?
The cost of ring finger tattoos depends on the design. The simpler the design, the less expensive it will be. The general cost could be anywhere from $50-$300 or go as high as $2,000 if you choose an intricate design. The price also goes up if you select a famous and experienced artist well known in the field. Browse around to find the right fit for your design, and allow yourself some flexibility with your budget to choose an artist who can bring your vision to life.
Does a Wedding Ring Tattoo Hurt?
All tattoos hurt. Tattoo placement does affect how much it will hurt. For instance, getting a tattoo on the forearm tends to hurt less than other areas, like the ribcage. The main reason ribcage tattoos hurt more is also the main reason wedding ring finger tattoos hurt: they are in areas where there is less body fat and right over bone. Even so, most ring tattoos are not going to take too long. Depending on the design, you could be in the chair for about an hour or less. So, think of it this way: one hour of pain or less of pain to showcase your love.
If you are still concerned about pain, there are some things you can do to help.
Get a good night's rest. Poor sleep the night before will increase the chances of anxiety. Anxiety is normal around tattoos, but too much will make them more painful than they need to be.

Eat a high-protein meal beforehand and have lots of healthy snacks if you get hungry during the appointment. Also, drink plenty of water and consider bringing a sports drink for the appointment. Being properly hydrated will make the appointment go better. Also, having a sports drink can help replenish electrolytes and may make you feel better.

Eat veggies and fruits loaded with vitamins. Being low on vitamins could make you feel ill, something you don't want during a tattoo appointment.

Don't drink alcohol before or during the appointment. You risk your tattoo artist turning you away, increased pain, and making the tattoo harder to apply.
***

Should a Ring Tattoo Go all the Way Around?
This is up to you, it does not have to go all the way around your finger if you don't want it to. If you're undecided, good talk to your artist and see what they suggest.
How Long Do Wedding Ring Tattoos Last?
Just like all tattoos hurt, all tattoos fade over time. Washing and sun exposure affect your hands more than other areas of the body. This could mean a wedding ring tattoo could fade faster than other tattoos. However, you can get them touched up. If you choose an artist who has done these types of tattoos before, they should give an idea of the longevity. The best thing to ensure ring finger tattoo longevity is to follow the after-care instructions your tattoo artist gives you and always wear sunscreen over your tattoo.
***
What better way to symbolize forever love than with a truly forever wedding ring tattoo? Whether you opt for a classic ring tattoo design or micro tattoo that symbolizes your love, there are endless ways to commemorate your love in ink.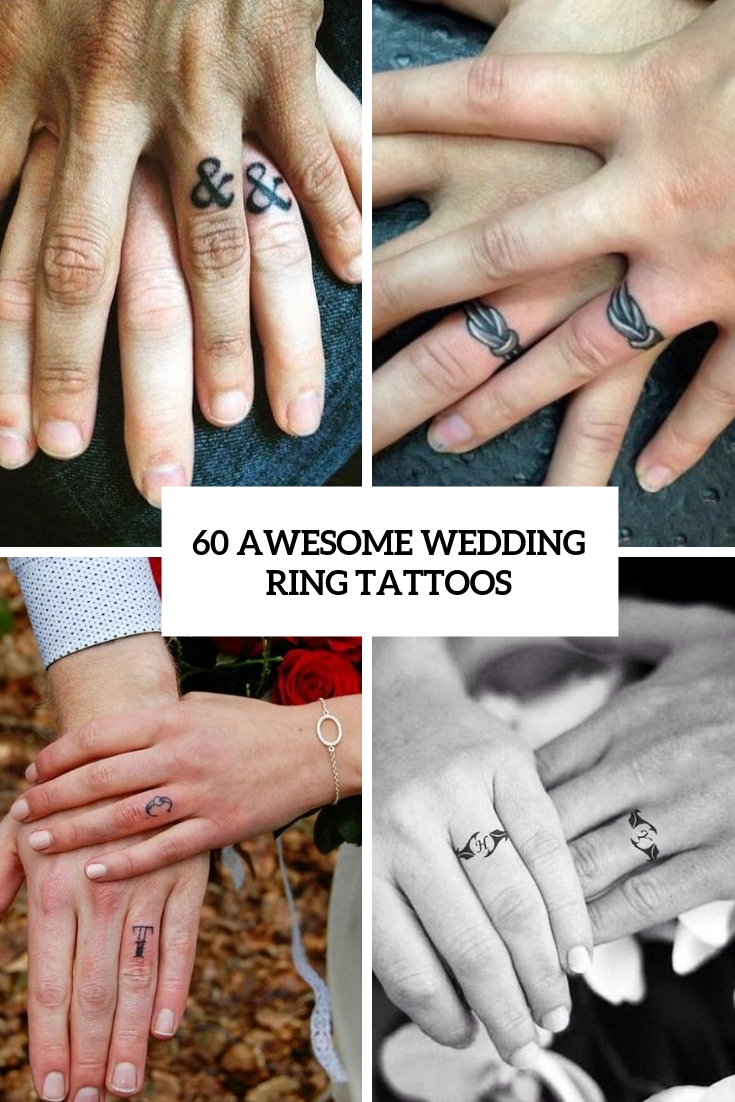 For more stunning wedding tattoo ideas, head over to weddingomania who have sourced 60 beautiful and interesting wedding tattoo designs to inspire you.
***