Under a canopy of magnificent oaks and a wide blue sky, transform from nearly weds to newlyweds at our newest location: Scenic Springs by Wedgewood Weddings. This gorgeous 10-acre estate is located in the historic Grey Forest, among the quaint farm community of Helotes, providing a Hill Country getaway that takes you from the flurry of activity in San Antonio to a picturesque country escape.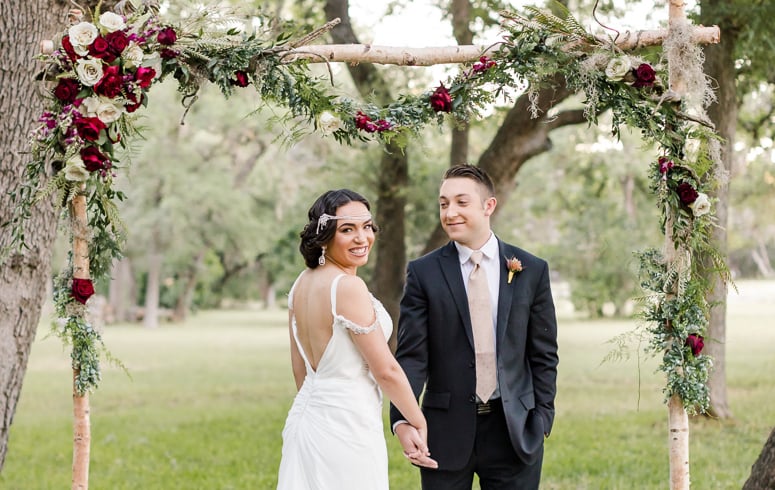 The Venue
As a private estate surrounded by stunning assorted oaks, Yaupon Holly, Mexican buckeye, and mesquite trees, you can enjoy a private and secluded ceremony with a collection of your closest friends and family. As you approach the property's stone and wrought-iron entrance, you'll enjoy the broad landscape for yourself. Hold your nuptials on the Grand Lawn and you'll be greeted by the landscape of open fields and lush green trees with a quaint stream and charming gazebo nearby for a serene, forested feel. As a proud part of the Texas Parks & Wildlife Department's Heart of Texas Wildlife Trail East, the grounds boast a natural "wildscape" of flora and fauna for a stunning effortless backdrop.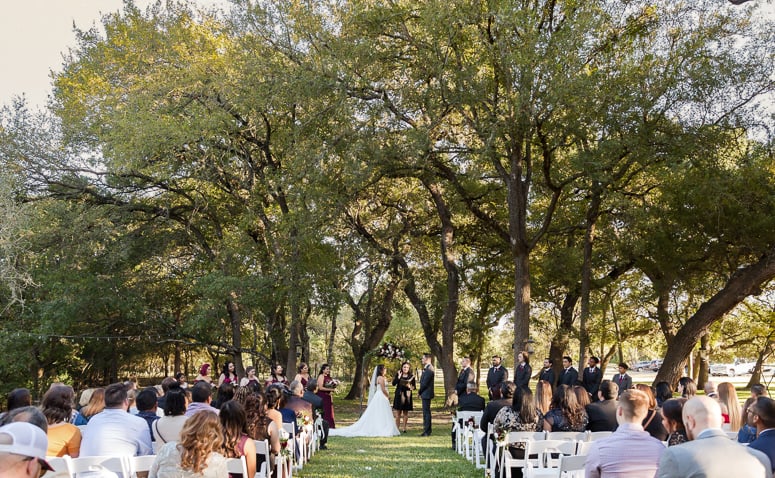 The garden scenery of this forest-like venue is beautifully complemented by the stream and waterfall features. Photo opportunities await, near the picturesque water features along the lover's bridge and around the romantically lit property. Additionally, gorgeous animals including peacocks, deer, and birds call Scenic Springs home and, if you're lucky, might photobomb a picture or two. Continue the festivities outside with an outdoor cocktail hour.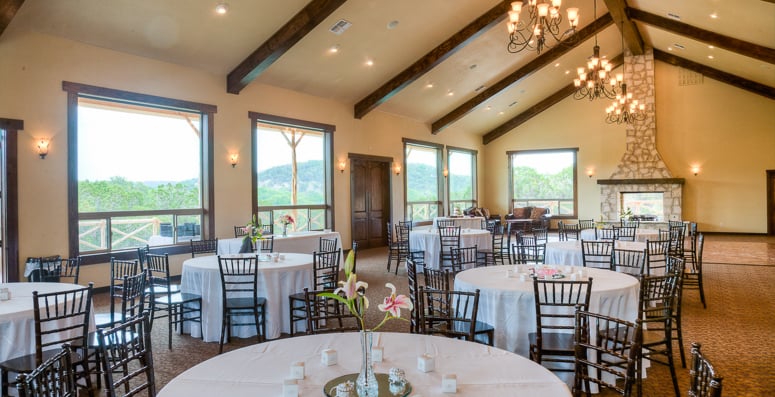 For an indoor celebration, guests can head into the grand indoor hall where they can enjoy panoramic views of the rolling hills while you enjoy time with your honey taking portraits amid many of the most beautiful sights in the area. Scenic Springs' grand indoor hall has space enough for 250 guests, perfect for large family gatherings. This expansive space has rustic detailing that is complemented by a high vaulted ceiling with exposed beams. Custom accent lighting in the ballroom allows you the opportunity to add a final touch to your wedding décor with a variety of color choices to match or contrast your wedding colors. Guests can snuggle up near the gorgeous indoor-outdoor fireplace while inside or out on the cedar-railed porch. Party the night away in this cozy yet elegant reception hall.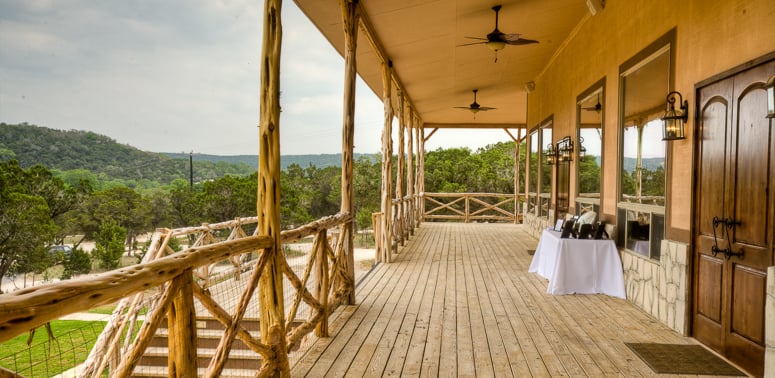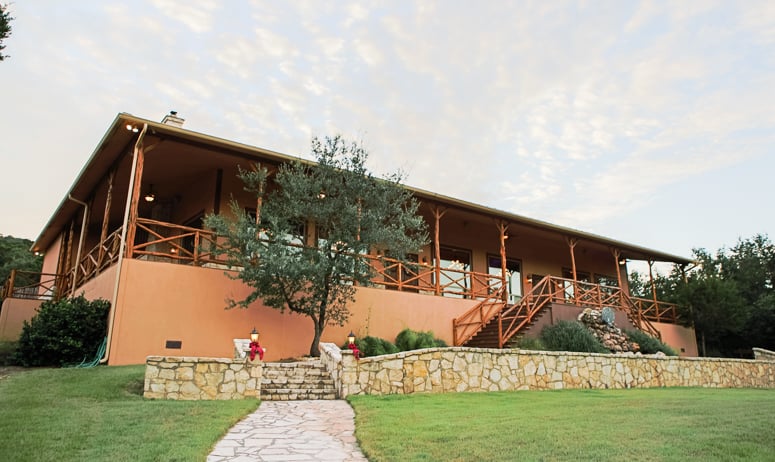 The Location
The small town of Helotes, Texas was officially incorporated in October of 1981 after being established as a farming community for more than a hundred years after the Texas Revolution of the 1830s. From the first purchase of the town in 1858 by Scottish immigrant, Dr. George Marnoch to the second owner of the town, Arnold Gugger of Switzerland, and then to Bert Hileman in 1908, the town of Helotes remained small until its incorporation in 1981. Old-country charm can still be found around the town, including the landmark John T. Floore Country Store and dance hall, a popular spot for country musicians - Willie Nelson even performs here!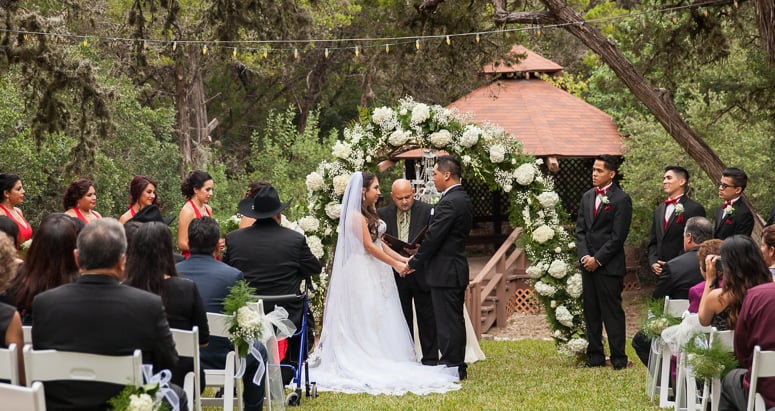 As host to the Helotes Cornyal festival, Helotes is a huge fan of corn, especially considering the name of the most delicious grilled sweet corn, elote, can be found in the town name. Maize was originally planted in the area by the local Native Americans and remained a significant crop throughout the 19th and 20th centuries. Can we get some delicious mayo and cojita-covered elote at the wedding please? Don't forget the lime!
Within the Texas Parks & Wildlife Department's Heart of Texas Wildlife Trail East, Helotes and Grey Forest are situated in the Cibolo Loop of this wildlife area. Nearby you can learn more about the area and its surroundings at the Cibolo Nature Center. Take a hike - no literally - at popular spots close by including the Senator Frank L. Madla Natural Area or Front Country Trailhead.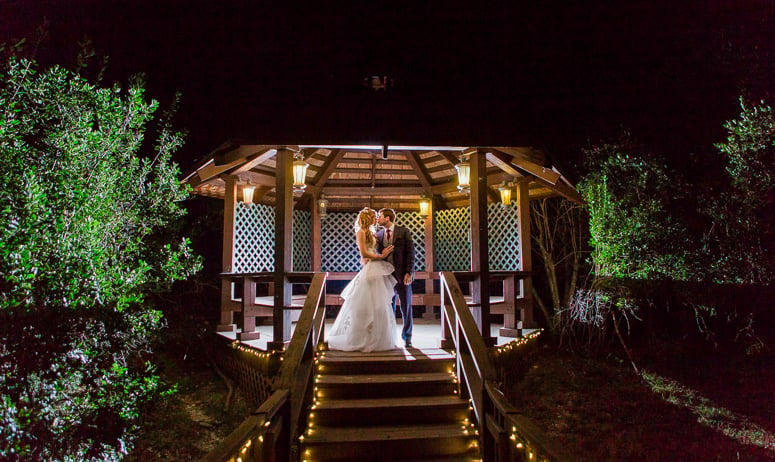 Venture out of San Antonio and make your way out to Helotes to experience this beautiful little town and gorgeous venue for yourself. Call or text us now at (970) 404-8326 to book your free tour of Scenic Springs by Wedgewood Weddings. We're excited to show you this special little slice of Texas for ourselves.