Weddings are guaranteed to make you smile, so enjoy this hat tip to Renee and Lauren's gorgeous event and romantic celebration. Their attention to detail and bold design choices paired perfectly with the natural scenery of Ken Caryl Vista. Lauren and Renee's gorgeous Colorado wedding serves as true inspiration on how to create a perfect day.
Wedding highlights from
Beau Blackburn

After considering both Ashley Ridge and Ken Caryl Vista, the venue choice was made and everything easily fell into place. The happy couple just fell in love with the charming details of Ken Caryl Vista and the stunning outdoor vistas. Selecting our Elite package and adding lawn games, a photo scrapbook, and a special delivery of Michelob Ultra just for Renee, made this unique event extra special.
"Lauren and Renee booked their wedding in February and then waited 1 year, 3 months, and 7 days to say I do. They put those 462 days to good use by finessing every element of their event."
Wedgewood Weddings Team, Ken Caryl Vista
Meet Brides, Lauren & Renee, who chose Ken Caryl Vista for their Wedding Location



This fairytale wedding in Littleton Colorado was a masterpiece. From the smallest details, like matching wifey shoes, to the biggest moments, like their mountainside first look, the day was majestic. Family and friends shared the joy at the sun-dappled ceremony all the way through to the Macarena dancefloor moment and beyond. Every second was an opportunity for more smiles, especially after the most nerve-wracking minutes were properly celebrated.



Custom 'Wifey' vans

"Renee and I couldn't be happier with how perfectly our day went. This entire process from booking our date with the team at Ken Caryl Vista until our wedding day last Saturday was seamless."

Lauren, Bride

THE FIRST LOOK MOMENT IS THE PICTURESQUE COLORADO COUNTRYSIDE


One of our favorite moments was the wedding party processional – the glee and sheer happiness for the forthcoming ceremony were tangible. Renee and Lauren chose the Roxborough ceremony space paired with the grand ballroom, where the wedding party VIPs again made a showstopping entrance.



Post 'I DO' Recessional
Congratulations!


"The venue and vendor communication was always efficient with fast responses. Everything was tweaked just to our preference and every person we worked with in the process was so helpful and kind."
Lauren, Bride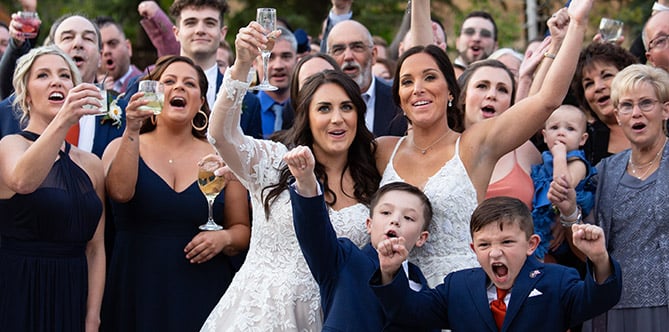 Celebrating with family and friends was central for Lauren and Renee's wedding
"Both Lauren and Renee are lovely people and it was always a joy to hear their wedding ideas. They were very clear about centering their day on love and happiness - and they triumphed!

Wedgewood Weddings Team, Ken Caryl Vista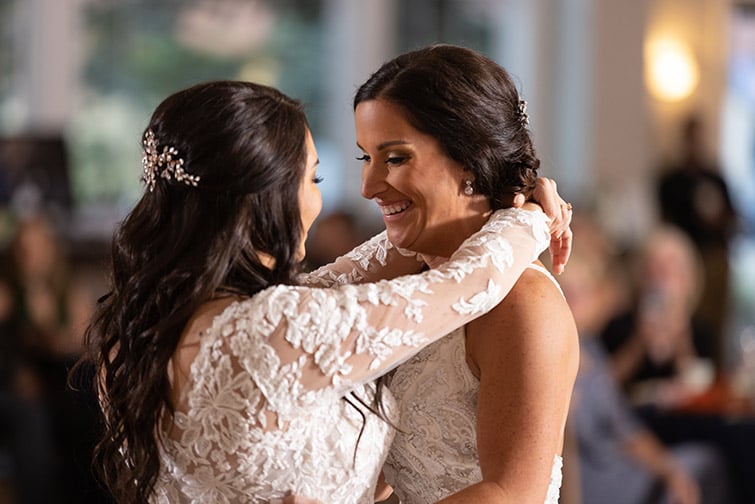 First dance smiles


Heading indoors, the grand ballroom was showstopping. The guest tables were laid with navy full-length linens, accented with gold chargers and flame-colored napkins. The bridal duo reversed the look for their sweetheart table for added drama. The reception hall was spacious and airy making for a welcoming atmosphere while the DJ kept everyone entertained throughout the festivities and the dancefloor was packed with guests spanning all ages.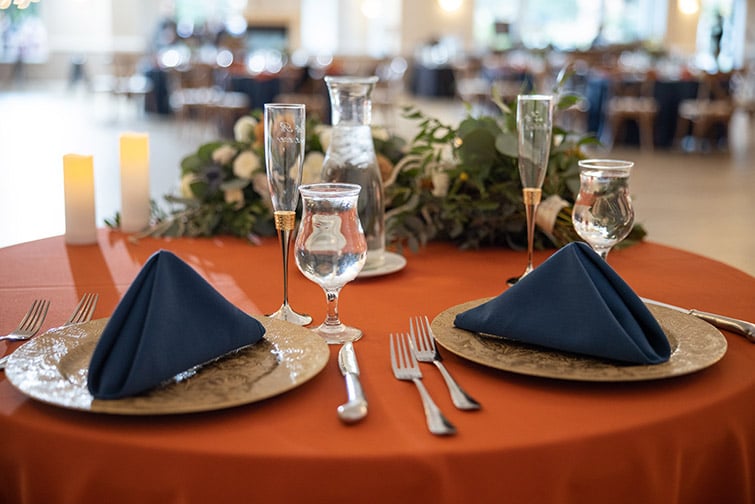 Pairing russet with Navy, the brides created a timeless bold look for their reception

Wedding food choices are always important, and Lauren and Renee made excellent menu decisions. They selected Ahi Tuna Wontons, Bacon Wrapped Wild Scallops, Roma Tomato & Fresh Basil Bruschetta, BBQ Meatballs, Mac & Cheese Croquettes, and Mini Chicken & Waffles for their appetizer station. The entrée was a delicious duet pate with Panko Parmesan Crusted Chicken plus Roasted Petite Filet Mignon.
"Preparing this couple's celebration duet plates was enjoyable. They're two of my favorite dishes and they work well together to provide a rich assortment of textures and flavors. Our kitchen team is tight-knit so we always enjoy a structured event that pushes us to get our timing just right!"
Chef, Ken Caryl Vista at Wedgewood Weddings
It was soon time for speeches, father-daughter dances, cake cutting, and the farewell sendoff that the couple chose to mark with grand sparklers. These cold-touch sparks are safe options to attract everyone's attention to cheer on the happy brides.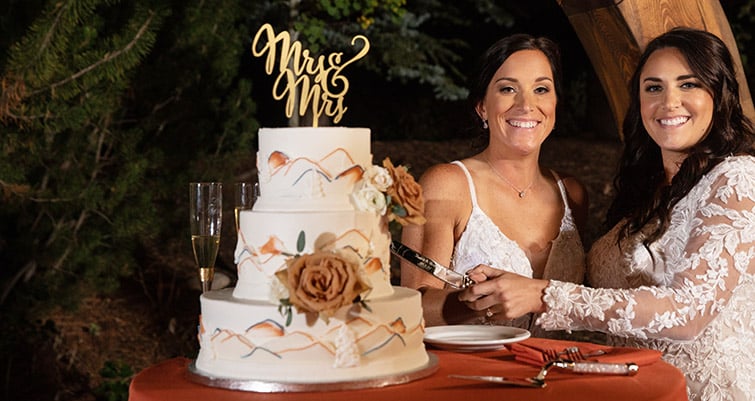 The cake cutting photo moment featuring the smiling brides and elegant gold cake topper
Vendors:
Renee & Lauren: Thank you for choosing Wedgewood Weddings to help celebrate your special day!
If you're seeking wedding inspiration, remember, regardless of how many weddings you've attended or watched on TV, your wedding day will be a flurry of emotion, excitement, anticipation—and photo opportunities! Meaning you can revel in the joy for years and years to come.