You've planned for your day forever and at last, it's around the corner! The final step to help prepare for your special day is the rehearsal, which usually takes place the night before the wedding.
The rehearsal prepares your wedding party for the ceremony. At this time, the party will run through the ceremony step-by-step to know their key marks, like when and where to walk.
The rehearsal dinner is a smaller celebration after the ceremony rehearsal. It's a pre-wedding celebration that gives the opportunity for both sides of the family to spend some extra time together.
Top Rehearsal Questions:
Do I need to do a ceremony rehearsal?
Yes! Walking and standing is harder than you think. On your wedding day, you want to be able to be in the moment and not worry about when and where to walk. The larger your bridal party, the more necessary the rehearsal is. If there are children in the ceremony the rehearsal is a must.
How long is the ceremony rehearsal?
We schedule an hour for your rehearsal. Usually, it won't take a full hour, but they also tend to start late.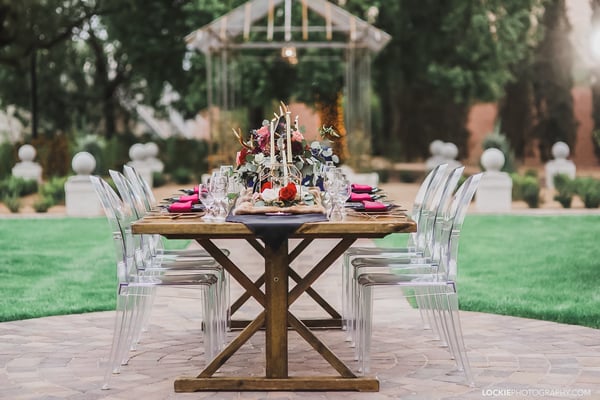 Who attends the Ceremony rehearsal?
The wedding couple, the bridal party and their significant others, child attendants (flower girls and ring bearers) and their parents, the wedding couple's parents, and any other family members, including grandparents who will be participating in the processional.
…the minister doesn't attend?
Unless the minister is a friend of the family, they usually do not attend the rehearsal. They are welcome to, but not always necessary.
Who coordinates the Ceremony rehearsal?
If you have coordination services in your package, WE do (Wedgewood Weddings)!
Do I have to have a rehearsal dinner?
This is a tradition that we love! It is a chance for both sides of the family to get to know one another before the big day. If you are worried about budget, then we suggest keeping it casual. Family bonding works just as well over pizza in your back yard as it does in a fancy restaurant.
Who is invited to the rehearsal dinner?
Everyone who attends the rehearsal should also be invited to the rehearsal dinner. You may also choose to include additional family members, ceremony readers or out-of-town guests who may have traveled a long distance to attend the wedding.