Written by Nora Banks with thredUP
We all know that gut-sinking feeling when we realize we've forgotten something… But, the more prepared you are for your big day, the more you can enjoy it! We've got your covered: we've listed out all the essentials to pack for the morning of your wedding, ensuring that you're ready to go!
Medicines
If you take a daily medication, you're probably a pro at remembering to pack those meds with you on all your travels. But even if a regular medication isn't part of your routine, it's always a smart idea to pack a couple medicines with you to play it safe, in case your body surprises you on your big day. Pain killers, Pepto Bismal tablets, and Tums should keep you covered. But, anti-itch cream, bandages, contact solution, and eye drops are a good idea to have on hand too.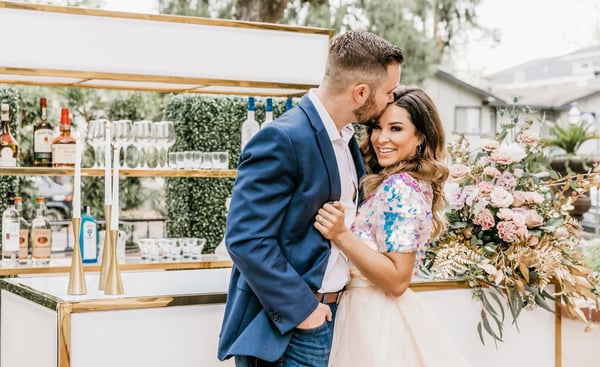 Lounge Wear
If you've been in a wedding party before, you already know that the morning of the wedding can sometimes involve a lot of walking. It's certainly the kind of thing you'll want to be comfortable for since you won't put your dress on until you're ready to go. Most brides coordinate robes or matching pajamas for themselves and their bridal party. They preserve your dresses from getting wrinkled on makeup on them – and they also make for cute getting-ready photos!
Whether you go for robes, button-up shirts, or pajama sets, make sure to pack some pants as well. With comfort at the forefront of importance for your getting-ready process, think about packing leggings or yoga pants and look to brands like Victoria Secret Pink. Not only are they super comfortable, they come in a variety of styles that best suit you and your bridesmaids. But because every couple already spends enough money on their wedding, skip paying full price by shopping for secondhand VS Pink options instead. Doing so will give you maximum comfort for a minimum price!
Accessories
It's likely that you've picked out special jewelry for your big day but with how small jewelry normally is, it can be easy to be misplaced. In order to avoid this, make sure you pack your wedding day jewelry safely away with your other day-of items.
Cosmetics
For piece of mind, start your day out as normal as possible. Get up, brush your teeth, and brush those gorgeous locks of yours. It's important to stick to your favorite tried-and-true beauty products for the morning of your wedding – a big day as big as this is no time to test out something new! It's not worth risking a bad reaction to a new product (or, maybe it just doesn't work out well). Makeup artists can be flexible and, if you have a certain foundation that keeps you from getting oily all day, they'll be happy to use that to give you peace of mind. Also, feel free to bring your own personal products with you (such as your favorite lipstick) for easy touch ups throughout the day.
Gifts
The day of the wedding is a popular time to give gifts to your wedding party, your spouse-to-be, and even your parents. You can research wedding party gift ideas to find gift options that everyone will love. Make sure you know the total number of gift bags you need to have with you on the wedding day. To cover your bases, consider loading them into your car the night before.
Your wedding day will no doubt be your best day ever. And, a simple forgotten item is the last thing you'll want to face that morning. At Wedgewood Weddings, we've orchestrated thousands of weddings, so you can trust that we've mastered the list of necessities to keep you prepared, organized, and sane. So, you can focus on having fun, feeling amazing, and enjoying your happiest day.