July 2020
Your guide for safely attending A wedding
Receiving a wedding invite is wonderful. The happy couple value you so much that they want you to be part of their special event. What an honor! While this year is unlike any other, gathering with the ones we love most is a huge morale boost. Today, we're answering some of the questions you may have ahead of joining your nearest and dearest to witness true love.
***
Attending a wedding this summer may be a slightly different experience but the great news is that the most important parts haven't changed a bit: weddings remain wholly romantic, memorable and fun. Here's how to celebrate with the happy couple while staying safe and sound.

If you've been invited to an upcoming wedding, you may be asking yourself if you should attend. Saying 'I do' in our new and socially distant world is the perfect excuse for a loving couple to celebrate with friends and family. Happy couples can safely celebrate their marriage in a way that's joyful, overflowing with love and, crucially, safe. We've hosted plenty of stunning and fun-filled weddings this summer all while closely following state and local guidelines, and have seen time and time again that weddings now are just as wonderful as ever!
Rest assured, if you're attending a wedding at a Wedgewood Weddings venue, we're adhering to strict sanitation and safety measures. If you're planning to attend a wedding in the coming months, there are several steps you can take to be the absolute best guest you can be!
***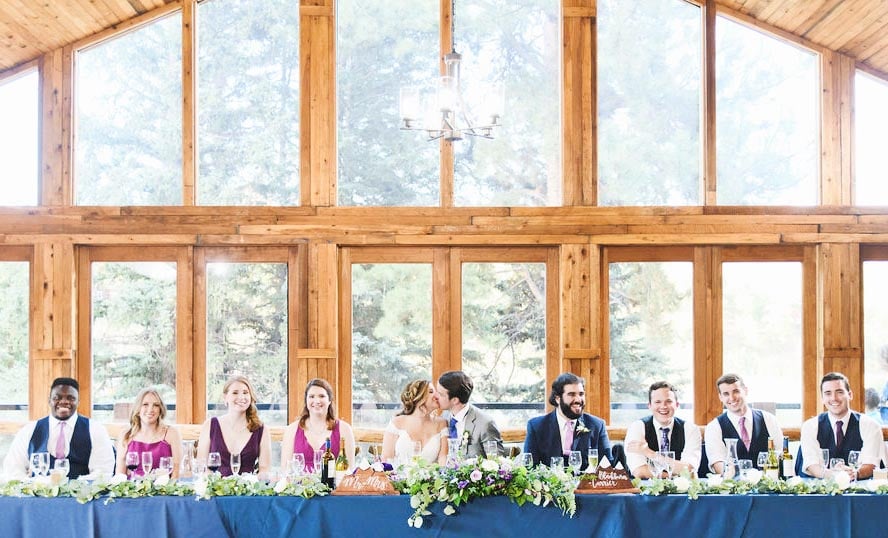 A bride and groom surrounded by their bridal party at Mountain View Ranch in Pine, CO
Before You RSVP
Get Informed
You can expect the following cleanliness and safety measures at all of our venues:
Sanitation captain appointed specific to each event

Each space cleaned and disinfected in accordance with official local guidelines

High touch surfaces regularly disinfected

Enhanced cleaning between tours and events

Sanitizer stations for guests

Reconfigured indoor space to allow for extra physical distance, plus ample outdoor areas for fresh air & distancing

Six foot distance markers in common areas like bars and buffet lines

All buffets now served by trained team members

All food protected with display screens

P.S. - We think these are such a great idea that we'll be following the extra cleaning steps for the long haul!


Ask Questions
At all our venues, our team are taking extra steps to ensure each wedding is in compliance with local guidance. In addition, each couple may have their own set of safety guidelines and measures regarding activity like mask-wearing and dancing. If you have questions about the safety precautions at an upcoming wedding, be sure to ask before you send your RSVP. Many couples have a pre-written cheat sheet to answer these questions on their website.
Reach out to someone in the wedding party with your questions as the couple usually have a full plate just before their big event!


At Risk? Stay home
First things first–if you don't feel safe attending a wedding because you're immunocompromised or in an at-risk category, please stay home. Couples will appreciate you letting them know as soon as possible if you cannot attend. The faster you respond, the easier it is for them to finalize their guest count, and decide how and when to celebrate with you one-on-one in future.
Choosing not to attend is a personal decision; be sure to check if the wedding will be live-streamed, allowing you to attend virtually from home!
Consider Your Travel Plans
If you're attending a wedding from out-of-state or out-of-town, create a travel plan prior to RSVPing to make sure it's feasible. Will you fly or drive? Is lodging available? Some states are requiring mandatory quarantines or the completion of health forms if you're flying, so double-check to ensure that your travel plans give you enough time. If you don't feel comfortable flying, consider a road-trip. Lodging may be harder to come by in certain areas, so we advice booking your stay ASAP!
Pro-tip: Join up with friends to make travel easier and more fun, then extend the party by finding a local AirBnB that you can stay in as a larger group.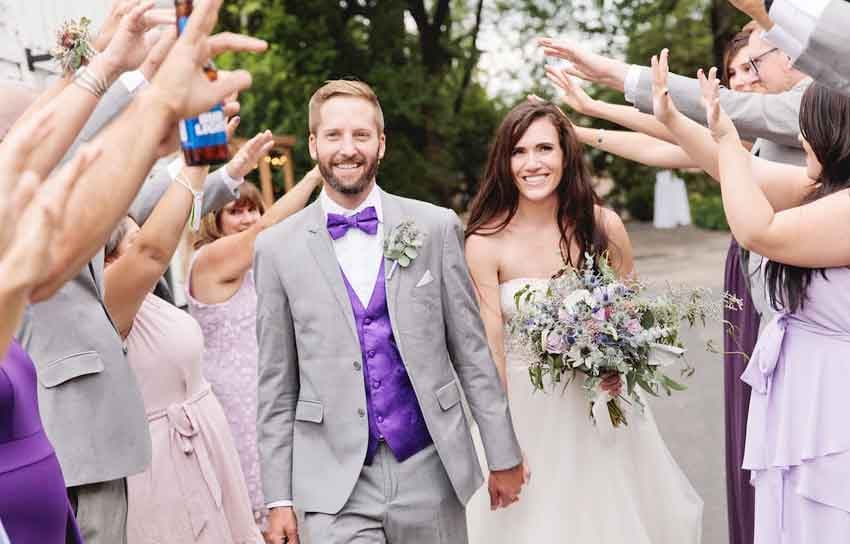 An excited group of wedding guests welcome the newlyweds in style at Tapestry House, CO
Before the Wedding


Send Your Gift Ahead of Time
Sending a digital or a physical gift in advance of the wedding will reduce the number of packages that the bride and groom have to carry home following their wedding. It's also safer as sending a gift direct to their home cuts the number of delivery carriers. Online wedding registries traditionally allow you to ship a gift directly to the newlyweds! The safest way to send a gift this summer is virtually; a digital gift card or contribution to the couple's honeymoon or home fund is a great idea!
Even if you cannot attend, sending a gift is customary and sure to make the happy couple smile from ear to ear!
communicate your Comfort Level
As you reunite with friends and family on the day of the wedding, you may feel unsure as to whether you should wave from afar or go in for a hug. Talk to other guests who are attending ahead of time and see what type of greeting makes them feel comfortable. This conversation is a new standard so use it as an icebreaker!
Before going in for a celebratory hug, ask the newlyweds if they feel comfortable. While some couples may be okay with hugs, others might not–so please be respectful of their wishes.
It will soon be obvious how other guests feel about physical distancing. Either meet that standard or be clear about your own preferences. A friendly wave can stave off a hug without anyone feeling awkward.
Stay informed
If the couple has a wedding website, check it frequently in the run up to the event. For instance, you'll want to know if an email asked all guests to wear a mask while indoors. While you know your circumstances, you may not know the details of Great Aunt Elsie's health, so be respectful. If you feel uncomfortable with any of couple's requests, let them know as soon as possible if you need to change your RSVP.
Many couples have embraced the situation and are providing custom masks or personalized personal hand sanitizer bottles. Be open to having fun as the couple set the tone.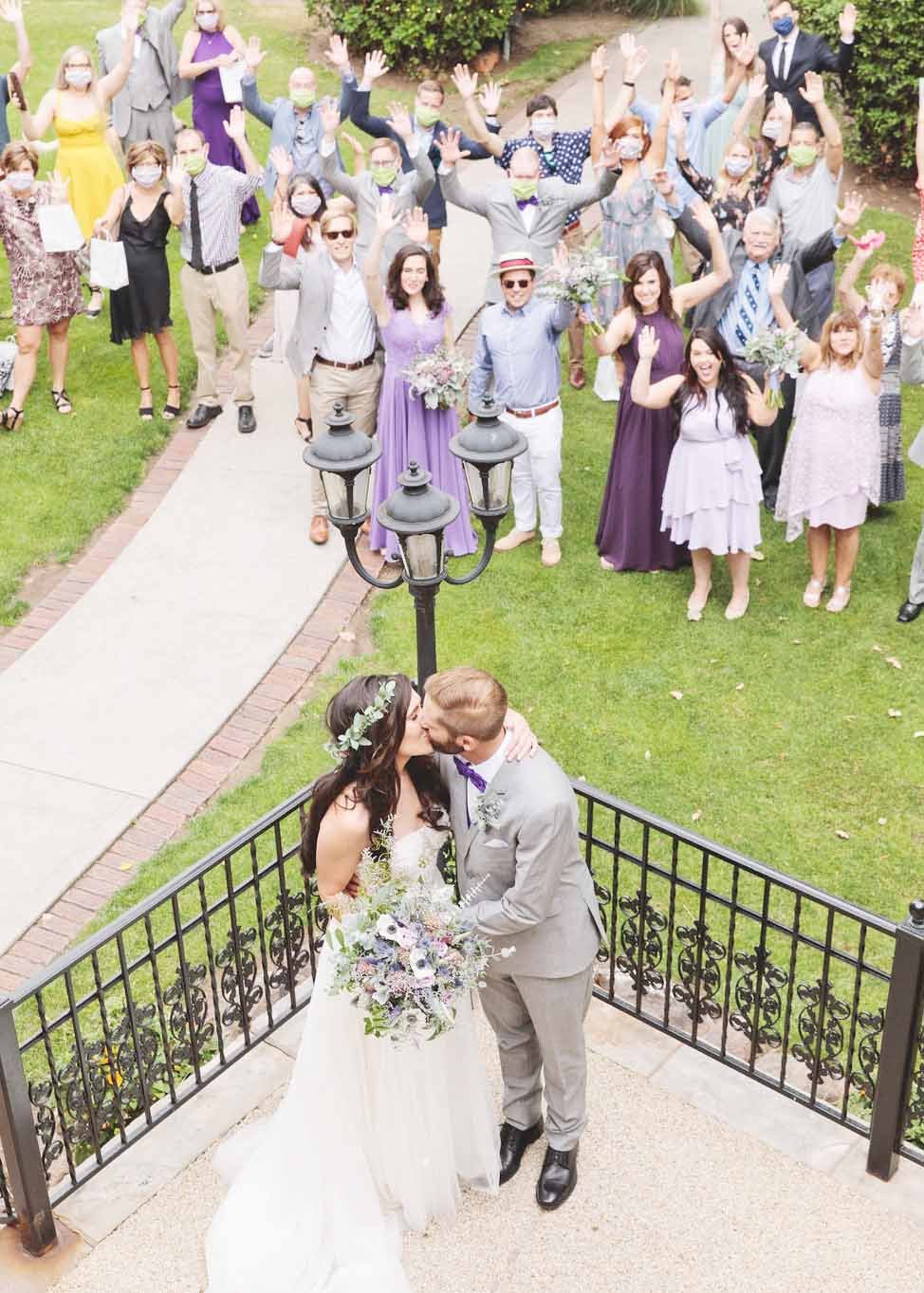 A bride and groom celebrate with masked guests at Tapestry House in Laporte, CO
The Day of the Wedding


Under the WEATHER? Stay Home!
This may be obvious, but if you're not feeling well, you should skip the wedding. Everyone will be more than understanding. The couple and their other guests will be grateful that you decided to err on the side of caution. If there are elderly guests in attendance, something as minor as a head cold can still be detrimental to their general health.
While a quick sneeze may be the result of a pollen allergy, it can feel beyond awkward if you're sniffling this summer. Stock up on antihistamines in advance!
Bring Your Mask
Even if a mask isn't required, or the wedding is outdoors, bring a mask just to be safe. If the couple does have a mask policy, comply to the best of your abilities to ensure that other guests feel comfortable and safe. Many couples are even gifting custom masks as a wedding favor, which is a fun and personalized way to safely celebrate the newlyweds.
Etsy has a wide selection of wedding appropriate masks.
Make the Most of Sanitation Stations
Our team have provided sanitation stations at all our venues and we encourage you to take advantage of these as much as possible. Sanitize your hands after touching any surface and wash your hands for at least 20 seconds after using the bathroom.
Yep, we're confident everyone knows how to wash their hands now!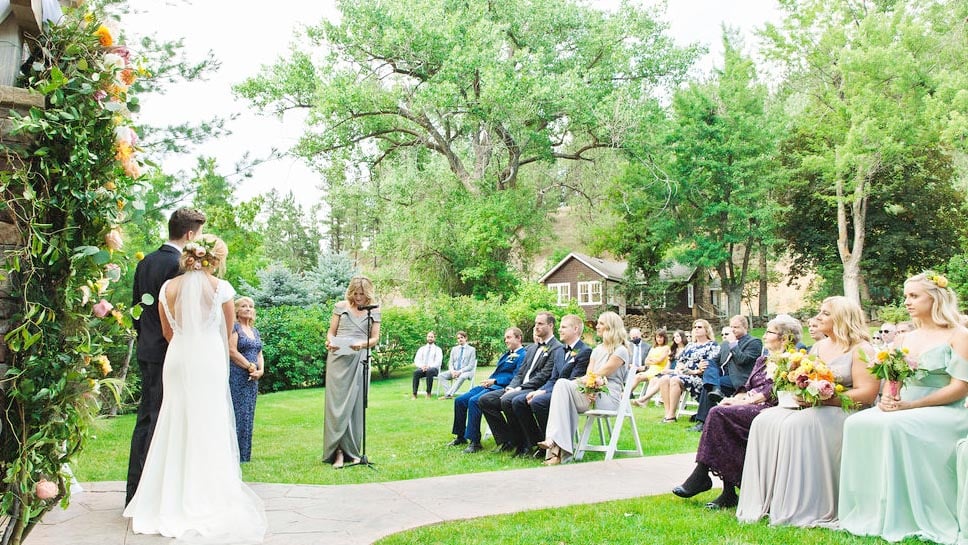 creative seating arrangements for your wedding ceremony are fun & safe
Take Your Seat
Chances are the newlyweds and their venue have spent a lot of time creating a seating chart and floor plan that is optimized for health and safety. At our venues, this will include specific ceremony seating arrangements, reception tables that are at least ten feet apart, grouping guests with family members and households, or extra distancing between seats. Take your designated seat and avoid things like occupying chairs that are intentionally left empty.
Mingling is fun, especially if you haven't seen friends for a while, but try to stay out of the aisle and take your seat promptly so that the wedding party can maintain a good distance if needed.
Make Space on the Dance Floor
Unless you live in Elmore City, the fictional town from Footloose, dancing will likely still be a part of the wedding experience. Guests can still safely enjoy the wedding entertainment. To help, dance-floors at all our venues have been extended so you'll have more space for your best moves.
When you and your plus-one head to the dance floor, allow for six feet of space between yourself and fellow guests whenever possible. If the wedding reception is indoors, you can also mask up on the dance floor if you want, for added safety.
Dancing between tables or at your seat is a fine choice if it feels right for you. Lots of couples have also arranged dance contests to add to the fun while reducing the number of guests on the dance floor at one time.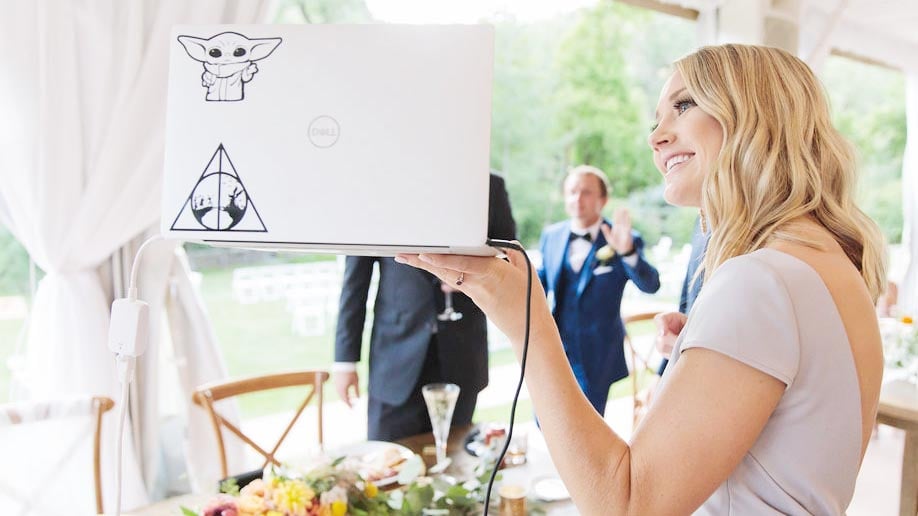 A helpful wedding guest volunteers to take control of the wedding livestream
Offer to Help with Live-streaming
Live-streaming is a great option so everyone can enjoy the 'I do' moment whether they attend in person or not. If you're technically minded, offer to take a shift manning the camera and engaging with the virtual guests. The couple will appreciate the offer and it will give them one less thing to worry about during their wedding.
Get the latest live-streaming advice here: How To Livestream Your Wedding Ceremony and here: Ultimate Guide to Livestreaming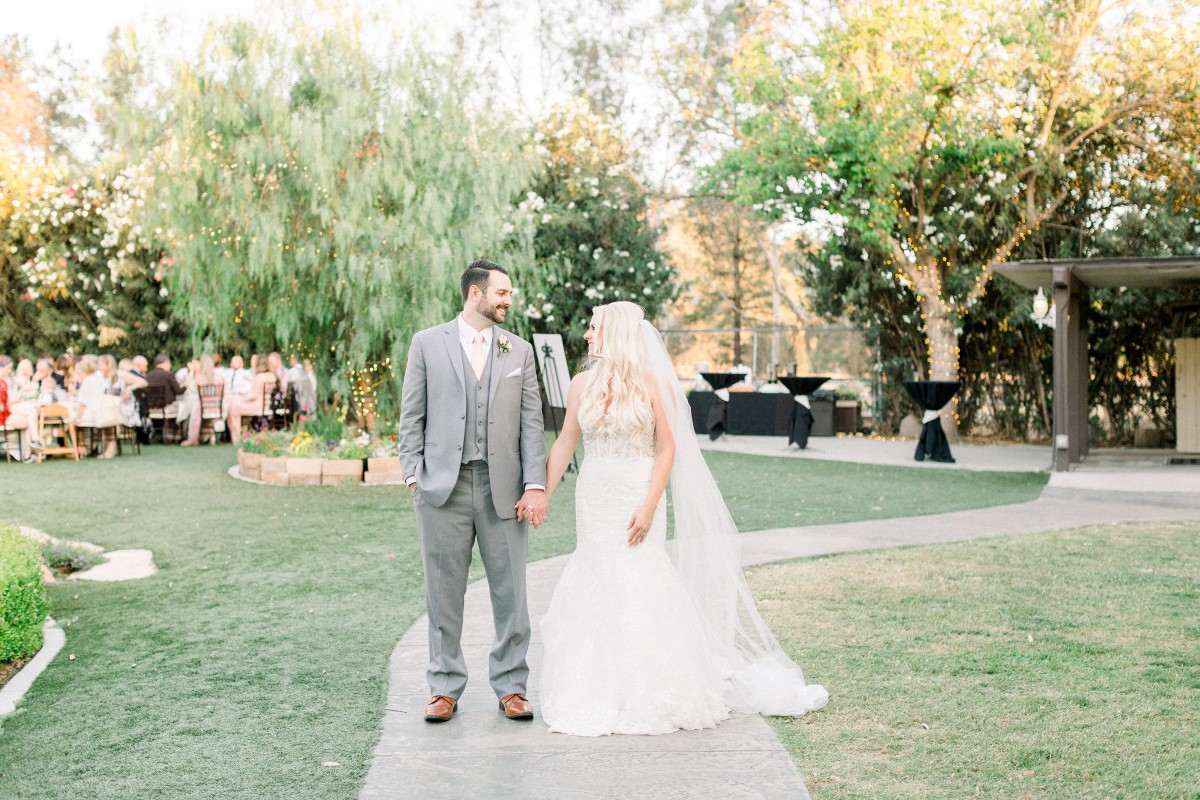 A blushing bride and her handsome groom celebrate their outdoor wedding at The Orchard, CA
***
Attending a wedding in 2020 is just as enjoyable as ever. Most safety activity will take place behind the scenes, so you're free to let loose!
As always, the best advice for being a great wedding guests is to put the couple's needs first. This is a celebration of the couple, so honoring their wishes on the big day is the best way to be a respectful guest. As you would at any wedding; dress up, smile wide, and be ready to celebrate in style!
***