We're over-the-moon excited to welcome one of the sweetest brides we've ever had the pleasure of working with to the blog today. Courtney said 'I do' to her best friend and partner in crime, Hunter, at Ocotillo Oasis in October of 2020. Their wedding was such a beautiful, flawless, love-centered event that had all of our staff teary eyed, especially after the emotional year that 2020 was for most. We are thrilled to welcome Courtney to the driver's seat as she shares her beautiful wedding story.
Grab a cup of tea, some tissues, and somebody to hug–this is a good one!
***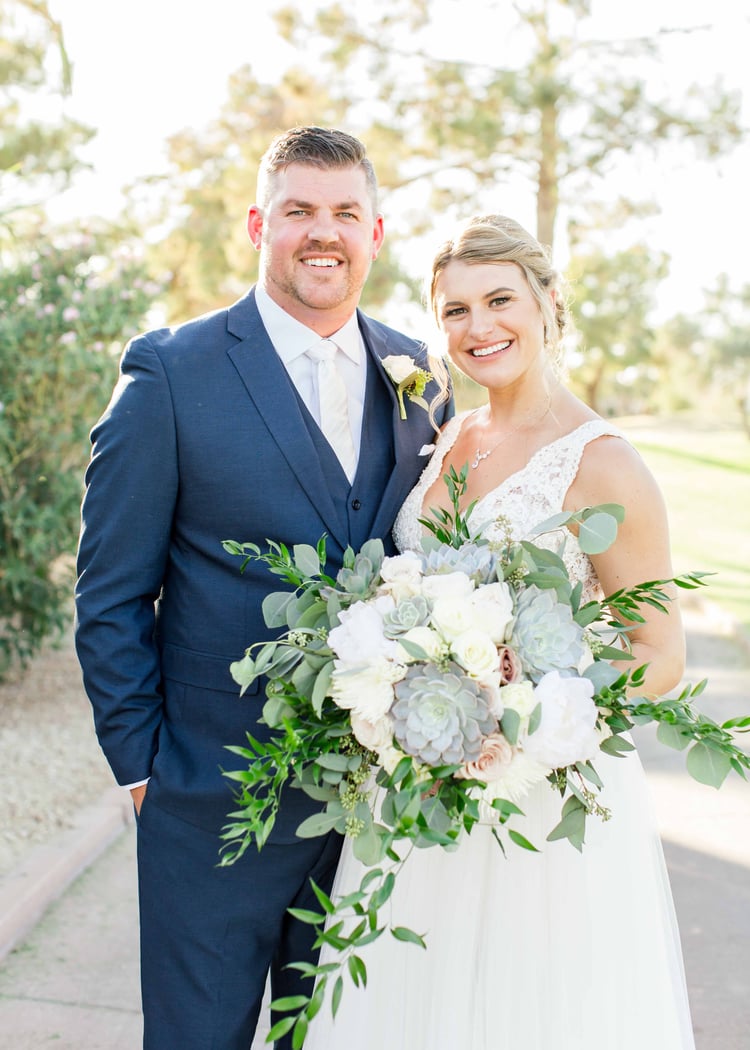 courtney & hunter on their perfect fall wedding day in arizona

"Thank you so much for reaching out to us and giving us the opportunity to share our wedding experience with your team and other excited brides and grooms! We have spent the last few days reliving our magical day in order to share our most favorite moments."


CHOOSING OUR WEDDING VENUE
When Hunter and I first got engaged, we could not wait to start our wedding planning! We toured Ocotillo Oasis in Chandler, Arizona and immediately fell in love with this stunning venue! Both of our families love golf and so having our venue on a golf course made it feel so much like our home.
We loved that it features two outdoor areas for ceremony options (plus indoors). The Lower Lawn ceremony space has gorgeous views of the golf course and water features–it's stunning. The Upper Lawn, which we chose, had a more intimate feel with plenty of space for our guests to sit comfortably to watch us say "I do."
Ultimately, we chose to host our cocktail hour outdoors so that our guests could mingle and enjoy the Arizona scenery and the incredible fall weather. And it's just so conveniently situated between the ceremony lawn and the reception ballroom. Speaking of, the ballroom was truly perfect for our personalities and styles! We love the wooded accents and rounded features that added both rustic and elegance to our wedding decor.
For decor, we went all-in on celebrating our love for this beautiful state of Arizona. We had a ball tying in all of our favorite Arizona themes into the wedding decor. Our wonderful florist included gorgeous roses and succulents in every bouquet, center pieces, corsage, and boutonniere. We even had Arizona themed can coolers made to gift to our guests while they enjoyed their favorite drinks. The natural Arizona scenery and all its beauty is abundant at this gorgeous venue.



courtney & hunter in full jovial smiles as they walk off as newlyweds



the bridal party wore navy blue suits combined with flowing lavender dresses


courtney reads a love-felt note as she gets ready in the bridal suite
all-inclusive bliss
We absolutely loved how Wedgewood Weddings was an all inclusive experience. All of their recommended vendors were highly professional and worked so well together in order to make our wedding the most unforgettable experience in the best way. It was so nice to have our food catering, cake, DJ, florist and wedding planning team available to help us organize our dream day–and making it fun throughout!
Our team of wedding experts (planners, coordinators, banquet captains) from Ocotillo Oasis was there for us at every step. Natalia worked with us throughout the entire process and made sure that our wedding was everything we had dreamed of. From start to finish, the team did their part in making the planning run ever so smoothly. They were always available by phone or email and did their best to accommodate all of our requests.

Courtney & Hunter Share Their First Kiss as Newlyweds



Walking Down The Aisle: The Joy and Pride is Unmistakeable


The Sweet Couple In Front of the Ocotillo Oasis Waterfall
Navigating wedding planning during a pandemic
In March of 2020, About 20 days before our original wedding date, COVID-19 shut down our state. Our hearts were crushed when we were forced to cancel our wedding in order to abide by our state regulations to protect all from the virus. When we spoke to our venue team, they were the first to offer encouragement and ease our worry. They immediately allowed us to reschedule our dream day for a new date, which would be about six months later.
As Hunter and I both work in the healthcare field, we were immediately able to put our wedding plans on hold, and focus on our work to care for our community. Our family and friends were highly supportive of us and encouraged us to stay positive as our wedding day would be here before we knew it. During our waiting period, the CEO of Wedgewood Weddings sent us emails to help bring comfort and transparency to the process. They kept us informed on regulations and new adaptations to what would be a new normal for wedding celebrations and their venues. This helped ease our stress and allowed for us to communicate good news to our cautious wedding guests.
As expected, we had many guests let us know they would not be attending due to concerns amid the pandemic. Our Wedgewood Weddings team worked with us to accommodate our new numbers up until 10 days before the wedding date. This gave us plenty of time to learn who would be attending and who would not be attending. Ultimately, our guest list was smaller, but still so full of love. We feel so fortunate to have family and friends who traveled near and far to be apart of our special day.
Wedgewood Weddings did an incredible job taking precautions to prevent COVID-19 and ensure maximum safety. The tables and chairs were arranged with extra space in between. All event staff wore masks while serving our guests and ourselves during the entire event. Everyone was served a plated meal instead of a buffet. We were able to go outside anytime during the reception, which also made our guests feel a lot better during the event. There was plenty of space to keep 6 feet apart and masks were welcomed. We even had our calligrapher make a sign to invite our guests to take a mask and wear it as much as they would like!
At first we were really sad to move our original wedding date, but we both agree that rescheduling worked out best for everyone! Our new date gave us more time to get even more excited for our big day. We were less stressed knowing that our Wedgewood Weddings team would have everything under control and in order for us. We even had additional time to add or change anything we wanted extra for our big day!




A Playful Stroll Around The Grounds of Ocotillo Oasis


Hunter Gives Courtney A Sweet Little Twirl


The Love Birds Share a Frosty & sweet Cake-Smash Moment
our wedding day
Fast forward to our wedding day: it was pure perfection. October 22 truly was the best day ever! We are so grateful that we were finally able to say "I do." We feel so blessed to have been able to celebrate with our loved ones and to really enjoy the special moments throughout the big day.
"It feels so incredible to finally be married to each other! We are so excited to begin this new chapter as husband and wife and cannot wait for the many years to come together."
Our guests could not stop talking about how well our wedding day flowed! They went on and on about how delicious the food and drinks were–thanks to the Wedgewood Weddings catering team! They absolutely loved the unique macaroni bar that we added to the cocktail hour. Our DJ from Direct Sounds did an awesome job with the music! He communicated with Hunter and I throughout the entire event, making sure everything was how we were envisioning throughout the night. He even played a final encore song as our guests had asked for at the very end!
We're so glad that we decided to go forward with the photo-booth; it was such a big hit! Our guests were able to be silly, take photos and post them on social media the day of!
And the flowers–oh my! Everyone loved the gorgeous flower arrangements that the Blooming Bouquets team placed throughout the venue. The bridal bouquet was an absolute dream and lasted for weeks even after the event! She also decorated our delicious cake with succulents and added extra floral additions to the décor around the venue. All of the work that was put into each individual bouquet added to our rustic-modern Arizona theme and tied our gorgeous event together. We're just so grateful.

The Bridal Party Looked Stunning in Lavender

The Happy Couple Shares A Sweet First Dance In The Glowing Ballroom



Hunter & Courtney Pose On The Romantic Bridge Over The Waterfall



A Sweet Moment Before The Big Event

***
We absolutely loved every moment that we spent on our wedding day. We felt so special on our big day and we cannot thank Wedgewood Weddings enough for all that they did to make this day so incredible for us. We wish we could do it all over again! We love to share all of the magic we experienced on that special day and we take the time to share our incredible Wedgewood experience with anyone who is looking to plan their dream wedding day.
We'd like to extend our greatest gratitude towards our entire team of wedding professionals who worked together seamlessly to make our day extra special!