By Deidre Drewes, April 2020
At Wedgewood Weddings, we've built a team - or rather, a family - filled with unconditional romantics. From hand-written vows to swoon-worthy engagement stories, our hearts glow every time we see true love. When the COVID-19 outbreak forced many couples to reschedule their weddings, our hearts began to break for them. Your wedding day is one of the biggest moments of your life - and to have your plans upended without any control is, in a word, devastating.
But with the bad came the beautiful: the news started to fill with stories of love, perseverance, and hope. Couples around the world were still saying 'I do' - but in unprecedented, spectacular new ways. In a time of so much uncertainty, there is one thing we are certain of: love always finds a way.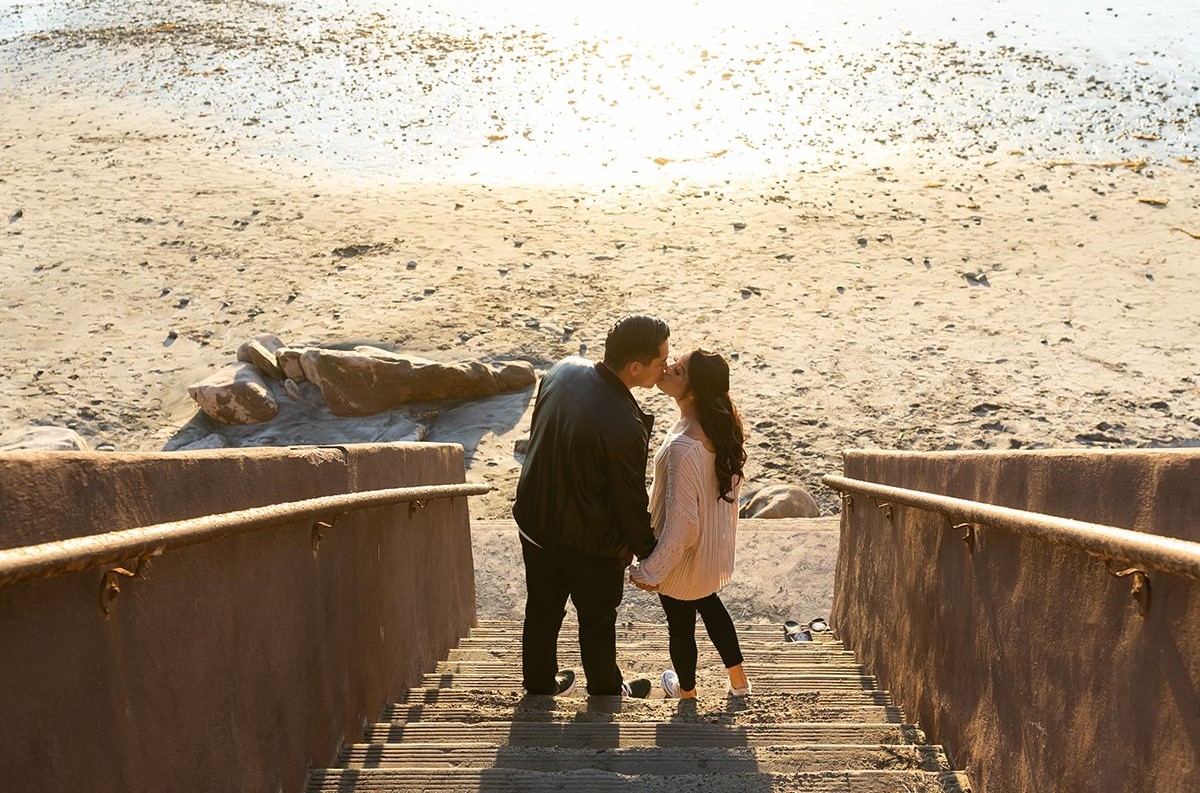 Here are a few of our favorite tales of couples who tied the knot during COVID-19.
A Community Filled With Love
When Amanda Mason and Aaron Meyers decided to wed in the middle of Washington, D.C.s Walter Street, the entire community rallied around the couple. According to The Washington Post, Walter Street consists of about 50 homes and is known for its annual Halloween and Fourth of July celebrations. The tight-knit community is infamous for its gusto and camaraderie - something that was unmistakable come the day of Amanda and Mason's wedding.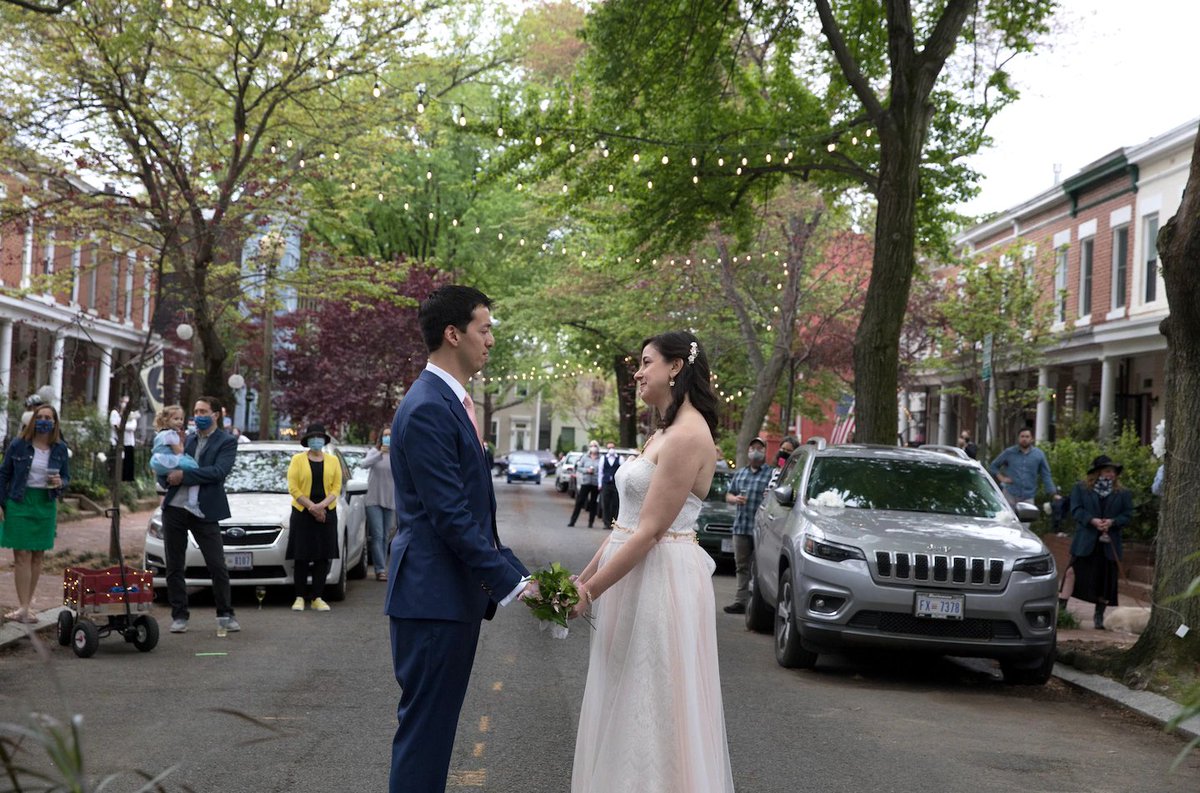 One neighbor distributed flyers announcing the street-wide festivities; inviting fellow residents to celebrate from the safety of their windows and stoops. Another acted as a one-man street sweeper, raking leaves and even preparing a makeshift altar for the couple. The trees were decorated by teenagers in the community with paper flowers created out of coffee filters.
When Amanda walked down the proverbial aisle, she was even carrying a small bouquet of pink dogwood and lavender that neighborhood children had designed for her. The couple said 'I do' surrounded by the love of support of their community.
Two Heroes Tie the Knot
Clare and Mel Keefer are two Baton Rouge nurses on the front-lines fighting the coronavirus pandemic. Mel is an ER nurse meanwhile Clare is an ICU nurse treating patients diagnosed with COVID-19. When the couple was faced with the thought of rescheduling their big day, they decided that their love couldn't wait and tied the knot in front of a small group of family members.

Mel told CNN:
"The most important thing is that we wanted to be married...We didn't want to put something off that we were ready for just to have a bigger ceremony."
Little did the couple know both of their moms had a surprise in store. When Clare and Mel walked down the aisle, the pews were filled with the smiling faces of their friends and family. The two mothers had secretly reached out to guests, asking for photos that could be printed and displayed on the day of the wedding. Hours before the ceremony, they snuck into the Church and taped the photos along the pews so Mel and Clare would be surrounded by their loved ones.
The Love of a Lifetime
Florida residents Don and Jeanine, both 91, had their first date on New Year's Eve 2018. The couple enjoyed a five-course dinner together followed by fireworks and a surprise kiss. According to the Tampa Bay Times, the couple made their relationship official in July of 2019 and, after lockdowns swept the country, decided to legalize their relationship so they could be with one another in the event that one of them fell ill.
"When we began our formal relationship in July last year, I said to Jeanine that I don't know how many days we have, but we have today. And we are grateful for today," Don told the Tampa Bay Times.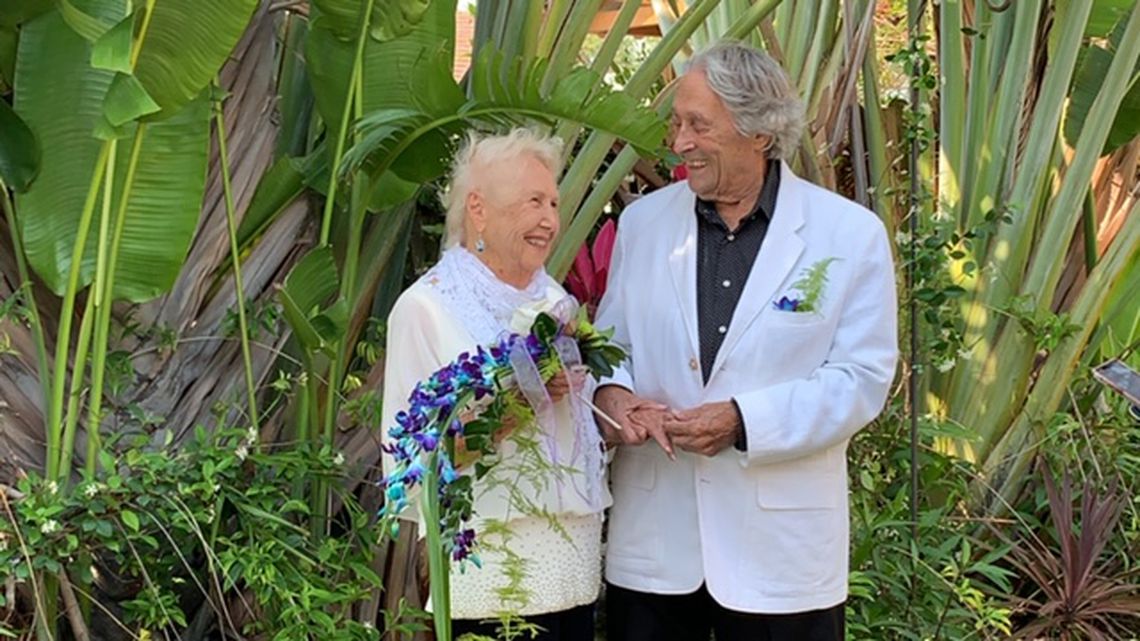 Despite the small ceremony, the couple made a big announcement ahead of the wedding. An email went out to more than 200 friends and family members with a photo of the lovebirds accompanied by a recording of Don singing I'm Getting Married In The Morning from My Fair Lady. The couple said 'I Do' on Jeanine's birthday - and she even wore the same outfit from their first date on New Year's Eve.
***
We don't blame you if you need tissues after reading these beautiful love stories - we may have teared up a bit ourselves!
Love finds a way and these beautiful stories show that low-key ceremonies can be the perfect way to commit to each other in this crisis. We constantly hear from couples who have deep reasons for needed to be married now - essential workers, those with vulnerable health, the military, and more - and our response is always: Get To It! A party can always come later, whether it's a post coronavirus crisis gathering with friends and family, a first anniversary celebration, or an 'I Do, Re Do' when your loved ones are in position to watch and congratulate with a hug.
***