Being a central part of your community is critical and our company culture embraces reaching out and forming a network. With so many venues across the U.S, our team members often support multiple venues as they learn the ropes and go on to become leaders.
We're celebrating Sandy Bonner who moved to Carlsbad by the Sea when we started talking about opening a venue in this sought-after village. Sandy stepped up and directed the entire new venue start up and still made time to become a pivotal member of her new community.
Recently, she received the ultimate accolade when she was featured as a member of the Carlsbad Charitable Foundation's Chairman's letter.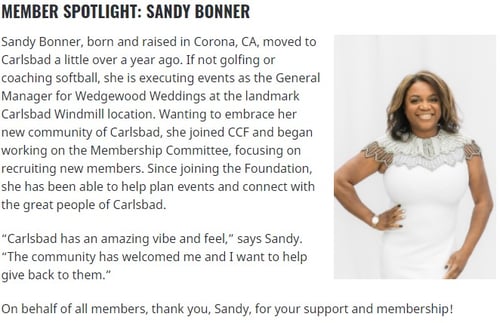 ***
Passionate about event planning and dedicated to supporting her hardworking team, Sandy Bonner began her career with Wedgewood Weddings in the summer of 2011. originally from Corona, CA, she started her journey with Wedgewood Weddings as a bartender then Banquet Captain at The Retreat by Wedgewood Weddings. A bright star, Sandy was soon promoted to Catering Sales Manager, which later led to her being transferred to nearby locations. Part of manger development program, Sandy stepped up at Sierra La Verne by Wedgewood Weddings. When asked about her favorite Wedgewood Weddings team moment, Sandy knew it was the growth. Much like her own, she loves seeing the potential of others come to fruition.
"My favorite team moment would be the training boot camps and seeing the new team members grow."
- Sandy, The Carlsbad Windmill by Wedgewood Weddings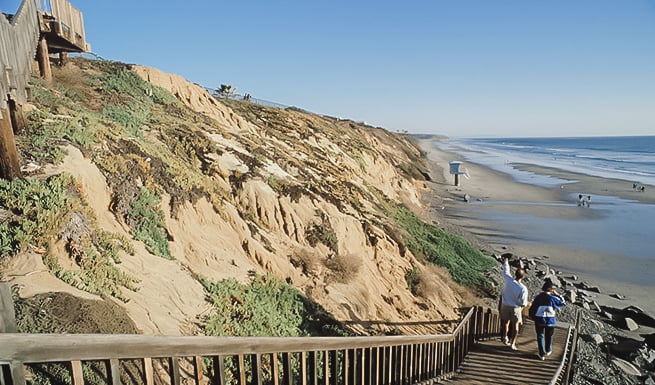 Carlsbad, CA is located on the gorgeous pacific coast of Southern California.
Many couples at the Carlsbad Windmill are excited for engagement or post-wedding Beach photos

In a new location and with a change of scenery, Sandy jumped at the community culture opportunity. Joining the Carlsbad Charitable Foundation, Sandy began working on the membership committee to help recruit new members. In addition to networking, she has also had the chance to show off her planning skills with a few events.
"Carlsbad has an amazing vibe and feel. The community has welcomed me, and I want to help give back to them."
- Sandy

The San Diego Foundation featured a Letter from the CCF Board Chair, Justin Peek, where there was a shoutout to Sandy for her ambitious nature. The foundation inspires enduring philanthropy and enables community solutions to improve the quality of life in our region. Finally, when asked about her favorite part of weddings and event planning, Sandy said,
"Seeing all of the planning coming together and the happiness it creates is heartwarming and fun."

- Sandy
***