2023's Best Wedding Dates
Your wedding is more important than the date. In fact, we are firm believers that there are no "bad days" to get married! Your guests are much more likely to remember the gorgeous venue and fabulous ceremony than the date you choose. So have fun picking your wedding date! We're here to help by showing you the very best wedding dates in 2023 so you and your fiancé are sure to find the ideal date to say, "I do."
***
January
January is one of the least popular months to host a wedding, making it both more affordable and more unique. Most likely you'll be able to save money not only on your venue and vendors but also on any traveling you'll need to do for your wedding or honeymoon. January is the perfect time to plan a destination wedding, especially if your home state is a chilly one. You could whisk your loved ones off to California or Arizona and plan a uniquely tropical January wedding.
Some couples like the symbolism of new beginnings that come along with New Year's Day while others may want to leave a larger gap between their anniversary and Christmas. Whichever January wedding date you choose, make sure you take full advantage of winter styling options. Wedding gown wearers could find a classic long-sleeved masterpiece while anyone in a tux can comfortably rock all three pieces.
HOLIDAYS: New Year's Day (Sunday, January 1), Martin Luther King Jr. Day (Monday, January 16)

LUCKY DAYS: Monday, January 9; Thursday, January 12; Saturday, January 21

CUTE DAYS: Sunday, January 1 (1/1/2023), Friday, January 20 (1/20/2023), Monday, January 23 (1/23/2023)

FULL MOON: Friday, January 6



February
February, the shortest month of the year, is ripe with wedding date options. Of course, Valentine's Day is a popular choice but President's Day is also a good option if you're hoping to take advantage of a long weekend. We love using the excuse of an early sunset to start the party early and keep it going through the night. Nothing is more romantic than a dark sky and twinkling lights.
Need more reasons to love a February wedding? You can basically take the weather out of the equation, which makes your job a lot less stressful. Even if you plan for a wedding in a warmer climate, an inside ceremony is always an option. Your guests will enjoy how you've customized your venue with pretty or dramatic décor, so whether it rains or snows outside, who cares?
HOLIDAYS: Groundhog Day (Thursday, February 2), Valentine's Day (Tuesday, February 14), President's Day (Monday, February 20)

LUCKY DAYS: Thursday, February 2; Wednesday, February 8; Sunday, February 26

CUTE DAYS: Thursday, February 2 (2/2/2023), Friday, February 3 (2/3/2023), Thursday, February 23 (2/23/2023)

FULL MOON: Sunday, February 5
March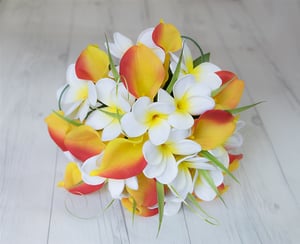 March is a lovely month full of hope. With winter gradually sliding into the background, spring begins to arrive and brings beautiful flowers and greenery. Spring is one of the most popular times of the year to get married, so be prepared to book in advance if you want a key Saturday like March 25, 2023. If you're looking for a weekday wedding in 2023, Thursday the 23rd has a great ring to it and will be memorable for years to come.
If you or your partner are of Irish background, March might be the best wedding date for you due to its Irish-friendly holiday of St. Patrick's Day. With a little bit of creativity, there are plenty of sweet, subtle ways you could incorporate your Irish heritage during your March wedding. Additionally, if you have any Dutch heritage in your family, highlight it with a March wedding filled with tulips to celebrate aspects of Dutch floral culture.

We love seeing orange-hued blooms in a bouquet to especially celebrate the Netherlands or Ireland while also welcoming spring!
HOLIDAYS:

St. Patrick's Day (Friday, March 17)

LUCKY DAYS: Thursday, March 2; Tuesday, March 14; Sunday, March 19

CUTE DAYS: Thursday, March 2 (3/2/2023), Friday, March 3 (3/3/2023), Thursday, March 23 (3/23/2023)

FULL MOON: Tuesday, March 7




April
The phrase "April showers bring May flowers" seems to have pushed many couples away from April weddings and right into May. However, in most cases, the phrase isn't correct and certainly wasn't approved by a meteorologist. So, before you discount an April wedding, remember all that is good in this beautiful month.
Saturday, April 22 is Earth Day, making it a cool wedding date to incorporate eco-friendly changes into your nuptials. Consider using recycled materials, support local vendors, and choose potted plants instead of cut flowers for decorations.
Remember to also consider religious holidays when picking a 2023 wedding date. Palm Sunday, Good Friday, and Easter are all at the beginning of the month and you'll want to consider spring break travel costs versus guest availability.
HOLIDAYS: April Fool's Day (Saturday, April 1), Palm Sunday (Sunday, April 2), Good Friday (Friday, April 7), Easter (Sunday, April 9)

LUCKY DAYS: Saturday, April 1; Sunday, April 9; Wednesday, April 26

CUTE DAYS: Tuesday, April 4 (4/4/2023), Thursday, April 20 (4/20/2023), Sunday, April 23 (4/23/2020)

FULL MOON: Thursday, April 6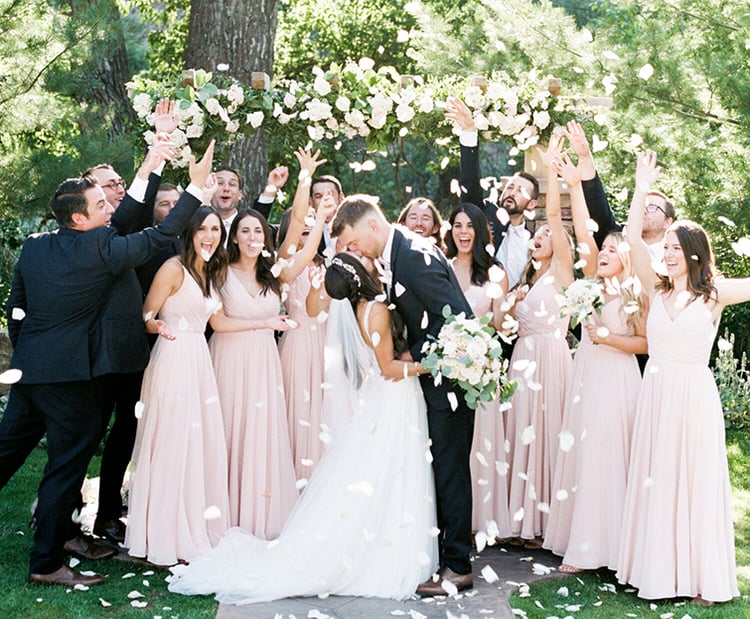 Flowers Galore for Spring Wedding Dates
May
In most northern states, May is the month when the weather is finally consistently warm, making it an excellent choice for those in northern states who've been waiting for the sun to come out before walking down the aisle. Flowers are more readily available, school is letting out for summer, and love is fully in the air in the month of May.
Some couples take advantage of the long weekend of Memorial Day because more friends and family are likely to have time off work. Others may like to use the cool Star Wars Day date, May 4th (be with you).
As an added bonus to choosing a cool wedding date in May 2023, your guests will be excited to attend one of the first weddings of the season. This means they'll have new outfits, more money to spend, and super enthusiastic about celebrating with you.
HOLIDAYS: Cinco de Mayo (Friday, May 5), Mother's Day (Sunday, May 14), Memorial Day (Monday, May 29)

LUCKY DAYS: Saturday, May 6; Friday, May 12; Sunday, May 21

CUTE DAYS: Friday, May 5 (5/5/2023), Saturday, May 20 (5/20/2023), Tuesday, May 23 (5/23/2023)

FULL MOON: Friday, May 5
June
The month of June was named for the Roman goddess of marriage, Juno, so it's no surprise that it is one of the most popular months to get married. With generally milder temperatures than July and August, June is a time of relaxation and vacation, making it perfect for a wedding.
June is also a great month to consider because the only holiday to work around or incorporate is Father's Day. You should easily be able to find the best wedding date that works for you.
HOLIDAYS: Father's Day (Sunday, June 18)

LUCKY DAYS: Saturday, June 3; Thursday, June 8; Wednesday, June 21

CUTE DAYS: Tuesday, June 6 (6/6/2023), Tuesday, June 20 (6/20/2023), Friday, June 23 (6/23/2020)

FULL MOON: Sunday, June 4
July
July is an awesome choice for wedding date options. Its most notable holiday, Independence Day, comes with a ton of great traditions that can easily be included in your wedding ceremony. We all say give the people what they want: a party! Host a stunning outdoor party and watch the summer stars come out as twilight falls. Your guests will love it - they were looking for a great Fourth party to attend anyway!
Any date in July 2023 will be amazing for a wedding. With gorgeous sunny days, your wedding photos will be a splash of color and life, and your guests will be in the mood to celebrate. Take advantage of the extra hours of daylight to dance and play games outside your venue. After all, there's nothing quite like a romantic summer evening under the stars.
HOLIDAYS: Independence Day (Tuesday, July 4)

LUCKY DAYS: Saturday, July 1; Friday, July 7; Thursday, July 20

CUTE DAYS: Friday, July 7 (7/7/2023), Thursday, July 20 (7/20/2023), Sunday, July 23 (7/23/2023)

FULL MOON: Monday, July 3




Take Advantage of Bold Summer Colors
August
Do you love ice cream, watermelon, chocolate chip cookies, or root beer floats? The national celebration of each of these delightful treats happens in August and we love celebrating them. How cute would an ice cream bar be at a wedding? There are tons of these types of holidays and we love the idea of using them as an excuse for a fun treat at your wedding.
HOLIDAYS: None

LUCKY DAYS: Tuesday, August 1; Monday, August 7; Monday, August 28

CUTE DAYS: Tuesday, August 8 (8/8/2023), Sunday, August 20 (8/20/2023), Wednesday, August 23 (8/23/2023)

FULL MOON: Tuesday, August 1, and Thursday, August 31 (Blue moon!)
September
September is a wonderful month for a cool summer wedding. The weather generally starts to cool off slowly in September and people have fall on the brain. With the major holidays still a long way off and the summer holidays in the rear-view mirror, a September wedding is a great way to give your guests something to celebrate in the interim.
September is one of those great in-between months, so you can get away with calling it a summer or fall wedding. This means that you have double the options for attire and décor. You can choose traditional summer or fall styles and themes or take the best of each season and really make it your own.
HOLIDAYS: Labor Day (Monday, September 4)

LUCKY DAYS: Sunday, September 3; Saturday, September 16; Monday, September 25

CUTE DAYS: Saturday, September 9 (9/9/2023), Wednesday, September 20 (9/20/2023), Saturday, September 23 (9/23/2023)

FULL MOON: Friday, September 29



October
Right up there with June, October is one of the most popular months for a wedding and it's not hard to see why. With autumn in full swing, you can really play up those fall traditions. Use gorgeous, warm fall colors in your attire or décor, and take advantage of the opportunity for fall-themed food and beverages. Just imagine the possibilities - pumpkin spice donuts or spiked apple cider enjoyed outside during a stunning October sunset. October really speaks for itself.
What about Halloween you ask? Well, that's totally up to you. Part of what makes a wedding special is incorporating things that the couple loves. So, if Halloween is your thing, go ahead and play it up! Take the opportunity to creatively include spooky accents, or have your guests dress up a little differently and celebrate this fun holiday. Is Halloween, not your thing? That's great too because there's still so much more to love about October.

Did you know the first Friday in October is World Smile Day? October 14, 2023, is National Dessert Day which is a great excuse to introduce sweet treats to your food repertoire. If you're looking for similar excuses, consider National Sweetest Day on (Oct 21) or National Chocolate Day (Oct 28)!
HOLIDAYS: National Indigenous Peoples' Day (Monday, October 9), Halloween (Tuesday, October 31)

LUCKY DAYS: Tuesday, October 3; Thursday, October 12; Saturday, October 28

CUTE DAYS: Tuesday, October 10 (10/10/2023), Friday, October 20 (10/20/2023), Monday, October 23 (10/23/2023)

FULL MOON: Saturday, October 28
November
Of course, November is home to a major holiday. Thanksgiving is a pretty big deal here in America, and we use that to our advantage. Consider the week before or after Thanksgiving to host your wedding. Your relatives might already be in town so they'll only have to travel once, and everyone will be feeling the love that spending time with family brings.
HOLIDAYS: Veteran's Day (Saturday, November 11), Thanksgiving (Thursday, November 23)

LUCKY DAYS: Sunday, November 5; Friday, November 17; Wednesday, November 29

CUTE DAYS: Saturday, November 11 (11/11/2023), Monday, November 20 (11/20/2023), Thursday, November 23 (11/23/2023)

FULL MOON: Monday, November 27
December
As you consider the merits of each month and season for a potential date, remember that December is called the "most wonderful time of the year" for a reason. The holidays bring families together and put them in the mood for love and generosity. If you're a fan of holidays you can incorporate festive décor into your wedding theme, making decorating easy and pictures gorgeous.
With so many people taking time off from work in December anyway, it may be the perfect time for a weekday wedding. Another fun option is a New Year's Eve wedding! What could be more romantic than spending New Year's Eve promising to love and cherish each other forever? Plus, just like on the Fourth of July, your guests are hoping for a great party to attend anyway!
HOLIDAYS: Christmas (Monday, December 25), New Year's Eve (Sunday, December 31)

LUCKY DAYS: Saturday, December 2; Wednesday, December 13; Thursday, December 21

CUTE DAYS: Tuesday, December 12 (12/12/2023), Wednesday, December 20 (12/20/2023), Saturday, December 23 (12/23/2023)

FULL MOON: Tuesday, December 26
***
When you and your fiancé start the search for a perfect wedding venue, call or text our team at 866.966.3009. We'll help you book a free, no-obligation venue tour at your favorite wedding venue. Our team of wedding planning experts is excited to help you put together your 2023 event!

All seasons incorporate wonderful wedding dates
***